Iran tones down the anti-Trump messages as it celebrates its revolution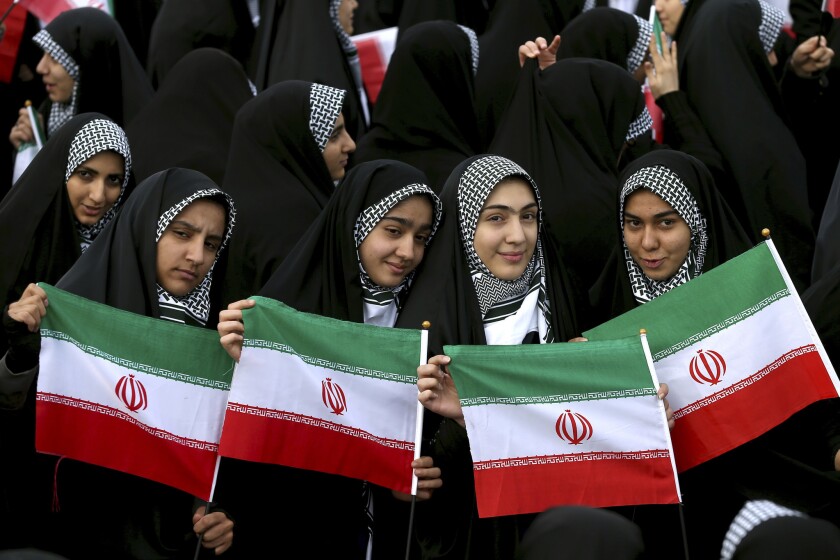 Reporting from Tehran —
Iran celebrated the anniversary of the 1979 Islamic revolution with large nationwide rallies Friday that were strikingly devoid of one thing: the usual full-throated denunciations of the United States.
Amid rising tensions between Iran and the U.S. since President Trump took office, many observers had expected Iran to use the annual, politically tinged festivities to attack him.
Instead, Iran's leaders sought to lower the temperature. The heavily choreographed rallies in Tehran and other cities featured remarkably few anti-Trump placards and none of the faux missiles or nuclear centrifuges that had been paraded down the streets in years past.
By showing restraint, the Iranian establishment signaled that it would continue to pursue the rapprochement with the U.S. that began under President Obama.
There were even signs of friendship. Some placards read: "Thanks to American people for supporting Muslims," a reference to the protests in the U.S. over Trump's attempt to temporarily block citizens of Iran and six other predominantly Muslim countries from entering the United States.
Another sign said: "American people are welcome and invited to visit Iran."
It seemed Iran was trying to capitalize on the distance between American civil society and its historically unpopular new president. Trump has threatened to undo the nuclear deal that has brought Iran some relief from international economic sanctions and said he was putting Tehran "on notice" after it conducted a missile test last month.
"The U.S. government has for years tried to distinguish between the fundamentalist regime and the civilized people of Iran," said Karim Sadjadpour, senior fellow in the Middle East program at the Carnegie Endowment for International Peace. "Now the Iranian government is trying to drive a similar wedge between the American government and people."
Before the rallies, hard-line newspapers had called for "stampeding American flags" while media close to Iranian reformists called for "national reconciliation against the common enemy, the United States."
There were some anti-Trump messages. One poster featured a fist punching the face of a cartoon U.S. president. Another demonstrator in Tehran carried a small placard that read — in Farsi — "Trump, thank you for all your stupidities."
At the rally, which culminated at Tehran's Azadi (or Freedom) Square, a loudspeaker called for "tit-for-tat diplomacy." But Iran has not taken steps to bar American travelers, making a show of offering visas to a U.S. freestyle wrestling team to allow it to participate in an international tournament next week.
The rally also featured a pavilion where Afghans living in Iran demonstrated boxing moves as a sign of their physical prowess. Known as the "Fatemiyoun Division," the Afghans have been recruited to travel to Syria to defend Shiite Muslim shrines against the Sunni militants of Islamic State.
The annual rallies commemorate the 1979 ouster of a pro-U.S. monarch, Shah Mohammad Reza Pahlavi, and are suffused with political statements. Qasem Alipour, a 19-year-old garment factory worker who attended the rally with his girlfriend, said there should have been more discussion of the revolutionary ideals of economic equality and justice.
"I love the revolution," Alipour said, "but these officials…do not address our basic problems and do not pay attention to the grass roots."
Special correspondent Mostaghim reported from Tehran and Times staff writer Bengali from Belgrade, Serbia.
Follow @SBengali on Twitter for more news from South Asia
ALSO
Trump administration is considering a new, narrower travel ban, officials say
In a shift, Trump endorses 'one China' policy in phone call with Xi Jinping
Global leaders are gathering in Dubai to talk about good government. The U.S. will probably be a no-show
---
Must-read stories from the L.A. Times
Get the day's top news with our Today's Headlines newsletter, sent every weekday morning.
You may occasionally receive promotional content from the Los Angeles Times.