Iran, one of the world's top executioners, moves closer to relaxing the death penalty for drug crimes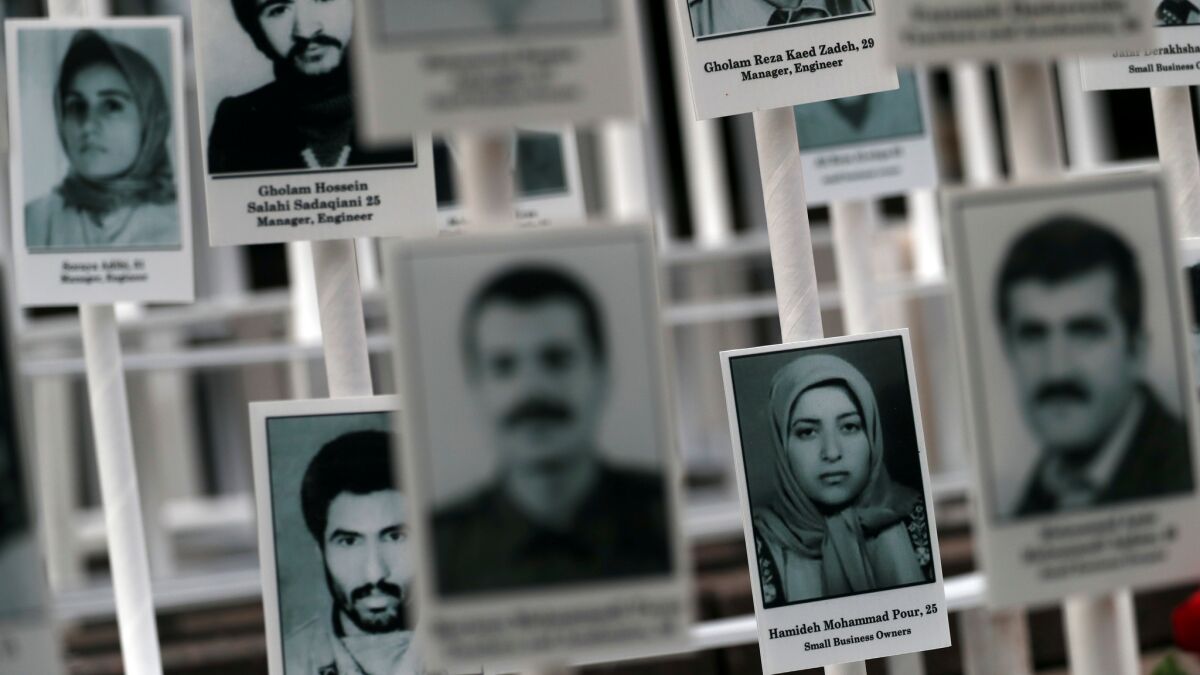 Reporting from Tehran —
There is growing momentum in Iran to eliminate the death penalty for nonviolent drug offenders, after hundreds were executed last year for drug crimes.
A majority of 150 lawmakers in the 290-seat parliament have reportedly endorsed a bill that would end capital punishment for drug trafficking, marking significant progress for reformists and human rights advocates who have been battling to overturn the law for years.
Executing convicted drug smugglers "will not benefit the people or the country," Yahya Kamalpur, deputy head of the legal and judicial committee in parliament, was quoted as saying this week by the Islamic Consultative Assembly News Agency.
The parliament "wants to eliminate the death penalty for criminals who [smuggle narcotics] out of desperation" and replace it with long prison sentences or hard labor, Kamalpur said. The death penalty would remain an option for violent crimes.
"We are after a scientific and not emotional solution in confronting drug smugglers," he said.
If parliament approves the bill, it would require ratification by the Guardian Council of Islamic jurists, setting up a showdown with conservative forces who have opposed any softening of one of the harshest death penalty laws in the world.
Hard-liners see the draft bill as another misguided compromise aimed at pleasing Western countries, on the heels of the nuclear agreement that they say has failed to live up to its billing.
The policy marks the latest political battleground in Iran ahead of presidential elections scheduled for next May. By highlighting the death penalty issue, reformists and supporters of the moderate incumbent, President Hassan Rouhani, could be seeking to embarrass conservatives.
The head of the judiciary, Ayatollah Sadegh Amoli Larijani, said last week that there should be no let-up in executions for drug offenses because they cause "the destruction of families."
"Those who argue that capital punishment has not reduced drug trafficking are wrong," Larijani told a forum of judges and prosecutors, according to the semi-official Fars news agency.
"If the harsh punishment of the judiciary was not implemented, then even pharmacies selling herbal medicine would today be selling narcotics."
Iran carries out more executions per capita than any country in the world, most for drug-related crimes. While the government does not report all executions, the United Nations said at least 966 people were put to death in 2015, the highest number in more than two decades.
Under Iran's anti-narcotics laws, a repeat offender found in possession of more than 11 pounds of opium or cannabis – and lesser quantities of heroin or synthetic drugs – can be sentenced to death. The usual form of punishment is hanging.
The source of much of the illegal narcotics is neighboring Afghanistan, the world's leading source of the opium from which heroin is made. In 2012, 74% of the world's opium and 25% of the world's heroin and morphine were seized in Iran, according to U.N. data.
In addition to trafficking, doctors say, economic desperation in a country hobbled by sanctions has driven many to use drugs themselves.
Hasan Razavi, a general practitioner who runs an outpatient methadone clinic for recovering addicts in Tehran, said that of the capital's 8 million people, as many as 20% use illicit drugs.
Iran has come under increasing pressure at home and abroad from those who say the harsh laws have not deterred drug abuse. Britain and Denmark have withdrawn funding for Iran's drug interdiction programs due to opposition to its use of the death penalty.
Domestic critics have been dealt with harshly. Last week, an appeals court upheld a 16-year jail sentence for Narges Mohammadi, a human rights advocate who was convicted of acting against the Islamic regime for campaigning against capital punishment.
But proponents of a more lenient policy have been gathering steam. Last year, the draft bill had 70 signatures in parliament; soon, more than 200 would endorse it, said Kamalpur, the lawmaker.
"There is progress and improvement," said Nasrin Soutoudeh, an Iranian human rights lawyer. "We can be hopeful that in the years to come, step by step, the number of hangings will diminish."
Mostaghim is a special correspondent. Staff writer Bengali reported from Mumbai, India.
Follow @SBengali on Twitter for more news from South Asia
MORE WORLD NEWS
East Aleppo turning into 'another Rwanda,' U.N. envoy for Syria warns
North Koreans perform $975 million worth of forced labor each year, report says
These boys were born the year the U.S. invaded Afghanistan. Here's what their lives are like today
---
Must-read stories from the L.A. Times
Get the day's top news with our Today's Headlines newsletter, sent every weekday morning.
You may occasionally receive promotional content from the Los Angeles Times.