Did Iran's reformists celebrate too soon? Hard-liners rebound after election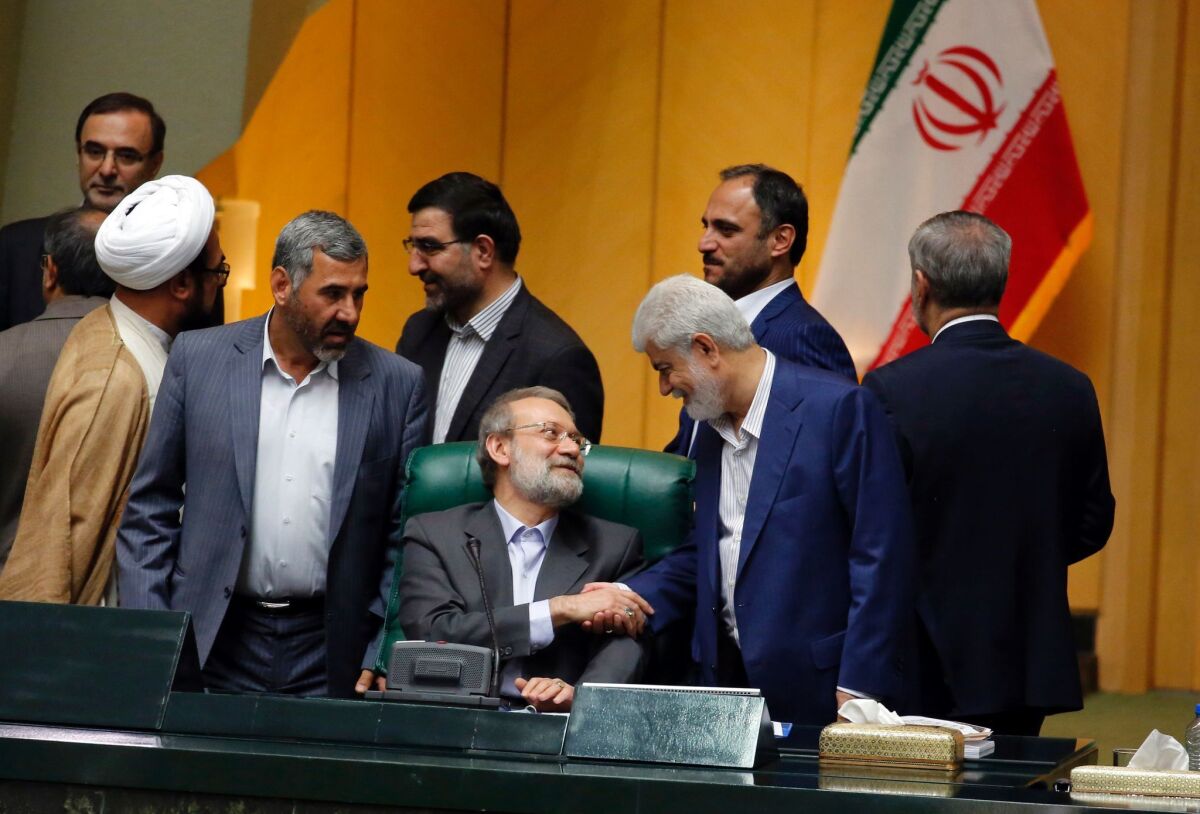 Reporting from Tehran —
For Iranians who support greater economic and social freedoms – and curbing the country's disputed nuclear program – the elections held in February were a moment to savor.
Backers of moderate President Hassan Rouhani, who has pledged to improve the economy and relations with the West, won a sizeable minority in a parliament that has been under the sway of conservative hard-liners for more than a decade.
But in recent days, reformists and centrists have suffered setbacks that show both the enduring power of conservative forces in Iranian politics and the challenges facing Rouhani as he seeks reelection next year.
This week, leading conservative Ali Larijani was reelected as speaker of the 290-seat parliament with a resounding 237 votes. Though Larijani is not a hard-liner – he helped secure parliamentary approval last year for the nuclear deal Iran struck with Western nations – he handily defeated a challenge for the powerful speaker's post from the pro-Rouhani list of candidates that swept all 30 seats in Tehran, the capital.
See more of our top stories on Facebook >>
Mohammad Reza Aref, a Stanford-educated reformist who headed the pro-Rouhani "List of Hope" in Tehran and won the most votes of any lawmaker, briefly mounted a bid for the speakership but withdrew his name after an initial round of balloting.
"The reformists had an illusion of their political power," said Hamid Reza Taraghi, head of international affairs for the conservative Islamic Coalition Party. "Mr. Mohammad Reza Aref's failure to become speaker pricked their balloon."
Hard-liners scored a bigger victory when Ayatollah Ahmad Jannati, a prominent old-guard conservative, was chosen to chair the Assembly of Experts, the group of clerics and scholars that helps select the supreme leader, Iran's most powerful figure. The current assembly, also elected in February, could appoint the successor to the ailing Ayatollah Ali Khamenei.
Jannati barely won election to the assembly, finishing last among the 16 candidates from Tehran who were chosen. Two other aging hard-liners lost their posts in what was widely seen as a rejection of their politics.
Jannati, 90, has been critical of Rouhani's policies, including efforts to boost investment and dialogue with Western countries that eased sanctions following the nuclear deal.
He also heads the ultra-conservative Guardian Council, which supervises elections. The council disqualified more than half of the 12,000 candidates who signed up to run in February, the vast majority reformists.
Ahmad Khatami, a firebrand cleric and member of the Assembly of Experts, celebrated Jannati's victory in a sermon last week, saying that "arrogant, powerful media in England and America did everything they could do against Ayatollah Ahmad Jannati" but "their analysis has not come true."
Rouzbeh Parsi, an Iran scholar at Lund University in Sweden, said the selections of Larijani and Jannati underscored that the February election "wasn't a clear-cut win for reformists, but a shift toward the middle."
It shows that people who are not in-your-face conservatives remain a stable part of Iranian politics.
— Rouzbeh Parsi, an Iran scholar at Lund University in Sweden
"It shows that people who are not in-your-face conservatives remain a stable part of Iranian politics," Parsi said.
Analysts say it's not all bad news for Rouhani. Larijani, a pragmatist and longtime speaker, is seen as a possible broker with hard-liners in parliament who have thwarted much of Rouhani's agenda since he took office in 2013.
Rouhani could also be freed to focus on economic reforms and abandon the more contentious social changes sought by reformists, including relaxing rules requiring women to wear the hijab.
In reality, Iranian politics does not divide into neat camps. Many candidates who associated themselves with the pro-Rouhani list during the election – partly to capitalize on the broad popularity of the nuclear deal – are conservatives who reject the reformists' social agenda.
Last Sunday, in an initial vote for parliamentary speaker, 50 of the nearly 100 lawmakers on the "List of Hope" sided with hard-liners, said Mostafa Kavakebian, a reformist politician.
"Regrettably, if they had not defected, the results would have been different," Kavakebian said.
But two deputy speakers seen as friendly to Rouhani were also selected: social conservative Ali Motahari, who ran on the List of Hope and supports the nuclear deal, and reformist lawmaker Masoud Pezeshkian.
Reacting to the selections, Rouhani said, "God willing, parliament and the government will cooperate with each other."
Rouhani recently told lawmakers that he would seek $30 billion to $50 billion in foreign investment deals to increase the economy by 8% – figures that economists say are unrealistic. Despite the relaxing of sanctions, it remains nearly impossible to transfer money into Iran through international banks.
If Rouhani can't boost the economy, analysts say, he could be defeated at the polls next year by a more conservative candidate, possibly derailing hopes for broad economic reforms.
"Economic legislation is something that most politicians agree is something they cannot do without – there's nothing ideological about it," Parsi said. "On that I think [Rouhani] can forge consensus that will yield results that people both outside and inside Iran expect and need. Otherwise, his reelection next year is in jeopardy."
Mostaghim is a special correspondent. Staff writer Bengali reported from Mumbai, India.
ALSO
Iraqi forces press on in Fallouja as concerns rise over 'human catastrophe'
Brazil's government has sprung a leak, and a flood of secrets is gushing out
Israel's new defense minister represents a milestone for Russian-speaking emigres
Follow @SBengali on Twitter for more news from South Asia
Must-read stories from the L.A. Times
Get the day's top news with our Today's Headlines newsletter, sent every weekday morning.
You may occasionally receive promotional content from the Los Angeles Times.