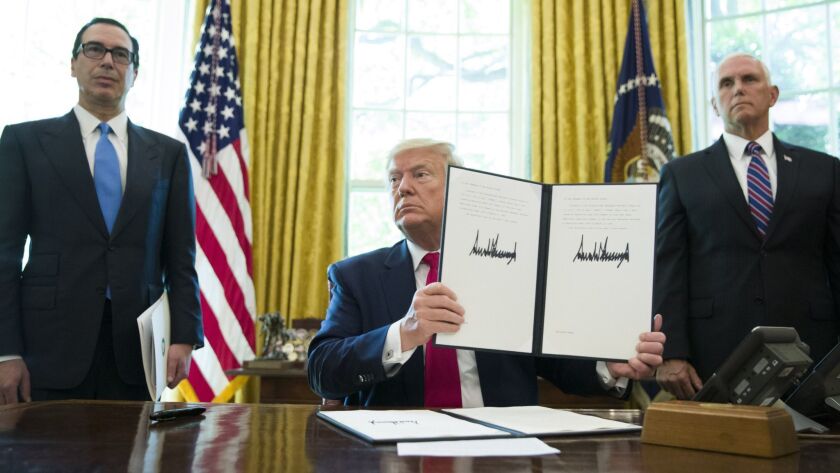 Reporting from TEHRAN —
Iran exceeded the limit on how much enriched uranium it can possess under the 2015 nuclear deal, the semiofficial Iranian Students News Agency reported Monday, marking the first step in Tehran's response to President Trump's withdrawal from the pact last year.
Iranian Foreign Minister Mohammad Javad Zarif said the country had surpassed the the 660-pound threshold for producing low-enriched uranium.
"We have said very clearly what we are doing and we will act accordingly, and consider this as part of our rights as per the JCPOA," said Zarif, according to the report.
Zarif was referring to the Joint Comprehensive Plan of Action, the deal forged in 2015 between Iran and world powers that aimed to curb its nuclear program.
Trump's withdrawal from the pact last year, along with crushing sanctions that have all but crippled Iran's economy, has pushed Tehran to mount its own pressure campaign on European nations seeking to salvage the deal. The International Atomic Energy Agency later confirmed that Iran's total enriched uranium stockpile exceeded the limit set by the deal, enriched up to 3.67%.
Under the agreement, Iran is allowed to stockpile no more than 660 pounds of low-enriched uranium, with a less than 4% concentration of U-235.
Zarif was also quoted by the official Islamic Republic News Agency as saying that this was the first phase in Iran's withdrawal from the agreement. The second would involve the 3.67% limit.
"The Iranian regime took action today to increase its uranium enrichment. It was a mistake under the Iran nuclear deal to allow Iran to enrich uranium at any level," said White House Press Secretary Stephanie Grisham, in response. "We must restore the long-standing nonproliferation standard of no enrichment for Iran."
In her written statement, she added that the U.S and its allies will never allow Iran to develop nuclear weapons.
"Maximum pressure on the Iranian regime will continue until its leaders alter their course of action," she said. "The regime must end its nuclear ambitions and its malign behavior."
U.S. Secretary of State Michael R. Pompeo also called on Iran to halt its uranium enrichment.
"The Iranian regime has taken new steps to advance its nuclear ambitions. The world's leading state sponsor of terrorism continues to use its nuclear program to extort the international community and threaten regional security."
Pompeo said Iran should not be allowed to enrich uranium at any level.
"Starting in 2006, the United Nations Security Council passed six resolutions requiring the regime to suspend all enrichment and reprocessing activity. It was the right standard then; it is the right standard now. The Trump administration calls on the international community to restore the long-standing nonproliferation standard of no enrichment for Iran's nuclear program. Iran has the uncontested ability to pursue peaceful nuclear energy without domestic enrichment," Pompeo said, asserting that a nuclear-armed Iran would pose great danger to the world.
"The United States is committed to negotiating a new and comprehensive deal with the Iranian regime to resolve its threats to international peace and security," Pompeo added. "As long as Iran continues to reject diplomacy and expand its nuclear program, the economic pressure and diplomatic isolation will intensify."
Monday's breach would not give Tehran the means to produce a nuclear bomb, but it has vowed to increase its enrichment to weapons-grade levels by Sunday unless European nations work more to help Iran sell its oil and revive trade.
Mostaghim is a special correspondent. Times staff writer Nabih Bulos in Beirut contributed to this report.
---