Two suicides, 3,700 arrested: Questions mount over protesters jailed in Iran unrest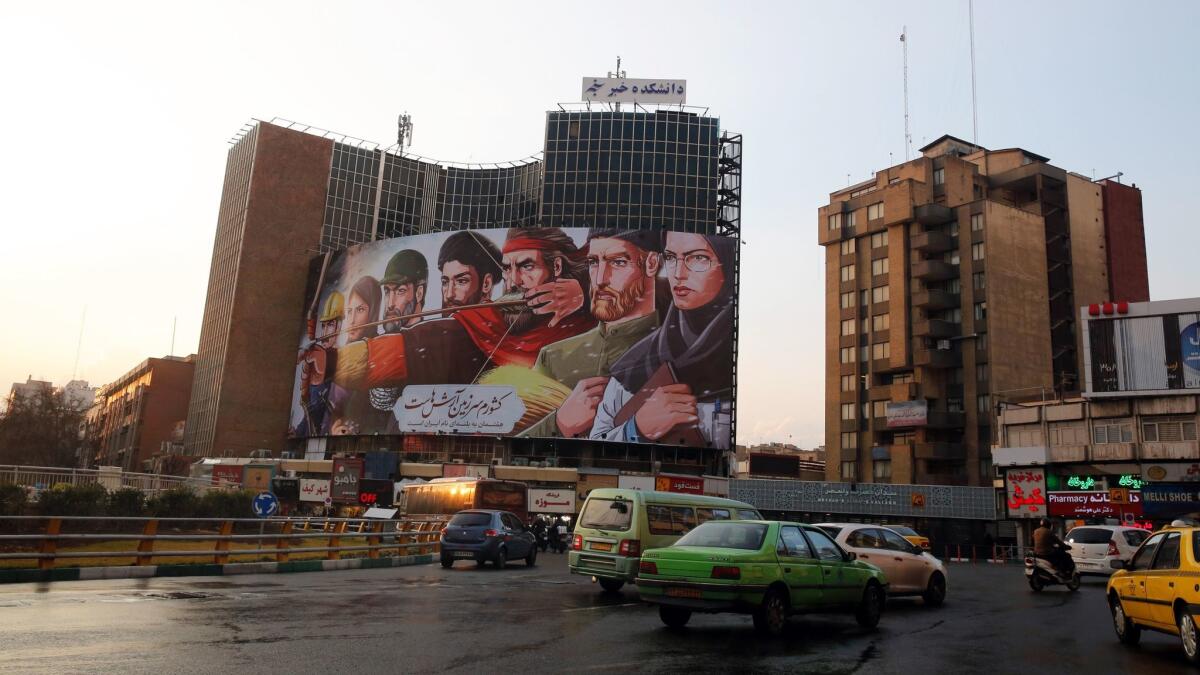 Reporting from Tehran —
As many as 3,700 people were arrested during the recent unrest in Iran, a lawmaker said Tuesday, offering a glimpse into the scale of the crackdown on the most significant anti-government protests here in nearly a decade.
Mahmoud Sadeghi, a reformist member of parliament, cited the figure in his Telegram social media account but did not elaborate on the source. Iranian officials had previously said only that hundreds had been arrested.
Questions have surrounded the fate of detainees since the protests began Dec. 28 in the city of Mashhad and spread to dozens of cities, as demonstrators called for an end to the theocracy that has ruled Iran since the 1979 Islamic Revolution. At least 21 people were killed, according to official accounts.
Demonstrators set fire to official buildings and tore down pictures of Iran's leaders in a surprising show of defiance that many said was motivated by economic grievances, including years of high unemployment and rising prices.
The protests have faded as Iranian authorities rounded up demonstrators, deployed plainclothes cops, turned water cannons on crowds and blocked access to social networks to maintain order.
But it has not been possible to gain a full picture of the unrest — or the crackdown — because authorities tightly control information about security and restrict the movements of journalists.
The uncertainty deepened this week with reports that at least two prisoners had committed suicide.
Sina Qanbari, a 22-year-old detainee, killed himself in Tehran's Evin Prison. Accounts differed as to why he was arrested. Activists said he was detained during the protests but official news agencies described him as a suspected drug trafficker.
Tehran's public prosecutor, Abbas Jafari Dolatabadi, said Tuesday that the circumstances of Qanbari's death would be investigated, the Asr Iran news agency reported.
Also Tuesday, the public prosecutor in Arak, in Iran's central Markazi province, said that a protester being held at a police station had committed suicide. The prisoner was seen on closed-circuit cameras striking himself with an unspecified object, the prosecutor said, according to the Mizan news agency, the mouthpiece of Iran's judiciary.
Dolatabadi said that 70 people arrested in the protests had been granted bail, although it was not immediately clear whether they would face trial. Those freed on bail in Iran often endure lengthy waiting times for legal proceedings to begin, and aren't allowed to leave the country until their cases are decided.
Iranian leaders have acknowledged that people have legitimate economic grievances but accused foreign adversaries of stoking violence. On Tuesday, Supreme Leader Ayatollah Ali Khamenei accused the United States of recruiting "mercenaries" to create havoc in Iran, the semi-official Fars news agency reported.
Sadeghi, the lawmaker, said in an interview that all of Iran's political factions had stipulated "the people's right to protest." But it remained unclear how the government would handle prisoner cases.
Dozens of family members of detainees have gathered outside Evin, demanding more information on those behind bars. On a recent afternoon, as snow fell in the foothills of Tehran and anti-riot police kept watch, about 50 people waited for names of detainees to be called over loudspeakers outside the prison, the primary detention center for political prisoners in Iran since the 1970s.
When names were called, relatives went to produce documents — often deeds of ownership of houses and businesses — to serve as collateral to secure a prisoner's release.
Among those waiting were members of the Gonabadi order of dervishes, a religious group that has often claimed persecution from Iran's Shiite Muslim theocracy. Four members of the order were arrested on suspicion of supporting the demonstrations, although they were not protesting, according to relatives outside the prison.
Family members said the detainees had been allowed to make phone calls and request documents needed to obtain bail.
The conditions inside Evin are notoriously difficult, and family members said detainees were being held in crowded cells where they barely had room to move.
Nasrin Sotoudeh, a human rights lawyer, said one inmate had called her from inside Evin saying that three protesters had died in custody, but she could not confirm the account.
Special correspondent Mostaghim reported from Tehran and Times staff writer Bengali from Mumbai, India.
Follow @SBengali on Twitter
---
UPDATES:
6:30 a.m.: This article was updated throughout with staff reporting and details of two prisoners reported to have committed suicide.
This article was originally published at 2:50 a.m.
Sign up for Essential California for the L.A. Times biggest news, features and recommendations in your inbox six days a week.
You may occasionally receive promotional content from the Los Angeles Times.