Iraqis' Mosul advance pauses as hundreds flee an escalating fight
Several hundred civilians make their way through Gogjali, Iraq, after the Iraqi army retook control of the district from Islamic State militants.
(Carolyn Cole / Los Angeles Times)
A young girl waves a white flag as she and her family leave the Gogjali area of Mosul, Iraq.
(Carolyn Cole / Los Angeles Times)
Families flee the Gogjali area of Mosul with only what they can carry after the district was liberated from Islamic State.
(Carolyn Cole / Los Angeles Times)
Iraqis flee the Gogjali district of Mosul.
(Carolyn Cole / Los Angeles Times)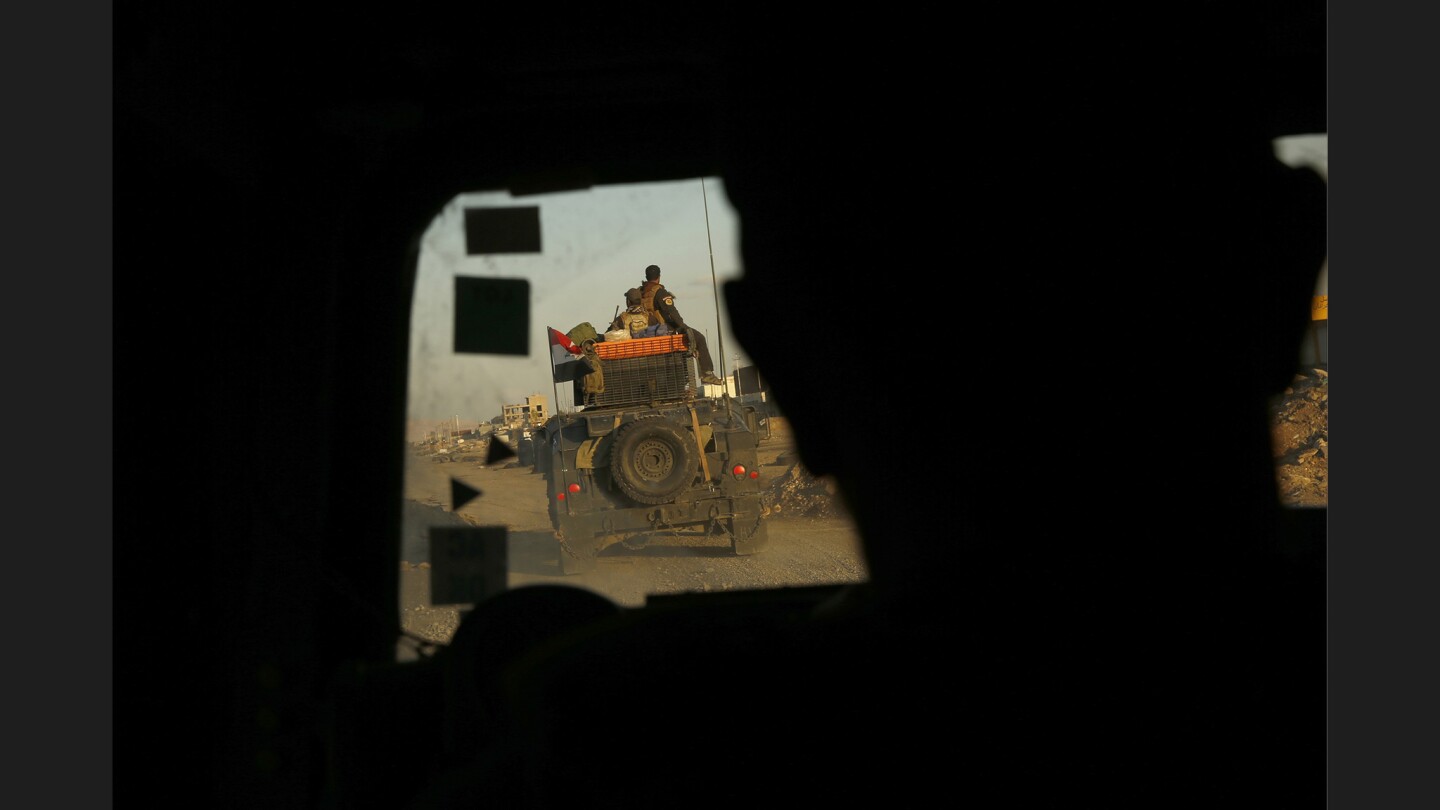 Iraqi forces patrol through Gogjali the day after it was liberated from Islamic State.
(Carolyn Cole / Los Angeles Times)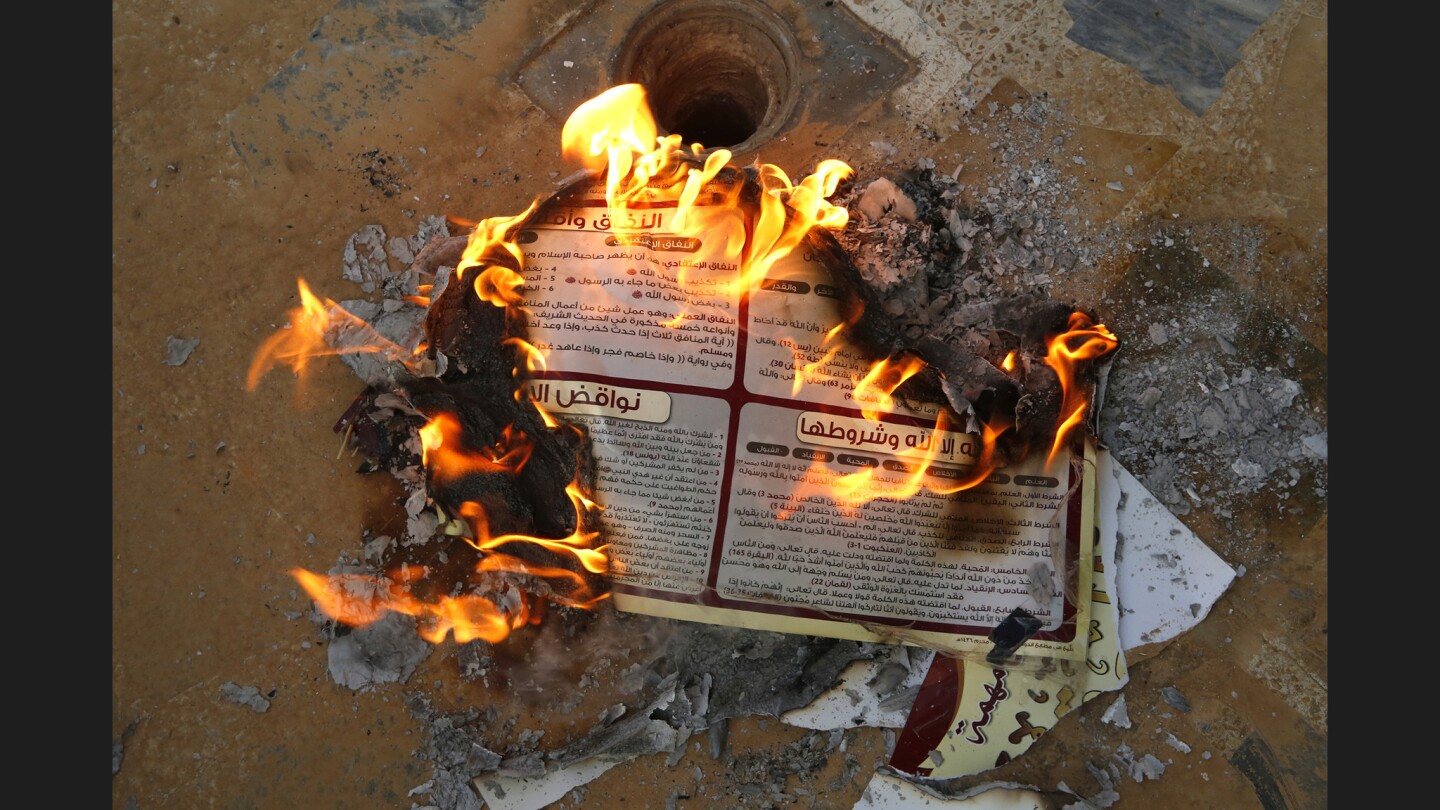 Islamic State posters that were hung in a mosque in Gogjali are burned the day after the area was liberated.
(Carolyn Cole / Los Angeles Times)
Iraqi troops patrol in Gogjali.
(Carolyn Cole / Los Angeles Times)
Iraqi special forces continue to clear homes the day after the Gogjali area of Mosul was liberated from Islamic State.
(Carolyn Cole / Los Angeles Times)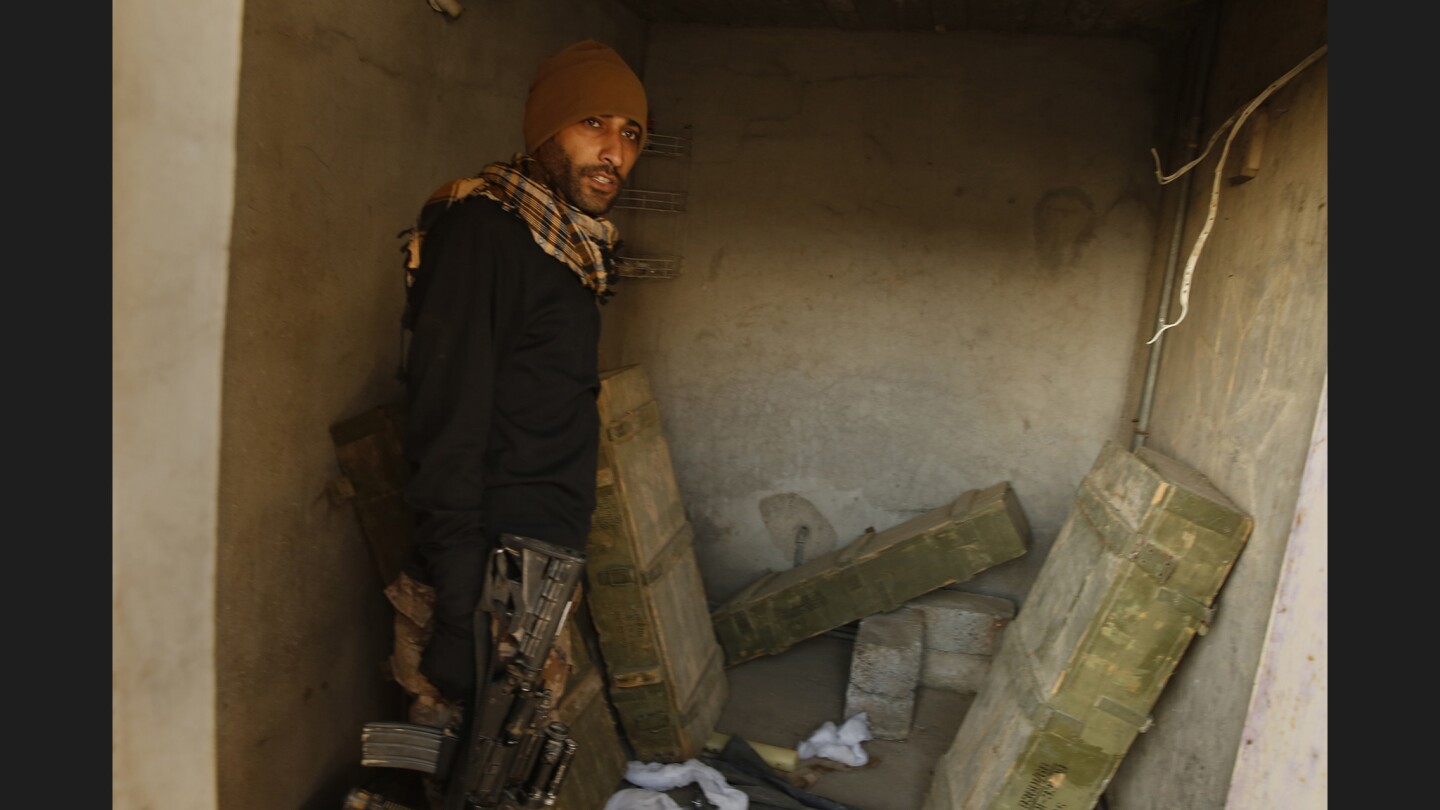 Signs of the presence of Islamic State fighters remain in the Mosul district of Gogjali in Iraq.
(Carolyn Cole / Los Angeles Times)
Iraqi special forces Lt. Col. Ali Hussein Fadil and his men continue to clear the district of Gogjali a day after liberating it from Islamic State.
(Carolyn Cole / Los Angeles Times)
Reporting from Gogjali, Iraq —
Hundreds of civilians fleeing the Iraqi city of Mosul streamed Wednesday into this village on the city's eastern edge: Men with beards and women in veils, walking along the main road toting children and suitcases.
"We told civilians to stay in their homes," Iraqi special forces Lt. Col. Ali Hussein Fadil said as his Humvee passed the crowd. "I'm surprised to see them walking like this. They are potential dangers for us."
Troops have encountered suicide bombers in recent days as young as 10 years old.
"When kids are approaching us, we are trying to move them back and not get close," he said. "We don't trust those people."
As Iraqis flee the Mosul area, they and the Iraqi military fear Islamic State fighters may have put on civilian clothing and joined the flood. (Molly Hennessy-Fiske / Los Angeles Times)
Iraqi government forces took a brief pause Wednesday in their 2-week-old offensive to retake Mosul from Islamic State, working to clear jihadi fighters from these outlying suburbs and to handle the flood of civilians who are fleeing Iraq's second-largest city.
Meanwhile, Shiite Muslim forces who entered the fight last week reported they had gained control of a main highway linking Mosul to Islamic State's other main stronghold in Raqqah, Syria — a move they said will enable them to cut a main supply line to Islamic State forces in the city.
More than 18,000 people have been displaced from their homes since the Mosul offensive started on Oct. 17, according to the United Nations, and humanitarian agencies are preparing for an even greater flood as the fighting in the city escalates.
Aid workers "are now bracing ... for the worst. The lives of 1.2 million civilians are in grave danger, and the future of all of Iraq is now in the balance," said Wolfgang Gressmann, head of the Norwegian Refugee Council in Iraq.
Hussein's battalion has taken over a half dozen villages, but Gogjali was the first area that was inhabited, and soldiers were preparing for the possibility that some of those leaving could be Islamic State fighters disguised as civilians.
The Iraqi commander advised his soldiers to deal fairly with residents as they cleared and secured the area, but also to be suspicious. The risk would only increase the closer they crept to Mosul's urban core.
Fleeing Islamic State fighters shot at departing civilians as they left and took with them as hostages a half dozen of those who had relatives in the security forces, residents and soldiers said.
Iraqi forces killed eight of the militants, who attacked with suicide car bombs and mortars. A 14-year-old girl was killed when her house was hit by a mortar strike. Two other children were injured: a 9-year-old girl and a 7-year-old boy.
As a day of clouds gave way to clearer skies, U.S. coalition planes resumed flying and airstrikes boomed on the horizon. Elsewhere in town, smaller booms sounded as Iraqi soldiers defused mines.
Hussein passed houses displaying white flags signaling their surrender. Residents emerged carrying tea for the soldiers. Children waved. Others just looked on, wide-eyed. A soldier asked one resident why he hadn't shaved. He said they still didn't have electricity.
Hussein was looking for Islamic State fighters. He had found one of their cellphones, and had a list of names.
"If I give you a name, can you help?" the commander asked a small group of men standing in the dirt road.
Awat Suleiman, 55, nodded. "I'm ready to help," he said.
But when Hussein said he was looking for a local Islamic State fighter named Omar Abdel Salem, the man clammed up.
"I don't know him," he said, stone-faced.
The rest of the crowd stood silent.
Hussein smiled ruefully as he walked away, shaking his head.
"Always they are saying they don't know them," he said. "They're still afraid that the army will withdraw and ISIS will come again."
Pentagon fears killing civilians from the air as battle for Mosul intensifies »
He walked to a local cement plant where his troops had fought Islamic State militants the day before, and pointed in the rubble to a body of a militant they had killed.
The bearded man was unarmed and shirtless, wearing blue shorts and Nike sandals. He had fled after confronting the Iraqi special forces and was shot in the face.
"He removed his ISIS uniform and was trying to dress as a civilian," Hussein said.
The fighter was not alone in attempting to blend in with fleeing civilians. At a red house that had served as an Islamic State base, Hussein pointed to several brown uniforms discarded on the patio.
Some civilians here have been helpful, showing soldiers where militants were hiding and where they had placed mines so they could be defused, said Sgt. Maj. Hattab Bashir Rashid.
Hussein found one of the explosives in the doorway of the home of a known Islamic State fighter.
Rashid, 37, said he has five children at home in nearby Dohuk and cannot help but think of his own family when he sees those fleeing the escalating fight in Mosul.
"To liberate families is our duty. We can't do more than this," he said as his Humvee passed the fleeing crowds of civilians. "After us, intelligence groups will come and do screenings. Those who committed crimes will be judged and go to prison. Others we will welcome."
Among those fleeing Mosul on foot with his family Wednesday was Saad Aziz, a former police officer still wearing a beard and traditional tan gown.
Aziz, 42, said they were forced to flee after mortar rounds landed near their home and his younger brother's family was taken hostage by Islamic State. He said he was grateful for military security and screening, despite being forced to wait four hours by the roadside with his small children, and didn't blame soldiers for suspecting that civilians might not be what they appear to be.
"This is a possibility. We are worried about it, too," he said, vowing, "If we catch someone, we will turn them over. They were not merciful to us."
molly.hennessy-fiske@latimes.com
MORE WORLD NEWS
Hundreds protest outside newspaper after journalists jailed in growing crackdown in Turkey
The Nelson Mandela Foundation lambastes South Africa's Zuma
Remember the Panama Papers? Pakistani Prime Minister Nawaz Sharif to face corruption probe over leaked documents
---
Must-read stories from the L.A. Times
Get the day's top news with our Today's Headlines newsletter, sent every weekday morning.
You may occasionally receive promotional content from the Los Angeles Times.