Pentagon fears killing civilians from the air as battle for Mosul intensifies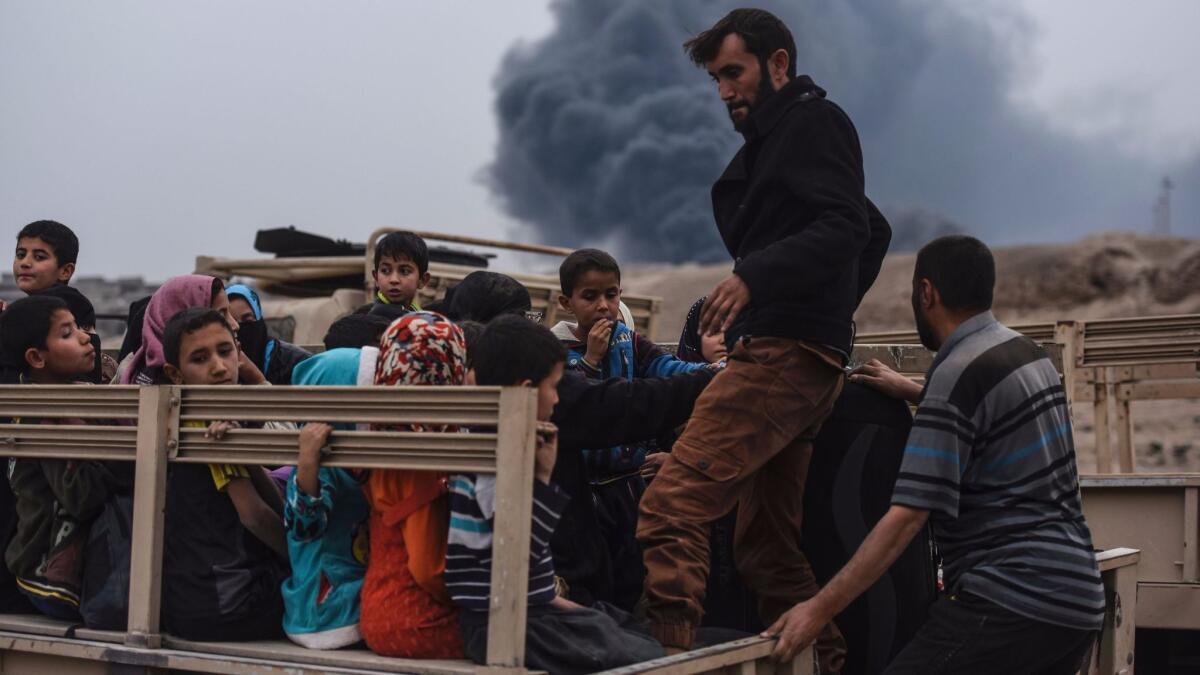 Reporting from Baghdad —
As Iraqi and Kurdish military forces converge on the eastern outskirts of Mosul, U.S. commanders are concerned about their ability to launch airstrikes without laying waste to the ancient city and the civilians who live there.
The Sunni Muslim insurgents who captured the sprawling city two years ago have increased the risk of civilian casualties by rounding up thousands of Iraqis at gunpoint and herding them into areas under their control, according to U.S. officials.
The militants' goal, according to the Pentagon, is to force coalition warplanes to bomb civilians trapped in the city or to hold their fire.
The U.S.-led coalition has launched more than 2,900 aerial bombs, artillery and mortar shells, ground-launched rockets and drone-launched missiles since the Mosul offensive began on Oct. 17, according to the Pentagon.
But as the battle moves into a city of cobblestone pathways and clusters of shops, homes and Muslim shrines, U.S. pilots will "exercise tactical restraint," according Lt. Gen. Jeffrey L. Harrigian, Air Force commander in the Middle East.
"We're going to take a look in the area of the target to make sure there are no civilians moving toward the area," he said.
Last week, U.S. warplanes destroyed 40 empty trucks near Mosul that militants planned to use to transport more civilians into the city, U.S. officials said.
"Our enemies recognize how much of an issue this is for us and how concerned we are about this," said Gen. Joseph Votel, U.S. commander in the Middle East, who visited Iraq last week. "I think trying to keep the population on our side by the way we conduct our operations is very important."
The Pentagon already is investigating allegations that a U.S. airstrike killed eight members of an Iraqi family, including three children, at their home in Fadhiliya, a village northwest of Mosul, during fighting on Oct. 22.
"The coalition did conduct strikes in the area at the time of the allegation," said Col. John Dorrian, a spokesman for U.S. forces in Iraq. "We will investigate to determine what happened with this incident."
Chris Woods, director of Airwars, a nonprofit group that monitors civilian deaths from coalition air raids, said his analysts were tracking nine other airstrikes around Mosul in the last two weeks that he said had killed 50 people.
The chance of hitting civilians has grown as the militants have forced civilians from surrounding districts into Mosul to serve as human shields, according to United Nations officials. In some cases, the militants shot civilians who refused to comply.
The militants' "depraved, cowardly strategy is to attempt to use the presence of civilians to render certain points, areas or military forces immune from military operations, effectively using tens of thousands of women, men and children as human shields," said Zeid Ra'ad Al Hussein, U.N. high commissioner for human rights.
The use of human shields is prohibited under international law, but humanitarian groups caution it is not an excuse for haphazard targeting.
"This does not absolve Iraqi and coalition forces from the obligation to take their presence into account, take all feasible precautions to minimize harm to civilians, and avoid launching attacks that could cause disproportionate harm to civilians," said Lynn Maalouf, deputy director for research at Amnesty International's regional office in Beirut.
The Iraqi-led attack on Mosul is the largest and most ambitious by far since Islamic State fighters stormed out of Syria in 2014 and captured a dozen cities and vast territory in western and northern Iraq, abruptly pulling the Obama administration and dozens of allies into the war.
A series of ground offensives backed by coalition aircraft have recaptured most of the Iraqi cities since last year. But Mosul was home to 1 million people, and it presents special challenges.
Heavy civilian casualties could undermine Iraqi Prime Minister Haider Abadi's fragile government in Baghdad and deepen the sectarian and political divisions that have fueled Sunni extremists since the U.S.-led 2003 invasion.
But limiting coalition airstrikes too much could hamper the ability of Iraqi and Kurdish forces to retake the city that Islamic State called its capital and considered its crown jewel.
"Air power will be restricted in Mosul, there's no doubt about that," said David Deptula, a retired Air Force officer who is dean of the Mitchell Institute for Aerospace Studies in Arlington, Va. "However, it shouldn't be negated. If you hold back too much, you're handing the enemy exactly what it wants."
In hopes of avoiding street-to-street fighting, the Iraqis have left a 50-mile-wide opening west of Mosul so the militants can flee into the desert wastelands that lead to Syria.
Many Islamic State leaders and foot soldiers already have headed there to fight another day, according to U.S. military officials, who were not authorized to speak publicly about ongoing operations.
Islamic State fighters have been observed moving their families in recent weeks from Mosul to its strongholds in Dair ez Zour and Raqqah, the group's self-declared capital in Syria, even kicking residents out of their homes to make way for the new arrivals, officials said.
The outflow is expected to increase as Iraqi and Kurdish forces break through defensive lines around the city.
"For us, it moves our problem," one U.S. defense official said. "For Iraqis, it eliminates their problem."
As a result, U.S. military commanders have increased flights of spy planes and surveillance drones to watch traffic in and out of Mosul.
U.S. drones equipped with infrared cameras, listening devices and air-to-ground missiles "orbit" over the area for 30 hours at a time.
The drones' video is beamed to a command hub in Qatar, where the coalition air campaign is run.
The center looks like NASA's space command in Houston. Hundreds of military personnel from more than a dozen countries sit before arrays of computer screens, video displays and digital maps.
A wall map the size of a movie screen shows Iraq and Syria. About 20 green airplane-shaped icons appear over Mosul, each showing the location of a coalition aircraft.
West of the city, a smaller group of aircraft icons fly in circles, a pattern the U.S. military calls "doughnuts," tracking vehicles on the roads to Syria.
Twitter: @wjhenn
ALSO
Going home in Iraq: Tearful reunions and a touch of fear
In the aftermath of Islamic State's retreat in Iraq: destruction, fire and toxic fumes
Life under Islamic State was strict and brutal, but some moments didn't seem so bad, Sunni Iraqis say
Sign up for Essential California for the L.A. Times biggest news, features and recommendations in your inbox six days a week.
You may occasionally receive promotional content from the Los Angeles Times.