U.S. bombers target Al Qaeda in Iraq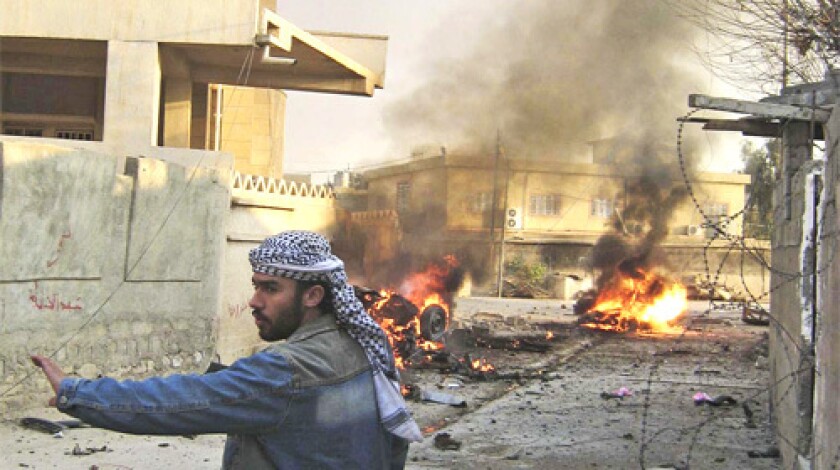 Los Angeles Times Staff Writers
SINSIL THARIA, IRAQ —
U.S. bombers and fighter jets continued an aggressive attack on the southern outskirts of Baghdad this morning, unleashing 38 bombs in 10 minutes on suspected Al Qaeda in Iraq safe havens.
In all, they dropped 40,000 pounds of bombs on Arab Jabour, in an area of mostly farmland, the U.S. military said in a statement.
Like Diyala, Arab Jabour has been plagued with ongoing violence, despite efforts to purge Al Qaeda. Some Awakening Councils — U.S.-backed security forces of former Sunni insurgents — have formed nearby, but none have achieved much success in the district on the outskirts of the capital.
Senior Sunni Arab insurgents may have fled the Diyala River valley this week just as U.S. troops were preparing to attack, but they left behind a deadly calling card.
A booby-trapped home exploded Wednesday, killing six American soldiers and injuring four others. The U.S. military also reported that three service members were killed by small-arms fire the day before. The two-day toll makes the latest effort to flush out the militant group Al Qaeda in Iraq the deadliest military operation in months.
The casualties came as about 4,000 U.S. and Iraqi troops descended Tuesday on Diyala province as part of a campaign to put new pressure on insurgents nationwide. Military officials believe many settled in the area north of Baghdad after being forced out of the capital and Anbar province in the west.
At least 3,921 U.S. troops have been killed since the March 2003 invasion of Iraq, according to the independent website icasualties.org. The last time six American troops were killed in a single hostile incident was in late May, in a roadside bombing in the Diyala community of Abu Sayda.
The Diyala region accounts for more than 40% of attacks nationwide. Intelligence reports estimated that 50 to 60 senior insurgent leaders had been holed up northwest of Muqdadiya, but by the time the offensive began, they had fled -- in keeping with a long-standing pattern.
As U.S. forces continue to press into areas where they have not regularly patrolled, they have been at greater risk of encountering homes rigged with large amounts of explosives, officials said.
The military offered no details about Wednesday's deadly attack, nor did it release the names of the dead soldiers, pending notification of their families.
"We are looking really closely at the tactic," said Edward Loomis, a spokesman for the Pentagon's Joint Improvised Explosive Device Defeat Organization. "We will continue to do everything we can to lower the risk of these events occurring. We are going to look really hard at this one."
Rigged houses typically use explosives and triggering devices similar to those in roadside bombs or car bombs, which the military calls vehicle-borne IEDs.
U.S. forces in Iraq first encountered large numbers of booby-trapped houses during the battle of Fallouja in 2004. American forces had steered clear of the city in Anbar province for much of that year, then telegraphed their intention to clear the city of Sunni Arab insurgents weeks before the operation began, allowing them to prepare elaborate defenses.
A number of rigged homes were also found in Diyala province in May and June, Loomis said, as U.S. forces stepped up operations against Sunni insurgents. During the previous Diyala operations some military officers referred to such homes as house-borne IEDs.
In the past, when such homes were discovered before they detonated, Air Force fighter planes were used to destroy them.
On Sunday, soldiers south of Baqubah spotted suspected insurgents with grenade launchers and assault rifles unrolling wire around a building. U.S.-led forces launched a Hellfire missile at the building, then dropped two bombs on it.
Secondary blasts, and wire discovered at the site, confirmed that the building had been rigged with explosives, U.S. military officials said.
On Wednesday, U.S. and Iraqi forces combed isolated villages, dense orchards and palm groves.
Mortar rounds crashed through thick foliage ahead of the advance through the agriculturally rich area, known as the breadbasket of Iraq.
In Sinsil Tharia, curious villagers gathered to watch soldiers from the 3rd Squadron, 2nd Stryker Cavalry Regiment, roll in with their armored vehicles. Families greeted the troops with offers of tea and sodas as they went door-to-door searching for insurgents and weapons.
"There is no security," one man told the soldiers, as he cradled his daughter in his arms. "We are afraid to go out, and we expect to be killed at any moment."
Residents said they hadn't seen masked gunmen who had been a common sight in their village before the offensive began. But the mayor warned that some insurgents still lurked among them.
U.S. commanders said they believed senior insurgent leaders had fled the region before the offensive, but that as many as 200 lower-level fighters could be hiding among the population.
Soldiers trudging through villages laced with canals said they were encountering much less fighting than they had expected.
U.S. soldiers handed out pamphlets urging residents to form volunteer groups to help defend their areas from insurgent groups such as Al Qaeda in Iraq, a mostly local organization that the military says is foreign-led.
The decision by more than 70,000 mostly Sunni tribesmen across Iraq to turn against the insurgents they once tolerated played a key part in a 60% drop in violence nationwide since U.S. forces completed a 28,500-troop buildup in June. But a recent spate of suicide bombings has made clear that insurgents remain capable of spectacular attacks, many of them targeted at the security volunteers.
Elsewhere in Iraq on Wednesday, car bombs exploded in front of two churches in the northern city of Kirkuk. The bombings came three days after four bombs targeted churches in Mosul. No one was killed in any of the blasts, though a few people suffered injuries.
Religious leaders denounced the bombings as an attempt to instigate anger between religious groups.
"We lived side by side with the Muslim brothers in Iraq and Kirkuk," said a priest at one of the two targeted churches in Kirkuk. "Those attacks will increase our determination. We will go on to carry the olive branch and carry the banner of peace and brotherhood."
Also on Wednesday, radical Shiite Muslim cleric Muqtada Sadr issued a statement condemning President Bush's visit to the Middle East and urging Arab leaders not to meet with him.
"You brought the wars and you can't bring peace. . . . Get out of our land and you will be safe from us," Sadr said. "Then I address my words to the Arab leaders and say: ' . . . Don't be partners responsible for the blood of your own people. If you will accept his visit, then you are collaborating with him on the blood of your brothers in Palestine, Iraq and others."
But some Shiites living in Najaf, where Sadr enjoys strong support, said the cleric should not be weighing in on such matters, particularly because Bush has not announced plans to visit Iraq.
"It's not our business," said Abu Zahaa, a government employee. "I don't think the words in this statement can come from someone sane. Bush's visit is the concern of the states and nations that he is visiting."
Zavis reported from Sinsil Tharia in Diyala and Barnes from Washington. Times staff writer Kimi Yoshino in Baghdad and special correspondents in Baghdad, Kirkuk and Najaf contributed to this report.
---
Must-read stories from the L.A. Times
Get all the day's most vital news with our Today's Headlines newsletter, sent every weekday morning.
You may occasionally receive promotional content from the Los Angeles Times.