Foreign fighters in Iraq seek recognition, U.S. says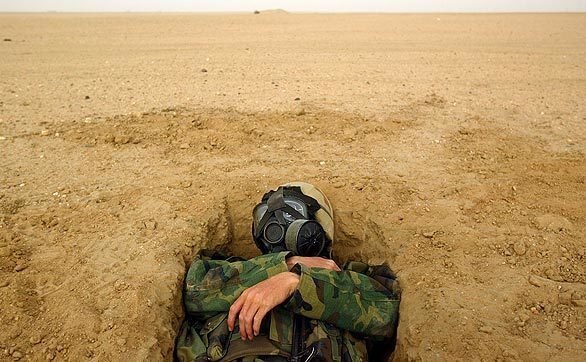 On the first day of the invasion, after U.S. forces launched a thundering bomb and missile attack on Baghdad at dawn, in neighboring Kuwait, Marine Cpl. Philip Sturm hunkers down amid reports of Iraqi missile attacks and artillery fire. U.S. ground forces are stationed there as they await orders to deploy.
See for a Times' report on the first moments of the invasion from the ground in Baghdad.
How did the U.S. get to this point? Read the Times' for a quick tutorial.
(Rick Loomis / Los Angeles Times)
"Like a choreographed fireworks display, one building after another exploded in bright yellow flames, quickly smothered in clouds of dust and debris," writes Times' reporter John Daniszewski in his piece from March 23, 2003.
Bombs rained down for a second night on the Iraqi Planning Ministry and other buildings in one of Saddam Hussein's presidential compounds on the Tigris River in the heart of Baghdad. At the same time, coalition forces began a ground campaign, with U.S. and British troops sweeping into southern Iraq.
(Carolyn Cole / Los Angeles Times)
A camel surveys a convoy of U.S. military vehicles rolling through the Iraqi desert as they press almost unimpeded north toward Baghdad. Backed by a relentless barrage of air power, U.S. and British troops passed the halfway point, but were slowed by patches of Iraqi resistance and braced for heavier fighting.
(Rick Loomis / Los Angeles Times)
An Iraqi soldier, his vehicle ablaze behind him, surrenders to U.S. troops near Nasiriya in southeastern Iraq. Large numbers of Iraqi troops turned themselves in, but American troops faced some intense resistance as they continued their advance toward Baghdad. The city was pounded by airstrikes for the fifth straight day.
from that day, which includes an Iraqi policeman's guarantee that U.S. forces will never reach Baghdad.
(Rick Loomis / Los Angeles Times)
Iraqis surrender after a gunfight with U.S. troops. Guerrilla fighters sometimes posed as civilians and opened fire on U.S. and British troops, violating laws of armed conflict, U.S. officials said. Severe sandstorms stalled the push toward Baghdad.
(Rick Loomis / Los Angeles Times)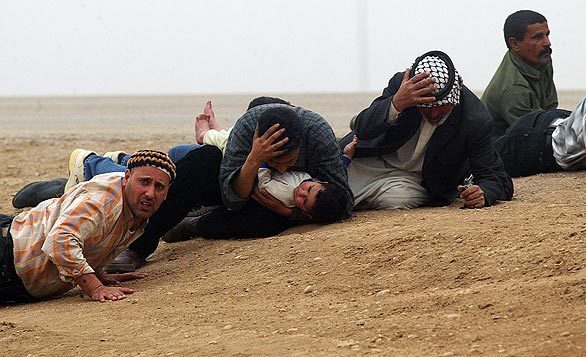 Iraqis, one carrying a child, lie on the ground on the order of American troops who stopped their vehicle as it approached U.S.-held territory. The men, who said they were fleeing from Baghdad, were ordered to turn back. One of them, far left, refused to return toward the capital and walked away into the brush.
(Rick Loomis / Los Angeles Times)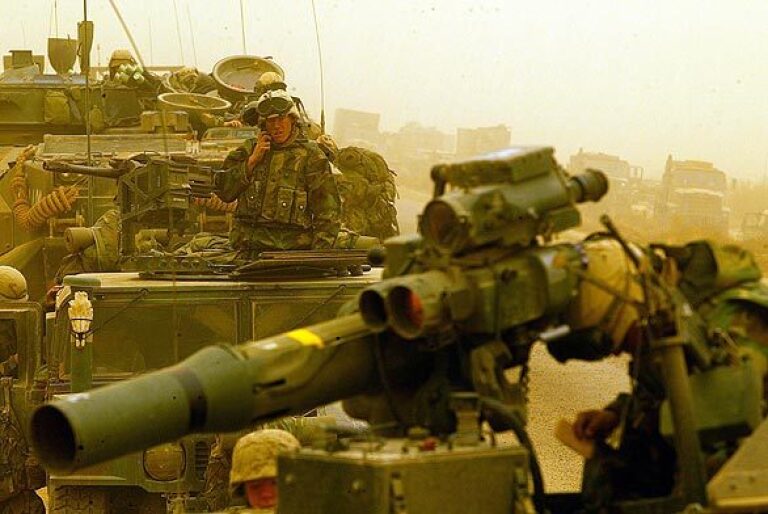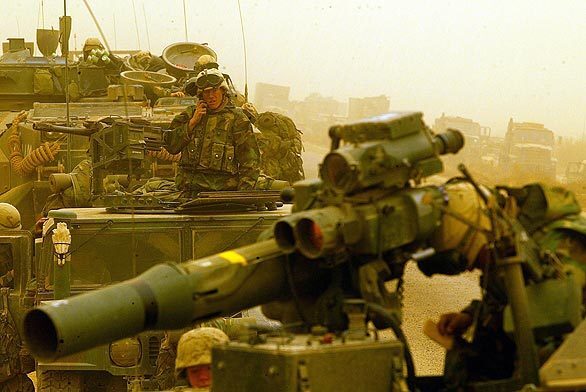 A Marine uses a radio while sitting out a sandstorm in southern Iraq. The blinding dust, with visibility reduced to 10 feet, forced a halt to some airstrikes. U.S. Marine and Army forces that were closing in on Baghdad were frozen in their tracks.
With U.S. Marines stuck in a sandstorm, what was public sentiment back home at this time? Read the Times' article to find out.
(Rick Loomis / Los Angeles Times)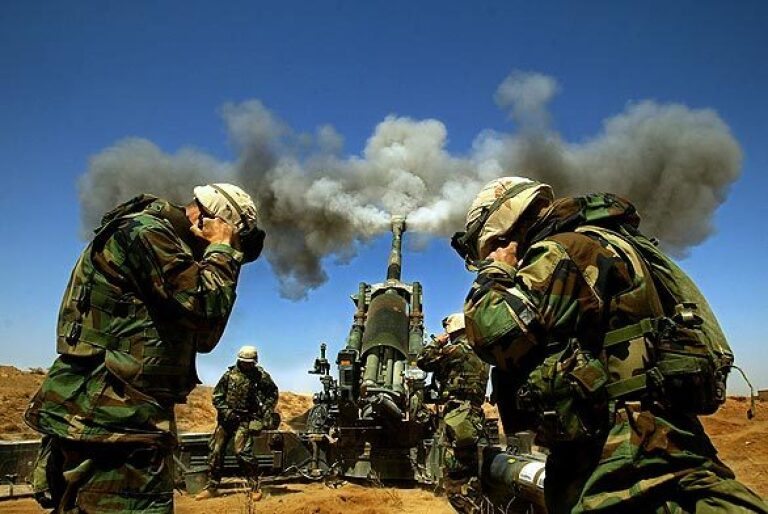 U.S. Marines shield their ears from the roar of a 155-millimeter howitzer firing on Iraqi positions south of Baghdad. The U.S. opened another front in the war, with a vanguard of 1,000 American soldiers parachuting into northern Iraq earlier in the day.
(Rick Loomis / Los Angeles Times)
U.S. Marines stand over the scene of an attack on a bus believed to have been carrying fighters into southern Iraq. In the background, the wounded get medical care. Hussein's personal paramilitary groups ambushed supply columns, organized resistance and kept a tight grip on Basra, the south's main city.
to read Arthur Schlesinger Jr.'s 2003 column
(Rick Loomis / Los Angeles Times)
A U.S. Black Hawk takes off against the sunset, sending billows of sand into the air. The sand made takeoffs and landings, as well as routine maintenance, more difficult. Marines broke through the Republican Guard's Baghdad Division south of the capital, and the U.S. military death toll reached 46.
(Kevin P. Casey / Los Angeles Times)
Baghdad residents, who say they will never accept the American invaders, watch as a U.S. B-52 bomber flies over the capital, where Hussein's presidential complexes along the Tigris River were repeatedly bombarded. The strongman's spokesman issued a TV message urging the public to rise up against U.S. forces.
(Carolyn Cole / Los Angeles Times)
Marines wave and cheer a convoy of U.S. troops as it passes their position south of Baghdad. They were waving signs asking the troops for cigarettes, which, to the consternation of many, were in short supply. The day before, U.S. forces captured a major prize, Baghdad's international airport.
(Rick Loomis / Los Angeles Times)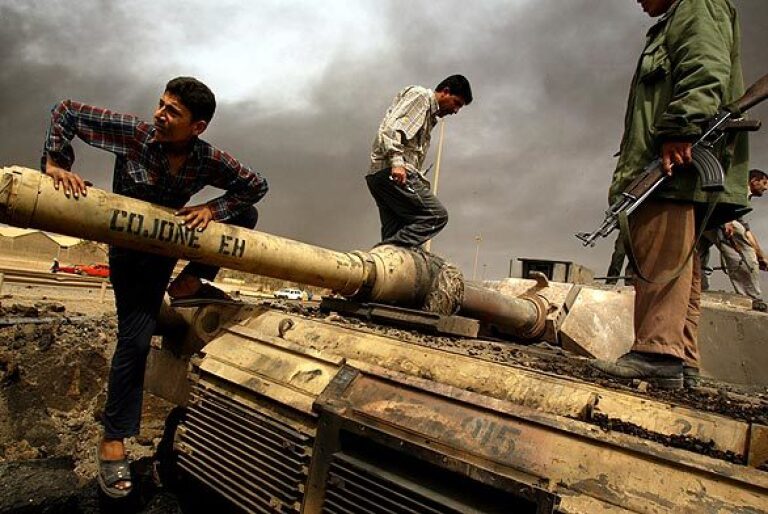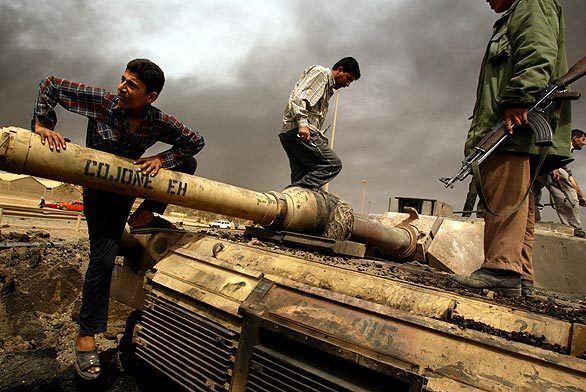 Iraqi soldiers and civilians climb on top of an American tank disabled in fighting a day earlier in a southern suburb of Baghdad. Some tried to break off pieces of the tank, likely abandoned by U.S. forces, as trophies. A column of about 60 tanks with the Army's 3rd Infantry Division advanced from the airport, thundering toward the city center and defeating a Republican Guard guantlet. Hundreds of Iraqi soldiers were reported killed and 30 antiaircraft batteries destroyed.
(Carolyn Cole / Los Angeles Times)
A gunner with the 7th Brigade of the British Royal Marines stands watch over Algeria Square in Basra, in southern Iraq. Curious residents were generally friendly toward the British troops as they forced their way into the city center, the deepest incursion yet in the two-week battle for Iraq's second-largest city and main port.
(Don Bartletti / Los Angeles Times)
The body of an Iraqi irregular soldier floats in a marsh in Basra. Red Crescent volunteers retrieved the bodies of soldiers slain in fighting with British troops. British paratroopers entered the city on foot and frenzied looting broke out as residents grew more confident that Saddam Hussein's rule was over.
(Don Bartletti / Los Angeles Times)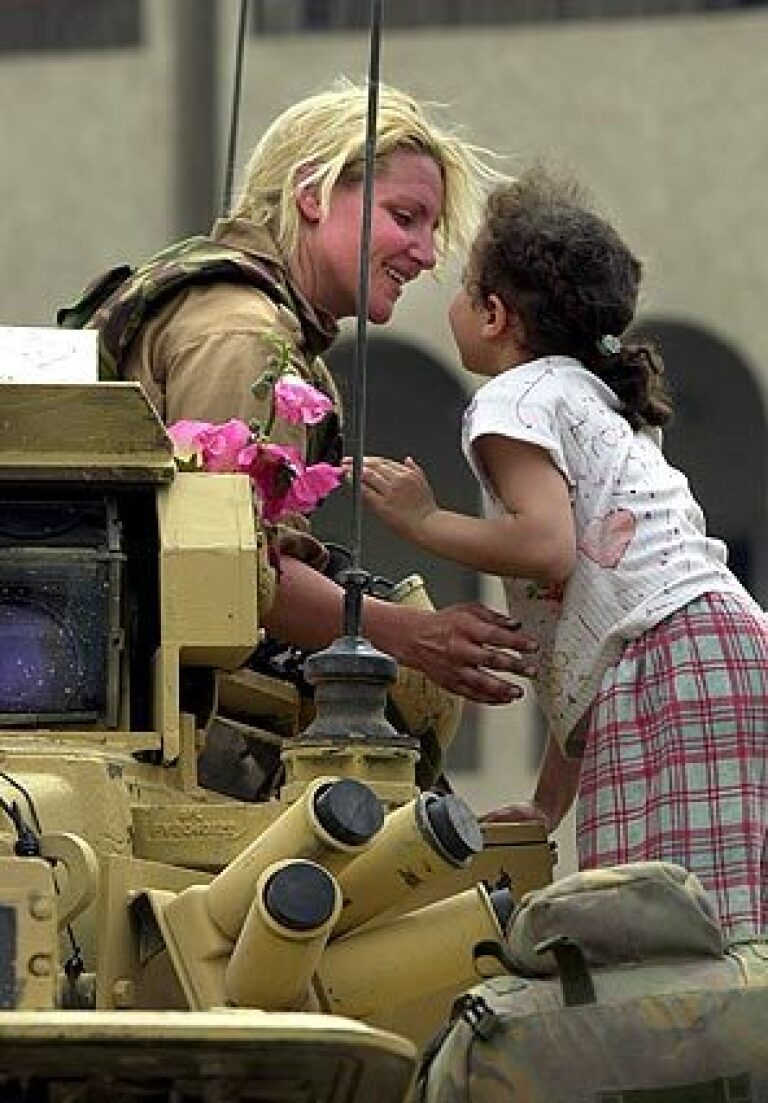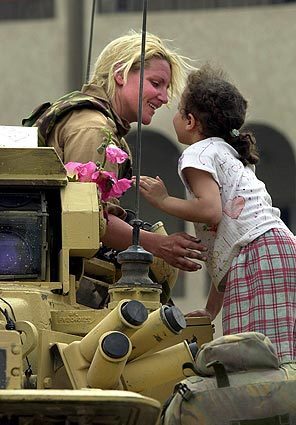 Crowds mobbed British marine tank units at they took Basra, and Capt. Sarah Shepherd became the darling of residents, for whom a female soldier was an uncommon sight. They gave her flowers, requested her autograph, and some asked for her hand in marriage.
(Don Bartletti / Los Angeles Times)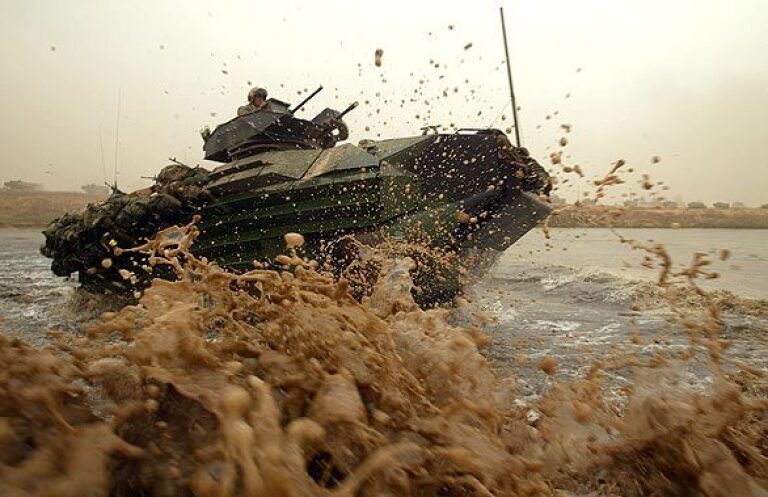 Marines cross the Diyala River on the edge of Baghdad to join the battle. U.S. troops captured one of Hussein's presidential palaces, attacked another and blew up one of his statues as they rolled into the isolated, faltering capital.
(Rick Loomis / Los Angeles Times)
Tanks advance on Baghdad across one of the main bridges in Baghdad as aerial bombardment of the capital continues. Said one U.S. commander, "We hold the city and all major instruments of power. The regime is no longer in power."
(Carolyn Cole / Los Angeles Times)
A large bomb landed in the Mansour neighborhood of Baghdad, flattening four houses. It was rumored to be the site targeted by a U.S. warplane that dropped four powerful bunker-busting bombs on a tip that Hussein and his sons Uday and Qusai had been there during the day.
to read the Times' 2003 commentary
(Carolyn Cole / Los Angeles Times)
Marine Lance Copl. Shawn Hicks of Arizona gets a kiss from an Iraqi man as Baghdad residents celebrate the arrival of American troops in Firdos Square, in the heart of the capital. "Victory! We are free!" crowds called out. "Thank you, President Bush!"
Click here
to see the Times' front page from April 10, 2003, announcing U.S. control of Baghdad.
for the Times' story
(Carolyn Cole / Los Angeles Times)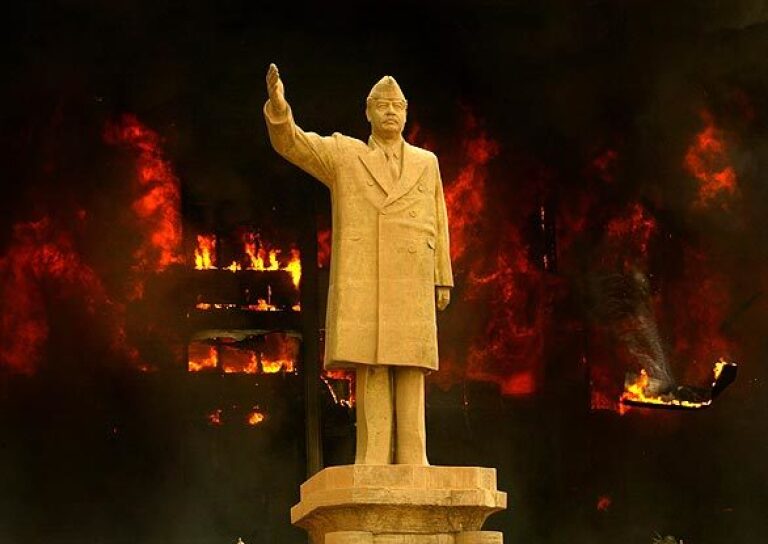 With Baghdad in U.S. hands, there were wild celebrations, but also widespread looting across the capital. The looters set fire to the headquarters of Iraq's Olympic Committee, near a statue of Hussein. Government buildings across Baghdad were stripped of anything that could be carried. U.S. troops did not intervene.
(Carolyn Cole / Los Angeles Times)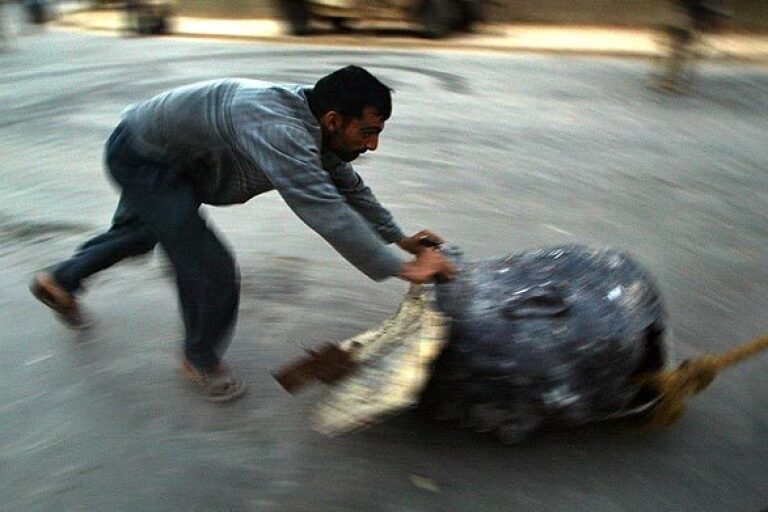 Baghdad residents broke and dismantled the numerous statues of Saddam Hussein that dotted the capital. A man rolls away the head from one of them. Many Iraqis spoke of how they detested the regime.
(Carolyn Cole / Los Angeles Times)
U.S. soldiers confront two men at a ministry building in Baghdad that was overrun by looters. "Stuff happens," said U.S. Defense Secretary Donald Rumsfeld. "Freedom's untidy. And free people are free to make mistakes and commit crimes and do bad things."
(Carolyn Cole / Los Angeles Times)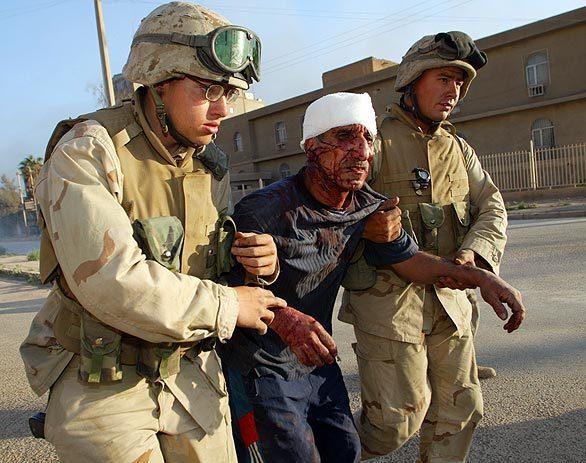 Marines help Ibrahim Elias, 53, walk to Red Cross headquarters in Baghdad. Elias, who was guarding a business, was shot and beaten by looters; the first hospital he went to had been ransacked. After several days of anarchy, U.S. troops moved to establish order and recruit Iraqis for joint patrols.
(Bryan Chan / Los Angeles Times)
Marine commander Lt. Gen. Earl B. Hailston wades through a crowd of Marines in the lobby of a building captured in east Baghdad. Hailston congratulated them on their victory but warned that there was still much to be done. To the north, allied warplanes bombed Hussein's hometown, Tikrit.
(Rick Loomis / Los Angeles Times)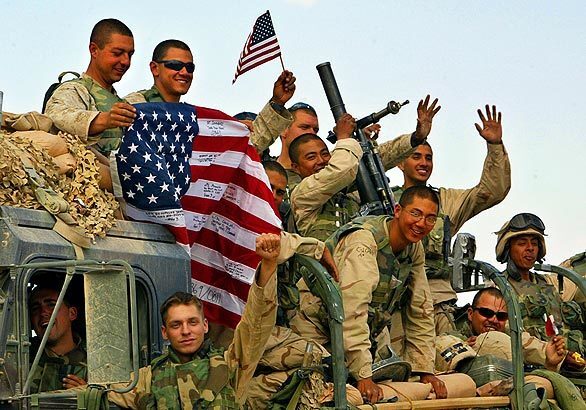 U.S. Marine reservists from Los Alamitos, Calif., celebrate after the capture of Tikrit, considered Hussein's last stronghold; they faced little resistance in the end. With the fall of Tikrit, Maj. Gen. Stanley A. McChrystal, vice director of operations for the Joint Chiefs of Staff, declared, "The major combat operations are over."
(Carolyn Cole / Los Angeles Times)
Looting breaks out in Tikrit after Marines took control of the city, and two boys make off with a hat rack from one of Hussein's palaces. The Marines established part of their headquarters in one of the palace ballrooms, amid marble walls, golden fixtures and chandeliers. Most of Hussein's Republican Guard fled north, damaging bridges as they retreated
(Carolyn Cole / Los Angeles Times)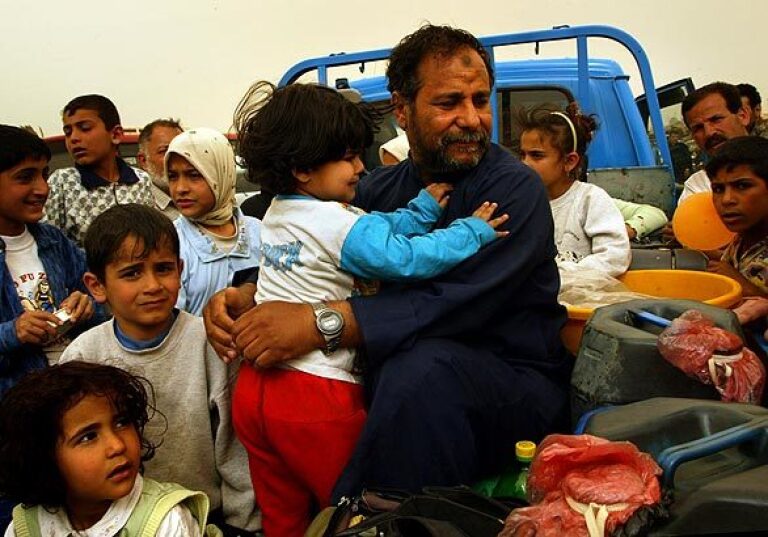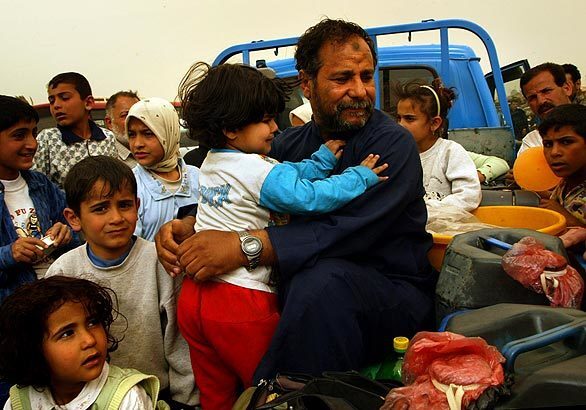 Families make their way back to Bagdhad as violence appears to have eased. Residents arrived crammed inro open trucks, buses, ard cars, many not knowing whether their homes were still standing. Some were angry about the state of the city and the lack of security. President Bush "doesn't stop the looting, he only protects the oil," said one.
(Carolyn Cole / Los Angeles Times)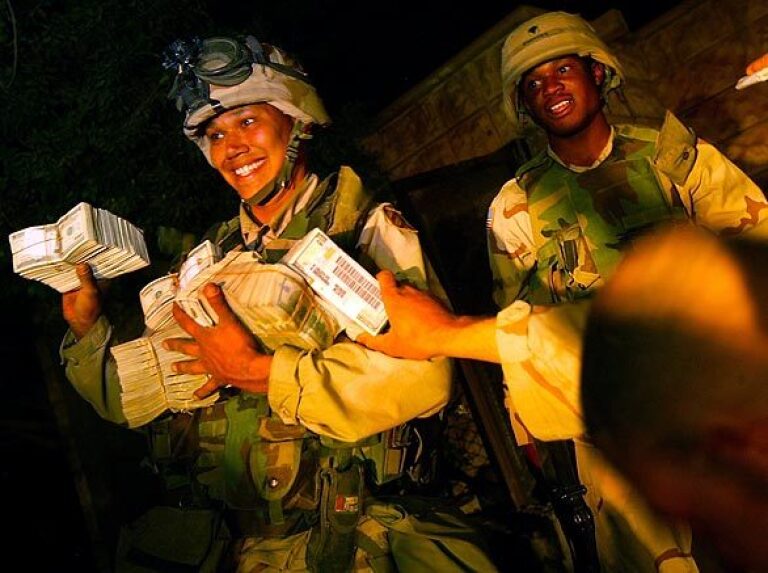 Army Spc. James May and Spc. Lawrence Edwards marvel over a portion of the estimated $650 million found stashed in hastily bricked-over cottages in a Baghdad neighborhood. "Assets belonging to Saddam Hussein and his cronies will be returned to the Iraqis," U.S. officials said.
(Rick Loomis / Los Angeles Times)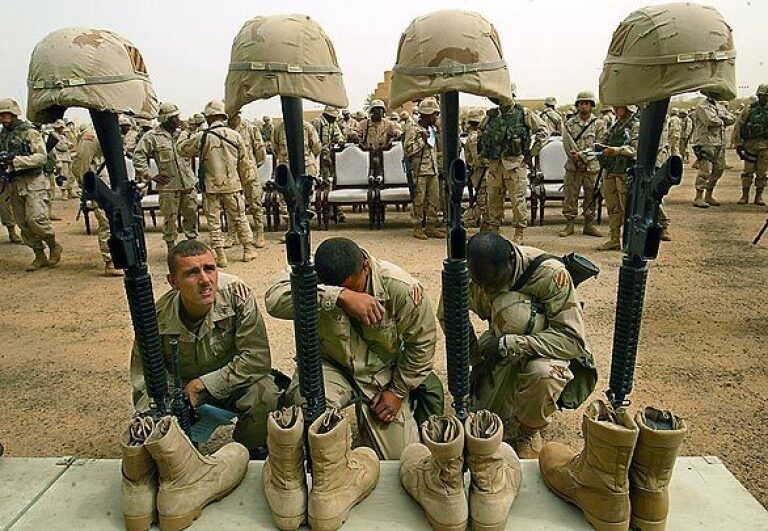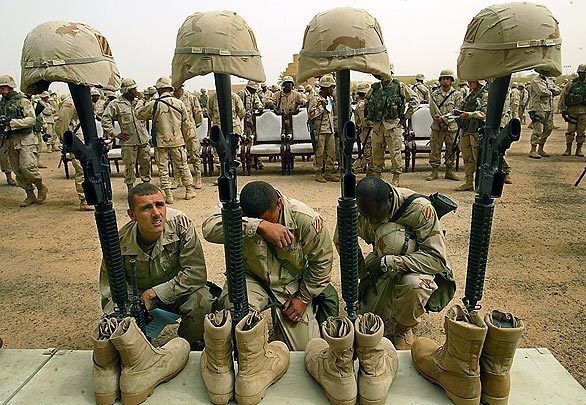 asked a Times' opinion piece in 2003.
U.S. soldiers pay respects to fallen comrades after a service at the Iraqi National Parade Field to honor eight soldiers of the 2nd Brigade of the 3rd Infantry Division and three journalists who died in the U.S. war. By then, 134 U.S. troops and 13 journalists had been killed. The Bush administration urged patience as the military hunted for Hussein's weapons of mass destruction.
(Rick Loomis / Los Angeles Times)
Los Angeles Times Staff Writer
BAGHDAD —
Young, lonely and struggling to make a mark.
The U.S. military Sunday presented a profile of foreign fighters, who are blamed for about 90% of the suicide bombings that have claimed thousands of lives in Iraq. It was based on interrogations of 48 men captured by U.S.-led forces here in the last four months, Navy Rear Adm. Gregory Smith told reporters at a briefing inside Baghdad's fortified Green Zone.
Smith said most militants were single men in their late teens and early 20s recruited by Al Qaeda in Iraq, a largely homegrown Sunni Arab militant group that the U.S. military says is led by foreigners. They typically come from large, lower-income families in which they struggled to be noticed.
"Most of these young men wanted to make an impression, but paradoxically they did not tell their families they were going off to Iraq to fight for Al Qaeda out of fear of disapproval," said Smith, a U.S. military spokesman.
Smith's presentation comes at a time when the number of high-profile suicide attacks in Iraq has inched up, many of them carried out by bombers with explosives strapped to their waists.
U.S. officers stress that the number of attacks overall remains down since the military finished sending an additional 28,500 troops to Iraq in June. But Smith acknowledged that a modest rise in attacks using explosives vests, including 18 in February, was troubling.
"It is a difficult target to stop, and the only effective way is to take down the networks that feed this type of terrorism," he said.
In the latest such attack, a man blew himself up Sunday in front of a Kurdish political party office in the northern city of Mosul, injuring a guard and six civilians, police said. Two policemen were injured by a roadside bomb on their way to the scene, police said.
Fighters also have started to wear explosives vests and blow themselves up when captured, Smith said, a tactic previously used only by senior leadership.
The interviews conducted with detainees are helping U.S. forces to understand the backgrounds, motivations and recruitment of foreign fighters. Smith said most were from the Middle East and North Africa, including about 40% from Saudi Arabia.
More than half of the approximately 240 foreign fighters in U.S. custody come from Saudi Arabia, Egypt and Syria, according to figures provided separately by the military.
Smaller numbers were recruited in Jordan, Sudan, Libya, Yemen, Kuwait, Tunisia, Morocco and Algeria. In addition, several hundred foreign fighters are in Iraqi custody.
Most described their upbringing as religious but not extremist, Smith said. Many said their fathers were harsh and often abusive. Most reported little or no previous military experience. Before they were recruited, many worked as taxi drivers, construction workers and in other low-paying jobs. Others were students.
Their recruiters preyed on their desire for recognition, acceptance and friendship, Smith said.
Many detainees told their interrogators that they were first approached at their mosques. Others were approached at work and invited to attend discussions at the mosque.
These conversations would begin as a harmless discussion about Islam that over several weeks would shift to the war against U.S.-led forces in Iraq, he said.
The recruits were often shown videos of Americans purportedly abusing Iraqis and were urged to help avenge the mistreatment by killing Americans, Smith said. Insurgent strikes against U.S. forces also were shown.
Once they agreed to join the fight, most of the young men were flown to Syria and then smuggled into Iraq by road, he said. The facilitators who met them in Syria often entertained them at nightclubs and bars during the months it sometimes took to get them to Iraq, Smith said.
But when they reached Iraq, those destined for suicide missions were sequestered in safe houses with copies of the Koran and few other amenities. They complained that their Iraqi handlers looked down on foreigners, did not give them enough food and treated them harshly, Smith said.
Some spoke of their disillusionment on discovering that most of the attacks carried out by insurgents were directed against the Iraqi people rather than U.S. forces.
"Again and again, we heard this reality bothered the recruits," Smith said. "They had not come here to kill Iraqi civilians. . . . They felt misled."
Eventually, most just wanted to go home, he said. But their handlers had their passports and their money, so they felt trapped.
All 48 fighters interviewed by U.S.-led forces were men, but a growing number of suicide attacks have been conducted by Iraqi women.
U.S. officers have suggested that the insurgents are using women because they attract less attention. The insurgents may also be having difficulties recruiting foreign volunteers.
About 120 foreign fighters were entering Iraq each month at the peak of the influx in mid-2007, but that figure has dropped to about 40 to 50, Smith said.
A special correspondent in Mosul contributed to this report.
---
Must-read stories from the L.A. Times
Get all the day's most vital news with our Today's Headlines newsletter, sent every weekday morning.
You may occasionally receive promotional content from the Los Angeles Times.