Going home in Iraq: Tearful reunions and a touch of fear
Reporting from Hurriya, Iraq —
Ziad Farhan and his family waited in line with dozens of other families Thursday, panel trucks packed with their belongings, headed for a village named Hurriya: Freedom.
Iraqi forces claimed to have driven Islamic State fighters out of the area in recent days as they fight their way toward their primary target — Mosul. Since last week, more than 3,000 residents who had fled the 2-year-old jihadi occupation have returned to their villages.
But for those returning to Hurriya on Thursday, safety wasn't guaranteed. The incoming convoy passed at least one distraught man whose homecoming had turned into a nightmare when his son and nephew stumbled upon a mine and had to be rushed to a hospital. Iraqi soldiers at checkpoints warned of potential booby traps and Islamic State fighters lingering in the area.
But after three months of living in a tent with his family of four, Farhan decided it was time to make their way back to their village.
More than half of Hurriya's 500 families fled, but have since returned.
"I think it's safe," Farhan, 34, said from behind the wheel as the convoy began to inch through the first of several new military checkpoints. "We are sure that it has been swept. I'm sure there are not any mines or booby traps. If there are, we can inform the authorities."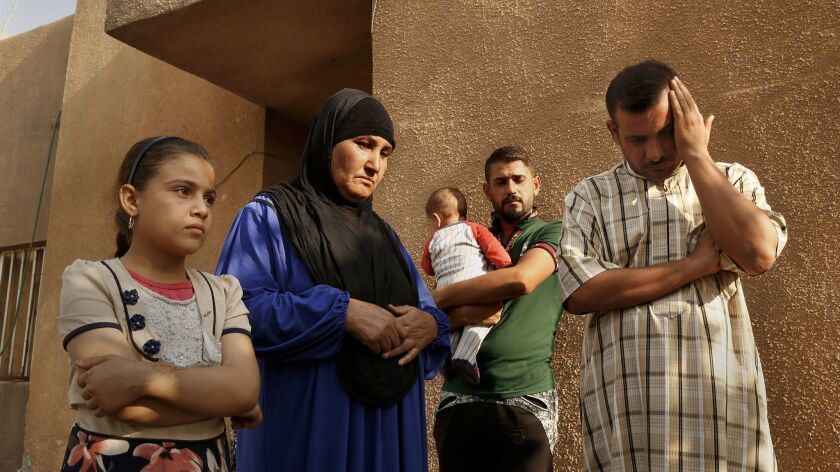 Farhan was a police officer before Islamic State took over Hurriya in June of 2014, terrorizing villagers, painting graffiti on the walls of their houses and kidnapping their sons. He hoped to serve again once his neighbors return.
Several made their way back down the dirt road behind him on Thursday. The sounds of their reunions filled the air: men kissing each other's cheeks, children giggling and women weeping.
Farhan's younger sister Iman, 27, cried as she embraced him in their front courtyard. She had not seen him in three months. The family has no car, no way of visiting the camp where Farhan had been living. His sister lives next door with their parents and had been keeping an eye on his orange cinder block house.
Bullets had pierced the front gate. Inside, he found some windows broken. But the family's flat-screen television was intact, as were framed Koranic verses on the wall.
Farhan helped his wife unload their flowered bedding, cases of bread, sugar and other supplies. Then he left to deliver sacks of food to neighbors, sent by relatives back at the camp.
Even as the offensive to retake the city of Mosul has allowed many in surrounding villages to return to their homes, the fighting has displaced others. So far, more than 10,500 people have been driven out since fighting began last week.
A new emergency camp opened a week ago near Hurriya with 500 tents to house those displaced by the offensive. But by Thursday, 3,000 people had arrived. Families were tripling up in tents and the camp was already expanding, manager Hussein Zewar said.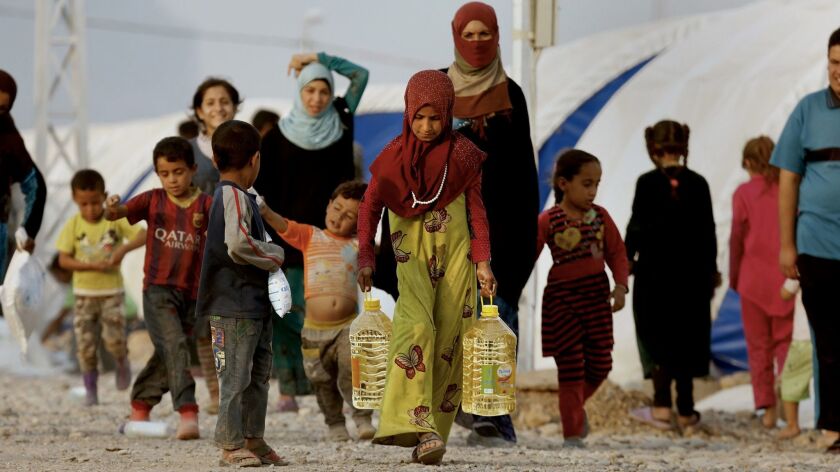 Ahmed Hassan and his family ended up at the camp four days ago after fleeing their village south of Mosul.
Asked when he plans to return, Hassan, 34, said that would depend on the Iraqi army and whether they succeed in their fight against the militants.
"We still don't know," he said as he stood outside the family's tent awaiting distribution of cooking oil and other scarce food.
Homecomings were happening across the newly freed areas outside Mosul.
In Baskhira, a sand-swept hamlet at the foot of Mount Zertik, villagers took the opportunity to come home briefly, scavenging the remnants of their homes for anything they could use back in their temporary residences in the city of Irbil, which so far has been secure from the fighting.
Most had no intention of staying in Baskhira.
"If I come back here, what can I do?" said Kamal Zinghana, a 54-year truck driver whose home had been occupied by militants. "No water, no electricity. And there's no work here now. I have to support four families. That's 20 people."
Outside, a fire raged; the family was burning clothes they had left behind which had been worn by the jihadis and their families.
The militants had cut holes through walls to avoid walking outside and being spotted. On the second floor, a crawlspace led to a balcony which they had apparently used to snipe at Kurdish troops.
"We'll have to fix everything here ... but at least they didn't take the oven and the fridge," said Zinghana's wife, Samyah Fadhel.
Back in Hurriya, Farhan's wife, Roaa Hamdan, said they left the camp because they worried about the approaching winter.
"Most families told us they will return to their villages because of the conditions of the camp and because it's going to be cold soon," she said, cradling her 9-month-old son outside their front door where relatives set out tea.
"In a month, life will come back here," insisted her mother-in-law, Bisha Khalil, 60.
Neighbors had painted over graffiti on a wall across the street that said, "Islamic Real Estate." But other painful reminders remained.
Khalil's 18-year-old son Ibrahim, a student, was kidnapped with several others by Islamic State three days before the Mosul offensive started Oct. 17, accused of raising an Iraqi flag over the family's house in defiance.
He has not been heard from since.
"Some people they returned them to their families. But him, they said: 'You put an Iraqi flag on the house,'" Khalil said, crying.
Children's laughter sounded next door. Khalil perked up, pointing. "Another family returned!"
Taxi driver Mohammed Abdu Azziz, 50, had also made his way home after three months, along with a dozen family members.
"All the neighbors were telling us it was safe," he said as he stood outside his front door.
His wife Yazi Juma, 45, was skeptical. "We have to educate the children about mines so they avoid them," she said.
Azziz resented having to present identification at numerous checkpoints to reach the village where he was born. It didn't feel like the freedom he knew before.
"I don't know what's going to happen to me if I go outside, if the house is going to be booby-trapped or there will be mines in the streets," he said. "I will feel safe when I can go wherever I want. This is my country. I am Iraqi."
Special correspondent Nabih Bulos in Baskhira, Iraq, contributed to this report.
molly.hennessy-fiske@latimes.com
---
Must-read stories from the L.A. Times
Get the day's top news with our Today's Headlines newsletter, sent every weekday morning.
You may occasionally receive promotional content from the Los Angeles Times.