A dinner in Jerusalem draws stars from the American food universe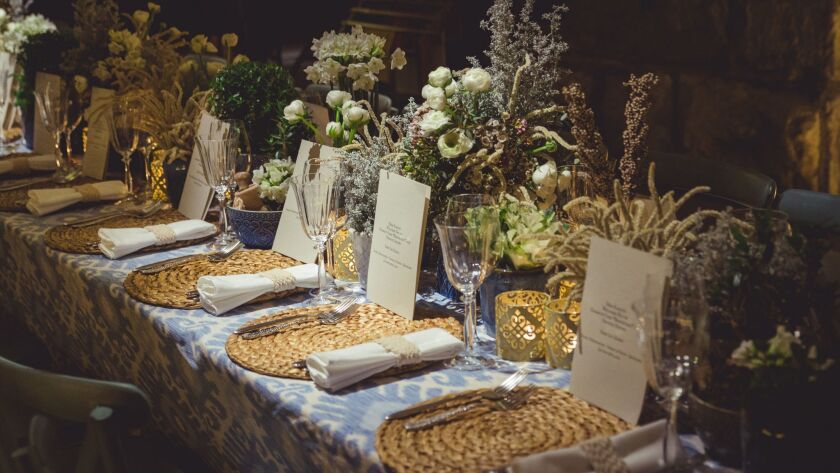 Reporting from Jerusalem —
As the clock struck 9, Eilat Lieber swept into the Crusader Hall, a cavernous 900-year-old chamber, and strode briskly toward the head of a long table set for a feast.
Her eyes surveyed the scene.
The walls, stacks of massive, ancient stones, rose to giddy heights. Even when illuminated by lamps, tea candles and the flash of a few photographers, the vaulted room retained its gothic shade.
At the center, a sea-blue linen tablecloth collapsed in pillowy piles along the entire length of the table. White plates dotted each side and a jungle of greenery spouted along its median. The setting loomed like an offering awaiting a queen.
On cue, a procession of contemporary culinary royalty began to stream in for the opening salvo of Celebrity Chef Birthright, a sumptuous six-day excursion organized by food festival impresario Herb Karlitz. The goal was to bring attention to Israeli cuisine, which is enjoying a moment of international recognition. The title was a sly nod to the "Birthright" tours of Israel for young American Jews.
Jonathan Waxman, the silver-maned prophet of California cuisine and owner of New York restaurants Barbuto and Jams, escorted Nancy Silverton, the groundbreaking chef, baker and owner of the Mozza Restaurant Group in Los Angeles, and food critic Ruth Reichl to their adjoining seats at the center of the hall.
The trio, who have known each other for more than 30 years, are key players in the history of 20th century American cuisine, with a combined 13 James Beard Foundation Awards and more than 1.5 million social media followers. Seating the two women, both of whom had previously visited Israel, Waxman exuberantly declared: "Not me. I'm a virgin."
The citadel where all this took place, the Tower of David, dates to the 5th century, but "this room was built in 1099," said Lieber, director and chief curator of the site, "when the crusaders conquered Jerusalem, and it served as the king's palace. More importantly, Melisende, the [12th century] queen of Jerusalem, ruled here, literally, from this place."
"Who knows," Lieber mused, "if in her time there weren't meals served here like the one we are about to sit down to."
After two years of organizing the extravaganza, Ido Zarmi, the chef who partnered with Karlitz, and who hosted Monday's 12-course meal, stood ready to undertake his mission, in which the best Israeli ingredients, served in the most lavish Israeli setting, prepared by the best-trained Israeli hands, would be presented to the visiting American luminaries.
Politics, for a change, would be set aside. "We're not doing politics," Karlitz insisted. "We're doing what this country has done about food, which is amazing."
Israeli food, like that of every immigrant culture, is famously difficult to describe. Zarmi said his approach is to use the finest local products and introduce his guests to a way of life he came to admire, and define, during the eight years he studied and worked in New York. "Israelis have a culture of life that includes eating, which is fantastic," he said. "It's that culture that makes a visit here fun. You can't limit it to a signature dish."
Whatever it is, it's spreading.
In April, the Forward, the New York-based Jewish publication, published a story about "the rash of new Israeli restaurants" blanketing New York.
In October, the French newspaper Le Figaro listed Balagan, owned by Jerusalem's Machneyuda Group, as the best of 15 notable Israeli restaurants in Paris.
TimeOut London voted Machneyuda's The Barbary as the best restaurant of 2017, the same year that Michael Solomonov, of Philadelphia's Zahav, won a James Beard Award as an outstanding American chef. Last year, in his last articles, the late L.A. Times food critic Jonathan Gold wrote about the "wave of Israeli restaurants" washing over Los Angeles.
Still, anticipating the Jerusalem repast, Mitchell Davis, the Beard Foundation's chief strategy officer, said "all these Israeli places abroad, they lack brightness, a quality you find here."
"Everybody talks about Israeli or Middle Eastern food," said New York chef and "Chopped" judge Amanda Freitag, but the Israeli food created in America, she said, is "muted, its flavor faded," a fact she attributed to the absence of fresh, specific Israeli ingredients, circumstances she compared to making Italian food in America "before you could get real Italian burrata."
Zamri poached Mediterranean branzino in Al Arz tahini, a boutique sesame paste and local favorite produced by mother-daughter team Julia and Lana Zaher, of Nazareth, and perfumed it with oil made by another small supplier, Sindyanna of Galilee, from cold-pressed Coratina olives.
Nine varieties of Israeli olive oil were used to create the meal, none more captivating for the diners than the slick of oil sheathed between two layers of bitter chocolate no thicker than a coin, created by Ika Cohen, a Tel Aviv chocolatier sought out by Israeli and Japanese gourmets.
Waxman, who grew up in Berkeley, came relatively late to an awareness of "what happened with the development of the Jewish state from a culinary point of view."
"As a kid growing up in the '50s, I was embarrassed to be a Jew." He said his family migrated to California following socialist great-uncles who became Petaluma chicken farmers.
"All this stuff about food was so important to me," he recalled, "but I didn't understand the relationship of Israel and what we called 'Jewish food' in America. It was a real disconnect. It was very rare to find Jews with Lebanese and Syrian and Iranian and Egyptian relatives, or even Italian Jews."
The real food of Israel, he said, came to him through reading cookbooks, and "I was fascinated."
Which is how a California-born chef found himself sipping Turkish coffee and Israeli grappa alongside a dessert made of orchids and pistachios, smeared with a creamy sesame paste made by a Christian family in the northern Israeli city of Nazareth.
"I feel like a babe in the woods," he said, ensconced in the ancient desert fortress, "I love it."
Tarnopolsky is a special correspondent.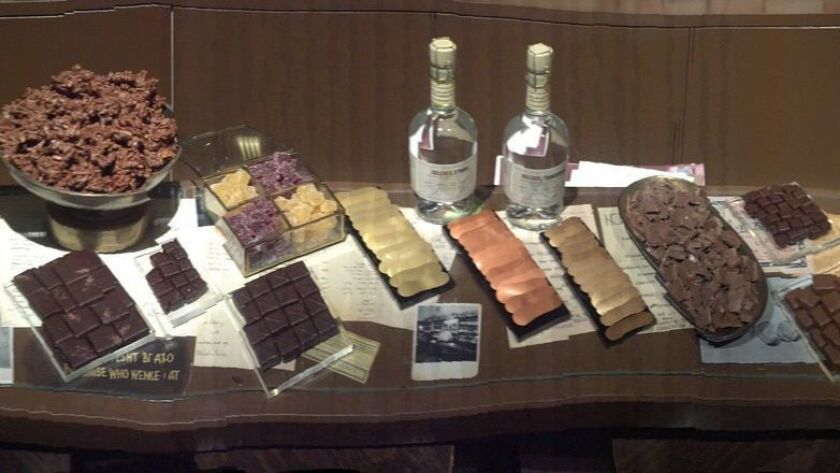 ---
Must-read stories from the L.A. Times
Get the day's top news with our Today's Headlines newsletter, sent every weekday morning.
You may occasionally receive promotional content from the Los Angeles Times.