Intense rocket fire at Israel-Gaza border leaves at least 27 dead in two days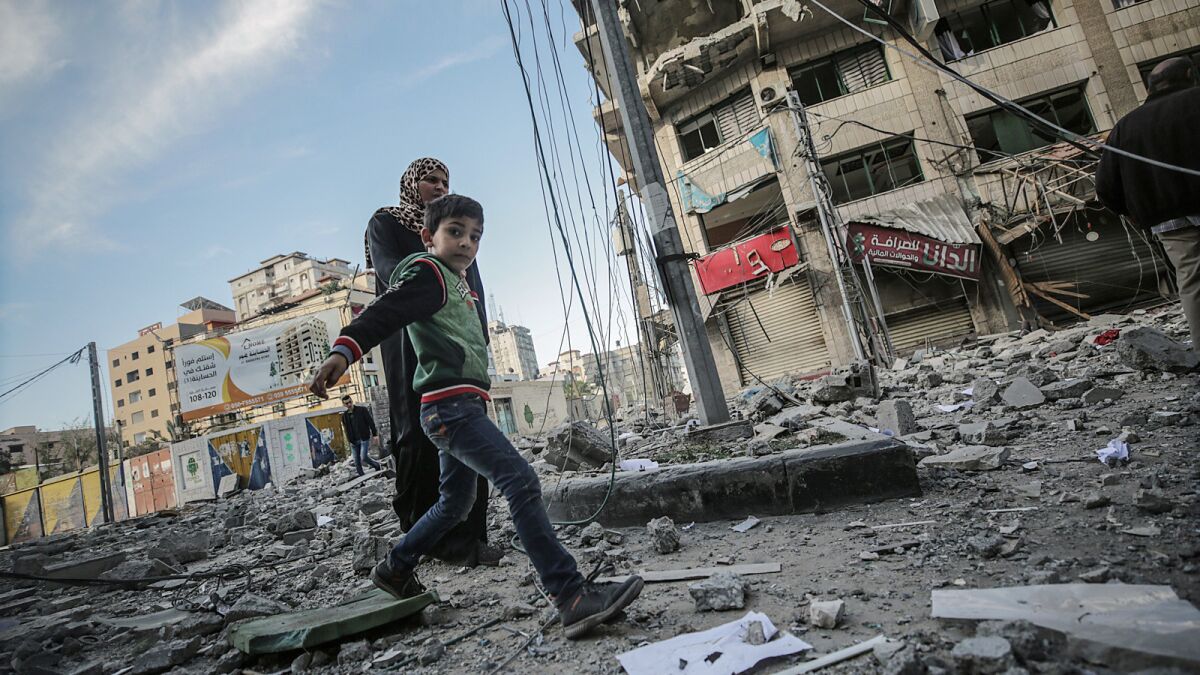 Reporting from Ashkelon, Israel —
Almost uninterrupted rocket fire at Israel's border with Gaza has left 27 people dead as the violence continued into a third day, with no resolution in sight.
In the largest escalation of fighting since the 2014 Gaza war, the Israeli army reported that more than 600 rockets had been launched from Gaza into Israel since Saturday, and said it had responded with 320 airstrikes Sunday.
The Gazan Ministry of Health, an arm of the Hamas paramilitary group that rules the blockaded Palestinian enclave, reported 23 dead in two days of fighting, and Israeli authorities said that four civilians were killed by incoming rocket fire.
For the first time in almost five years, Israel returned to targeted killings of Hamas officials, a tactic increasingly demanded by right-wing Israeli political figures seeking harsh measures against the Islamist militia and one that stops short of a ground war in which Israeli soldiers would face significant risk.
Israeli authorities released a video showing an attack against Hamed Ahmed Khudari, 34, who they said was "responsible for transferring Iranian money to Hamas and Islamic Jihad," a rival group that has joined Hamas in the latest combat against Israel.
The Israeli army said "the funds were used to build the hundreds of rockets recently fired at Israel," adding, "Iran will need to find a new money man in Gaza."
Targeting Khudari appeared to be a warning to senior Hamas leadership. Late Sunday night the Israeli army announced it had struck the office of the Hamas Political Bureau's Tawfiq Abu Naim, minister of Interior and head of the Preventive Security.
The latest round of violence began with gunfire during weekly Gaza border protests on Friday, in which two Israeli troops were wounded by a Palestinian sniper, according to the Israeli army.
It came at a sensitive time for Israeli Prime Minister Benjamin Netanyahu, who has yet to form a governing coalition after winning reelection last month. In addition, Israel is eager to showcase itself as a regional island of safety and prosperity during the Independence Day festivities next week, and during the Eurovision Song Contest, due to conclude in Tel Aviv on May 18.
Hamas had hoped to bring a tangible achievement to the nearly 2 million beleaguered Palestinians who live under its control in the Gaza Strip, after a year of weekly protests that achieved little, with more than 180 Gazans killed in clashes with Israeli troops and thousands wounded. Ramadan, the most important period of the Muslim calendar, had loomed as a target date to show results against Israel.
On the eve of Ramadan, the Muslim holy month, a festive period, the streets of Gaza City were empty and the shops vacant. The enclave's border area schools were closed.
In central Gaza, rubble from the seven-story Abu Qammar building, blasted in an Israeli airstrike, blocked the main street, its electric wires lying exposed.
Following a knock-on-the-roof protocol, the Israeli army had fired two warning shots and called the building's owner with instructions to evacuate the premises ahead of bombing what it said was a structure serving Hamas security services.
In Israel, the usual course of life was fully disrupted, with the emergency shuttering of schools and businesses, and few patrons in the handful of cafes that opened their doors.
Israel's Iron Dome missile defense system worked without cease. In Ashkelon, the dull thump of rocket launches — aimed at intercepting incoming rockets — interrupted sirens and the summer breeze like a metronome.
"It's a war in every way but a declaration," said Shem-Or Shaya, 25, the manager of an almost deserted Roladin cafe in town, where a small pile of olive and gouda flutes lay untouched next to a display case packed with French pastries.
Shaya said he hoped Israel would engage the Gazan militias in a significant operation, "to bring normal life back here." His nieces and younger siblings jump every time they hear a motorcycle, he said. The entire family had decamped to a shelter after having been awakened three times by air raid sirens Saturday night.
"Life here has to be worth the same as life in Tel Aviv," Shaya said, in a message to Netanyahu, who has not addressed the public during the two days of fighting.
Speaking to a clutch of journalists next to a factory in which two laborers had been killed by a rocket, Asheklon Mayor Tomer Galam said, "By any parameter, we are in a situation of war."
He wore a bulletproof vest as he urged citizens to follow all civil safety instructions.
Across the south of Israel, schools from kindergartens to universities canceled all classes until further notice. In Sderot, a city only half a mile from the Gaza border, an empty kindergarten was struck by a rocket.
Israeli police spokesman Micky Rosenfeld said the performance of Israel's vaunted Iron Dome system could not be faulted given the pace of incoming launches.
Alluding to Israel's intricate civil defense network of sirens, alerts and bomb shelters and a public that has become proficient in rapid response, Rosenfeld said, "Iron Dome is working, but it sometimes can't intercept everything ... every man, woman and child has 20 seconds to get to a shelter, and that's enough time."
In anticipation of an expanding battlefield, the Tel Aviv satellite city of Ramat Gan and, further north, coastal Netanya, announced the opening of municipal shelters.
A meeting of Israel's security Cabinet that lasted almost five hours concluded with a statement announcing instructions for the army "to continue the strikes and to prepare for continuation."
Later Sunday, Netanyahu met with a visiting delegation of envoys led by David Friedman, the United States' ambassador to Israel. In a statement, the group asked, "Can one imagine rockets falling on Washington, Berlin, Paris, Brussels, Bern or Lisbon today without an appropriately strong reaction?" and called on "all nations to call these actions out for what they are — terrorism, pure and simple."
As United Nations, Qatari and Egyptian officials persisted in attempts to mediate a cease-fire, Hamas leader Ismail Haniyeh blamed Israel for not holding up its end of "understandings."
"Without a full cease-fire and the immediate implementation of the understandings on the road to ending the siege, the doors will be open to many choices," he said, as sirens and blasts continued to sound late into the night.
Special correspondents Tarnopolsky and Abu Alouf reported from Ashkelon and Gaza City, respectively.
Must-read stories from the L.A. Times
Get the day's top news with our Today's Headlines newsletter, sent every weekday morning.
You may occasionally receive promotional content from the Los Angeles Times.