Israel and Hamas flirt with war again after rocket attack from Gaza strikes house near Tel Aviv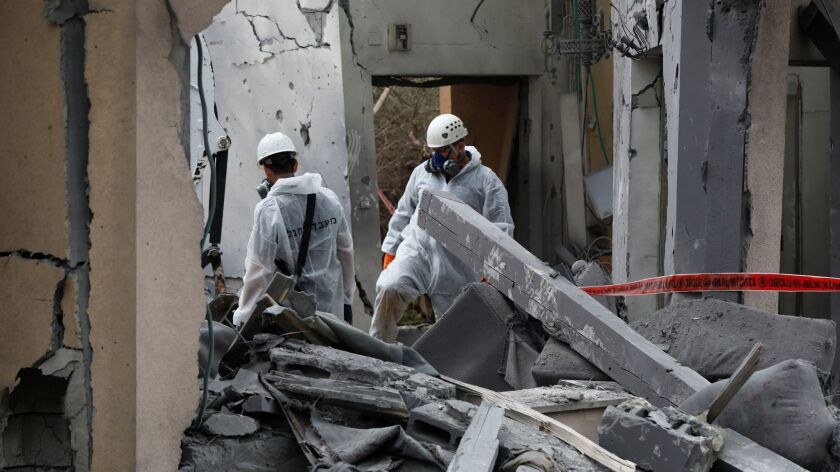 Reporting from Jerusalem —
Israel and the Palestinian group Hamas skated to the edge of another war Monday after a rocket launched from the Gaza Strip demolished a family home in a town north of Tel Aviv and Israel retaliated with a bombardment of its own.
The rocket crashed into the home in the quiet, prosperous town of Mishmeret at dawn. The town lies beyond the area usually protected by Israel's Iron Dome antimissile systems.
The Israeli army blamed Hamas, the Islamist militia that controls Gaza, and launched an extensive wave of retaliatory strikes Monday afternoon that reportedly destroyed several Hamas buildings, including the headquarters of the group's leader, Ismail Haniyeh.
Israeli army spokesman Ronen Manelis told the news portal Ynet: "I think that Hamas understands this is a significant strike [after] a serious incident, and ultimately, this is a price that Hamas has been due to pay for the past year."
The Joint Chamber of Resistance, an operations group including Hamas and the Palestinian militant group Islamic Jihad, issued a statement threatening to target the Israeli cities of Sderot and Netivot "with rockets if the enemy continues the violations." A house in Sderot was later struck, although no one was injured.
Nearly 200 Gazans have been killed in a weekly series of protests along the Israeli border during the last year. According to United Nations figures, more than 9,000 have been wounded.
The escalation erupted two weeks before elections in Israel and as Prime Minister Benjamin Netanyahu was in Washington to deliver an address to the American Israel Public Affairs Committee and to meet with President Trump.
In another step that could inflame the region, Trump formalized a statement he made via Twitter last week by declaring in an executive order Monday that the United States recognizes Israeli control of the Golan Heights, which Israel seized from Syria in the 1967 war. Previous administrations have acceded to international law, which regards the Golan Heights as disputed and occupied territory.
Trump signed the order, whose legal authority is disputed, in the White House, surrounded by Netanyahu and others who support his staunchly pro-Israel stance, including the U.S. ambassador to Israel, David Friedman. Also present were the two people whom Trump has appointed to formulate a peace plan for the Middle East, son-in-law Jared Kushner and former Trump attorney Jason Greenblatt; their presence could further complicate their ability to appear as neutral brokers in any peace deal.
Netanyahu cut short his visit after the rocket strike. He said he was returning home to "lead the people of Israel and the soldiers of Israel."
"I have a simple message for Israel's enemies," Netanyahu said at the White House. "We will do whatever we must do to defend our people and defend our state."
Seven people in the home in Mishmeret, including two infants, were hospitalized with non-life-threatening injuries, authorities said.
Standing by the rubble, London-born Robert Wolf, who lived in the house, told Britain's Daily Telegraph news site that he was asleep at home with his wife, Susan; his son, daughter, daughter-in-law and two grandchildren when sirens went off and they scurried into their home's bomb shelter. "If we hadn't got to the bomb shelter in time I would be burying all my family," he said.
The Gazan Health Ministry reported that five people were injured in the strikes in the territory.
On both sides of the border, children were released early from school and the civilian population was put on high alert.
In Israel, municipal air raid shelters were opened as far north as Tel Aviv, and Ben Gurion airport, the nation's principal international hub, announced changes in incoming flight paths.
Gaza City became a ghost town, and Palestinian radio stations and Hamas television broadcast songs calling for resistance against Israel.
Rockets continued to be launched toward Israel through the day, with the Israeli army identifying about 30 launches from Gaza. Sirens sounded across the Israeli south, and at least a million people prepared for a night in bomb shelters.
The Israeli army reported that a family home in the southern city of Sderot was hit by a missile, with no injuries reported. That family also had sought safety in a bomb shelter.
Hamas and other armed Palestinian factions have sporadically fired rockets into Israel since the 2014 war between Israeli forces and Hamas. Monday's escalation was the ninth round of fighting in the last year.
None has lasted more than 24 hours, and injuries among Israeli civilians are rare.
Late Monday, Hamas television announced that Egyptian mediators had brokered a cease-fire between Israel and Hamas. There was no Egyptian or Israeli confirmation, and no halt in the rocket launches or airstrikes.
Netanyahu is in a tight race for reelection to a fifth term in office in balloting scheduled for April 9.
Rivals from across the spectrum raced to Mishmeret on Monday, with those on the right pressuring the prime minister to act decisively against Hamas.
With the anniversary this week of the border protest marches and few achievements to show for the sacrifice, Hamas faces a difficult moment of reckoning. Last week, about a thousand Gazans were arrested after hundreds took to the streets to protest continued dismal living conditions.
Hamas wrested control of Gaza from the Palestinian Authority 12 years ago, and the seaside enclave has since been subject to an Israeli-Egyptian blockade. Conditions have worsened, in part because of sanctions imposed by the Palestinian government.
Tarnopolsky is a special correspondent. Times staff writer Tracy Wilkinson contributed to this report.
---
Must-read stories from the L.A. Times
Get all the day's most vital news with our Today's Headlines newsletter, sent every weekday morning.
You may occasionally receive promotional content from the Los Angeles Times.