Israel carries out deadly airstrikes in Gaza after one of its soldiers is killed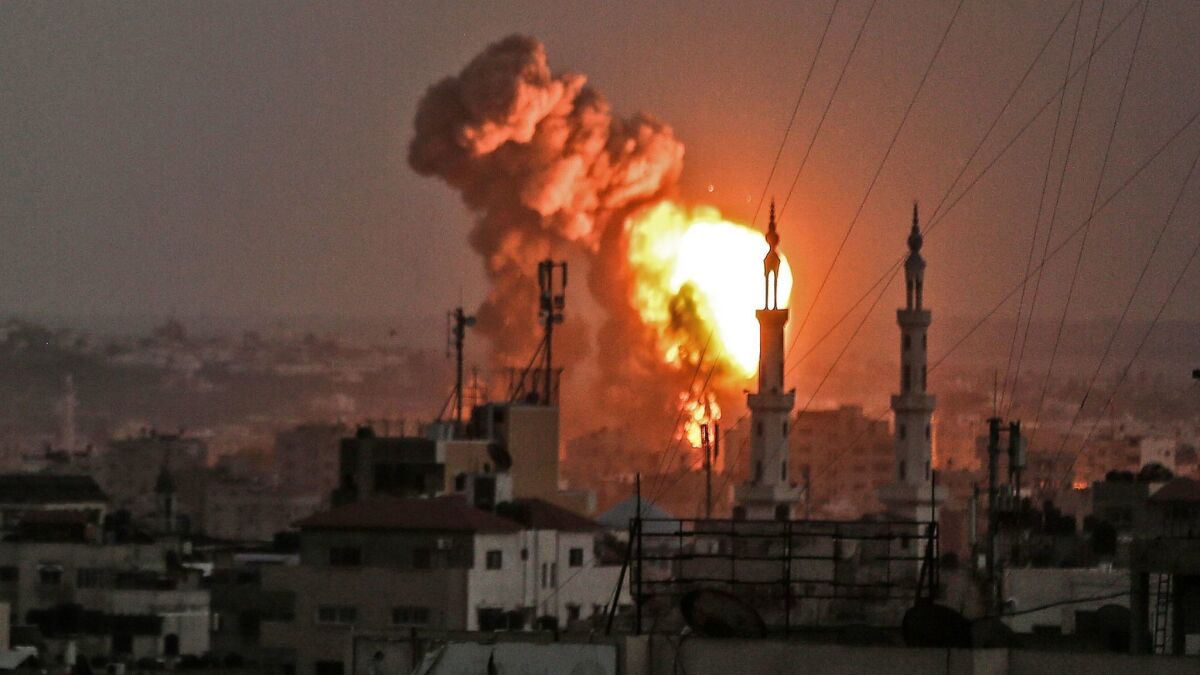 Reporting from Gaza City —
In the sharpest escalation of violence in weeks, Israel carried out widespread and fatal airstrikes in the Gaza Strip on Friday, which the Israelis said were in response to attacks on its soldiers.
Before the assault, sniper fire killed an Israeli soldier along the Gaza-Israeli border, the first Israeli to die in months of conflict that have claimed the lives of more than 140 Palestinians.
At least four more Palestinians were killed in Friday's bloodshed, according to the Gaza Ministry of Health, three of them members of the militant Islamist group Hamas, which controls the enclave. About 120 others were injured, most of them protesters suffering from tear gas exposure.
Beaches were evacuated throughout southern Israel, sirens wailed, and those attending Friday night prayer services were told not to fill synagogues beyond capacity amid the violence, which each side blamed on the other.
The Israeli military said it struck dozens of Hamas targets — including warehouses, aerial defense systems and observation posts — after its soldiers came under gun and grenade fire. It also said it had identified three rockets aimed at Israel, two of which were intercepted by the country's Iron Dome defense system.
"An event of this sort we cannot tolerate," Israeli army spokesman Lt. Col. Jonathan Conricus told journalists, blaming Hamas for provoking the violent response.
Hamas evacuated command posts and told residents to shelter in place. It said Israel was the aggressor and vowed that the weekly protests along the border would continue, including flying kites with incendiary devices attached that have set fire to Israeli cropland and forests.
Streets emptied as loud explosions reverberated across the strip.
Suha Mofeed, a 19-year-old mother of two, was visiting her parents when the Israeli attacks began.
"We were sitting on the roof when the sky turned to red," she said. "I was afraid for my children. I took them and we went inside our home.
"I hate to hear the explosions. It reminds me of the 2014 war, when I lost my best friend," she continued. "I don't want to witness another war."
The border protests started in March and reached a peak in May, when the United States inaugurated its new embassy in Jerusalem, a move seen as a provocation by Palestinians. But demonstrations have continued as the Palestinians press their decades-long demand to return to villages and homes their families fled when the state of Israel was created 70 years ago.
Thousands of Palestinians took part in Friday's protests at a number of sites along the Israeli-Gaza border.
The Israeli offensive began after nightfall as the military launched airstrikes and fired tanks at Hamas military installations.
In a statement, the Israeli army said, "Hamas chose to escalate the security situation — and will bear the consequences for its actions. Troops are on high alert and will continue to operate in order to ensure the safety of Israeli civilians."
A senior Israeli military officer told the news site Ynet that the violence was "the worst event since the end of the 2014 Gaza war," adding that "Hamas is responsible."
Shortly after midnight, a Hamas spokesman, Fawzi Barhoum, announced a cease fire. "Through Egyptian and international efforts we have agreed to return to the previous state of calm between the occupation and the Palestinian factions," he said.
There was no immediate confirmation from the Israelis.
Earlier Friday, Israel Defense Forces Chief of Staff Gadi Eizenkot and Israeli Prime Minister Benjamin Netanyahu convened a special meeting of top military and security officials at the Defense Ministry's headquarters in Tel Aviv.
Israeli Defense Minister Avigdor Lieberman warned that Hamas was dragging Israel into a "broad, painful military operation" larger than the last Gaza war, in 2014.
"We are trying to be measured and responsible," he said while visiting the southern city of Sderot, a frequent target of mortar and rocket fire from Gaza.
"Unfortunately," he said, "Gaza's residents will be among those who will have to pay the price."
Lieberman mentioned the possibility of easing the punishing economic blockade in Gaza, which Israel and Egypt have maintained since Hamas' takeover of the territory in 2007, in exchange for "a total cessation of terror and provocations at the [border] fence."
He echoed the central idea of an opinion piece in the Washington Post written by Trump administration officials Jared Kushner, Jason Greenblatt and David Friedman.
"Life could significantly improve in short order for the Palestinian people if Hamas allowed it," they wrote. "There are engaged, interested parties with resources who are ready to get to work. Yet without real change accompanied by reliable security, progress is impossible.
"The nightmare of Hamas's leadership is continuing and needlessly prolonging the suffering of the Palestinian people in Gaza."
Hamas rejected the Americans' assertions. "Kushner and Greenblatt are adopting the Israeli narrative, and their aggression against Hamas points to the contempt of the American government," Hamas spokesman Sami abu Zuhri said.
The escalation Friday broke out almost four years after the capture and killing of two Israeli soldiers, Oron Shaul and Hadar Goldin, whose remains are still held by Hamas.
On Friday, Hamas senior leader Khalil Hayya said that Israeli soldiers captured in Gaza "will not see the light until Israel has paid the price."
"Your soldiers are in our hands, and you will not see them unless you pay the price," he said during a Friday sermon at the funeral ceremony for Qasami Abdel Karim Radwan, a militant killed during the clashes.
Special correspondents Tarnopolsky reported from Jerusalem and Salah from Gaza City. Times staff writer Alexandra Zavis contributed to this report from Beirut.
---
UPDATES:
4:25 p.m.: This article was updated throughout with Hamas announcing a cease fire, reaction from a Gaza resident and other details.
This article was originally published at 3:05 p.m.
Must-read stories from the L.A. Times
Get the day's top news with our Today's Headlines newsletter, sent every weekday morning.
You may occasionally receive promotional content from the Los Angeles Times.