Dozens of Palestinians hurt in protest on Gaza-Israel border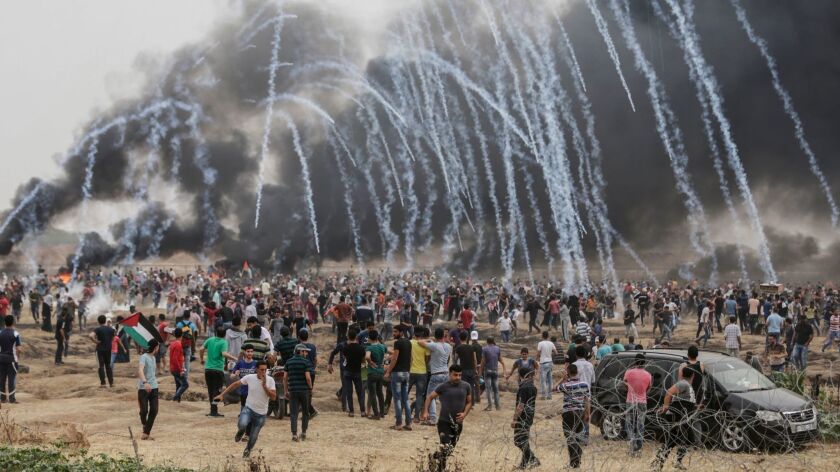 Reporting from Gaza City, Gaza Strip —
Thousands of Palestinians staged a sixth weekly protest Friday near Gaza's border with Israel, some burning tires and throwing stones as Israeli soldiers fired live bullets and volleys of tear gas, injuring dozens of people.
Small Israeli drones faced off against Gaza kites with burning rags attached to them, according to witnesses. In recent weeks, Gaza protesters had sent some of these kites across the border as part of a new tactic of setting dry wheat fields on the Israeli side on fire.
On Friday, Israeli drones took down two kites in one location, while stone-throwers with slingshots sent two low-flying drones crashing in another area, witnesses said. The Israeli military said two small surveillance drones fell into Gaza, but did not elaborate.
The military said that in one area, protesters tried to damage the fence and enter Israel but withdrew when soldiers arrived. In another location, soldiers warned over loudspeakers that those burning tires would be targeted.
By late Friday afternoon, 148 Palestinians had been wounded, including 42 by live bullets and 20 by rubber-coated steel pellets, Gaza health officials said. Since late March, 39 protesters have been killed and more than 1,700 wounded by Israeli fire.
Gaza's rulers have said the protests might culminate in a mass breach of the border fence by May 15. The Islamic militant group Hamas has organized the Friday protests at the border as part of a weeks-long campaign against a decade-old blockade of the territory.
The protests also are driven by widespread desperation over the blockade-linked hardships of life in Gaza, where two-thirds of young people are unemployed and electricity runs for only a few hours a day.
On Friday, Palestinians assembled after Muslim noon prayers at five protest camps set up several hundred meters from the fence. Some moved closer to the fence, throwing stones with slingshots and burning tires. Israeli soldiers fired live rounds and tear gas. The Israeli military put the turnout at about 7,000.
Yehiyeh Amarin, an 18-year-old protester, was among nearly two dozen activists rolling tires toward the fence to set them ablaze. His face partially covered with a black-and-white "keffiyeh" scarf, he's part of a group of young protesters called the "tires." They are responsible for collecting and burning old tires along the border.
"If no solution happens by May 15, we will continue the protests or we die," said Amarin, as another protester behind him brandished a yellow wire cutter. "We will cut through the fence."
He said he and his friends spend their weekdays collecting tires for the weekly protests.
"We want a dignified life and a return to our lands," he said.
The mounting casualty toll has led to growing criticism of Israel. Rights groups say Israeli open-fire regulations are unlawful because they permit troops to use potentially lethal force against unarmed protesters. Israel's Supreme Court is currently weighing a petition by six rights groups to restrict or ban the use of live fire on the border.
The European Union and the United Nations also have criticized the use of lethal force against the protesters.
Israel says that it's defending its sovereign border, including nearby communities, and that soldiers target only instigators. It accuses Hamas, sworn to Israel's destruction, of trying to carry out attacks under the guise of the mass protests. It has said that some of those protesting at the border over the past few weeks tried to damage the border fence or plant explosives along it.
The marches are part of what organizers say is an escalating showdown with Israel, to culminate in a mass march on May 15 — the day Palestinians commemorate their mass uprooting in the 1948 war over Israel's creation. Hundreds of thousands of Palestinians fled or were driven from homes in what is now Israel. Two-thirds of Gaza's 2 million residents are descendants of refugees.
---
Must-read stories from the L.A. Times
Get the day's top news with our Today's Headlines newsletter, sent every weekday morning.
You may occasionally receive promotional content from the Los Angeles Times.