Netanyahu running out of time to form government; Israel may face new elections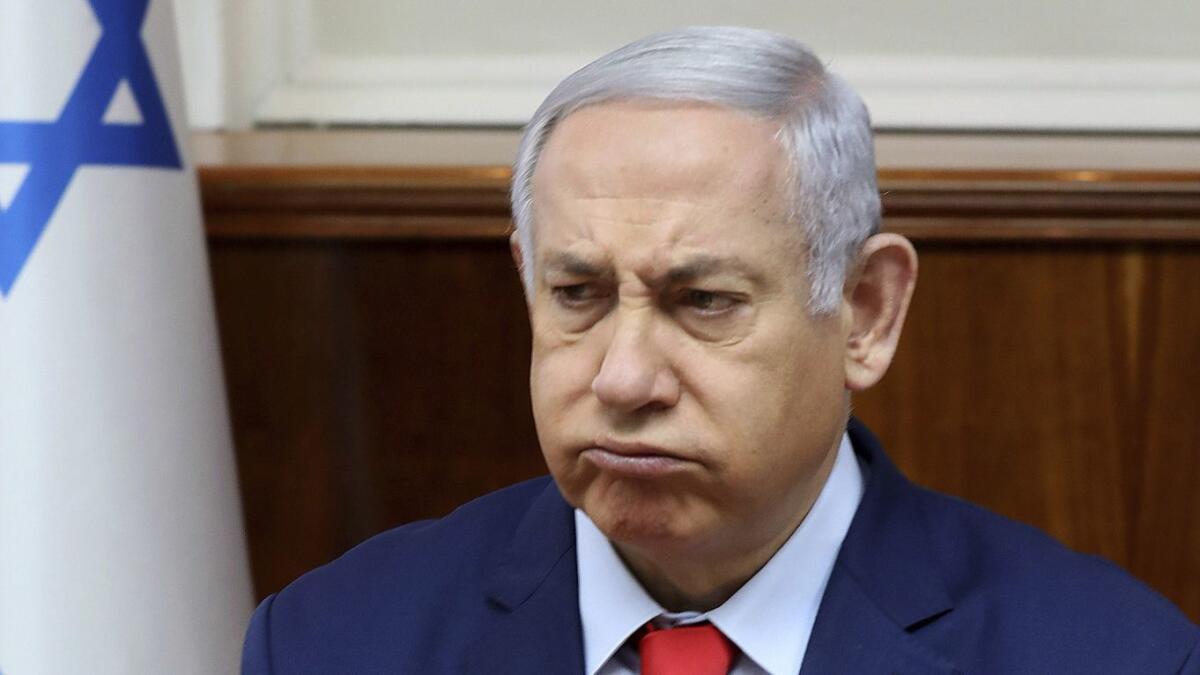 Reporting from Jerusalem —
With just two days left before the deadline to form a new government, Israeli Prime Minister Benjamin Netanyahu put the onus on a last holdout of his potential coalition, his own former defense minister.
In a televised address Monday, Netanyahu decried his predicament as a "semantic, cosmetic" crisis created by Avigdor Lieberman, and the premier threatened a call to disperse parliament and trigger new elections. It would be the first time in Israel's history that a winning candidate selected by the president to form a government has failed in the task.
As of now, negotiations with potential partners have stalled, leaving Netanyahu one shy of the necessary 61-seat majority in the 120-seat Knesset, or parliament. Netanyahu and his allies on the right eked out a win in last month's election over former army chief of staff Benny Gantz, a political novice.
Netanyahu, who has possible criminal indictments hanging over him, has struggled to get a coalition agreement signed, even after Israeli President Reuven Rivlin granted his request to extend the deadline for announcing a new government by two weeks, until May 29.
Two weeks ago, Netanyahu attempted to lock future coalition members into binding agreements that included a bill granting him retroactive legal immunity as long as he remains in office. The effort backfired, unleashing massive public opposition.
On Saturday night, more than 50,000 people demonstrated in Tel Aviv against his effort to gain immunity and other legislation that would allow the Knesset to override Supreme Court decisions.
On Monday, his Likud Party presented a preliminary motion to disperse the Knesset and schedule new elections. The dispersal bill, should it pass, would preempt the procedure under Israeli electoral law in which Rivlin would call on an alternative candidate to form the next government.
That candidate would most likely be Gantz, whose party won 35 Knesset seats last month, to the Likud's 36.
Israel roiled over allegation Netanyahu wants a law to diminish Supreme Court's power »
On Monday, President Trump, a close ally of Netanyahu, tweeted that he was "hoping things will work out with Israel's coalition formation and Bibi and I can continue to make the alliance between America and Israel stronger than ever. A lot more to do!"
Netanyahu said he had been unable to convince Lieberman "to prevent an unnecessary, costly election" in the latest standoff between the two men. Lieberman's resignation in November following a dispute over Israel's policies toward Gaza had precipitated the 2019 elections.
Lieberman, leader of the secular nationalist Yisrael Beitenu party, is refusing to budge regarding a law on military service for ultra-Orthodox Jewish young men, who are currently exempt from Israel's otherwise universal draft.
Jewish religious parties had demanded Netanyahu soften the bill before agreeing to enter his next coalition government.
On Monday, Netanyahu said he had not given up: "A lot can be done in 48 hours."
In what appeared to be a last ditch attempt to reach out to Lieberman, Likud ministers were urged not to attack him "until further notice."
"We still hope Lieberman will back down, accept the compromise that retains the ultra-Orthodox draft, and avoid the toppling of a right-wing government," the party said in a statement.
But soon after Netanyahu's speech, Lieberman objected, saying the dispute between them is a matter of principle, not cosmetics.
The Likud then posted a new statement: "After a new assessment, fire at will against Lieberman."
Near midnight Monday, a Knesset committee established to address the dispersal bill agreed that new elections, should they be called, will take place Sept. 17.
But debate on the desirability of elections continued late into the night, with some legislators torn between loyalty to the prime minister and the daunting prospect of voting themselves out of office only seven weeks after having been elected.
Tarnopolsky is a special correspondent.
Sign up for Essential California for the L.A. Times biggest news, features and recommendations in your inbox six days a week.
You may occasionally receive promotional content from the Los Angeles Times.