Netanyahu downplays Arab citizens, saying Israel is the state 'of the Jewish people ... alone'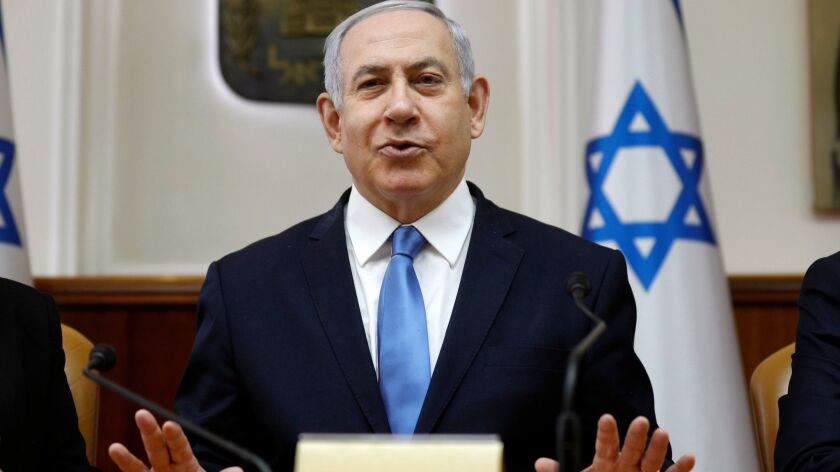 Reporting from Jerusalem —
No one was more surprised than Rotem Sela when Israeli Prime Minister Benjamin Netanyahu responded to a short Instagram story she posted on Sunday.
Sela, 35, an Israeli television host, had responded with pique to an interview in which firebrand Culture Minister Miri Regev darkly warned of the dangers posed by Arabs in the upcoming Israeli election. That prompted Sela to ask: "When the hell will someone in this government broadcast to the public that Israel is a country for all its citizens? And every person is born equal. Arabs, too, God help us, are human beings."
It wasn't long before she heard from Netanyahu.
Posting a photograph of himself on Instagram against the backdrop of an Israeli flag, he wrote: "Dear Rotem, an important correction: Israel is not a state of all its citizens. According to the nation-state law we passed, Israel is the nation-state of the Jewish people — and them alone."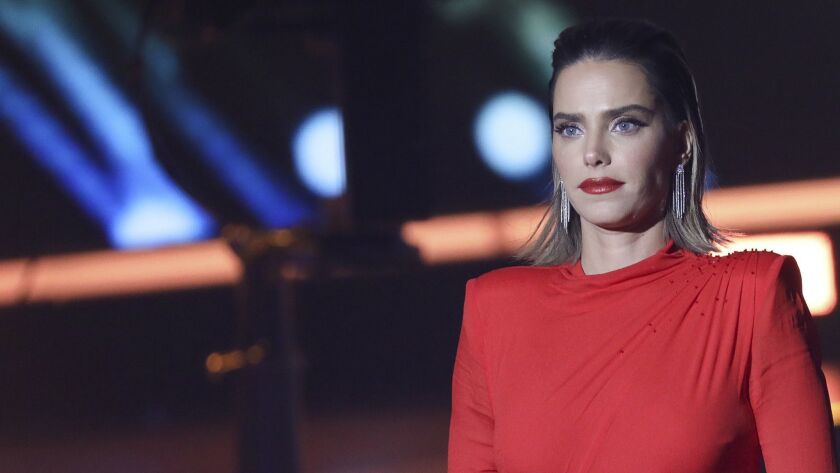 Netanyahu, 69, added that his administration had "invested in the Arab sector more than any other government." But that didn't quiet the furor over his remarks, which seemed to suggest that Arabs — who make up about 20% of Israel's population — were second-class citizens at best.
President Reuven Rivlin was quick to lambaste Netanyahu.
"We are being exposed to an unacceptable public discourse regarding Arab citizens," Rivlin said in comments appended to a long-planned speech Monday marking 40 years of peace between Israel and Egypt. "There are no first-class citizens, and there are no second-class voters. We are all equal in the voting booth."
Rivlin, whose post is largely ceremonial, had been an outspoken opponent of the nation-state law, which was approved by parliament in July. It declared Israel to be the nation state of the Jewish people and downgraded Arabic from an official language to one with a "special status."
Rivlin, 79, does not present an electoral challenge to Netanyahu, but the prime minister is facing a strong challenge from former army Chief of Staff Benny Gantz. In his campaign, Netanyahu has suggested that Arabs, who hold about 13% of the seats in parliament, would likely join Gantz in a coalition government.
But Rivlin or even Gantz may not present the greatest threat to Netanyahu, who has dominated Israel's political right for a generation. If he fails in his reelection bid, others in his camp are waiting their turn.
Judy Shalom Nir-Mozes, 60, a politically-connected television and radio host and scion of the family that owns Israel's widest distribution tabloid, told The Times she is mulling a run for leadership should Israel's political stalemate result in another round of elections in the near future.
Shalom Nir-Mozes, a member of Netanyahu's Likud party who has long been viewed as a potentially formidable candidate, said her greatest disappointment in Netanyahu is that he is "tearing society apart instead of bringing us together, like a leader should."
"When I am prime minister," she said, "the first thing I'll do is seek out what unifies us."
Netanyahu embraces the ultra-right in effort to stop the left »
Election day is April 9, and recent polls have shown the right-wing Netanyahu neck-in-neck with centrist rivals led by Gantz.
The rights of Israel's non-Jewish, Arabic-speaking minorities, including Muslim, Christian and Druze citizens, have been a hot-button topic since passage of the nation-state law, which is the target of several still-pending Supreme Court appeals.
Sela, who has 835,000 Instagram followers, was immediately subjected to a swarm of online abuse after she published her post.
Later Sunday, Netanyahu tried to explain his comments. Speaking to his Cabinet, he said he wanted to "clarify a point that, apparently, is not clear to slightly confused people in the Israeli public."
"Israel is a Jewish, democratic state," he said. "This means that it is the national state of the Jewish people alone. Of course it respects the individual rights of all its citizens — Jews and non-Jews alike, but it is the national state, not of all its citizens, but only of the Jewish people."
The comments come during a turbulent period for the prime minister, who is fighting multiple corruption charges the attorney general plans to file sometime before the election. After the latest comments, even Wonder Woman piled on.
Gal Gadot, the Israeli star of the Wonder Woman franchise, posted on Instagram that Sela's remarks about the status of Arabs in Israel's political discourse were "an inspiration."
Tarnopolsky is a special correspondent.
---
Must-read stories from the L.A. Times
Get the day's top news with our Today's Headlines newsletter, sent every weekday morning.
You may occasionally receive promotional content from the Los Angeles Times.