Sara Netanyahu, wife of Israeli prime minister, charged with fraud over government funds for gourmet meals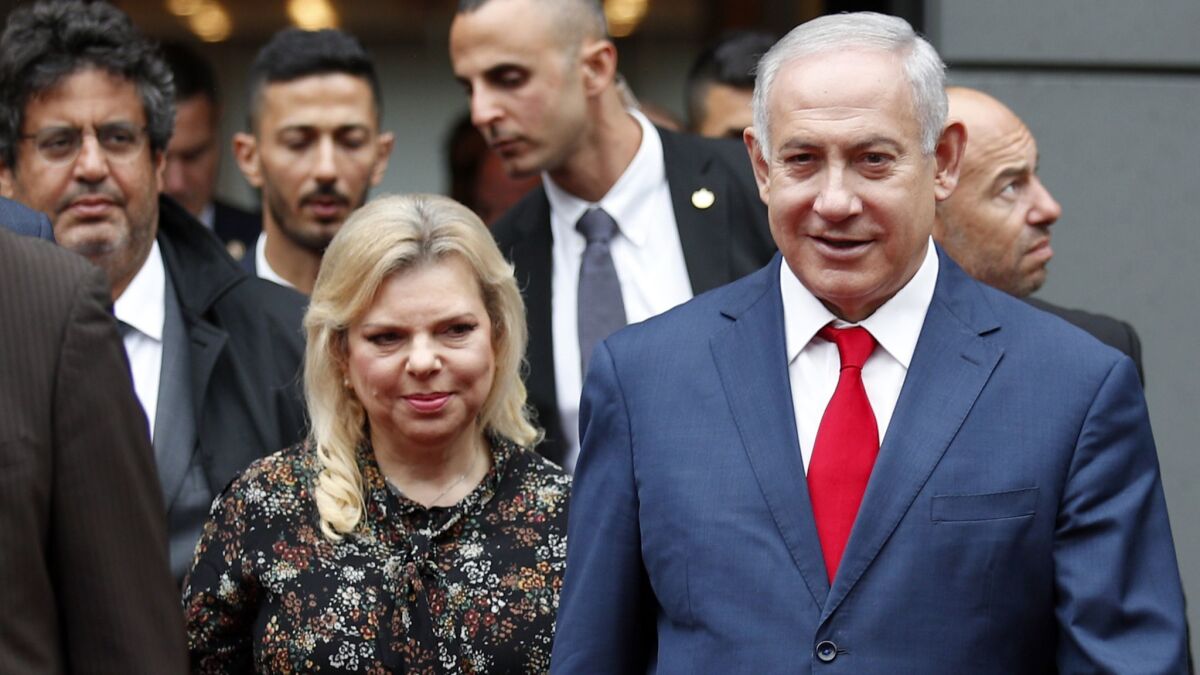 Reporting from JERUSALEM —
Sara Netanyahu, the wife of Israeli Prime Minister Benjamin Netanyahu, was indicted Thursday on charges of aggravated fraud and breach of public trust in a case relating to meals served at the couple's official residence in Jerusalem.
The charges came after Atty. Gen. Avichai Mandelblit's decision to reject a plea bargain proposed by Sara Netanyahu in recent months. Mandelblit noted that the alleged fraud was carried out systematically over 2½ years.
The indictment alleges that starting in September 2010 Sara Netanyahu knowingly conspired with the then-deputy director-general of the prime minister's office, Ezra Saidoff, who is charged alongside her, to falsely claim that the prime minister's residence did not employ a cook.
Sara Netanyahu's attorneys said in a statement that the charges are "baseless" and that it is "far-fetched that a leader's spouse is being indicted over takeout."
According to documents filed with the Jerusalem Magistrate's Court, the two made the claim to circumvent regulations that prohibit using government funds to pay for food made by an outside chef when a public residence employs a cook.
Netanyahu and Saidoff hoped in this way to deceive the state into paying for chefs brought to the prime minister's residence and for takeaway meals ordered from gourmet restaurants.
The chefs and their restaurants hired to cook for the prime minister and his wife cover the gamut of Israeli cuisine, from small, kosher neighborhood bistros to eateries of global renown such as Machneyuda, the legendary restaurant in Jerusalem's central market that is not kosher.
According to the indictment, in April 2011, while the Netanyahu residence had a full-time chef in its kitchen, Israeli taxpayers picked up one check for more than $5,000 and regularly paid 400 to 500 shekels, or about $110 to $140, for meals. Chefs approached for this report declined to comment.
The investigation, which began in July 2015, was prompted by a state comptroller's report on the Netanyahu family's households. It found that on at least 15 occasions, the number of participants listed as attending catered meals was falsified.
The state estimates the value of illegal expenditures at almost $100,000. Some of the meals were served at the couple's private residence in Caesarea, as well as at the official residence in Jerusalem.
According to the indictment, Sara Netanyahu and Saidoff filed 15 false invoices in an attempt to breach legal limits on the maximum sum that may be paid to an outside provider. Saidoff is accused of ordering the chefs in question and public servants, including house managers and secretaries, to fabricate the invoices.
Despite a preliminary decision made in September to indict Sara Netanyahu, Thursday's decision has shaken Israel.
Negotiations on a plea bargain have been underway since January, when state prosecutors held a hearing for Sara Netanyahu. In May, she offered Mandelblit a deal whereby she would reimburse the state for some of the illegally disbursed funds and publicly accept responsibility, in exchange for no criminal charges.
Negotiations apparently fell apart over her refusal to admit to the charges. Israeli media reported Thursday that the indictment was bolstered by evidence provided by Nir Hefetz, formerly a close advisor to the Netanyahu family, who turned state's witness against Benjamin Netanyahu in a separate corruption investigation underway against the prime minister.
The indictment falls days after Benjamin Netanyahu underwent his ninth police interrogation in several criminal inquiries that have beset his term in office. In February police recommended that he be indicted in two cases, on suspicion of bribe taking, fraud and breach of trust.
Mandelblit has yet to rule on the police recommendations, but Netanyahu is likely to face charges of his own in 2019.
Sara Netanyahu is not the first Israeli prime minister's wife to face a legal imbroglio. In 1977, then-Prime Minister Yitzhak Rabin resigned from office as his wife, Leah, was about to be indicted over having an American bank account, which was then illegal for Israelis.
Benjamin Netanyahu is not expected to consider such dramatic action, but his wife's indictment damages him politically in an already charged period.
Tarnopolsky is a special correspondent.
---
UPDATES:
12:45 p.m.: This article was updated with details on restaurants used for meals at the Netanyahu residence.
7 a.m.: This article was updated throughout with staff reporting and comments from Sara Netanyahu's attorneys.
This article was originally published at 4:45 a.m.
Must-read stories from the L.A. Times
Get the day's top news with our Today's Headlines newsletter, sent every weekday morning.
You may occasionally receive promotional content from the Los Angeles Times.