Israel avoids early elections as coalition is kept intact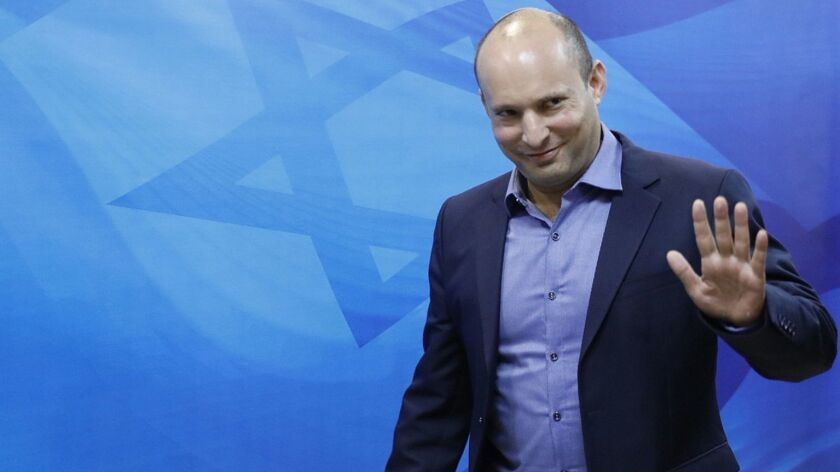 Reporting from JERUSALEM —
Israel avoided early elections after a key partner in Prime Minister Benjamin Netanyahu's coalition government said Monday he would not withdraw his party, keeping the affiliation intact despite a crisis triggered by a violent flare-up with Gaza militants.
Education Minister Naftali Bennett said his hard-line, pro-settler Jewish Home party would give Netanyahu another chance to address the security challenges facing Israel, listing off threats from Gaza and Lebanon, among others, that he wanted dealt with more firmly.
"I tell the prime minister here: We are withdrawing right now all of our political demands and will stand to help you in this great mission of getting Israel to win again," he said.
"If the government would really start leading toward the right path, acting like a real right-wing government, it's worth trying," he added. "The ball is in the prime minister's court."
Bennett had earlier threatened to resign and his about-face eased the most serious coalition crisis Israel's government has faced since it was formed in 2015. He acknowledged that the turnaround could hurt him politically, but said he felt it was in the country's interests to give Netanyahu one last chance.
Though the move put off early elections for now, it keeps the governing coalition on shaky ground with only a slim 61-seat majority in Israel's 120-seat parliament.
The sudden coalition crisis was triggered by a botched undercover Israeli raid in Gaza last week that led to the most violent fighting between Israel and Gaza militants since a 2014 war.
Israel's hard-line defense minister, Avigdor Lieberman, who had demanded a far stronger response to the massive wave of rocket fire, resigned in protest of a cease-fire that ended the fighting. Bennett threatened to bolt the government if he wasn't named defense minister, a post Netanyahu said Sunday he was taking over himself.
Netanyahu has come under heavy criticism for agreeing to the cease-fire, especially from within his own political base and in the working-class, rocket-battered towns in southern Israel that are typically strongholds of his Likud Party.
But in an impassioned speech Sunday announcing his new role as defense minister, Netanyahu sought to brandish his security credentials in the face of the criticism while pinning blame on his coalition partners for trying to force early elections during a sensitive time for Israel's security.
He repeated the claim Monday, saying it would be "irresponsible" to dissolve the government and call early elections amid a tense security situation.
---
Must-read stories from the L.A. Times
Get all the day's most vital news with our Today's Headlines newsletter, sent every weekday morning.
You may occasionally receive promotional content from the Los Angeles Times.