Turkish opposition leaders lash out at government officials over safety issues after nightclub attack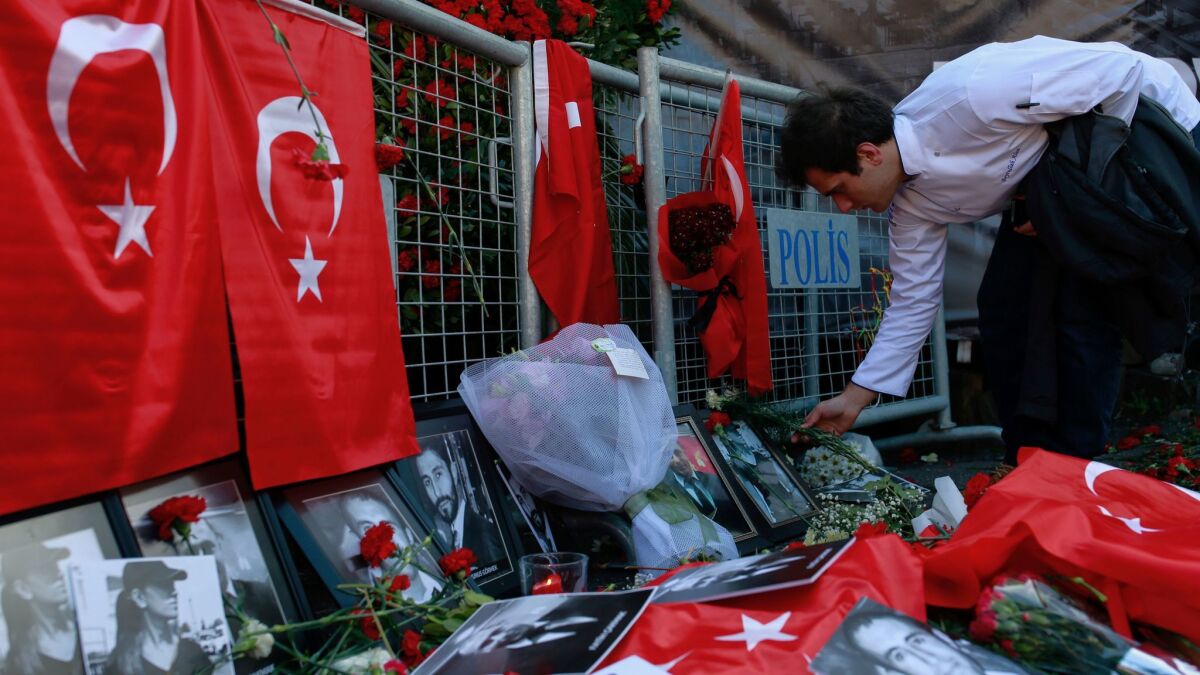 Reporting from ISTANBUL, Turkey —
Opposition lawmakers in Turkey angered by a New Year's attack in which a gunman killed 39 people at an Istanbul nightclub lashed out at government officials Tuesday, saying they were unable to stem terrorist attacks and should resign.
With the assailant in the mass shooting still at large, the ruling Justice and Development Party came under criticism for being unable to thwart attacks – dozens of bombings and shootings including those by the outlawed Kurdistan Workers Party and Islamic State extremists have killed nearly 500 people since a spate of violence began in June 2015.
"Are you not the government? ... If you cannot rule, you will resign," said Republic People's Party leader Kemal Kilicdaroglu at a party meeting. "We are confronted with the reality of a state that is now collapsing."
The secular Republic People's Party, or CHP, is the second largest party in parliament. Sezgin Tanrikulu, a CHP lawmaker from Istanbul, announced that the party would seek a parliamentary inquiry to investigate security weaknesses in Turkey.
"Despite all precautions taken, the attack that took place in the heart of Istanbul was not prevented," Tanrikulu said in Ankara.
Police have carried out raids across the country, detaining several people with suspected links to the New Year's attacker, who continues to elude authorities. Islamic State has claimed responsibility for the attack.
In Istanbul, police wearing balaclavas and carrying machine guns backed by armored cars descended on a home in the neighborhood of Zeytinburnu, on a tip the suspected attacker had gone there after the shooting rampage. But more than three hours later, they had not found any evidence the man was there.
Deputy Prime Minister Numan Kurtulmus said investigators were able to obtain fingerprints and other identifying details of the attacker at the scene, but were still working to "speedily" identify him.
Kyrgyzstan's Foreign Ministry issued a statement saying it was looking into media reports that the suspect was believed to be a Kyrgyz or Uzbek national. Turkish television stations broadcast video of a man suspected of being the attacker.
Investigators were looking through video from security cameras near the Reina nightclub for images of the suspect, whom officials have described as apparently having substantial combat training. In seven minutes, the attacker calmly shot his machine gun from the hip, aiming for the upper bodies of victims, and reloaded at least six times from cartridges taped onto the weapon itself, officials said.
Only about 20 of the 180 bullets fired did not hit a target. Nearly 70 people were injured.
A taxi believed to have carried the attacker to the scene was taken away by forensics personnel, and the driver was being questioned, after authorities learned the attacker used his cellphone to make several phone calls during the trip to the nightclub.
Prime Minister Binali Yildirim told parliament on Tuesday that his government was working to combat terrorism, but added that "only Turkey" was combating Islamic State.
Yildirim said 1,270 "terrorists" had been "neutralized" since August, when Turkish troops backing Syrian rebels launched an operation in northern Syria to create a buffer zone between Islamic State and Kurdish militants and the Turkish border. The Turkish government accuses Washington of indirectly backing the Kurdistan Workers Party because of its support for Kurdish militants in Syria linked to the group.
Farooq is a special correspondent.
ALSO
After 70 years, one of the bloodiest migrations of the 20th century finally has a museum
Facing allegations of corruption, Netanyahu questioned by Israeli police
Islamic State claims responsibility for Istanbul nightclub attack that killed 39
---
Must-read stories from the L.A. Times
Get the day's top news with our Today's Headlines newsletter, sent every weekday morning.
You may occasionally receive promotional content from the Los Angeles Times.