Facing allegations of corruption, Netanyahu questioned by Israeli police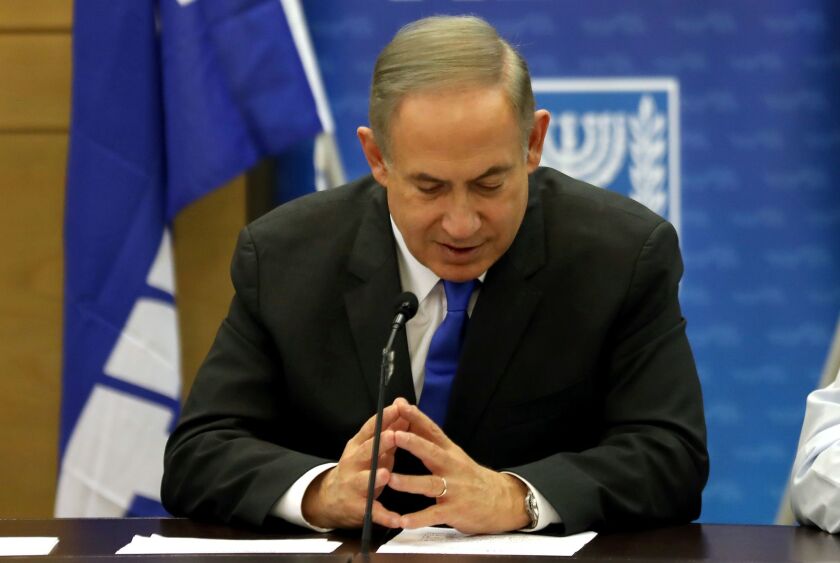 Reporting from TEL AVIV —
Israeli police interrogated Benjamin Netanyahu on Monday in what the attorney general's office said was a criminal investigation into allegations that the prime minister illegally accepted favors from business executives.
Investigators questioned the prime minister for three hours at his official residence in Jerusalem.
Afterward, the attorney general's office released a statement saying that a preliminary police inquiry it had announced six month ago with little explanation had been upgraded to a criminal investigation into possible corruption.
The statement said that investigators did not turn up sufficient evidence to support widely reported allegations that Netanyahu had engaged in campaign financing improprieties or that he had accepted payments from business tycoons to cover expenses on trips abroad.
The Haaretz newspaper reported that the prime minister was also facing more serious allegations. The attorney general's office did not say what those might be, only that its preliminary inquiry determined that more investigation was needed.
"The findings of the probe form grounds of evidence to justify the interrogation of the prime minister," its statement said.
The Israeli press has been reporting for months that the inquiry was about possible corruption. Netanyahu has denied any wrongdoing and said that he was the victim of a witch hunt.
"There won't be anything because there isn't anything," Netanyahu said Monday to applause at a meeting of lawmakers from his Likud Party.
Netanyahu was investigated during his first term as prime minister in the late 1990s on allegations of fraud and breach of public trust. Though the police recommended an indictment, the attorney general at the time decided not to pursue the case for lack of evidence.
It was a corruption investigation into Prime Minister Ehud Olmert — who was forced to resign in 2008 and is now serving a jail term for a bribery conviction — that paved the way for Netanyahu's return to power in 2009.
Opposition leaders were muted in their reaction to the announcement of a criminal investigation. Yair Lapid, a member of the Yesh Atid party, urged investigators to finish the inquiry swiftly to dispel the uncertainty surrounding the prime minister.
"If two consecutive prime ministers in the state of Israel are brought down because of corruption, it will be very difficult to rehabilitate public faith in government in the state of Israel," Lapid told reporters.
The investigation isn't expected to have any immediate effect on Netanyahu's ability to govern. Members of his party and politicians from the prime minister's coalition parties have come to his defense.
"He's pretty strong right now," said Tal Schneider, an Israeli political analyst. "It will be difficult for someone within the party to come out against him right now."
Mitnick is a special correspondent.
ALSO
At least 56 inmates killed in prison riot in northern Brazil
People are dying because of an audacious cash policy that India says will modernize its economy
Islamic State claims responsibility for Istanbul nightclub attack that killed 39
---
Must-read stories from the L.A. Times
Get all the day's most vital news with our Today's Headlines newsletter, sent every weekday morning.
You may occasionally receive promotional content from the Los Angeles Times.