Islamic State claims responsibility for Istanbul nightclub attack that killed 39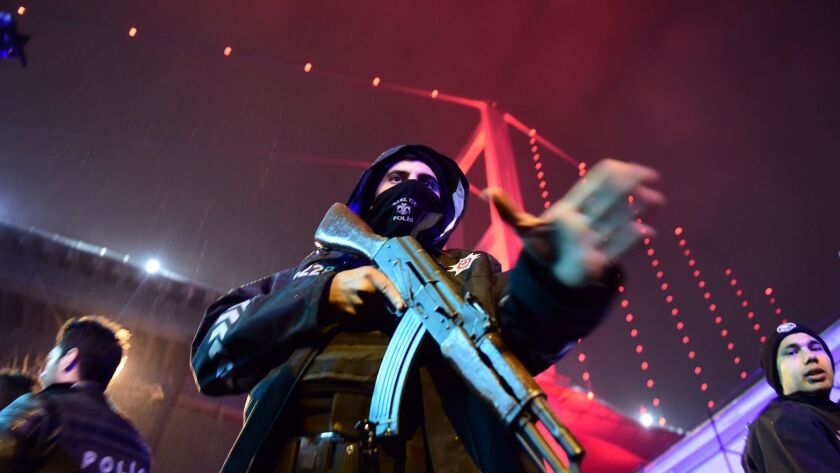 Reporting from ISTANBUL, Turkey —
The Islamic State group claimed responsibility Monday for the New Year's attack that left 39 people dead at an upscale nightclub in Istanbul, and Turkish television stations broadcast video of a man believed to be the attacker.
In one video, apparently made by the attacker himself, the cleanshaven man is walking around a book fair in Istanbul's Taksim Square area. In another video, captured by a security camera, he is shown waiting at the window of a currency exchange in Istanbul's central Laleli neighborhood, wearing a heavy winter jacket.
Authorities said they have obtained fingerprints of the man believed to have attacked the nightclub, and have launched a massive manhunt for him.
Local media, citing unidentified officials, said the attacker, who appears to have Central Asian features, was believed to be a Kyrgyz or Uzbek national.
The Kyrgyz Foreign Ministry issued a statement saying it was looking into the reports.
Eight people were detained by police in Istanbul in connection with the attack, but the shooter was not among them. The attacker appears to have been combat trained, according to comments from survivors of the shooting.
"He was shooting randomly but aiming for their upper bodies. He didn't want to just injure them," said Mehmet Yilan, 36, a barman at the Reina nightclub for 12 years.
Several witnesses recalled playing dead, lying motionless among bodies that piled on top of them in hopes the gunman would move on.
"When he shot me I didn't move — I just let him shoot me," William Jacob Raak of Greenville, Del., said in an interview with NBC News. "I was shot when I was already on the ground. He was shooting people that he had already shot."
Raak, who is believed to be the only American wounded in the attack, said he was shot in the hip.
The shooter, according to Turkish investigators, carried spare cartridges of ammunition in a backpack, and reloaded his gun at least six times. Over the course of a seven-minute shooting rampage, he fired on partygoers on the ground and upper levels of the club, as well as into the icy waters of the Bosporus strait, into which some of the survivors had jumped to escape.
Survivors were taken out of the club by Turkish police through the basement, to keep them from seeing the carnage left by the attacker, who escaped after changing clothes in the club's kitchen and leaving amid the confusion. He then took a taxi north along the Bosporus, but disembarked soon after when he told the driver he had no cash.
The dead included 11 Turkish citizens, including Fatih Cakmak, a police officer who survived a bombing at a nearby soccer stadium last month that killed 46.
Most of the dead were foreigners from Middle Eastern countries, including seven from Saudi Arabia; three each from Lebanon and Iraq; and two each from Tunisia, India, Morocco and Jordan. The others were from Germany, Brussels, Kuwait, Canada, Israel, Syria and Russia.
"I just want to know who they think they are?" Mahiar Assaf, a Jordanian whose brother Nawras was killed in the attack, told Al Arabiya television channel. "God is the only one who could put himself in this position to take anyone's life."
In a statement released through its Amaq news agency, Islamic State said a "heroic soldier" had attacked "a polytheist celebration of the Christians" on orders from its leader, Abu Bakr Baghdadi. The statement referred to Turkey — where more than 99% of the population is Muslim -- as the "protector of the cross," and said it was being targeted because it had carried out airstrikes against Islamic State.
Turkey has complex and somewhat conflicting interests in Syria. It opposes Syrian President Bashar Assad, and has aligned itself with some of the rebels seeking to overthrow him. But it also opposes both Islamic State and Kurdish militias in Syria — although those groups, which share a goal of ousting Assad, have been fighting one another.
On Monday, the Turkish military said it carried out scores of airstrikes in northern Syria, killing 22 Islamic State members.
In August, Turkish special forces, tanks and armor entered into Syria to back thousands of rebel Free Syrian Army fighters in an offensive aimed at pushing back advances by Kurdish militias and Islamic State. The operation ousted Islamic State from a broad swath of territory along the Turkey-Syria border, cutting off what was a crucial supply route for the extremists. Deputy Prime Minister Numan Kurtulmus said the nightclub attack was intended as a response to Turkey's "successful and determined" military operation against Islamic State.
President Recep Tayyip Erdogan issued a condemnation of the attack, saying Turkey would fight "till the end" to make sure Islamic State and other terrorist groups were defeated.
"Turkey is firm on doing whatever it takes to protect its citizens' safety and peace in the region," the statement said. "Turkey will stand together and not give passage to dirty games of terrorists."
The Turkish Interior Ministry announced that it had detained 147 suspected Islamic State members in the last week. In 2016, more than 800 suspected members of the group were detained in Turkey, and tens of thousands of people have been refused entry into the country since 2011, based on the suspicion that they intended to join Islamist militant groups in Syria.
Turkish prosecutors have also begun investigations into thousands of people accused of expressing support on social media for terrorist attacks, with more than 3,700 detained in the last six months.
If the gunman proves to be Central Asian, the attack would bear similarities to the last Islamic State assault in Istanbul, a June shooting and suicide bombing at the Ataturk international airport that killed 45 people.
Investigators have identified two of the three alleged attackers in that massacre, all of whom were from Central Asian countries, where thousands of Islamic State fighters have been recruited.
Reactions to the nightclub attack reflected some of the societal divisions roiling the Arab and Muslim world. As reports emerged of victims from Jordan, Tunisia, Lebanon and Saudi Arabia, many in those countries took to social media, saying it was not permissible to offer condolences to people who were killed drinking and dancing in a nightclub.
Alcohol is banned in Islam, and conservative Muslims frown at mixed-sex celebrations. Moreover, in Arabic, the word for nightclub usually refers to a brothel as opposed to a disco.
"Allah willing they will all go to hell," "Good riddance," "How can they meet their god after such a death" — these were among the comments posted on the Facebook page of Roya News, a privately owned Jordanian news agency.
Some, meanwhile, argued about whether Reina was a nightclub or simply a restaurant with alcohol.
Others condemned the rhetoric. "When corpses burn and body parts fly, does sympathy change if the fingers and feet and heads were Muslim or Christian or Jewish?" asked Basel Rafayeh, a Jordanian commentator, in a post on Facebook. "Restaurant or nightclub. House of worship or theater. There is no difference."
Farooq is a special correspondent. Special correspondent Nabih Bulos in Amman, Jordan, contributed to this report.
ALSO
Taiwan's president calls China a 'threat,' predicts turbulent 2017
After Islamic State institutionalized looting in Syria, the market for fake antiquities is booming
From boycotting Olympics to expelling spies, spats between Washington and Moscow go way back
---
UPDATES:
2:30 p.m.: Updated throughout with staff reporting, videos released, American among wounded, other details.
4:35 a.m.: Updated with eight detained.
1:30 a.m.: Updated with nationalities of the victims.
This article was first published at 12:50 a.m.
---
Must-read stories from the L.A. Times
Get all the day's most vital news with our Today's Headlines newsletter, sent every weekday morning.
You may occasionally receive promotional content from the Los Angeles Times.