Koreas set up first-ever hotline between their leaders ahead of summit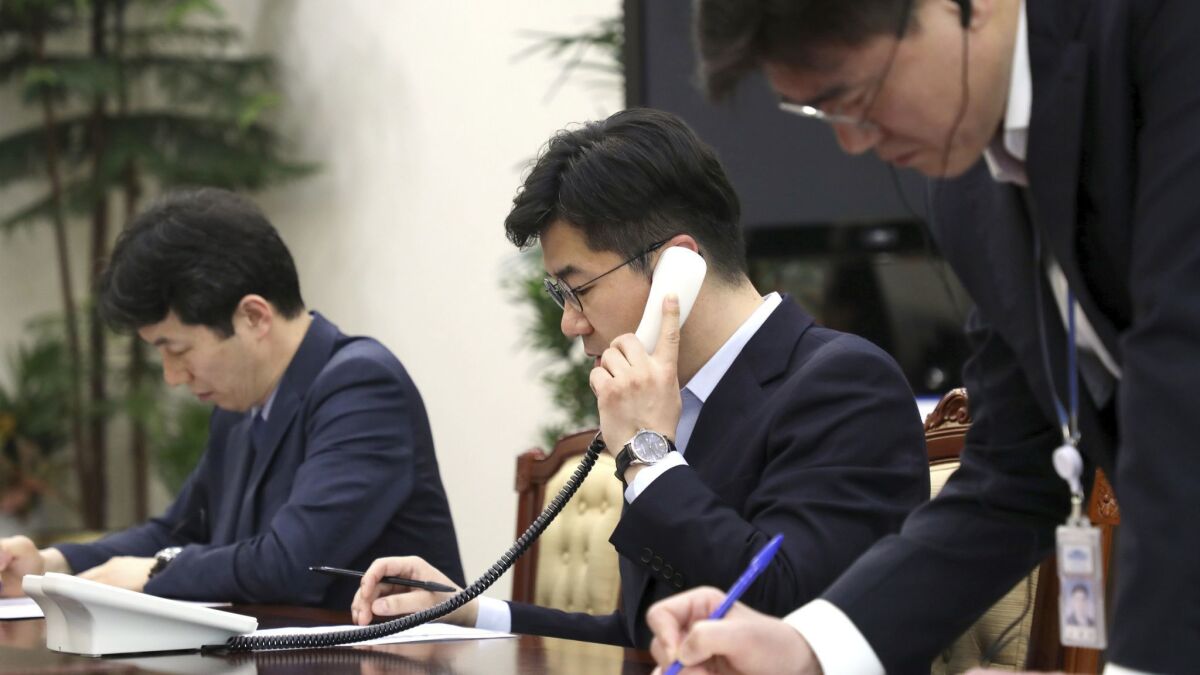 Reporting from Seoul —
North and South Korea installed the first-ever telephone hotline between their leaders Friday as they prepare for a rare summit next week aimed at resolving the nuclear standoff with Pyongyang.
South Korea's presidential office said a successful test call was conducted on the hotline between Seoul's presidential Blue House and Pyongyang's powerful State Affairs Commission.
South Korean President Moon Jae-in and North Korean leader Kim Jong Un plan to make their first telephone conversation sometime before their face-to-face meeting April 27 at the border truce village of Panmunjom.
South Korean officials say the hotline, which will be maintained after the summit, will help facilitate dialogue and reduce misunderstanding during times of tension.
"The historic direct telephone line between the leaders of the South and North was connected a short while ago," South Korean presidential official Youn Kun Young said in a news briefing.
"The test call went on for 4 minutes and 19 seconds starting at 3:41 p.m. with (officials from) both sides speaking to each other ... The connection was smooth and the voice quality was very good. It was like calling next door," he said.
Kim, a third-generation dictator, is the chairman of the State Affairs Commission, North Korea's supreme decision-making institution that was created in 2016 to replace the National Defense Commission he inherited from his father. The new body includes the country's most powerful individuals in state, military and party affairs and is seen as crucial for Kim to consolidate his power and centralize governance.
The meeting between Kim and Moon will be only the third summit between the rivals since the end of the 1950-53 Korean War and could prove to be significant in the global diplomatic push to resolve the North Korean nuclear crisis. A separate summit between Kim and President Donald Trump is anticipated in May or June.
North Korea in January reopened a border hotline between the countries after nearly two years of radio silence as the Koreas resumed dialogue following a period of animosity surrounding the North's nuclear weapons and missile tests. The revival of the hotline at Panmunjom came days after Kim in a New Year's speech proposed negotiations with the South on easing tensions and the North's participation in February's Winter Olympics in Pyeongchang.
North Korea sent hundreds of people to the southern games, including Kim's sister, who expressed her brother's desire to meet with Moon for a summit. South Korean officials later brokered a potential summit between Kim and Trump.
North Korea's abrupt diplomatic outreach comes after a flurry of weapons tests that marked 2017, including the underground detonation of an alleged thermonuclear warhead and three launches of developmental intercontinental ballistic missiles designed to strike the U.S. mainland.
While South Korean and U.S. officials have said Kim is likely trying to save his broken economy from heavy sanctions, some analysts see him as entering the negotiations from a position of strength after having declared his nuclear force as complete.
Seoul, which shuttled between Pyongyang and Washington to set up the meetings, says Kim has expressed genuine interest in dealing away his nuclear weapons. But North Korea for decades has been pushing a concept of "denuclearization" that bears no resemblance to the American definition, vowing to pursue nuclear development unless Washington removes its troops from the peninsula and the nuclear umbrella defending South Korea and Japan.
Must-read stories from the L.A. Times
Get the day's top news with our Today's Headlines newsletter, sent every weekday morning.
You may occasionally receive promotional content from the Los Angeles Times.