Aide to China's former leader gets life in prison for bribes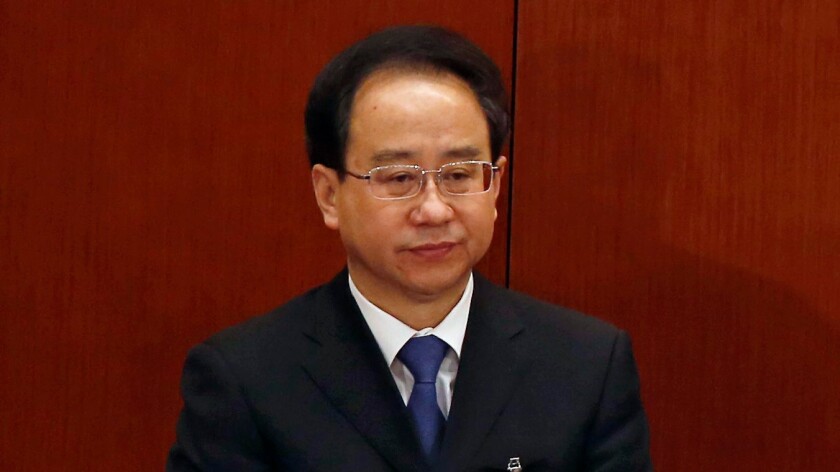 Reporting from Beijing —
A former top presidential aide and consummate Chinese political insider was sentenced Monday to life in prison for taking bribes, illegally obtaining state secrets and abusing powers in a downfall set off by an alleged coverup of his son's death in a speeding Ferrari.
A court in the northern port city of Tianjin delivered the verdict against Ling Jihua nearly one month after the trial, which was held behind closed doors because the case involved state secrets, the official Xinhua News Agency said. He told the court he would not appeal, Xinhua said.
Ling headed the ruling Communist Party's General Office under former President Hu Jintao, a position comparable to chief of staff to the U.S. president.
See the most-read stories this hour >>
Ling fell out of political favor in 2012, just ahead of a once-in-decade power transition, when he was allegedly involved in the coverup of his son's death in a speeding Ferrari with two nude or half-dressed women as passengers.
In September of that year, shortly before Xi Jinping replaced Hu as party chief, Ling was transferred to the party's United Front Work Department in what was widely seen as a demotion.
Soon afterward, Ling lost his remaining positions within the party's upper echelon. In 2013 he was made a vice chairman of the powerless advisory body to China's ceremonial parliament.
While working at the United Front Work Department and on the parliament's advisory body, Ling obtained a large amount of state secrets through his contact at the General Office, violating China's rules on state secrets, Xinhua said.
The Xinhua report on the verdict made no mention of Ling's brother, Ling Wancheng, who is believed to have fled to the United States with sensitive information about China's leadership and could deliver an intelligence windfall should he defect.
The New York Times reported that the Obama administration has rebuffed Chinese requests for Ling Wancheng's repatriation and has warned China about covert agents seeking his whereabouts on U.S. soil.
Ling Jihua came under investigation in late 2014 and was formally arrested in July 2015. He was indicted in May.
Xinhua said Ling was convicted of taking $11.57 million in bribes, either directly or through his wife and son. Ling also was found to have used his powers to get favors, such as job changes, promotions, and property purchases, for his associates, Xinhua said.
ALSO
In China, the 'Apple of drones' is flying away with success
Elie Wiesel 'died as a hero in Israel,' but it wasn't always that way
Nigel Farage, head of the UK Independence Party, resigns after Brexit victory
---
The Latinx experience chronicled
Get the Latinx Files newsletter for stories that capture the multitudes within our communities.
You may occasionally receive promotional content from the Los Angeles Times.