In China, the 'Apple of drones' is flying away with success
Reporting from Shenzhen, China —
In April, a group of Finnish farmers outfitted a spindly black drone with a remote-controlled chainsaw and filmed it decapitating snowmen. They called it "Killer Drone." More formally, it was a DJI S1000.
This spring, marine biologists flew a drone over the Sea of Cortez to capture samples of the fluid sprayed from the blowholes of blue whales. They called it "SnotBot." It was a DJI Inspire 1.
In March 2015, two men in Ottawa equipped a sleek, white drone with Roman candle fireworks and sprinted away shirtless as the machine fired spark-spewing projectiles. They called it "Roman Candle Attack Drone 2.0." It was a DJI Phantom 2.
DJI, which stands for Da-Jiang Innovations, is a midsize company based in Shenzhen, China, and it essentially put recreational drone-flying on the map. Fans call it the "Apple of drones," and for good reason — the company owns 70% of the consumer drone market, analysts say. As of March, it was valued at about $8 billion. It may be the first Chinese company to create, and then dominate, a hot new class of consumer electronics.
As China's decades-long investment and exports-driven "economic miracle" comes to an end, the Chinese government is attempting to boost innovation to keep the country's economy afloat. Officials are investing billions of yuan in gleaming new office parks, university engineering programs and start-up incubators.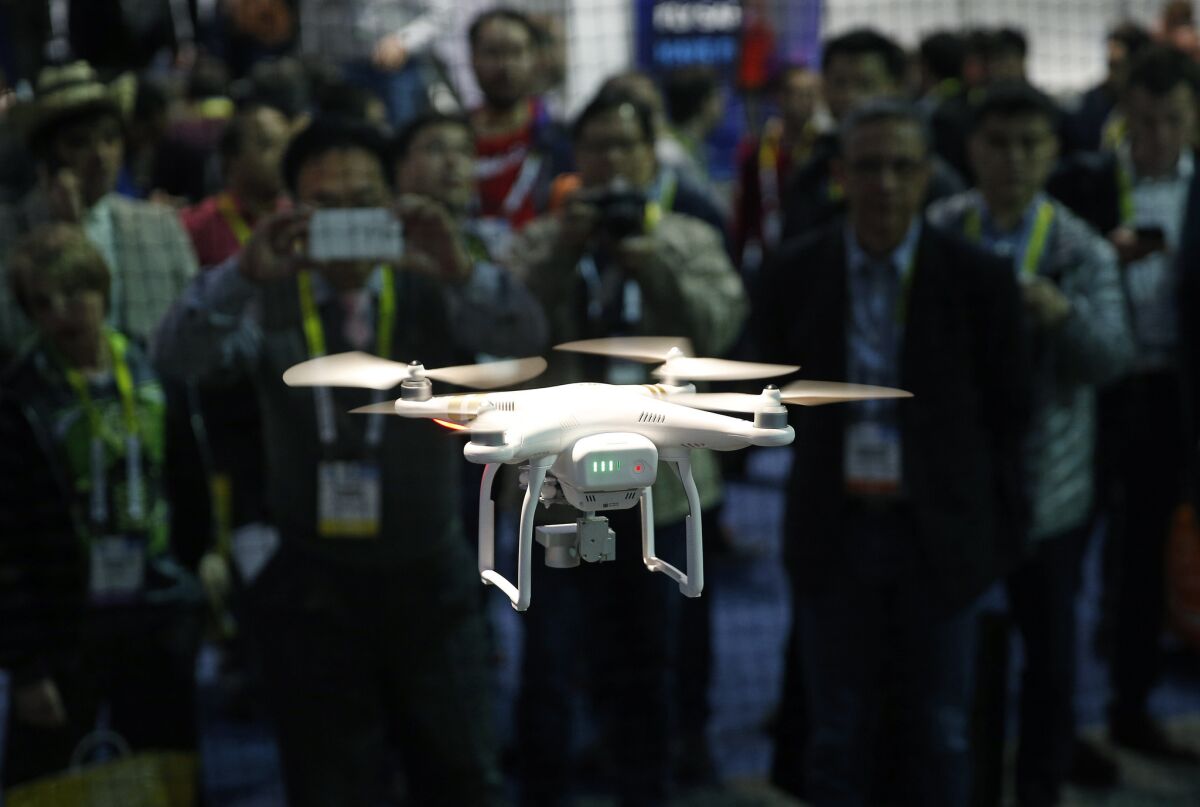 Their ambitions won't be easy to realize. China's education system encourages rote learning; government censorship restricts the flow of ideas; lax intellectual property laws enable piracy to flourish. But the country does have one major trump card — its manufacturing prowess — and that has engendered innovation in some surprising ways.
Shenzhen, a city of 7 million adjacent to Hong Kong, can seem like an endless sprawl of factories, boxy and self-contained. It's frequently called the "Silicon Valley of hardware," "the overnight city" or the "factory floor of the world." Experts say that the consumer drone revolution couldn't have happened anywhere else.
You want to come out with something that everyone else is chasing, and you have to do that once a generation.
— Adam Najberg, global director of communications for DJI
DJI owns three factories in Shenzhen, only a short drive away from its corporate headquarters. Employees say that parts for new prototypes sometimes arrive "still hot."
"I think DJI could only happen in Shenzhen," said Michael Perry, a 30-year-old American who is DJI's director of strategic partnerships. The city has a "confluence of talent, resources and connectivity," he said, giving DJI the ability to design and manufacture equipment "faster than anyone else in the industry."
He said DJI has developed its own cameras, stabilization mechanisms, motors and a "flight control system" — even software to edit video and post it online.
Yet DJI employees are worried that their advantage might not last. Competitors are nipping at their heels. The French drone maker Parrot and other Chinese firms — Yuneec, EHang — are threatening DJI's market share. In May, Chinese electronics giant Xiaomi released its own drone, the "Mi Drone," which sells for $460, less than DJI's basic Phantom 3 model. GoPro will launch its own quadcopter — called Karma — this year. That's not to mention the dozens of Chinese imitators that have reverse-engineered DJI drones to produce their own, inferior products at a fraction of the price.
Despite DJI's global reach — the company has opened marketing offices in Los Angeles and Frankfurt, Germany, and research and development offices in Palo Alto, Japan and Hong Kong — the company has not established itself as a recognizable, mainstream brand.
"The challenge [for us] is that a lot of consumers don't really know the difference between OK, good and great" drones, said Adam Najberg, DJI's global director of communications. "Then they start flying and think drones are terrible because the one they bought was a beginner drone and it crashed right away, or it's not doing what they thought.
"You want to come out with something that everyone else is chasing, and you have to do that once a generation," he added. "Honestly, other companies have very good engineers, 100 or 200 of them. We have 1,500 of them. And it's very hard to run as fast and [in] as many directions as we're running. That's the advantage we have to maintain."
Then there's the legal factor. Drones are a nascent technology, and countries haven't yet formalized rules to govern their use. Controversy has ensued. The militant group Islamic State reportedly has used Phantoms for surveillance. In 2015, a Phantom crash-landed on the White House lawn, and months later, another landed on the roof of the Japanese prime minister's office. At least two people in the U.S., one in New Jersey and one in Kentucky, have shot down Phantoms that hovered near their property. (Both were arrested).
"It's like the [Transportation Security Administration] regulating travel: Everything is reactive," said Sarah Kreps, a drone expert and professor of government at Cornell University. "Shoes are fine to walk through security, until someone tries to hide a bomb in his shoes. Water was fine until someone tried to use it to detonate an explosive on an airplane. Everything is a countermeasure."
On Tuesday, the U.S. Federal Aviation Administration released a new set of rules that make it much easier to fly drones for profit. Commercial drone operators no longer need a pilot's license; they need only a "remote pilot certificate," which is far easier to obtain. DJI said in a statement that the new rules "will make it easier for American businesses, farmers, nonprofits and government agencies to use drones in their work."
DJI's CEO is Frank Wang, 35, the son of a teacher and an engineer from Hangzhou, in eastern China. In photographs, he usually wears round spectacles and wool caps. As a child, Wang was a model airplane enthusiast; as a high school student, he received middling grades. Rejected from MIT and Stanford, he studied electronic engineering at the Hong Kong University of Science & Technology, and launched DJI from his dorm room in 2006. After graduation, he moved to Shenzhen with two classmates; they worked out of an apartment, funded by his university scholarship.
By that time, drone-flying had been a niche hobby for years. But when DJI released the Phantom quadcopter in January 2013, it quickly went mainstream. The machine came ready to fly, took remarkable aerial video and sold for $679.
Three years and several product releases later, Wang is now worth $3.6 billion, according to Forbes.
Paul Pan, a senior product manager at DJI who has been working at the company since 2013, said that Wang nurtures a meritocratic work environment. "It's not like there's one guy leading, like [the late Steve Jobs at] Apple," he said. Wang "wants us to debate with him, to tell him why his ideas aren't good, and if they're not good, whether there is a better way to do it. But you have to prove it."
To stay ahead of its competitors, DJI is trying to enter lucrative markets — science, agriculture, search and rescue, surveillance — by investing in its "software development kit," a platform allowing individuals and companies to program DJI drones to suit their needs. Remember the "SnotBot"? The development kit made that possible.
"When people start trying a drone and flying it around, suddenly a lightbulb goes off, and they think, we can do this," said Perry, the director of strategic partnerships. "We never planned to make drones for sports teams, or snot collection. Our users brought these to the platform."
A drone, essentially, is "a node in three dimensions that can send and receive information," he added. "So the drone is applicable in any situation where gathering that information is either too time-consuming, costly or dangerous. When you think of it in those terms, things start to open up."
Follow @JRKaiman on Twitter for news from Asia
ALSO
Aide to China's former leader gets life in prison for bribes
Elie Wiesel 'died as a hero in Israel,' but it wasn't always that way
Divided over immigration, one of Britain's most diverse cities voted for 'Brexit'
Must-read stories from the L.A. Times
Get the day's top news with our Today's Headlines newsletter, sent every weekday morning.
You may occasionally receive promotional content from the Los Angeles Times.