U.S. war on drugs has failed, report says
A group of experts inspect a vehicle after an armed assault in Tijuana.
(AFN / handout, EPA)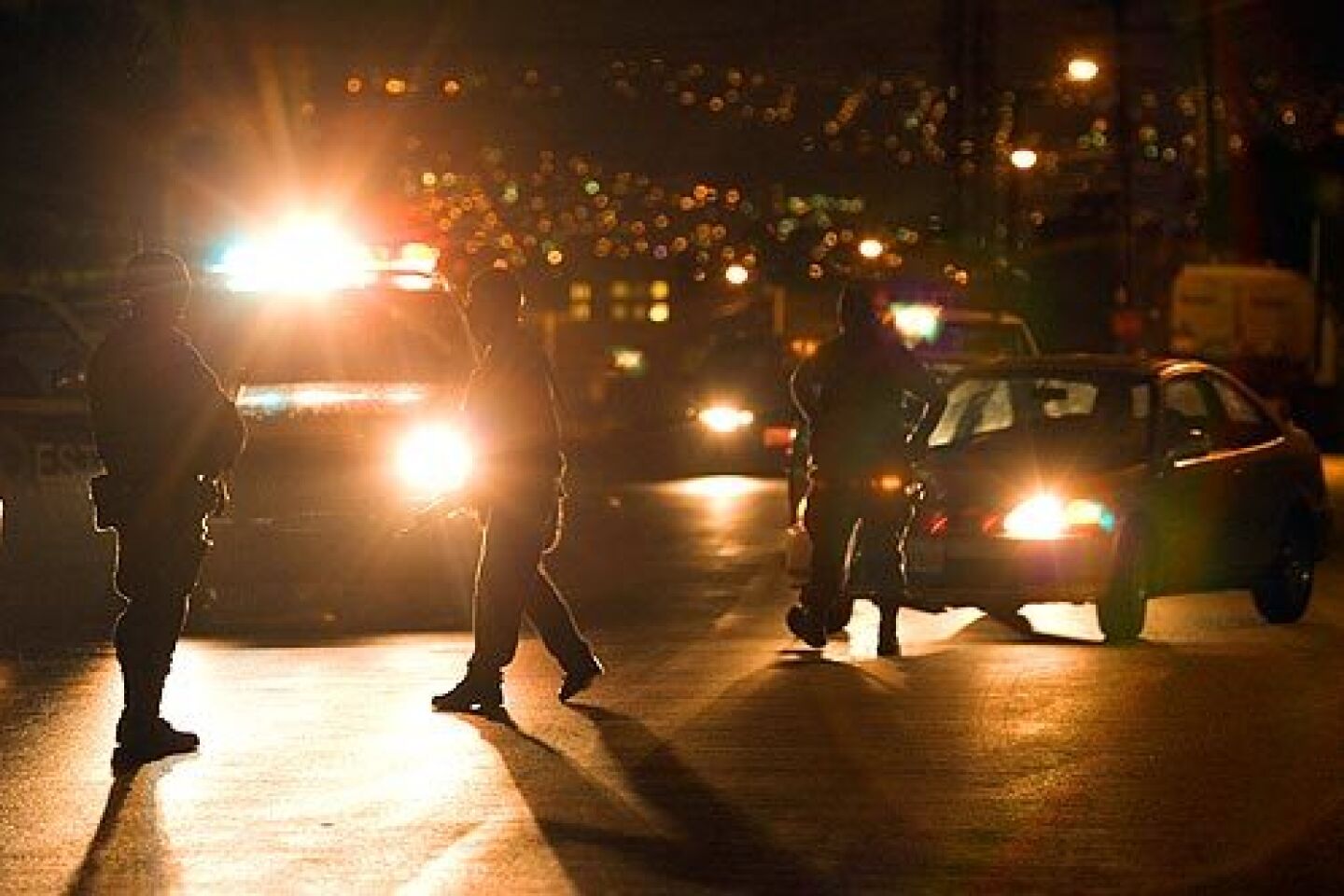 Police officers investigate the scene of a shootout between drug gangs in Tijuana on Saturday. According to the police, at least one person died and four were injured. Just in the last week, more than 50 suspected organized crime members, many believed to be part of the Arellano Felix cartel, have turned up dead.
(Guillermo Arias / Associated Press)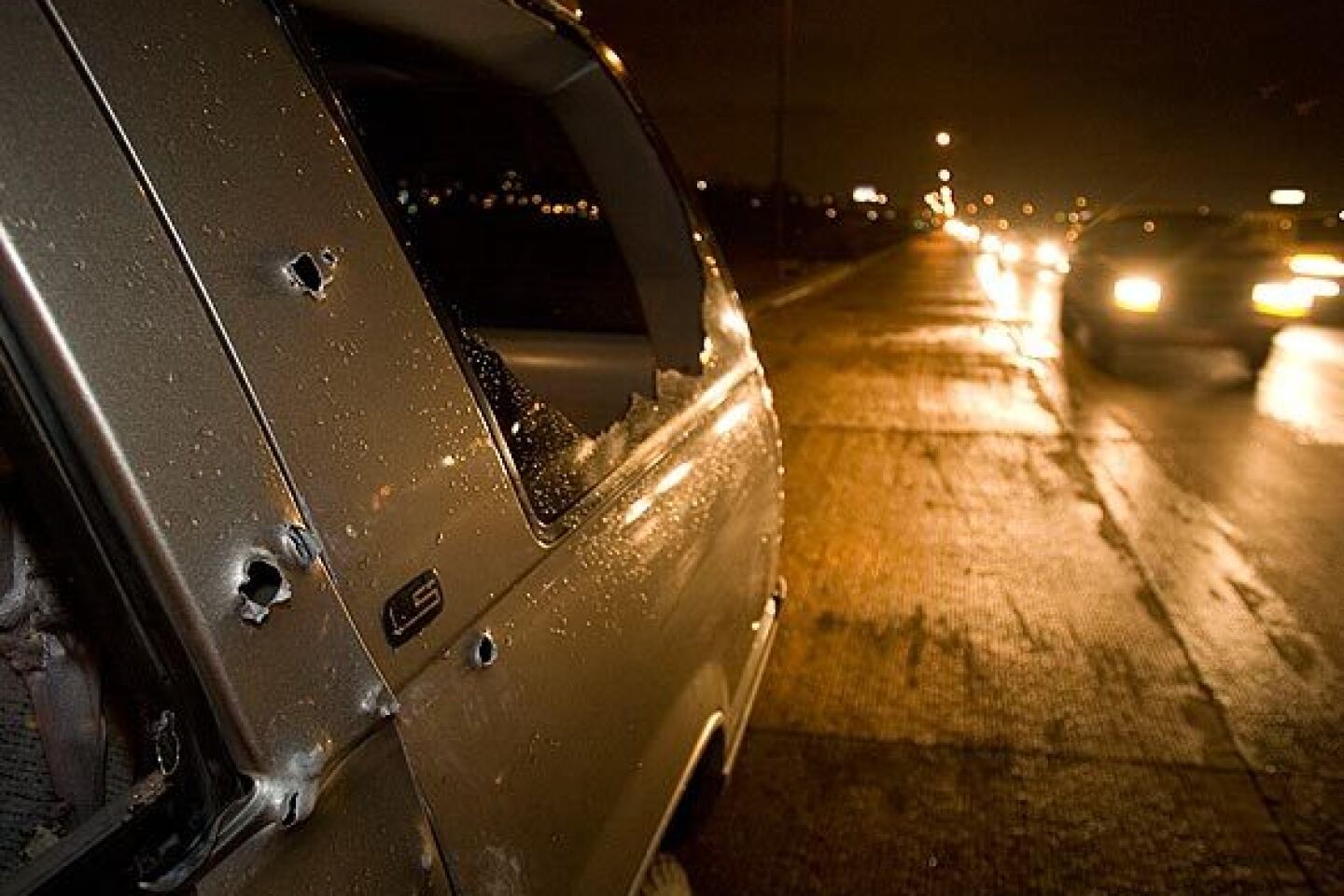 A vehicle was shot up in the Tijuana confrontation between drug gangs. The main battle in the city now appears to be between the Arellano Felix cartel leader and a renegade lieutenant. Each has an army of about 100 gunmen who roam in convoys of SUVs, according to a U.S. anti-drug official.
(Guillermo Arias / Associated Press)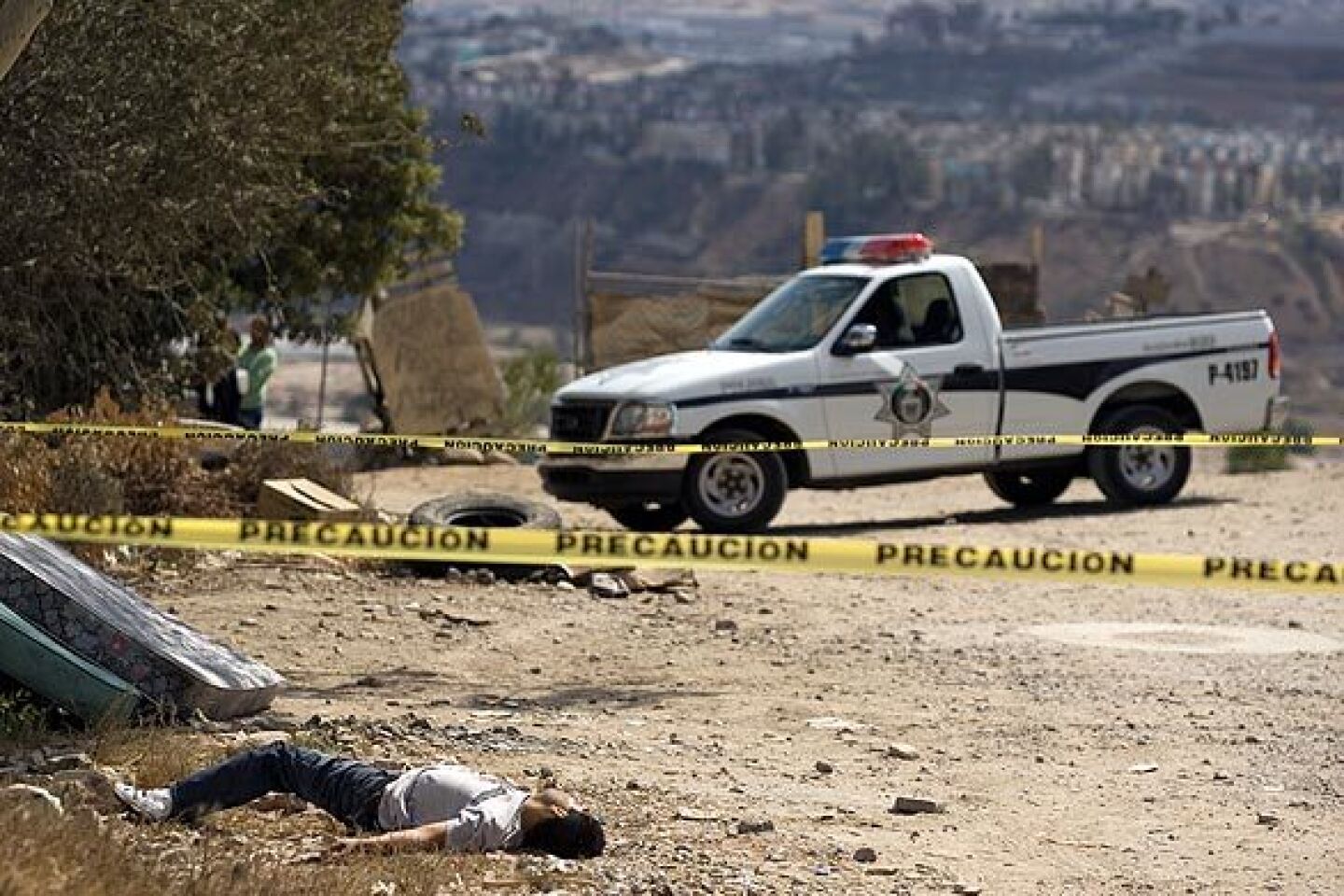 A body with gunshot wounds lies near a police truck in Tijuana. The Mexican government has intensified its efforts aimed at drug cartels.
(Guillermo Arias / Associated Press)
A state police officer guards seized bullets and ammunition clips displayed to the media in Rosarito, Mexico, on Wednesday. A wave of apparent organized-crime violence has swept Tijuana, leaving scores of people dead in the last week.
(Guillermo Arias / Associated Press)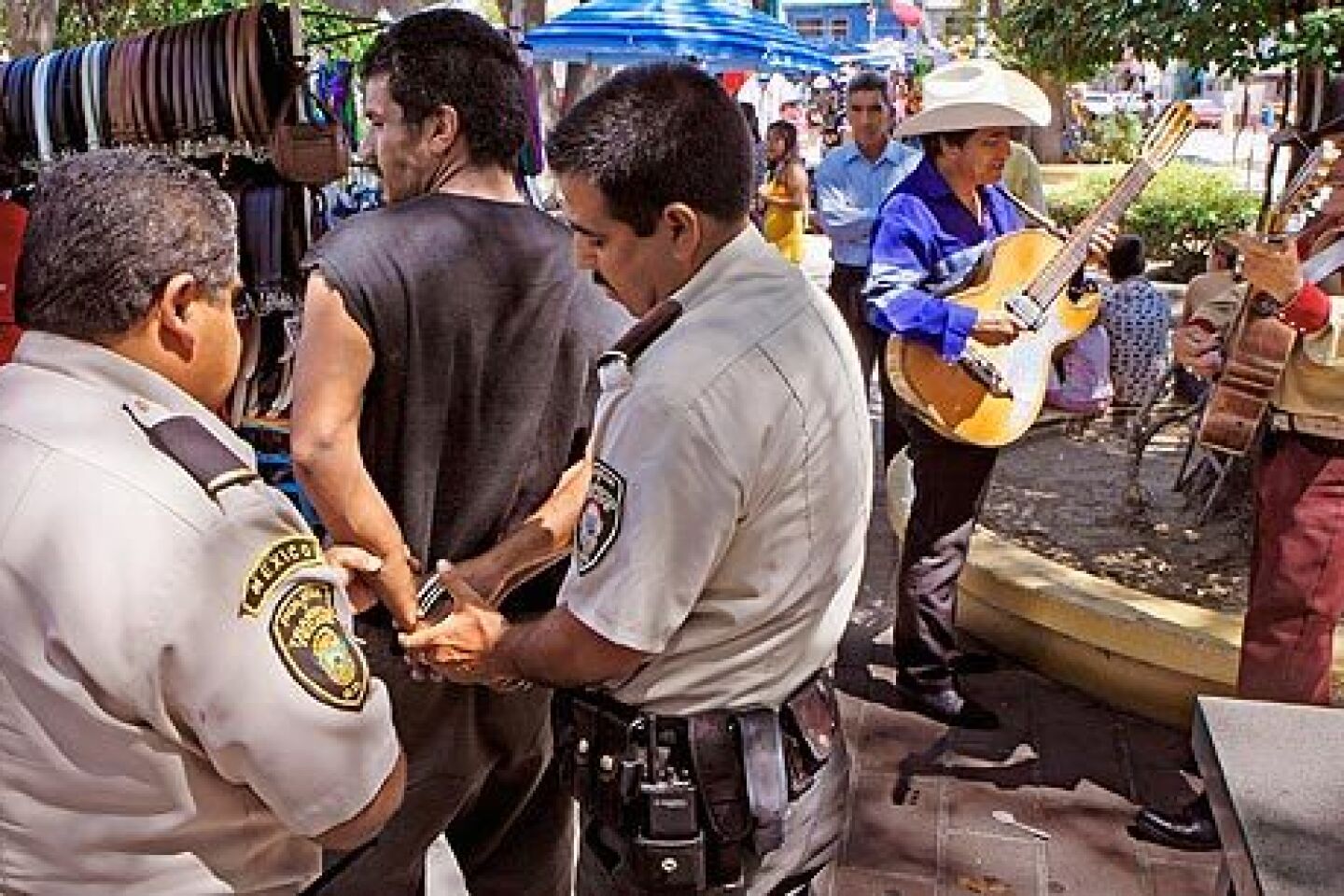 Amid vendors and musicians in the tree-lined central plaza, police in Tecate, Mexico, handcuff a man on unspecified charges. Last December, deputy commander Juan Jose Soriano was assassinated after he reported a cross-border smuggling tunnel. Some suspect the police force has been corrupted by drug lords.
(Don Bartletti / Los Angeles Times)
A police officer guards the scene in the Mexican state of Yucatan where 11 headless bodies were found piled. The nearby city of Merida is normally tranquil and touristy.
(STR, AFP/Getty Images)
View of the automobile where three men, allegedly Mexican policemen, where found dead on the Mexico-Toluca highway in the municipality of Ocoyoacac, Mexico.
(Saul Lopez / EPA)
Forensic officers work at the scene where three dead bodies were found in a desert area of Ciudad Juarez, state of Chihuahua, Mexico. The Chihuahua local government, the most affected by the violence, asked President
Felipe Calderon
to change "radically" its strategy against organized crime that has taken the lives of about 1000 people in 2008.
(Luis Hinojos / EPA)
Mexican officers investigate the crime scene and the car of the deputy director of Playa del Carmen Police, Jesus Lopez Cantu, who was shot in the town of Playa del Carmen, Mexico.
(Elizabeth Ruiz / EPA)
Members of the Mexican Federal Police take into custody six alleged kidnappers and hitmen at Mexico City's International Airport. The alleged criminals were captured at the U.S. border Mexican city of Juarez, along with 14 long weapons, 2,000 cartridges, 34 loaders of different calibers and three vehicles.
(Mario Guzman / EPA)
A handout picture provided by El Debate de Sinaloa newspaper, shows the corpse of a dead police agent who worked for the Municipal Public Security Direction and who was found dead in Sinaloa.
(El Debate de Sinaloa / handout, EPA)
The bodies of three unidentified men in a car after they were killed in a Ciudad Juarez street, Chihuahua, Mexico. A Mexican police official reported that in an unrelated event gunmen killed a Ciudad Juarez state prison director in the border city. More than 500 people have been murdered in Ciudad Juarez in 2008 following a wave of violence blamed on drug gangs.
(STR / EPA)
Mexican forensics stand around the body of a young man who was killed in Renato Vega district, Culiacan city, in the Mexican state of Sinaloa. Officials said that in addition five policemen were killed in the cities of Campeche and Juarez.
(El Debate de Culiacan / EPA)
Mexican navy sailors ride on top of a seized drug smuggling submarine as it was being towed by a navy ship off the coast of the Pacific resort city of Huatulco, Mexico.
(Miguel Angel Tovar / Associated Press)
Policemen and members of the Mexican Army during a hostage crisis in a mall in Mazatlan, Mexico. For more than two hours a group of armed gunmen took some 40 hostages after assassinating a State Prevention Police officer. In spite of an intense mobilization which included the Mexican Army, the Federal Prevention Police, and State Ministerial Police, the gunmen still managed to escape.
(Eduardo Resendiz / EPA)
The site of a crime where eleven people were murdered in the Mexican city of Culiacan, in the northern state of Sinaloa. According to official reports, the victims were shot in three actions by armed gunmen commandos.
(El Debate de Sinaloa / HANDOUT, EPA)
The body of Raimundo González Mendoza, commander of state Police of Culiacan, lies on the ground in front of his official vehicle, after being killed by gang members in Culiacan, Mexican state of Sinaloa. González's death brought the number of policemen killed in Sinaloa by members of drug trafficking gangs to 58.
(El Debate de Sinaloa / HANDOUT, EPA)
Members of the Police of Sinaloa, carry on June 27, 2008 the coffins of three policemen killed on Thursday in Culiacan, Sinaloa State. The officers were killed by an armed commando while they were on patrol.
(Marco Millán AFP/Getty Images)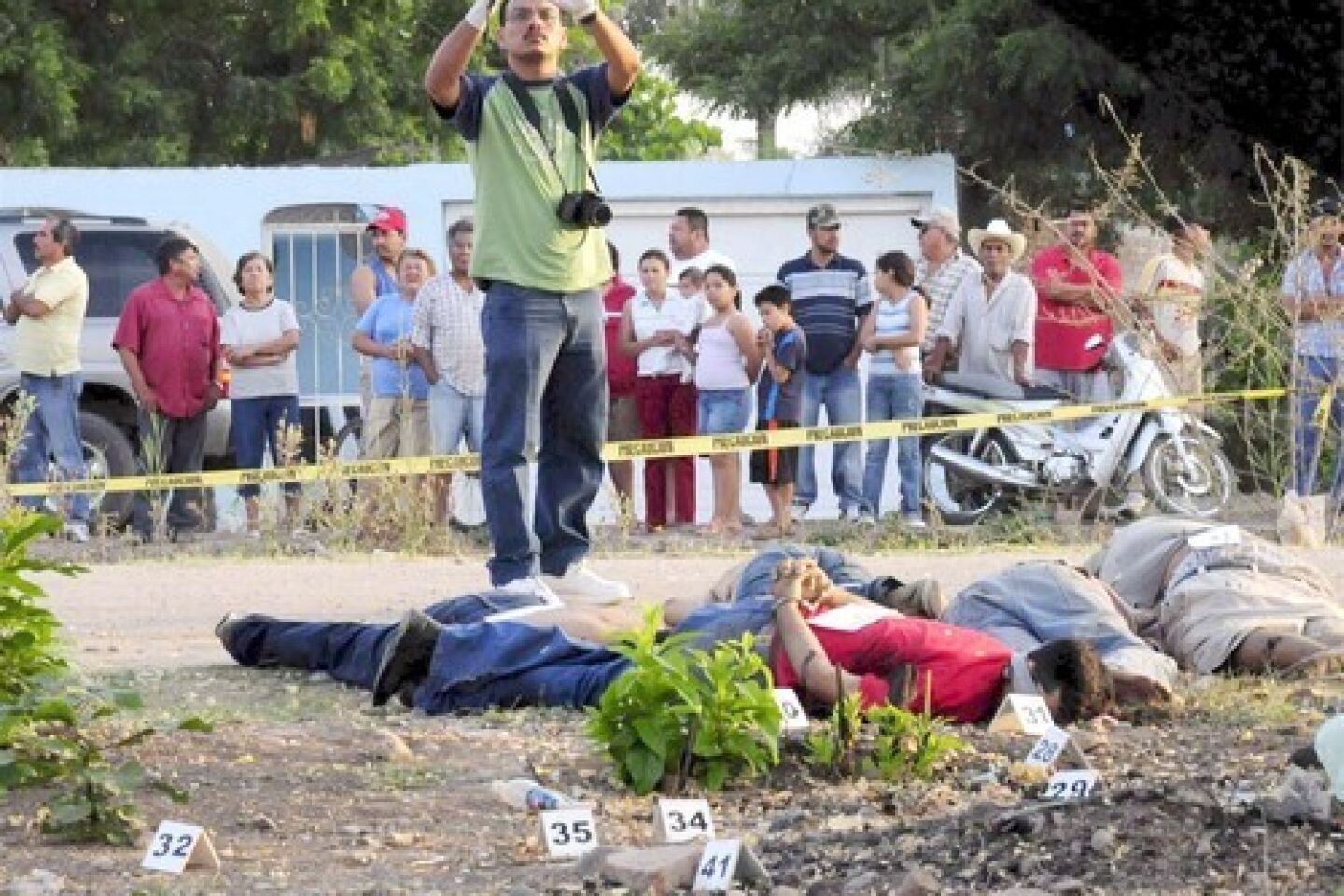 Mexican Police experts check the crime scene where five dead people were found in Novolato, Sinaloa State, Mexico.
(El Debate de Sinaloa / HO, EPA)
A Mexican policeman takes in a banner, which reads: "Tin soldiers, federal officers made of straw, this is Arturo Beltran's territory." Beltran is an alleged drug operative.
(Fidel Duran / Associated Press)
Law enforcement agents investigate the site of a shooting in Chihuahua, Mexico, in which seven people died.
(El Diario de Chihuahua / EPA)
Arely Montoya of Guamuchil, Mexico, holds her brother's ID card from his job as a hospital security guard. Jose Alan Montoya was later recruited to work for drug traffickers and was kiled by army troops.
(Héctor Tobar / Los Angeles Times)
Members of the Mexican police check the corpse of a member of the Federal Agency of Investigation (AFI) who was shot dead in Juarez City, state of Chihuahua. Different attacks in one day left twenty people dead, including two agents in Chihuahua and a newborn child in the state of Mexico.
(Guadalupe Williams AFP/Getty Images)
Bullet holes riddle the home of Alberto Capella Ibarra. The attack occurred just after Capella had surfaced as a candidate for the police job. It could have been a preemptive strike by corrupt police or crime bosses sending him a warning.
(Don Bartletti / Los Angeles Times)
The bloodied shirt of Jose Nemesio Lugo Felix, director of the attorney general's "Information Against Delinquency" unit, can be seen through the splintered window of his sport utility vehicle, which was trapped and ambushed on a narrow street in Mexico City.
(Mario Guzman / EPA)
Soldiers guard a police station in Acapulco while law enforcement authorities investigate inside. Police and media reports said the gunmen apparently videotaped the assaults. Five police officers and two secretaries were killed.
(Gonzalo Perez / Associated Press)
Reporting from Mexico City —
The United States' war on drugs has failed and will continue to do so as long as it emphasizes law enforcement and neglects the problem of consumption, a Washington think tank says in a report co-chaired by a former president of Mexico.
The former president, Ernesto Zedillo, in an interview, called for a major rethinking of U.S. policy, which he said has been "asymmetrical" in demanding that countries such as Mexico stanch the flow of drugs northward, without successful efforts to stop the flow of guns south. In addition to disrupting drug-smuggling routes, eradicating crops and prosecuting dealers, the U.S. must confront the public health issue that large-scale consumption poses, he said.
"If we insist only on a strategy of the criminal pursuit of those who traffic in drugs," Zedillo said, "the problem will never be resolved."
The indictment of Washington's counter-narcotics campaign comes in a report released this week by the Brookings Institution that advocates closer engagement with Latin America and the Caribbean. U.S. influence in the region has slipped dramatically during the eight years of the Bush administration, and the report suggests an incoming Democratic government led by Barack Obama can open opportunities for better ties and communication.
Among its recommendations, the report urges a fresh approach to Cuba, including loosening the long-standing U.S. embargo, overhauling immigration policies, and enhancing "hemispheric integration" on the economic and energy fronts.
The report, which is the work of Brookings' Partnership for the Americas Commission, offers especially pointed criticism of the way the drug war has been waged.
Contrary to government claims, the use of heroin and cocaine in the U.S. has not declined significantly, the report says, and the use of methamphetamine is spreading. Falling street prices suggest that the supply of narcotics has not declined noticeably, and U.S. prevention and treatment programs are woefully underfunded, the study says.
"Current U.S. counter- narcotics policies are failing by most objective standards," the report says. "The only long-run solution to the problem of illegal narcotics is to reduce the demand for drugs in the major consuming countries, including the United States."
Zedillo cited skyrocketing violence in his own country as an example of the damage done by these policies. More than 4,000 people have been killed in Mexico this year in drug-related warfare between government troops and traffickers, and among rival drug gangs. Many of the weapons confiscated in raids and shootouts came from the U.S.
Zedillo, who served as Mexican president from 1994 to 2000, spoke by telephone from Yale University, where he is an economics professor and director of the school's Center for the Study of Globalization. He is co-chairman of the Partnership for the Americas Commission with Thomas R. Pickering, a former U.S. undersecretary of State.
Where the U.S. has had success, as in the reduction of coca production in some areas of Colombia, the gains are not sustainable, Zedillo said, because cultivation merely moves to other zones.
"And that way, the fight goes nowhere," he said.
The report urges the U.S. to take responsibility for stemming the transport of an estimated 2,000 guns a day across the border; to expand drug prevention programs in schools and redirect anti-drug messages to younger people by emphasizing cosmetic damage as well as health risks; and to greatly enhance drug courts, a system that incorporates treatment into prosecution.
John P. Walters, head of the White House Office of National Drug Control Policy, recently defended U.S. efforts. In Mexico to discuss a pending anti-drug aid package, Walters said a decline in positive drug tests at American workplaces indicated consumption was down, and he said authorities were taking steps to curtail gun shipments.
But a report this month from the U.S. Government Accountability Office, commissioned by Sen. Joe Biden (D-Del.), now the vice president-elect, said the government's most ambitious counter-narcotics program, the $5-billion Plan Colombia, failed to meet several goals. Interdiction halved opium and heroin production in Colombia from 2000 to 2006, but coca and cocaine production continued to grow, it said.
Wilkinson is a Times staff writer.
latimes.com /siege Previous coverage of Mexico's drug war is available online.
Must-read stories from the L.A. Times
Get the day's top news with our Today's Headlines newsletter, sent every weekday morning.
You may occasionally receive promotional content from the Los Angeles Times.