From the Archives: 1985: Mexico City in Chaos as Buildings Fall; Death Toll Heavy
The quake that struck Mexico City on the morning of the Sept. 19, 1985, killed thousands of people.
(John Downing / Getty Images)
A collapsed building in Mexico City is seen the day after the 1985 earthquake.
(John T. Barr / Getty Images)
The ruins of Hotel Regis in Mexico City after the 1985 temblor.
(Derrick Ceyrac / AFP/Getty Images)
Workers amid the post-quake rubble in 1985.
(John Downing / Getty Images)
People watch rescue workers after the 1985 quake.
(John Downing / Getty Images)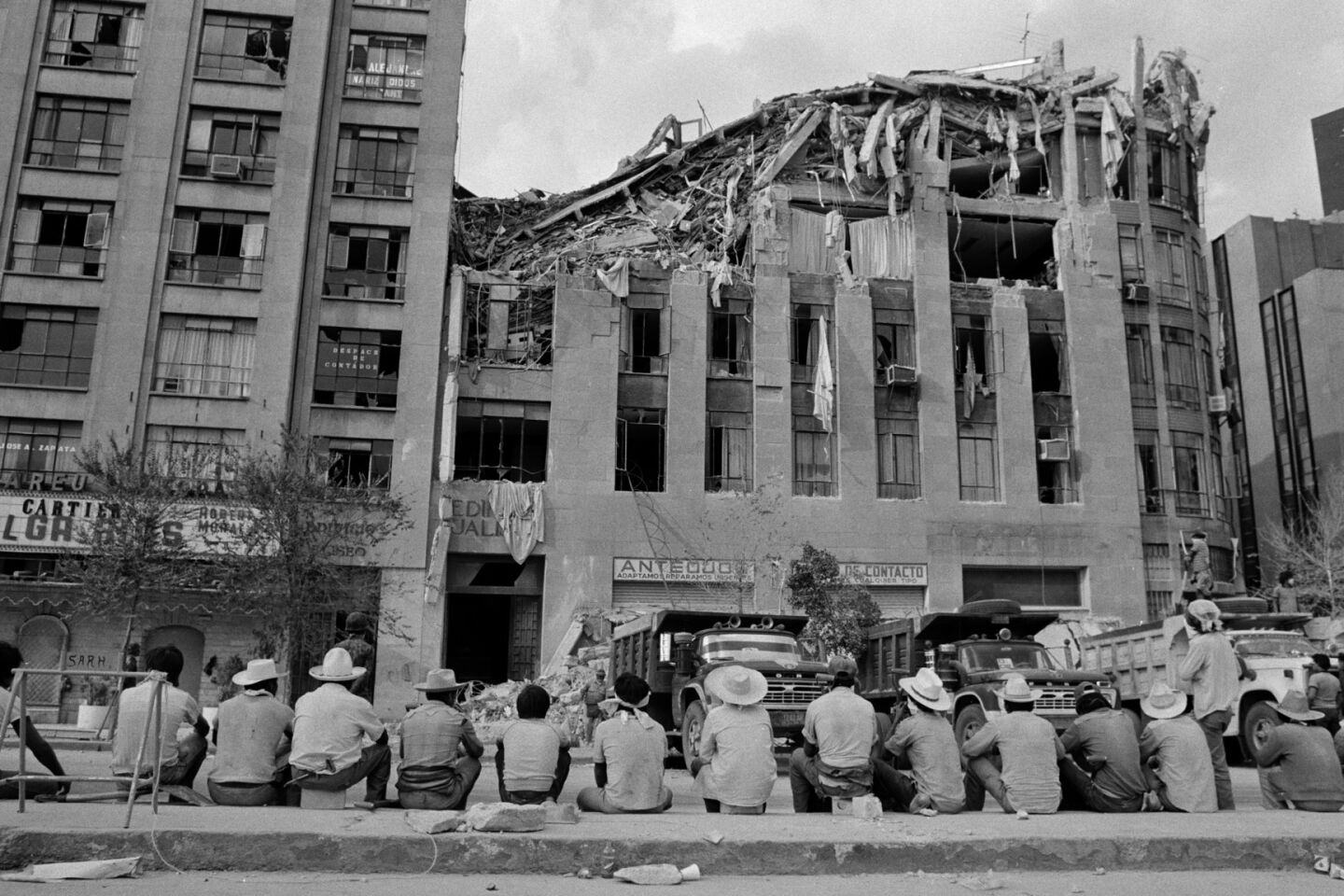 Another building collapse in Mexico City in 1985.
(John Downing / Getty Images)
A Mexico City scene from Sept. 26, 1985, one week after the quake.
(John Downing / Getty Images)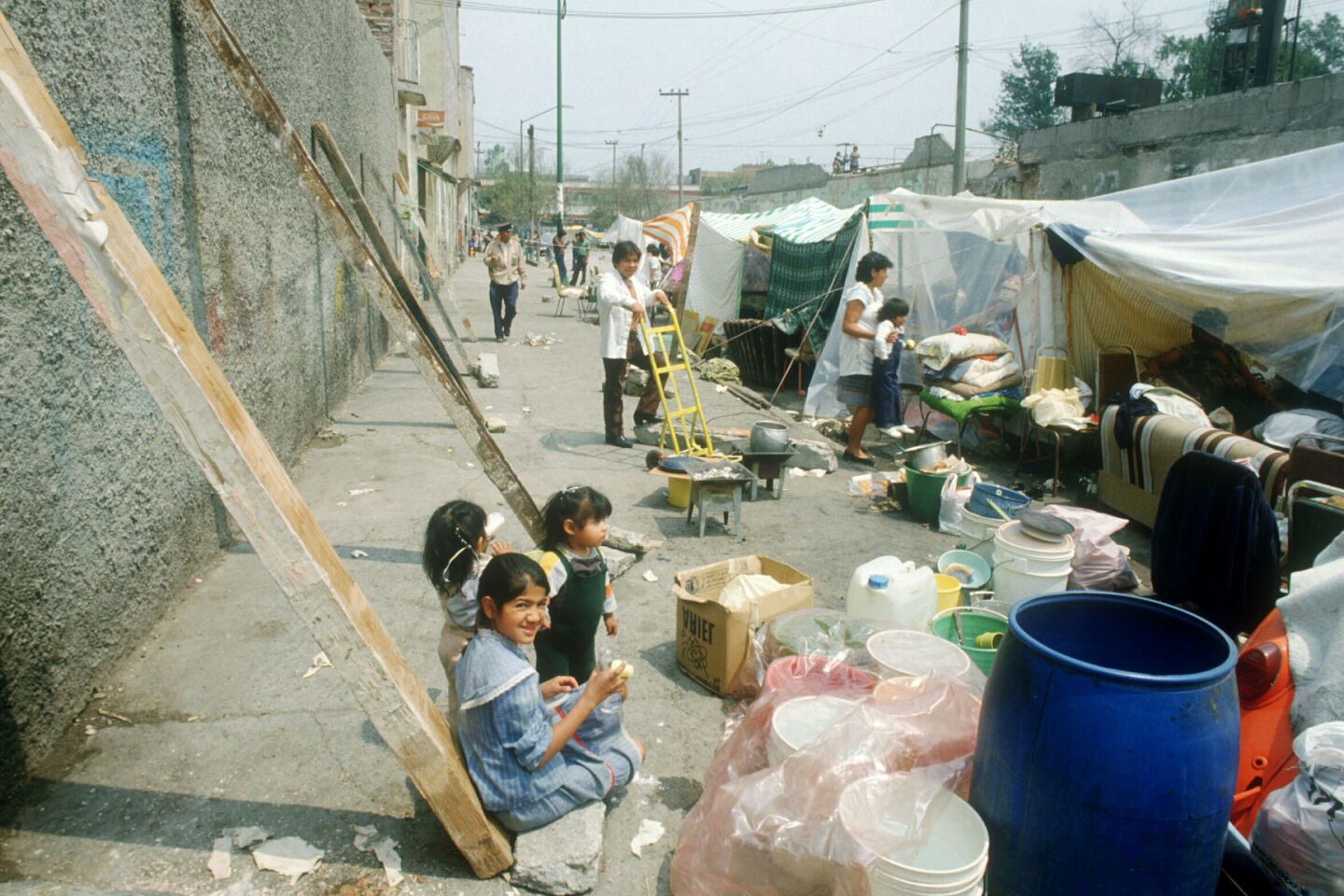 The 1985 quake displaced many Mexico City residents, who were forced to live in makeshift tents.
(Roland Neveu / Getty Images)
A Mexico City street scene on Sept. 24, 1985.
(John Downing / Getty Images)
Editor's note: A powerful 7.1 earthquake jolted Mexico City on Tuesday, seriously damaging buildings and sending people fleeing into the streets on the anniversary of a 1985 quake that did major damage to the capital. This is the Times story from Sept. 19, 1985:
A major earthquake struck off the southwest coast of Mexico today, collapsing buildings as far inland as Mexico City 250 miles away and causing severe damage there and in at least three Mexican states. Death reports ranged to 1,000 or more and the capital was in chaos.
Damage was reported heavy in the Mexican capital, the most populous urban area in the world, with hospitals and hotels among the casualties. Cathedrals collapsed in Jalisco, Guerrero and Michoacan states, all on the country's west coast.
In Mexico City several buildings toppled as the 7.8 quake hit at 7:18 a.m., the height of the morning rush hour.
Amid fires and panic, a state of emergency was declared and President Miguel de la Madrid appealed for calm over the radio.
"Above all the first priority is to save human lives," de la Madrid told listeners, according to a radio station in Bogota, Colombia, which monitored Mexican television.
"Unfortunately there appear to be many dead. All of the hospitals are on a state of alert to take care of the injured. The army is in a state of alert," he said.
Hours after the temblor, de la Madrid said the government did not know how many people were dead or injured. Asked about casualties as he toured some of the worst-hit areas, he told a reporter, "We don't have any statistics."
Telephone and telex circuits were out to Mexico City and flights from the United States were canceled, one airline official said, "because we didn't know what we would find when we got there."
A reporter for Mexico City's Channel 13, the only working television station, said "some downtown zones give the impression of a city after a bombing."
An amateur radio operator said he had seen many dead people on the street. Another report said 35% of the city's building's were damaged.
Luis Ramirez, a secretary at the Mexican Embassy in Buenos Aires, told reporters that the earthquake destroyed about 50% of the older buildings in Mexico City.
"Through unofficial communications we know that the buildings of the Commerce Secretariat, the Justice Department and other agencies have been totally destroyed," he said.
Victims of the quake "have loaded all the hospitals in Mexico City and unfortunately three of them that are jammed with injured people must be evacuated because they suffered grave structural damage," he said.
"At first I heard a tremendous noise and I grabbed my daughter and jumped out the window. I had no chance to help my wife, who was killed when she was buried by rubble," said a young man shown on Mexican television, his voice choked with emotion and tears streaming down his dust-covered cheeks.
Television pictures showed Hotel Regis, in downtown Mexico City on Avenida Juarez totally destroyed.
"We don't know how many persons were trapped in the hotel ... some downtown Mexico zones give the impression of a city after a bombing," said a broadcast reporter.
Gas Leaks, Fires Reported
Mexico City station XEQ said that one-third of the city was without electricity and that several gas leaks and fires had been reported.
"It was very loud," ham radio operator Carlos Santorius said from Mexico City. "That was the worst thing. It was terrible, loud.
"The most affected area is downtown Mexico. I'm living in the south of Mexico City so I felt this earthquake and I never thought it was so bad."
"Close to the office where I work I saw six buildings completely damaged, completely, just went down. There was one of a radio station of seven or eight stories high and it was like a sandwich."
A Mexican Embassy spokeswoman in Washington said two areas to the north of downtown Mexico City--Colonia Roma and Colonia Doctores--sustained heavy damage.
Several Buildings Fell
She said that several buildings had fallen, that part of an office of the Ministry of the Navy collapsed and that there were fires in the city's communications tower and in a building of the Ministry of Labor.
In Tijuana, a local cable television channel showed live pictures from Mexico City and an announcer said deaths were considered to be in the thousands.
The University of Mexico was shown to have been damaged, with students trapped in its buildings.
There were unconfirmed reports that several large hotels in the city's center were badly damaged.
Ambulances and rescue crews were hampered by a lack of gasoline. Buildings on the Paseo de la Reforma and Insurgentes avenue, the city's major thoroughfares, reportedly were heavily damaged.
Hospital Reported Full
A reporter for station XEQ said one hospital was full and asked that the injured be taken elsewhere. Residents of the city were told to stay in their homes, the radio said.
The TV broadcasts of Mexico City--the world's most populous urban area with an estimated 18.1 million people in its metropolitan area--showed buildings in rubble with many people trapped. One 13-story building was said to have collapsed, trapping people inside.
Sergio Olmos, news coordinator at Spanish-language television station KMEX in Los Angeles, monitoring Channel 13 in Mexico City, said:
"The Army has been called in to help with rescue operations. . . . There have been several major fires. . . . Ambulances can be heard all over the city."
10 Aftershocks
The Spanish International Network said that there were 10 aftershocks in the capital city and that the city government was asking for donations of gasoline for emergency vehicles. Most streets were said to be blocked or closed.
Telephone and telex circuits were out to Mexico City and flights from the United States were canceled, one airline official said, "because we didn't know what we would find when we got there."
State Department spokesman Bernard Kalb confirmed that the U.S. Embassy was undamaged and that communications with the embassy had been established.
Kalb said there was significant damage in the old section of the city, including the popular tourist area Zona Rosa, a fashionable hotel district in the center of the city.
Epicenter in Pacific
The U.S. Geological Survey put the epicenter in the ocean about 250 miles southwest of Mexico City.
In Houston, there were reports of several large buildings swaying, with window shades banging against the windows. Water was reported sloshing out of swimming pools in Texas and New Mexico.
The National Weather Service, concerned about a possible tidal wave, or tsunami, said emergency measures might be required into the early afternoon along the California coast. Officials issued, but hours later canceled, a tidal wave alert.
Communications with much of Mexico were only fragmentary hours after the quake.
Transmissions Monitored
Howard L. Lester, an amateur radio operator in Schenectady, N.Y., said he had monitored a transmission between a Mexico City operator and another in Tucson, Ariz.
Speaking in English, the Mexico City operator said:
"This is no joke. . . . We have only one radio channel left. It's a government channel. We're trying to get it working so we can tell the world what is happening."
Must-read stories from the L.A. Times
Get the day's top news with our Today's Headlines newsletter, sent every weekday morning.
You may occasionally receive promotional content from the Los Angeles Times.