Death toll in Mexico quake rises to 58 as frantic search for victims continues
Reporting from MEXICO CITY —
At least 58 people are dead after one of the most powerful earthquakes in Mexico's history struck late Thursday on its southern coast, toppling buildings, destroying hospitals and causing people to flee violently swaying skyscrapers n the capital city hundreds of miles away.
In Juchitan de Zaragoza, a largely indigenous city in a remote corner of Oaxaca state, rescuers spent Friday desperately trying to reach people trapped under the rubble.
"This is the most critical situation in the whole history of the city," Mayor Gloria Sánchez said in a radio interview. At least 100 homes had collapsed, Sanchez said, and the city's only hospital was so badly damaged that doctors were treating the wounded in a courtyard.
The U.S. Geological Survey said the earthquake hit about 60 miles off the coast of Chiapas state with a magnitude of 8.1 — slightly stronger than the devastating magnitude 8 quake that killed thousands of people in Mexico City in 1985, scarring a generation.
Fifty million Mexicans felt Thursday night's quake and more than 1.8 million people lost electricity, said Mexican President Enrique Peña Nieto, who said it was the country's biggest earthquake in at least a century. Schools were closed across 11 states Friday so authorities could check them for safety.
Soldiers stand guard near the Sensacion hotel which collapsed with the powerful earthquake that struck Mexico overnight, in Matias Romero, Oaxaca State.
(VICTORIA RAZO / AFP/Getty Images)
Passers-by take snapshots of firefighters working on a building, damaged during the 8.1 earthquake that hit early today, in Mexico City.
(ALFREDO ESTRELLA / AFP/Getty Images)
Mexico and Guatemala were severely jolted overnight by an 8.1 magnitude earthquake. This building was damaged in Tacaná, Guatemala.
(JOHAN ORDONEZ / AFP/Getty Images)
Evacuated patients lie on their hospital beds shaded by a tree, in the aftermath of a massive earthquake in Juchitan, Mexico.
(Luis Alberto Cruz / Associated Press)
Residents stand in front of rubble from a partially collapsed building felled by a massive earthquake in Juchitan, Mexico.
(Luis Alberto Cruz / Associated Press)
Residents stay in shelters after a 8.1 magtnitude earthquake in Tapachula, Mexico.
(JOSE TORRES / EPA)
Damage to the municipal palace of Juchitan after a 8.1 magtnitude earthquake in Tapachula, Mexico.
(Pedro Rasgado / EPA)
A car lies under a pile of rubble from a damaged building in the eastern area of Mexico City after a magnitude 8.1 earthquake struck off the coast.
(Alfredo Estrella / Agence France-Presse /Getty Images)
A man dressed in a bathrobe waits outside with dozens of other people in downtown Mexico City after a powerful earthquake toppled buildings, damaged hospitals and sent skyscrapers swaying hundreds of miles away.
(Luis Perez / Agence France-Presse /Getty Images)
Power poles and electrical wires are scattered along a sidewalk in the eastern area of Mexico City. About 1.5 million people lost electricity after a powerful earthquake toppled power lines across the country.
(Alfredo Estrella / Agence France-Presse / Getty Images)
Streets are littered with rubble and downed power lines in Mexico City.
(Alfredo Estrella / Agence France-Presse / Getty Images)
By far the most severe damage was in the states of Oaxaca, Tabasco and Chiapas, all near the epicenter, where at least 37 people died and at least 200 people were injured.
Many of the hardest hit regions are difficult to reach, complicating rescue efforts.
Luis Felipe Puente, head of Mexico's national emergency services agency, said 45 people died in Oaxaca state. Seventeen of them were killed in Juchitan, home to the indigenous Zapotec people, where the local government headquarters, the city's biggest school and a major church were all reduced to rubble.
Sanchez, the city's mayor, said rescue operations were underway for least three people buried alive, one at the government building and two more at a collapsed hotel. At least 500 people had been displaced, she said, adding that the city was converting sports stadiums into temporary shelters.
Ten people died east of Oaxaca in the state of Chiapas, Puente said. They included two women who died when a house and a wall collapsed in the city of San Cristobal, Chiapas Gov. Manuel Velasco said.
Three people died in the Gulf Coast state of Tabasco. One of them was a child who was killed when a wall collapsed, Gov. Arturo Nunez said. Another was a baby who died in a children's hospital that lost electricity, cutting off the infant's ventilator.
The earthquake triggered tsunami waves as high as 3.3 feet at the port of Salina Cruz in Oaxaca, according to the U.S. National Weather Service's Pacific Tsunami Warning Center, and the Mexican navy helped evacuate 8,000 people who lived in vulnerable areas along the coast. By Friday morning, fears that the earthquake might result in a destructive tsunami had calmed.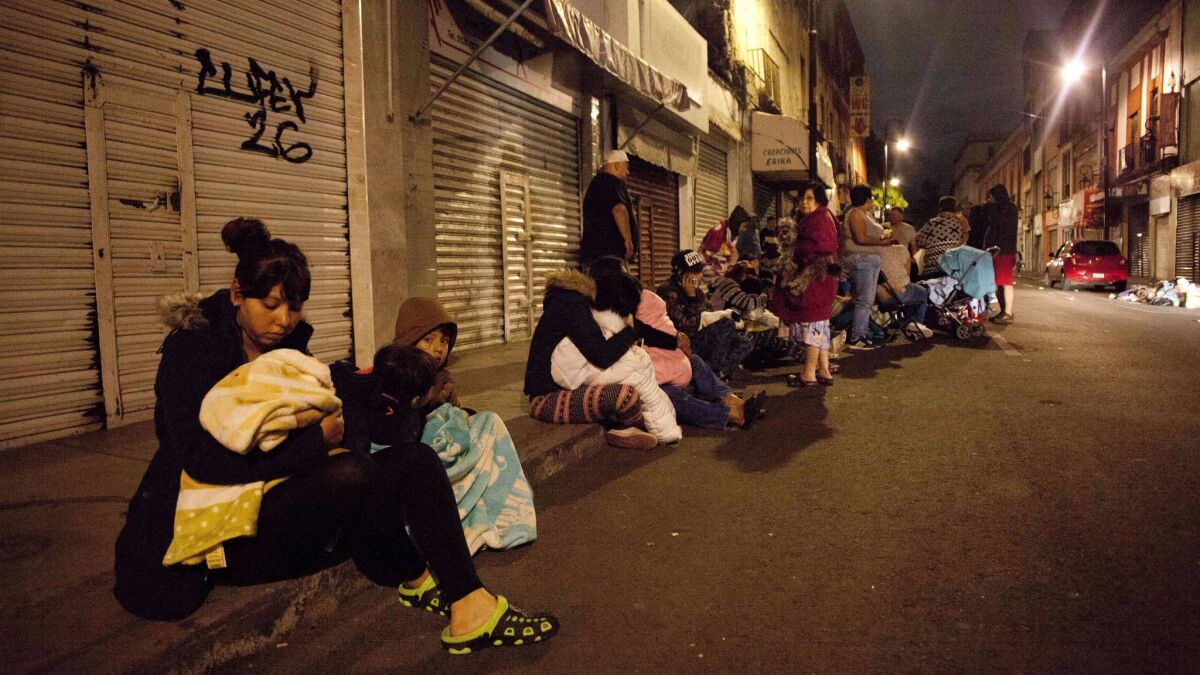 The quake, which struck at 11:49 p.m. Central time, caused buildings to sway violently in Mexico's capital 460 miles away, where residents in pajamas fled into the streets, gathering in frightened groups.
Buildings shook for about a minute — even the Angel of Independence monument was seen swaying — as the sky lighted up from explosions caused by power line shorts.
Some buildings and walls collapsed, windows shattered and electrical wiring lay tangled in the street. But Mayor Miguel Angel Mancera said there were no reports of deaths, and residents woke up Friday with a palpable sense of relief — and the knowledge that the damage could have been much worse.
Built on top of a lake bed filled in by the Aztecs, the sprawling metropolis rests on loose soil that can amplify the effects of earthquakes, scientists say. Many people here vividly remember the 1985 quake, which killed 5,000 people and leveled large swaths of the city center.
"We're always worrying about them," said Antonio Salazar Valles, 87, who in 1985 helped rescue victims trapped in an apartment building that had collapsed across the street from his office.
Salazar and his wife rode out the big waves of Thursday's earthquake inside their home, thankful that it didn't cause anywhere near the kind of destruction they feared.
One reason Mexico City escaped with no significant damage is because Thursday's quake struck twice as far away from the capital as the one in 1985, said USGS geophysicist Robert Sanders.
But the government has also made significant improvements since its widely criticized response to the 1985 disaster. It has updated building codes, and implemented early-warning systems. On Thursday night, sirens blared across the city in the moments before the earth started shaking, giving residents a little extra time to run to safety.
The quake hit as Mexican emergency agencies were bracing for another crisis on the other side of the country. The U.S. National Hurricane Center said Hurricane Katia was likely to strike the Gulf Coast in the state of Veracruz early Saturday as a Category 2 storm that could bring life-threatening floods.
The quake occurred in a very seismically active region near the point of collision between three tectonic plates, the Cocos, the Caribbean and the North American.
Though Mexican seismologists initially put Thursday's earthquake magnitude at 8.4, the National Seismological Service said Friday that it had revised its measurement to 8.2.
The seismology agency said the area has seen at least six other quakes of magnitude 7 or greater since 1900, though three of those occurred within a nine-month span in 1902-03.
Peña Nieto said 260 aftershocks were felt in Oaxaca and Chiapas on Friday, the most intense registering a magnitude of 6.1.
Sanchez is a member of The Times' Mexico City bureau. Staff writer Ron Lin in Los Angeles contributed to this report, along with the Associated Press.
ALSO
8.4 earthquake in Mexico raises tsunami fears
Hurricane Irma slams Turks and Caicos on path to Florida
Mexico expels North Korean ambassador over nuclear tests
---
UPDATES:
2:25 p.m.: This article was updated with a revised death toll.
11:20 a.m.: This article was updated with comments from officials and additional details, including the rescue of people trapped in rubble.
8:20 a.m.: This article was updated with a revised death toll.
7:15 a.m.: This article was updated with additional details, including new information on damage and death toll.
This article was originally published at 5:25 a.m.
---
Must-read stories from the L.A. Times
Get the day's top news with our Today's Headlines newsletter, sent every weekday morning.
You may occasionally receive promotional content from the Los Angeles Times.