Twelve days ago, this town in Oaxaca was struck with an 8.1 earthquake. And now it's happened again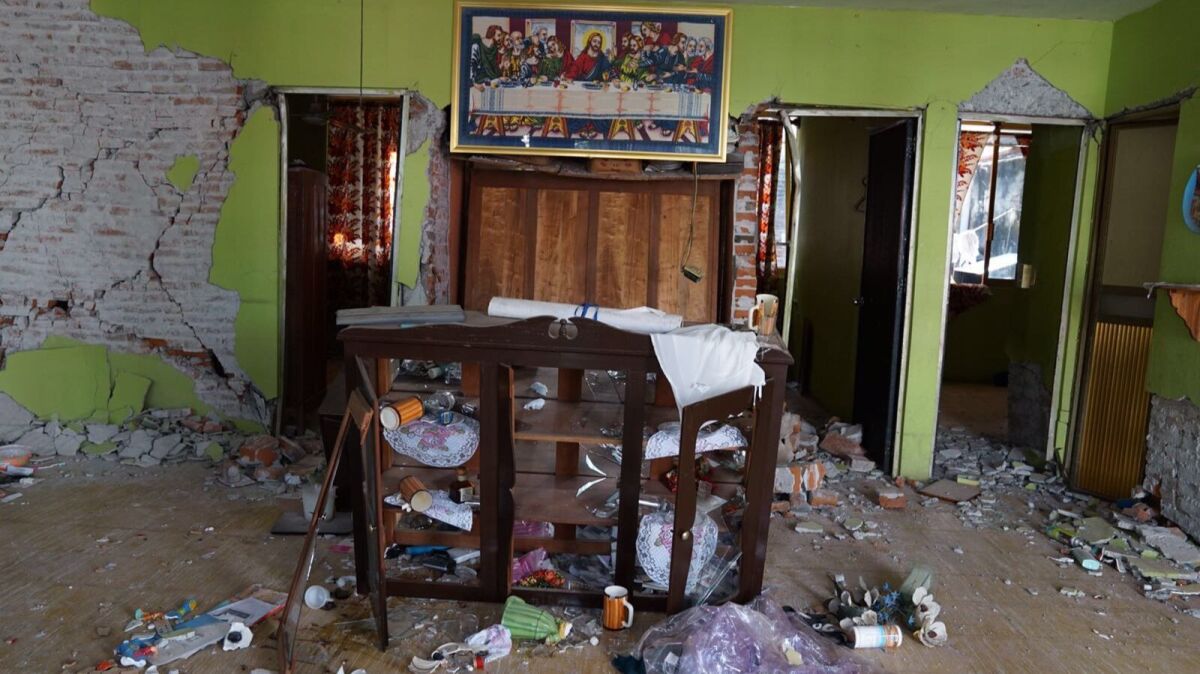 Reporting from Juchitan, Mexico —
When the tremor struck on Tuesday, the people of this earthquake-battered city feared the worst: A repeat of the Sept. 7 earthquake that tumbled buildings and left thousands homeless here.
"We were afraid it was happening all over again," said Yasmin Talavera, 57, who was sitting in a chair Tuesday in an outdoor shelter here, one of the multitudes who have been without homes since a powerful initial quake struck 12 days earlier. "But then it stopped. It wasn't nearly as bad as what happened here before."
Tuesday's quake that killed scores in Mexico City, and in the states of Morelos, Puebla and Mexico, was also felt here in Oaxaca state, which was among the areas hardest hit by the Sept. 7 temblor that left almost 100 dead, mostly in Oaxaca and the neighboring state of Chiapas. Experts said Tuesday's quake appeared to be unconnected to the earlier one.
No major new damage was reported here from Tuesday's quake, in stark contrast to the scenes of devastation from Mexico City. The official death toll from the latest earthquake was surpassing 100 as the evening approached, officials reported.
"I feel so bad for those people — they are enduring what we went through," said Johan Hernandez, 15, who was seated in the same outdoor shelter that Yasmin Talavera and her family were using. "People from Mexico City and other states sent us a lot of help. But what can we do to help them now? We can't do anything."
Parks and outdoor squares here have been converted to refuge sites for those left homeless in the Sept. 7 quake. The outdoor setting provides some protection from the many aftershocks that have followed the initial shaker. Plastic tarps have been draped over rows of hammocks, chairs and mattresses.
Mostly, people spend the day sitting and waiting. Schools are closed and many people have no jobs to go to. But electricity has mostly been restored, and there is Internet and cellphone service.
Life has returned to a semblance of normalcy here, even as officials try to determine how many of the scores of damaged buildings — including many schools — can be salvaged, and which will have to be torn down.
Police and soldiers provide security. Some people in makeshift camps have set up informal barricades against possible thieves.
"But at least we are all alive, it's almost a miracle," said Armando Zavala, 54, who is Yasmin Talavera's husband. "When the shaking started, we all thought this would be the end," he said, referring to the Sept. 7 quake. "It felt like it would never end."
Zavala, his wife and three children are now residing in a small outdoor shelter across the street from their former home, a cinder-block structure that was badly battered in the quake. It sits in a square near a colonial-style Catholic church that now has huge cracks running through it.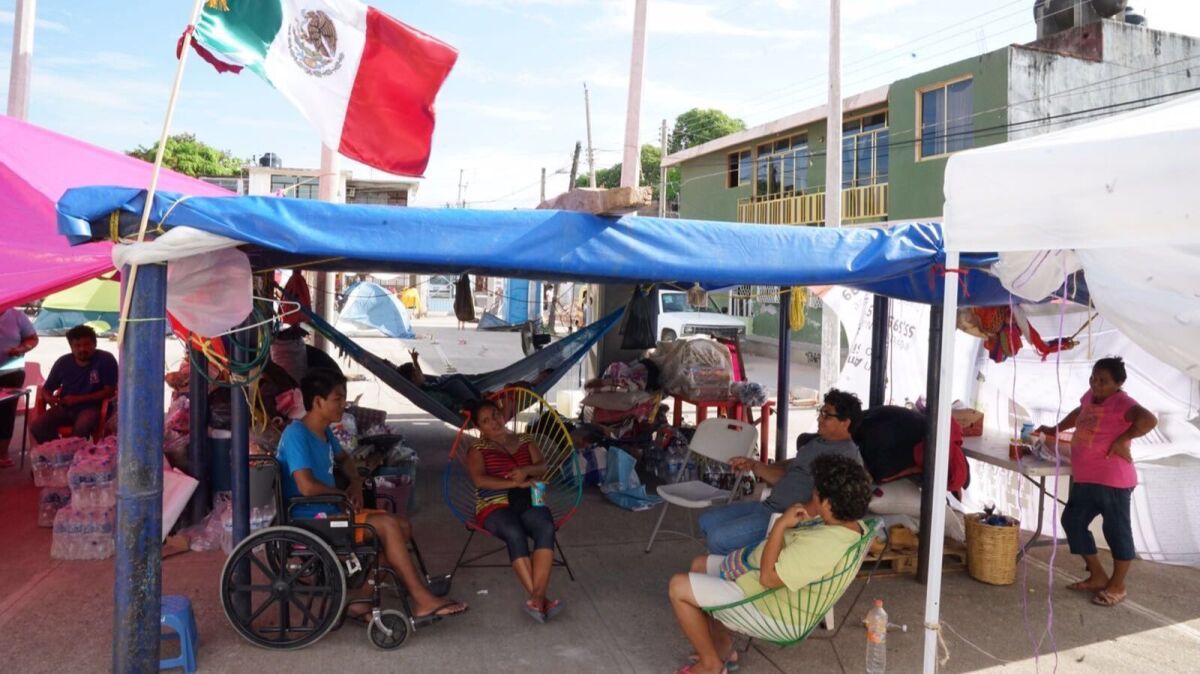 The Zavala family's former house, once home to 10 people in the extended family, now looks like something in a war zone — abandoned and uninhabitable.
Scattered on the floor are signs of a former life — plates and dishes, family photos, a soccer ball, some clothing. Massive cracks form deep fissures in the walls of the kitchen and living room. A stylized scene of the Last Supper somehow survived on the living room wall; it now looks down on the scene of ruin.
"When the earthquake happened, we couldn't leave — we couldn't move — and the doors had moved sideways and were sealed shut," recalled Talavera. "It was shaking so much, no one could stand up. Finally, when it stopped moving, someone outside helped us to open the door and escape."
The quake of Sept. 7 lasted more than a minute, creating a violent, rolling and at times up-and-down movement that made it impossible to stand up, residents said. Many recalled a sense of dizziness. By contrast, witnesses here said that Tuesday's quake felt more like a rolling wave, and lasted less than 30 seconds.
The area has experienced thousands of aftershocks since Sept. 7, and many here assumed that Tuesday's tremor was the latest one. In a few open restaurants, people watched the scenes of ruin from Mexico City on television.
"Of course, the fear came back, we all thought it was happening again," said Gloria Lopez Castillo, 43, who was among some 300 families at Nov. 20 Park, where basketball courts have become outdoor sleeping quarters. Relief workers have set up medical stands to treat minor ailments.
Lopez Castillo was preparing tacos for lunch for her three daughters, ages 10, 8 and 4. All gathered around a plastic table under a tarp.
"I just hope it's all over," said Lopez Castillo. "I'm sorry the people in Mexico City are suffering like we did. No one here wants to live through that again."
twitter: @mcdneville
---
Must-read stories from the L.A. Times
Get the day's top news with our Today's Headlines newsletter, sent every weekday morning.
You may occasionally receive promotional content from the Los Angeles Times.