Quake rescue efforts wind down in Mexico City, with 40 to 50 still missing and 326 dead across country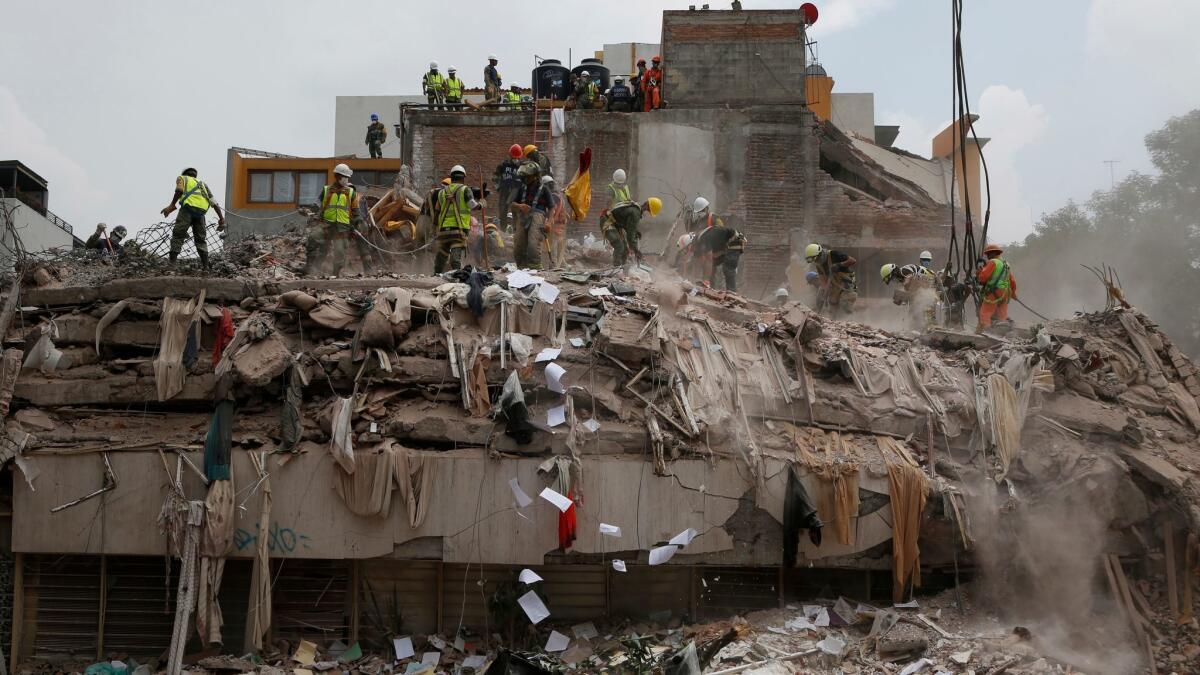 Reporting from Mexico City —
Rescue operations in Mexico City from Tuesday's 7.1 magnitude earthquake have begun to dwindle as sniffer dogs sent inside collapsed buildings and thermal imaging devices turn up fewer signs of life.
At a news conference Monday, Mexico City Mayor Miguel Ángel Mancera said rescuers are still looking for no more than 40 to 50 people amid the ruins of five buildings around the city.
Several bodies were found Monday morning, he said, most of them pulled from the remains of an office building in the neighborhood of Roma.
The death toll from the Sept. 19 earthquake stands at 326 across the country, 187 of them in Mexico City. Thirty-eight buildings collapsed in the capital, mainly apartment buildings or offices.
While officials say they remain focused on rescues, many city employees returned to work at their offices Monday and Mancera said the city would be ready to present a reconstruction plan Tuesday.
In the buildings ruled to have no more survivors, workers have begun to use heavy machinery to remove mountains of debris. The scramble of the first few days after the quake, which saw masses of people using picks, sledgehammers and shovels to get to survivors, began to cease. Many funerals took place over the weekend.
Eighteen countries, including the United States, have sent rescue teams to help.
Unable to return to their homes until they are assessed for structural damage, thousands are homeless. Officials reported that nearly 13,000 people have stayed overnight in a shelter since the earthquake hit. Thousands of people have received medical and psychological support.
The government has repaired 146 significant aqueduct leaks but hundreds remain. Mancera said several million pesos have been spent related to the earthquake. The city activated a fund worth $167 million when it declared the earthquake an emergency.
Seven schools have been declared unsafe for reentry. On Monday, just 103 of the city's 8,700 schools reopened.
One of them was Kalpilli primary school, west of Mexico City, where about 100 children and their parents arrived Monday morning and many immediately asked about structural safety.
Deputy principal Mindy Alejandra Sánchez Ruiz told them they had authorization to operate normally, but parents insisted on entering the facility themselves to verify that it had no damage. Authorities allowed a group of 30 parents to enter and after an hour, the parents reported that although they could see no damage, they were requesting a review with independent experts, not just the brigade that had been sent by the secretary of public education.
"We do not trust in the expertise of the education authorities," said Carlos Armando Díaz, 42, father of two children.
Sánchez Ruiz said the school has an enrollment of 696 students, but only 30 students resumed classes Monday.
"We cannot convince parents to leave their children," she said.
Úrsula Torres, 35, echoed the fears of many people around the city as they returned to work and school.
"Many buildings were damaged, nearby houses were damaged, and I will not leave my daughters if I am not sure everything is fine," she said. "I prefer to take them with me and that they miss their classes than to be worried about them all day."
Despite the progress in Mexico City, volunteers say rural areas, especially in the states of Morelos and Oaxaca, have yet to receive enough support. Jazmin Pedroza, a former civil protection agency employee, and her team of 20 volunteers, including a doctor and an architect, brought aid to residents in Tlacayapan, a town of 15,000 on the east side of the state of Morelos.
"People have been without support, seated amid the rubble, under the rain," she said. "The outskirts are the worst."
Still, there have been some signs of hope. On Sunday, a Japanese search and rescue team pulled a small white dog alive from the rubble of an apartment building in the southern part of the capital. Eight other pets have since been found, mostly dogs, officials said.
One animal rescue in Roma Sur, La Casa del Mestizo, has taken in 19 dogs and one cat that became lost after the earthquake, said owner Silvia Garcia. Two others that were injured are at a pet hospital.
At the shelter, which is also Garcia's home, a brown pitbull mix that she's calling Chocolate, wagged his tail and whimpered. He had a deep gash on his front left leg and his back left paw was swollen. Garcia thinks some rubble fell on him.
She can tell the dogs have owners by how different they look from street dogs.
"He's not dying of hunger, and he has a collar," she said. If no one comes for him and the others within a month, she plans to put them up for adoption.
At least 20 people have stopped by looking for their pets, Garcia said. Only one person has found their pet at the shelter, a woman who is now homeless. Garcia agreed to care for the dog until the woman can find a new place to live.
Outside the shelter, many people had posted lost pet signs. Baloo, a small brown terrier, ran out during the earthquake. His owners were offering a reward of 1,000 pesos. Another posting sought information on Ginger, a black lab. "She isn't aggressive," her owners wrote. "Please!"
---
UPDATES:
7:55 p.m.: This story was updated with information about the recovery of lost pets.
This story was originally published at 2 p.m.
Sign up for Essential California for the L.A. Times biggest news, features and recommendations in your inbox six days a week.
You may occasionally receive promotional content from the Los Angeles Times.