In Mexico the joy continues as national team wins again in the World Cup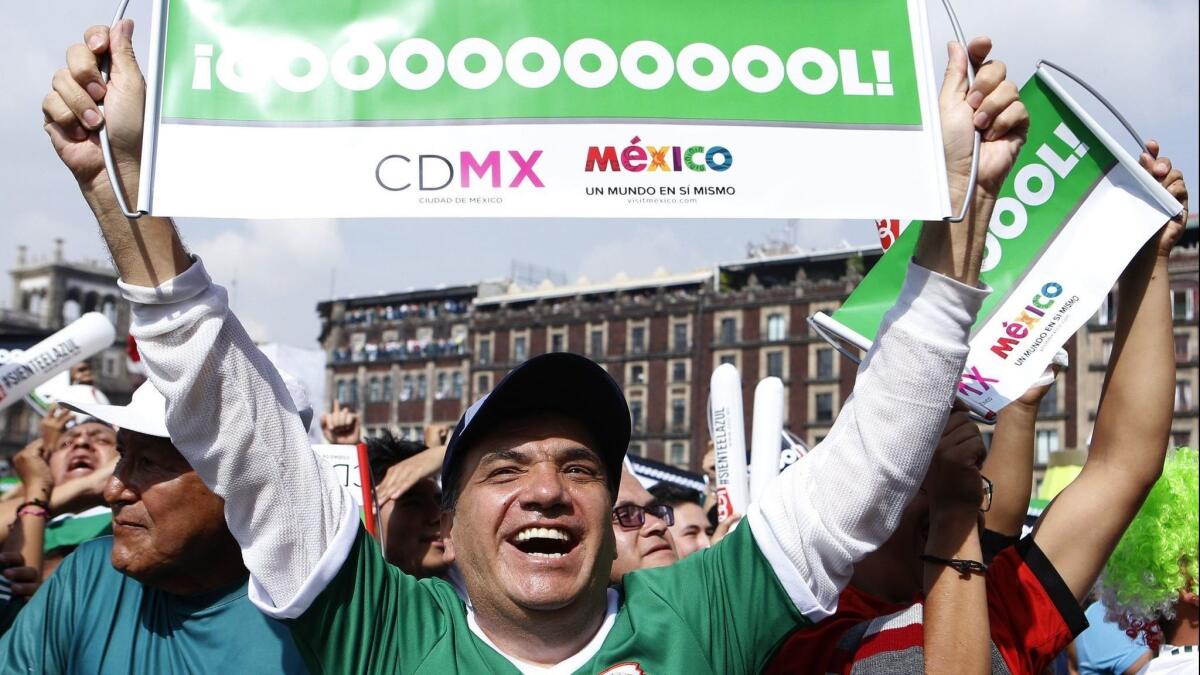 Reporting from Mexico City —
The streets of this capital were mostly deserted. The distant squawks of radio and TV broadcasters were punctuated by muted cheers and groans — a disembodied soundtrack to the becalmed metropolis.
Small clusters of intense fans gathered at cafes and restaurants, their attentions focused on The Game. But the pulsating heart of it all was Mexico City's central plaza, or zocalo, where tens of thousands gathered to watch Saturday's World Cup match between Mexico and South Korea. The zocalo seemed to cheer, groan and hold its collective breath like a single massive organism as each side had its chances in the opening moments.
The game played out on an immense screen erected in front of the colonial-era cathedral. The crowd's challenge was to match the thunderous roars of the Mexican faithful who have descended on Russian stadiums, declaring their side the home team at venues that are continents and oceans from their homeland.
The tournament has generated a raucous enthusiasm clearly lacking for national elections scheduled for July 1, barely a week away. Widespread worries about rising crime, a slumping economy and a testy relationship with the United States seemed far away on Saturday.
Many at the zocalo donned the green, red and white of the Mexican side, El Tri. Others brandished Mexican flags, wore massive straw sombreros, displayed "I am proud to be Mexican" signs or sported other topical adornments. Tri-color, curly wigs in the free-flowing hair-style of Guillermo Ochoa, the popular Mexican goalkeeper, were especially ubiquitous.
There was tension at the outset, but an overall sense of confidence as El Tri—its confidence buoyed after a stunning opening win against reigning World Champion Germany, a perennial powerhouse — took to the pitch in Russia's Rostov Arena.
The initial exhalation of shared relief came at the 26th minute, when Carlos Vela smartly scored on a penalty kick following a hand-ball by a Korean player.
While Mexico controlled the pace, it seemed that an equalizer could come at any time. Soccer enthusiasts here have seen a lot of disappointments over the years. Skepticism — some might even call it fatalism — is generally a point of pride in Mexico.
"The Koreans don't want to die," declared the deep-voiced Televisa announcer ominously as second-half play was underway. "They are strong. They have tremendous pride." Indeed, the Koreans remained dangerous and fast.
Then almost on cue, Mexico struck again, this time on a superb finish by Javier "Chicharito" Hernandez, Mexico's all-time leading international goal scorer, following a break by the brilliant young Hirving Lozano — who had scored the lone goal in the match against Germany.
"Mexico! Mexico!" roared the crowd, now confident of a triumph.
A stoppage-time goal by the Korean team failed to dampen enthusiasm as the final seconds counted down and the crowd erupted into absolute delirium.
"I was sure we were going to win, this is a team of great quality," said one zocalo viewer, Alfredo Rojas, 46, whose son, Carlos, 7, donned a green mask like those favored by practitioners of lucha libre, or Mexican wrestling. "What happens, next, we don't know, but everyone is proud."
Germany's subsequent, 2-1 victory against Sweden means that Mexico will have to wait until its next match, against Sweden on Wednesday, to clinch a spot in the final 16, following group play. A draw with Sweden would be sufficient for Mexico to advance to the knockout phase of the World Cup for the seventh consecutive time.
Mexico has twice reached the quarter-finals, in 1970 and 1986, both years when Mexico hosted the tournament. In 1970 the Mexican team was bounced by Italy. It lost to (then) West Germany in 1986 in a penalty shootout.
Mexico's impressive performance to date has of course raised expectations here, and seen Juan Carlos Osorio, the national team coach, elevated to national hero status.
"We were the superior side and we deserved the victory," Osorio (known as El Profe, short for "The Professor") declared in a post-match interview shown on the big screen at the zocalo. "I think the Mexican public is well represented by this group of players."
The crowd in the plaza dispersed, cheering and chanting, and many headed toward broad Paseo de la Reforma boulevard and the iconic Angel of Independence monument, where the revelry continued.
The cleanup crews with huge brooms were soon clearing the debris left behind in the zocalo, as joyous aficionados harbored the hope that their cherished squad would sweep ahead to an unlikely championship.
Twitter: @PmcdonnellLAT
-Special correspondents Cecilia Sanchez and Liliana Nieto del Rio contributed.
Sign up for Essential California for the L.A. Times biggest news, features and recommendations in your inbox six days a week.
You may occasionally receive promotional content from the Los Angeles Times.