Eastern Mosul 'fully liberated' from Islamic State, Iraq's prime minister says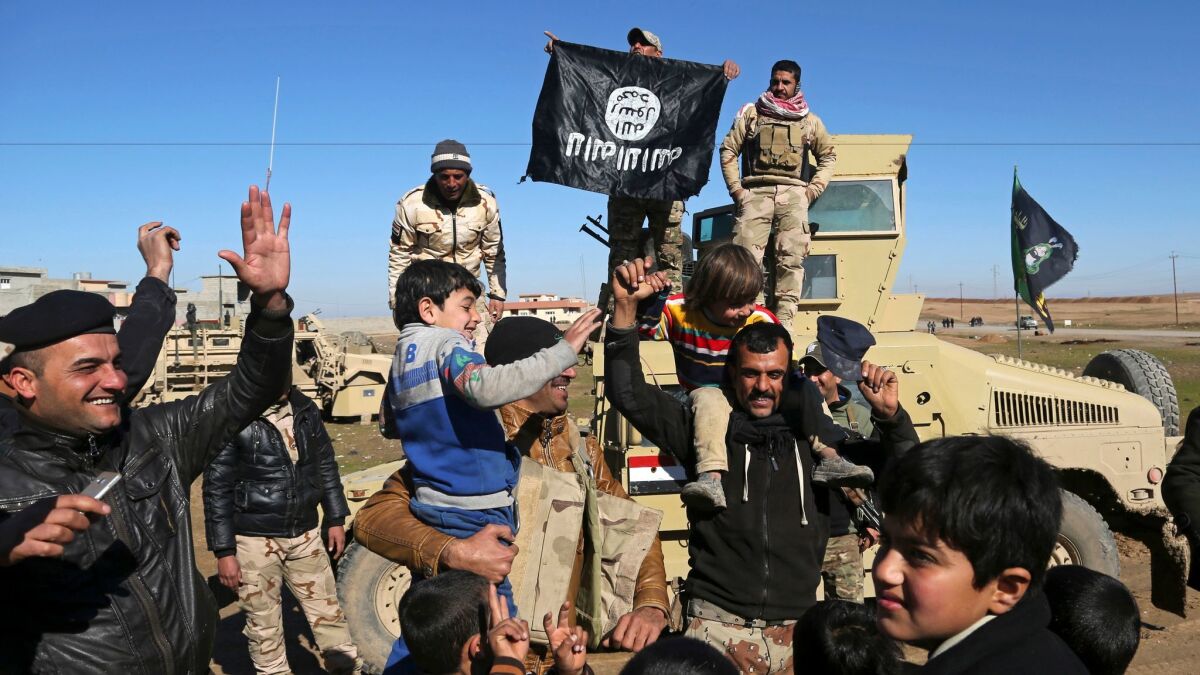 Reporting from MOSUL, Iraq —
Iraq's prime minister on Tuesday declared eastern Mosul "fully liberated" from Islamic State militants after a day of fierce fighting and more than three months after a massive U.S.-backed operation to retake the city began.
Iraqi forces drove Islamic State militants from one of their last bastions in the eastern half of the city, while aid groups expressed concern for the estimated 750,000 people still in the militant-held west.
In his weekly news conference on Tuesday, Haider Abadi hailed the "unmatched heroism of all security forces factions" and public support for the operation.
"Daesh has quickly collapsed and no one expected such collapse," al-Abadi said, using the Arabia acronym for Islamic State. "The heroism of our security forces was behind Daesh's defeat."
Mosul, Iraq's second-largest city and Islamic State's last urban stronghold in the country, fell into the hands of the extremists in the summer of 2014, when the group captured large swaths of northern and western Iraq.
Asked how long it will take to liberate the western side of the city, Abadi told the Associated Press: "I can't tell now, but we are capable of doing so and we will do so."
Hundreds of civilians fled on foot from the northeastern Rashidiya neighborhood as Iraqi helicopters circled overhead and fired on militants. At least two wounded Iraqi soldiers were brought back from the front lines after a suicide bombing.
A mortar attack in another neighborhood in eastern Mosul killed an Iraqi army colonel on Sunday, according to Brig. Gen. Yahya Rasool, a military spokesman.
Meanwhile, Abadi renewed his promise to investigate allegations of human rights violations by security forces in conflict areas and bring those responsible to trial. His comments came a day after ordering a probe into a video on social media purportedly showing government troops beating and killing at least three Islamic State suspects in Mosul.
On Monday, a provincial investigative committee in western Anbar province concluded its probe into human rights violations in June near the town of Fallujah. It found that a member of a Shiite militia killed 17 civilians, Abadi said. The militiaman, affiliated with the Badr Organization, is in detention and awaiting trial, he said.
The U.N. Humanitarian Coordinator for Iraq, Lise Grande, expressed concern for civilians in the western half of Mosul in a statement signed by 20 international and local aid groups. She said the cost of food and basic goods is soaring, water and electricity are intermittent and that some residents are forced to burn furniture to keep warm.
"We hope that everything is done to protect the hundreds of thousands of people who are across the river in the west," Grande said in the statement. "We know that they are at extreme risk and we fear for their lives."
ALSO
The key to success in latest Syrian peace talks: low expectations
In a final insult, Gambia's ex-leader looted millions of dollars, his successor says
White House opens door to military cooperation with Moscow, but it would be illegal
---
Must-read stories from the L.A. Times
Get the day's top news with our Today's Headlines newsletter, sent every weekday morning.
You may occasionally receive promotional content from the Los Angeles Times.