Nelson Mandela helped popularize use of sanctions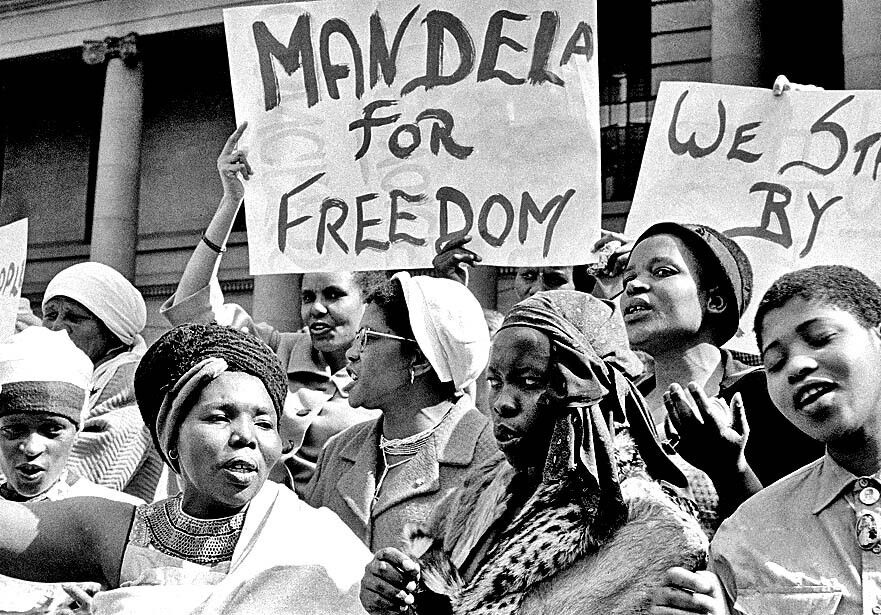 Protesters demonstrate in Johannesburg, South Africa, on Aug.16, 1962, demanding Mandela's release after his second arrest. His wife, Winnie, whom he had married in 1958, joined the protests. Mandela was sent to a penal colony off Cape Town, where he spent 13 years laboring in a quarry.
(Dennis Lee Royle / Associated Press)
Mandela and other African National Congress activists were freed in 1990. On Feb. 11, Nelson and Winnie Mandela march through Paarl with a cheering crowd.
(Alexander Joe / AFP/Getty Images)
South African anti-apartheid leader Nelson Mandela waves to the media and guests after making a joint statement with President George H.W. Bush on the White House South Lawn on June 25, 1990.
(Kevin Larkin / AFP/Getty Images)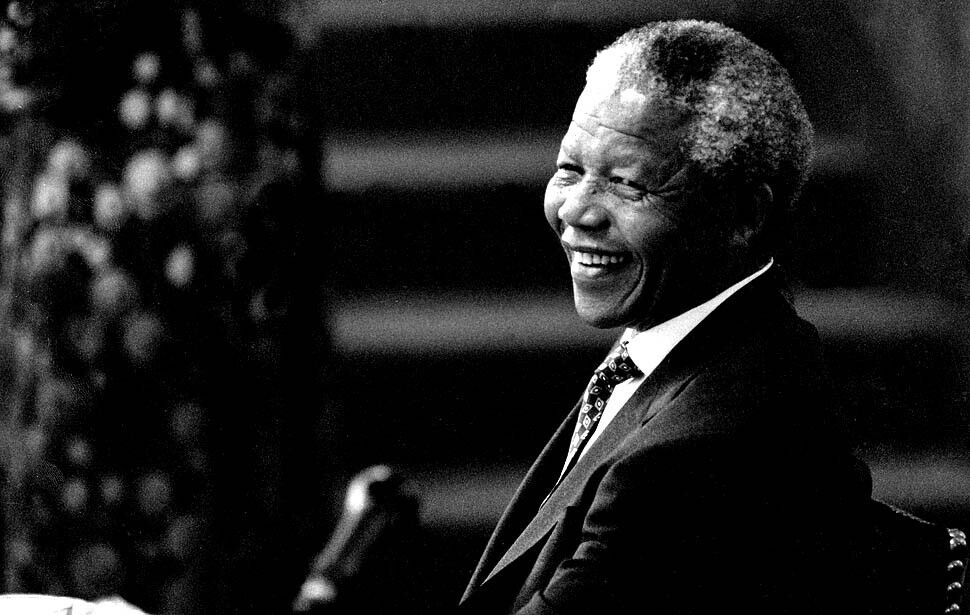 Mandela attends a service at First United Methodist Church in Los Angeles in 1993.
(Axel Koester / For The Times)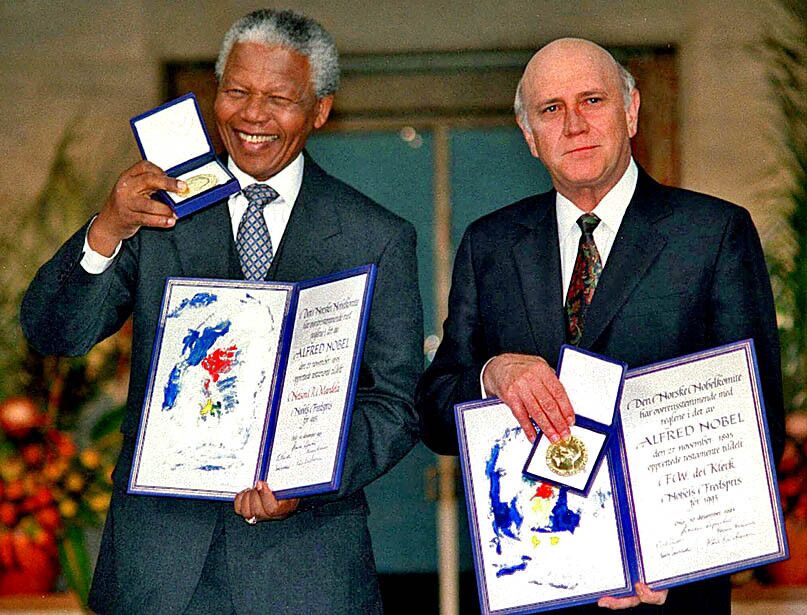 Mandela and President F.W. de Klerk were jointly awarded the Nobel Peace Prize in 1993, for their leadership of a negotiated transfer of power from South Africa's white minority to the black majority.
(Jon Eeg / Associated Press)
Nelson Mandela listens to speakers at a campaign rally at Soweto Stadium before addressing the crowd himself on April 23, 1994, three days before national elections.
(Walter Dhladhla / AFP/Getty Images)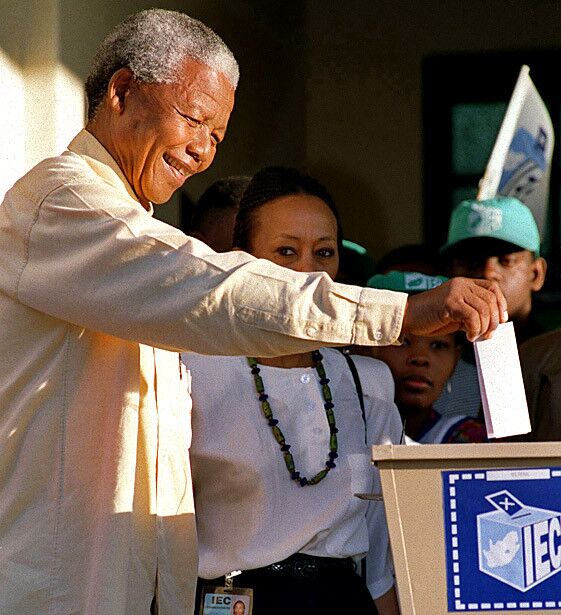 Mandela casts his ballot April 27, 1994, during South Africa's first democratic election, marking the first time he -- or any black person in the country -- had been able to vote.
(Walter Dhladhla / AFP/Getty Images)
Nelson Mandela and regional African National Congress leader Allan Boesak, right, greet the crowd at a campaign rally on April 17, 1994, 10 days before South Africa's first all-race national elections.
(Guy Tallim / AFP/Getty Images)
Nelson Mandela dances with Imilonji Kantu choir members at a victory celebration on May 2, 1994.
(Los Angeles Times / Los Angeles Times)
South African President Nelson Mandela addresses the United Nations General Assembly on Oct. 3, 1994.
(Jon Levy / AFP/Getty Images)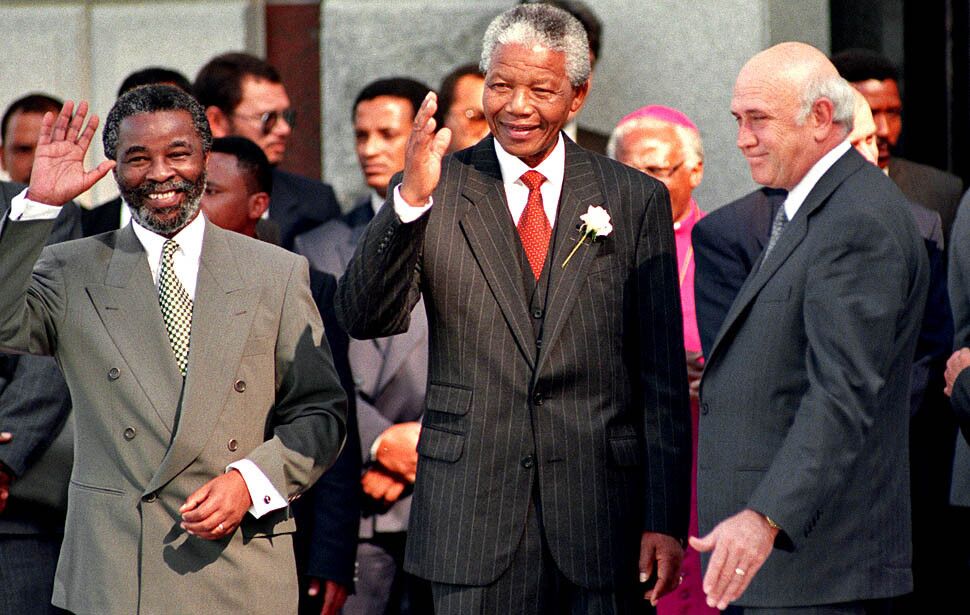 President-elect Nelson Mandela waves to the crowd with his two deputy presidents -- Thabo Mbeki, left, and Frederik de Klerk -- after the inaugural sitting of South Africa's first all-race parliament on May 9,1994. Mandela was elected South Africa's first black head of state by the post-apartheid assembly.
(Alexander Joe / AFP/Getty Images)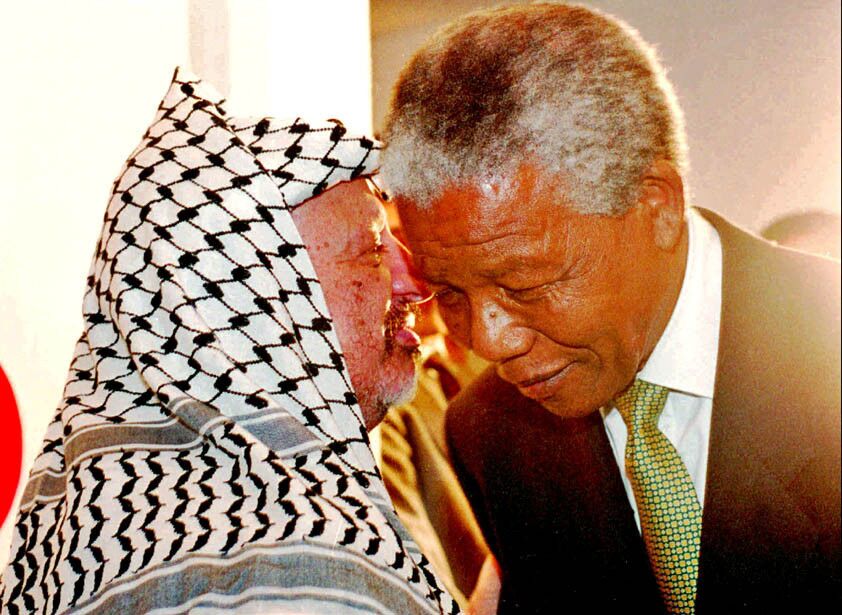 Palestinian Liberation Organization Chairman Yasser Arafat speaks with Mandela in Tunis in 1994 during an African summit. Arafat was an observer at the summit.
(WAFA / Associated Press)
President Nelson Mandela walks with Pope John Paul II after the pontiff's arrival at Johannesburg airport September 16,1995. This was the Pope's first official visit to South Africa.
(Walter Dhladhla / AFP/Getty Images)
Queen Elizabeth II pays a state visit to South Africa in 1995, the first by a ruling British monarch since 1947.
(Adil Bradow / Associated Press)
South African President Nelson Mandela speaks before a special session of the U.N. General Assembly on Oct. 23, 1995, in which he appealed to the U.N. to redefine its role in the world and reshape its structure.
(Timothy Clary / AFP/Getty Images)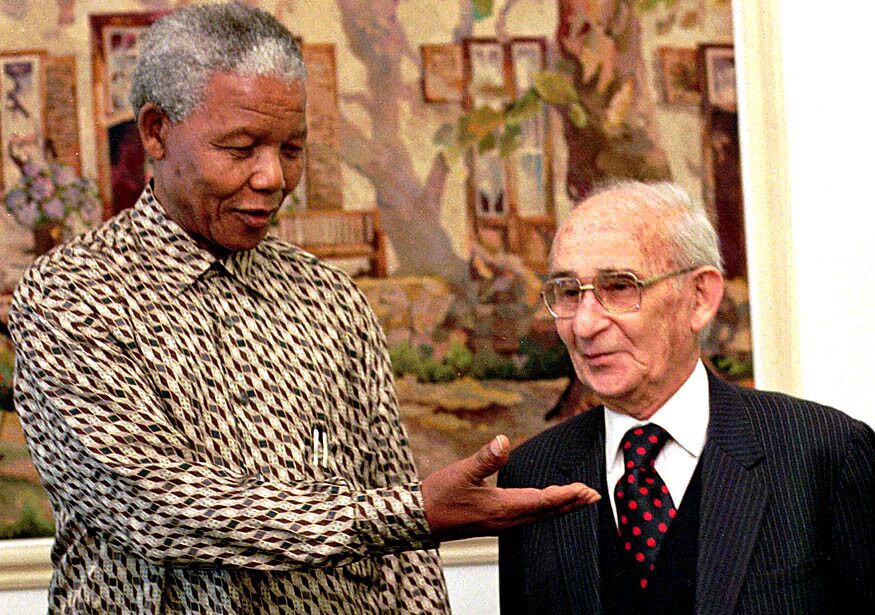 President Mandela at his Pretoria residence with Percy Yutar in 1995, who as a state prosecutor 31 years earlier sentenced Mandela to life in prison.
(Adil Bradlow / Associated Press)
President Mandela and Vice President Al Gore after a meeting in Cape Town, South Africa in 1997.
(Sasa Kralj / Associated Press)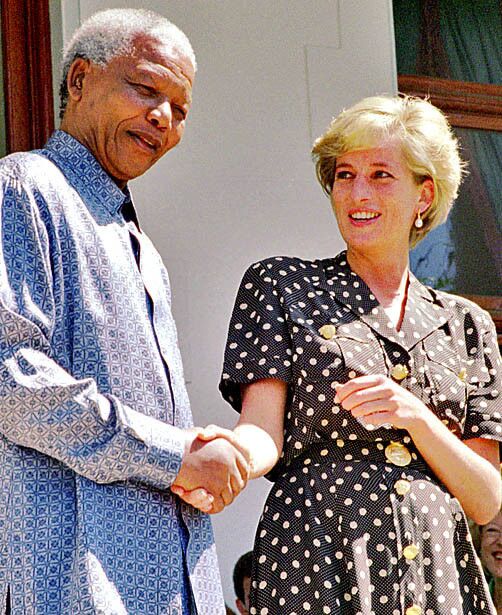 President Mandela greets Britain's Princess Diana during her 1997 visit to Cape Town, South Africa.
(Sasa Kralj / Associated Press)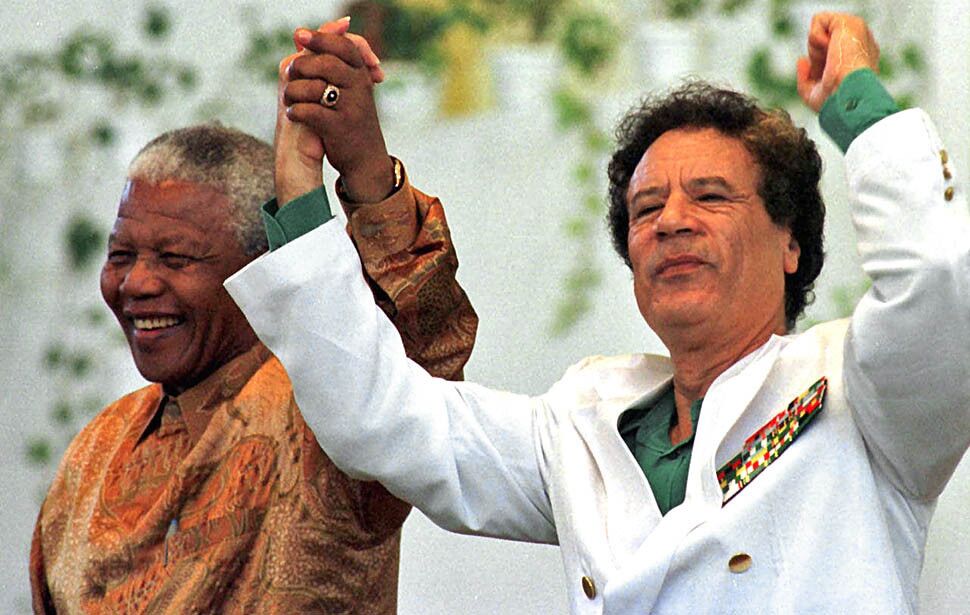 In Libya, President Mandela visits with leader Moammar Kadafi in 1997.
(Enric Marti / Associated Press)
South African President Nelson Mandela takes the arm of British Prime Minister Tony Blair as they chat while strolling on the grounds of the Royal and Ancient St. Andrews Golf Course during a break in the Commonwealth Heads of Government Meeting on Oct. 26, 1997.
(Johnny Eggitt / AFP/Getty Images)
Presidents Mandela and Clinton look out from a cell on Robben Island in Cape Town's Table Bay in 1998. Mandela spent 18 of his 27 years in this prison cell during apartheid.
(J. Scott Applewhite / Associated Press)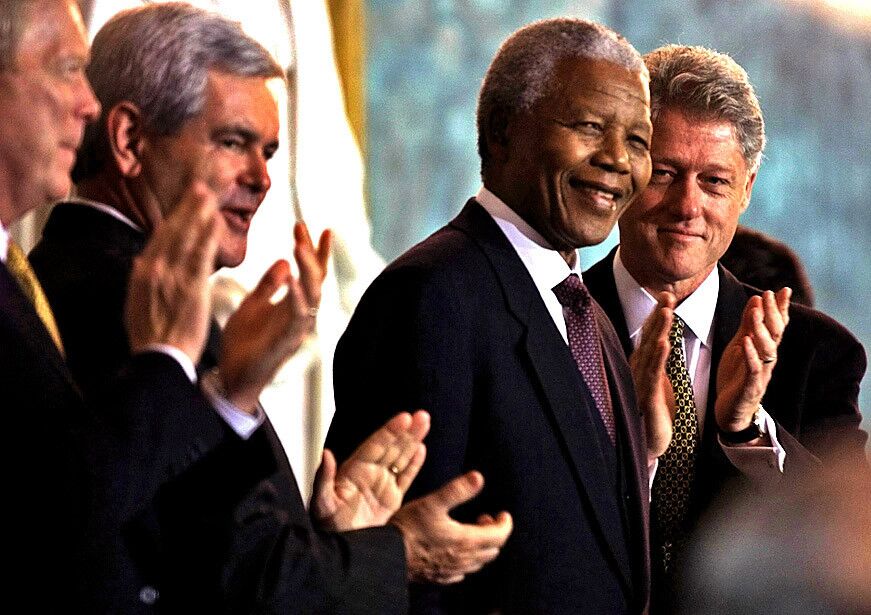 U.S. Rep. Richard Gephardt, left, House Speaker Newt Gingrich and President Clinton welcome President Mandela during a 1998 visit to Washington.
(Paul J. Richards / AFP/Getty Images)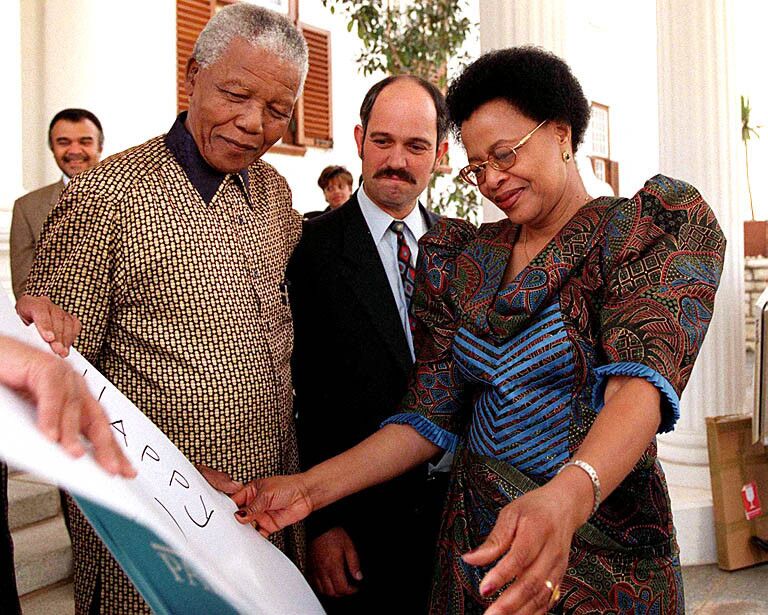 At Mandela's Pretoria residence in 1998, he and Graca Machel examine a birthday card for him from his former prison guard. Mandela and Machel were married later that day in Johannesburg.
(Adil Bradlow / Associated Press)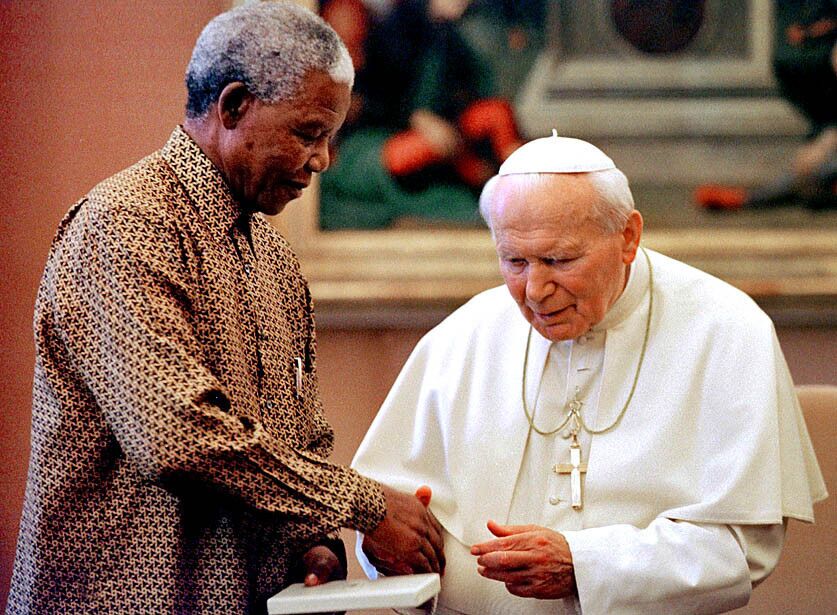 Nelson Mandela shakes the hand of Pope John Paul II during a visit by Mandela to the Vatican on June 18, 1998.
(Paolo Cocco / AFP/Getty Images)
President Nelson Mandela shows off his just-received honorary degree from Harvard University on Sept. 18, 1998.
(John Mottern / AFP/Getty Images)
Mandela, then the outgoing president, casts his ballot at a Johannesburg polling station during South Africa's 1999 election.
(Peter Dejong / Associated Press)
South African President Nelson Mandela and Deputy President Thabo Mbeki wave to well-wishers after Mandela's last major address to Parliament on Feb. 5, 1999.
(Obed Zilwa / Associated Press)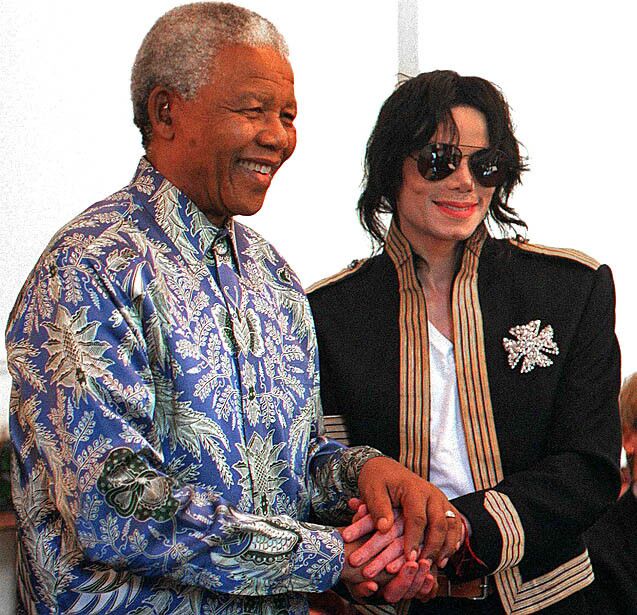 Nelson Mandela receives Michael Jackson for a visit on March 23, 1999.
(Anna Zieminski / AFP/Getty Images)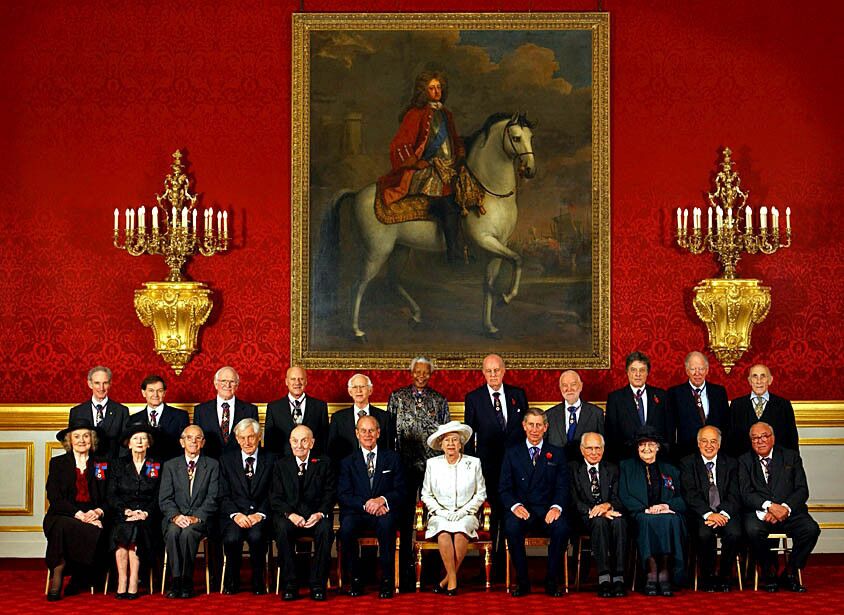 Mandela, standing behind Britain's Queen Elizabeth II, joins a royal gathering at St. James' Palace in London on Oct. 31, 2002. to mark the centenary of the Order of Merit.
(Kirsty Wigglesworth / AFP/Getty Images)
Former President Nelson Mandela and his wife, Graca Machel, join United Nations Secretary-General Kofi Annan and President Thabo Mbeki on stage at the World Summit on Sustainable Development on Sept. 2, 2002.
(Pedro Ugarte / AFP/Getty Images)
Iraqi deputy prime minister Tariq Aziz walks past a photograph of Nelson Mandela as a political prisoner on Robben Island during an official visit to the country on July 6, 2002.
(Anna Zieminski / AFP/Getty Images)
Nelson Mandela speaks at an AIDS conference on July 14, 2003.
(Jean Ayissi / AFP/Getty Images)
Former U.S. President Bill Clinton shakes hands with former South African President Nelson Mandela during the inaugural Nelson Mandela Lecture at the Johannesburg Civic Centre, on July 19, 2003. The lecture coincided with Mandela's 85th birthday.
(Rajesh Jantilal / AFP/Getty Images)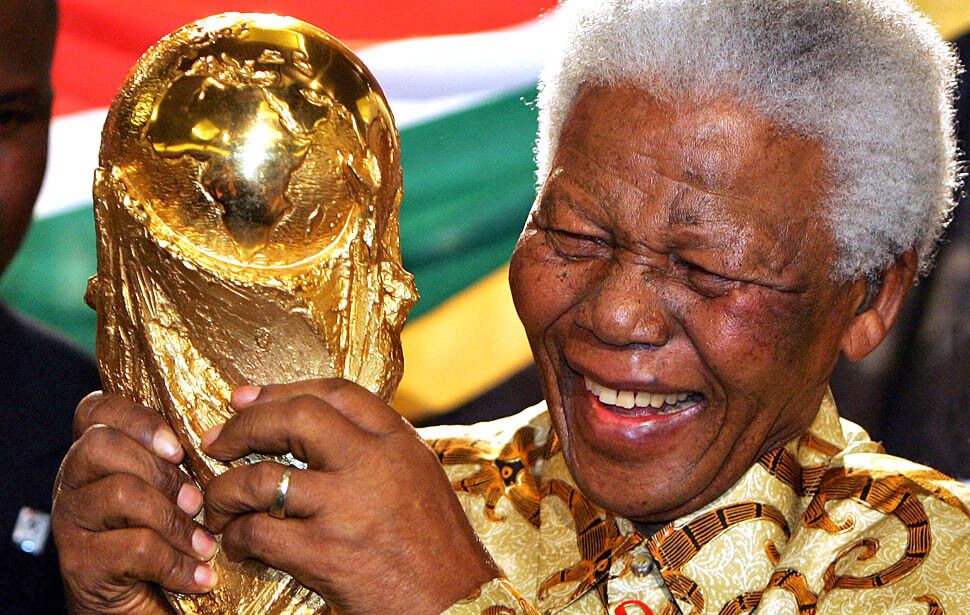 Nelson Mandela holds the Jules Rimet World Cup at FIFA headquarters after South Africa won the right to host the 2010 World Cup finals, the first to be played in Africa, on May 15, 2004.
(Franck Fife / AFP/Getty Images)
Nelson Mandela celebrates his 89th birthday flanked by former President Jimmy Carter, right, and former United Nations chief Kofi Annan, during the launching ceremony of the group known as the Elders -- a brain trust of elder statesmen -- on July 18, 2007.
(Alexander Joe / AFP/Getty Images)
Lithographs by Mandela are displayed as part of an exhibition of his works at Belgravia Gallery in London in July, 2008.
(Sang Tan / Associated Press)
A group of schoolchildren participates in a program at the Nelson Mandela Foundation on the eve of Mandela Day on July 17, 2011.
(Stephane de Sakutin / AFP/Getty Images)
WASHINGTON — His greatest impact was as a moral leader, but Nelson Mandela also left a legacy in diplomacy by helping popularize the use of international sanctions to pressure a government to change its policies.
Since sanctions were imposed in an effort to end apartheid and bring down South Africa's white-minority government, they have been used hundreds of times, especially by Western countries. President Clinton, who ordered sanctions against Cuba, Libya, Iran and Pakistan, mused near the end of his second term that the United States had become "sanctions-happy."
In fact, South Africans and scholars still debate how important sanctions really were in forcing the South African government and President Frederik W. de Klerk to free Mandela and, in 1994, allow the nation's first democratic elections. In many other cases, sanctions have proved ineffective and more likely to punish ordinary people than the ruling elite.
Authoritarian leaders find ways to evade economic sanctions and remain in power. More than a decade of United Nations sanctions did little to end the standoff with Saddam Hussein that culminated in the U.S.-led invasion of Iraq in 2003. North Korea has continued to develop its nuclear and missile technology.
Ever-tightening sanctions against Iran have damaged its economy but have not forced it to curb a nuclear program that the West fears is masking an effort to build a bomb.
But their use in South Africa is remembered as the model example. In the view of many, they were employed in a cause pitting good against evil — and good prevailed.
"This was a clear-cut victory and a moral cause — not a messy conflict, but the equivalent of World War II," said Gary C. Hufbauer, senior fellow at the Peterson Institute for International Economics. "It's everybody's favorite example."
World powers had been punishing South Africa for 17 years before the government took decisive moves to end a system that excluded blacks from power, banned them from jobs and restricted their movements.
In 1977, the United Nations imposed an arms embargo on South Africa in response to a massacre of schoolchildren in the black township of Soweto. Financial penalties began in 1985, when Chase Manhattan Bank, under pressure to sever ties with South Africa, called in its loans.
Other banks in Europe and the United States soon followed suit, and over the next several years, Congress, then state and local governments, halted investment, trade and lending.
Particularly stinging were moves that cut South Africa off from international sports competition, enraging and shaming a country that valued that connection to the outside world.
"Long after this, South Africans would complain, 'You had no right to cut off cricket,'" said George A. Lopez, a political scientist at Notre Dame University who studied sanctions' effects for the United Nations. "This really hit national pride."
Mandela and his allies sought to promote sanctions as a way to make South Africa an international pariah. Afterward, he described them as a major factor in the outcome.
But many scholars contend that they were less powerful than advertised. Although the sanctions underscored the world's disapproval, they were imposed piecemeal and often enforced halfheartedly. The West never used the ultimate weapon: an oil embargo that could have devastated the country's economy.
By Hufbauer's estimate, sanctions shaved 2% off South Africa's gross domestic product, far less than the double-digit effects of the sanctions on Iraq and Iran.
"The impact was sizable, but not earthshaking," he said.
Scholars believe other factors, such as a desire to avoid all-out civil war between whites and the black majority, were more important in bringing about change.
Hufbauer says sanctions' effectiveness in South Africa is not proof that they can work in the way they are usually used today — to force concessions from authoritarian governments without going to war.
They were effective in South Africa because the leadership cared about the opinion of the outside world, he says.
"The irony is that they worked against South Africa because its leaders cared," Hufbauer said. "Do Cuba, Iraq and Iran care? No — they view the sanctions as a challenge."
nge."
---
Must-read stories from the L.A. Times
Get the day's top news with our Today's Headlines newsletter, sent every weekday morning.
You may occasionally receive promotional content from the Los Angeles Times.