In the face of deadly violence, Nicaragua's president cancels social security overhaul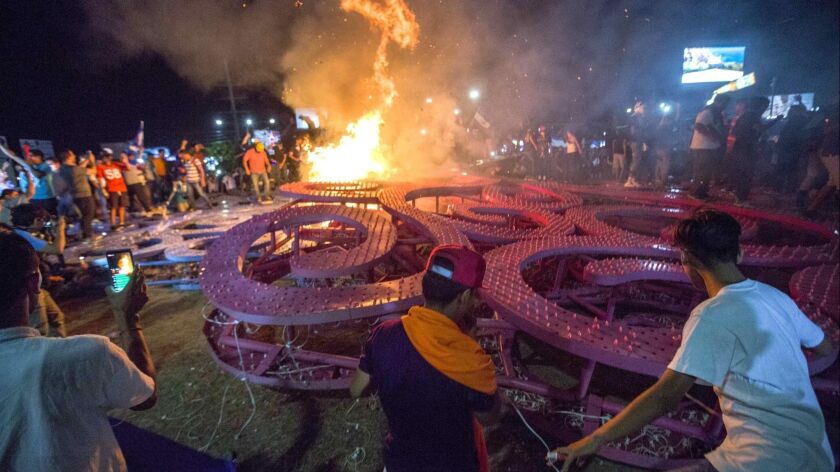 Reporting from MANAGUA, Nicaragua —
Nicaragua's president on Sunday withdrew changes to the social security system that had triggered several days of deadly protests and looting.
President Daniel Ortega said in a message to the nation late Sunday that the National Social Security Institute's board of directors had canceled the changes that were implemented April 16.
The overhaul was intended to shore up Nicaragua's troubled social security system by both reducing benefits and increasing taxes.
But the changes touched off protests across the Central American nation that escalated into clashes with police as well as looting and vandalism. The demonstrations appeared to expand to include broader anti-government grievances.
Human rights groups said at least 26 people were killed in several days of clashes. Dozens of shops in the Nicaraguan capital of Managua were looted during unrest that extended into Sunday.
Ortega announced the cancellation of the overhaul accompanied by business executives who account for about 130,000 jobs and millions of dollars in exports.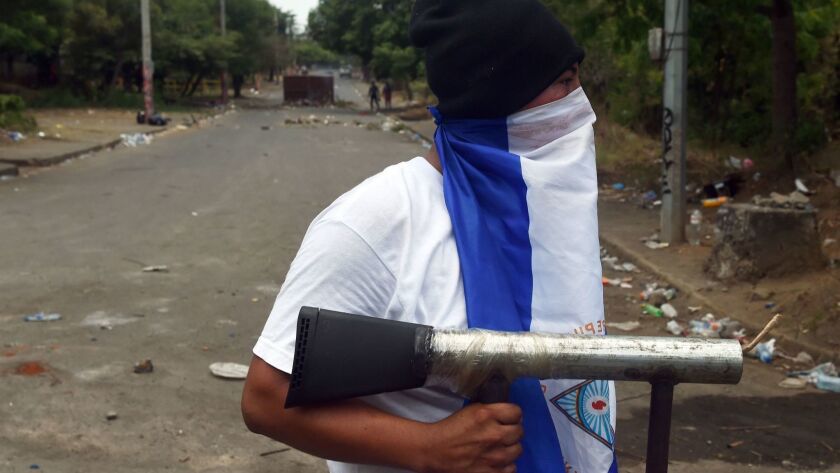 Earlier in the day, Pope Francis said at the Vatican that he was "very worried" about the situation in Nicaragua and echoed the call of local bishops for an end to all violence.
The Roman Catholic Conference of Bishops in Nicaragua condemned repression against protesters and urged the government to listen to them and drop the social security reforms.
"A unilateral decision always brings with it social instability. Rectifying decisions is a sign of humanity, listening is the path of reason, seeking peace at all cost is wisdom," the conference said in a statement.
Images broadcast by local news media showed looted shops in the capital's sprawling Oriental Market district and at least one vandalized Walmart.
Police apparently did not intervene Sunday, in contrast to what had been a strong response to earlier demonstrations in which dozens were injured or arrested.
"We are seeing social chaos in Nicaragua provoked by the absence of government leadership, and the crisis has been combined with poverty — and that in any society is a time bomb," sociologist and analyst Cirilo Otero said.
Ortega had said Saturday that he was willing to negotiate on the social security overhaul, but he said the talks would be only with business leaders.
He seemed to try to justify the tough response against protesters by the government and allied groups, accusing demonstrators, most of them university students, of being manipulated by unspecified "minority" political interests and of being infiltrated by gangsters.
"The kids do not even know the party that is manipulating them.... Gang members are being brought into the kids' protests and are criminalizing the protests. That is why they are put at risk," Ortega said.
Those remarks appeared to fan the flames, and soon afterward thousands of people spilled back into the streets in seven cities.
On Saturday, journalist Angel Gahona was reporting live via Facebook on protests in the southeastern city of Bluefields when he was killed by a gunshot. At least 25 other people had been killed since Wednesday, according to the independent Nicaraguan Human Rights Center, though the government had acknowledged only nine dead.
"We are in the streets asking for Ortega and his wife to go. This has already gone beyond the social security issue. Here there have been dead, wounded, and he does not even apologize for his killings or the savage repression against the people," said Mauri Hernandez, one of thousands of demonstrators at a central rotunda.
---
UPDATES:
5:50 p.m.: This article was updated with Nicaraguan President Daniel Ortega's decision to withdraw unpopular changes to the country's social security system.
This article was originally published at 2:45 p.m.
---
Must-read stories from the L.A. Times
Get the day's top news with our Today's Headlines newsletter, sent every weekday morning.
You may occasionally receive promotional content from the Los Angeles Times.