Violence kills 8 in Nicaragua, casting pall over peace talks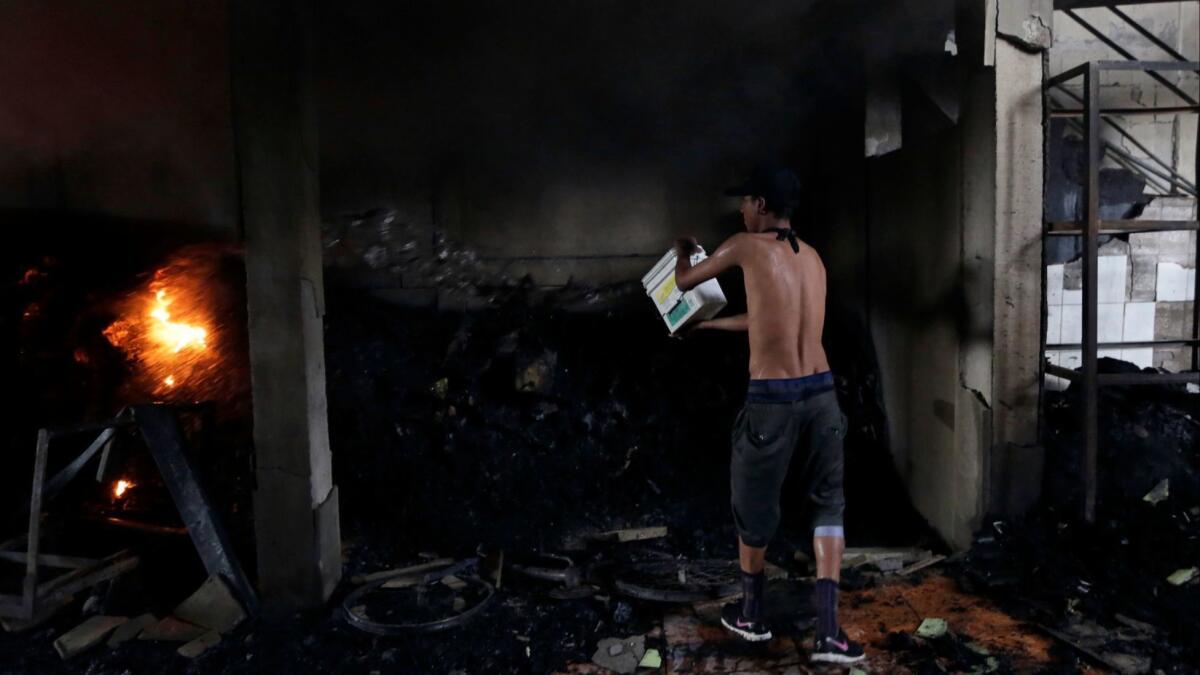 Reporting from MANAGUA, Nicaragua —
Armed assailants set fire to a house and gunfire erupted at a street barricade in Nicaragua's capital on Saturday, leaving at least eight people dead and casting a pall over talks aimed at ending weeks of unrest.
The violence raised tensions as representatives from civil society groups and President Daniel Ortega's government met for the second day of negotiations aimed at resolving the country's two-month-old political crisis.
Government officials blamed "delinquents" for Saturday's deaths, while civil groups alleged that police and other government employees were behind the two attacks.
Nonetheless, the talks were constructive. The two sides agreed to form three working groups that will meet again on Monday to address security concerns, election matters and potential Supreme Court reform.
One proposal involves moving presidential elections up by two years, to 2019, while another suggests limiting reelections. Currently Nicaraguan leaders have no term limits.
Opponents of the government would also like to invite international human rights groups to investigate the recent killings.
"We insist on an end to the violence and the deaths perpetrated by those who cowardly hide in anonymity," the Managua Archdiocese said in a statement. The Roman Catholic Church is mediating the talks.
More than 160 people have been killed since the Nicaraguan government began cracking down in April on demonstrators calling for Ortega's resignation.
Early Saturday, masked men threw Molotov cocktails into a three-story house, causing a fire that killed four adults and two children. The deceased were all members of the same family.
Nicaraguan Fire Chief Ramon Landero said in a statement that the assailants also attacked firefighters as they attempted to put out the blaze.
A survivor told a local news station the attackers had wanted to use the house in the Carlos Marx neighborhood of Managua as a sniper's perch. When the family refused to let them in, according to the survivor, the attackers began shooting into the house and then torched it.
The survivor blamed paramilitary officers loyal to Ortega for the attack. The national police, however, said in a statement that the attackers were members of a criminal gang.
In a separate incident, the national police said that municipal workers, police and local residents came under attack while removing barricades and other obstacles from an avenue in Managua called Semaforos Mercado Ivan Montenegro.
Masked men shot and then set on fire two civilians who were helping clear the roadway, the police said in a statement. The deaths took place not far from the house fire.
Protesters have erected 140 roadblocks that the government says are strangling the economy.
Sign up for Essential California for news, features and recommendations from the L.A. Times and beyond in your inbox six days a week.
You may occasionally receive promotional content from the Los Angeles Times.