North Korea says it will suspend nuclear and missile testing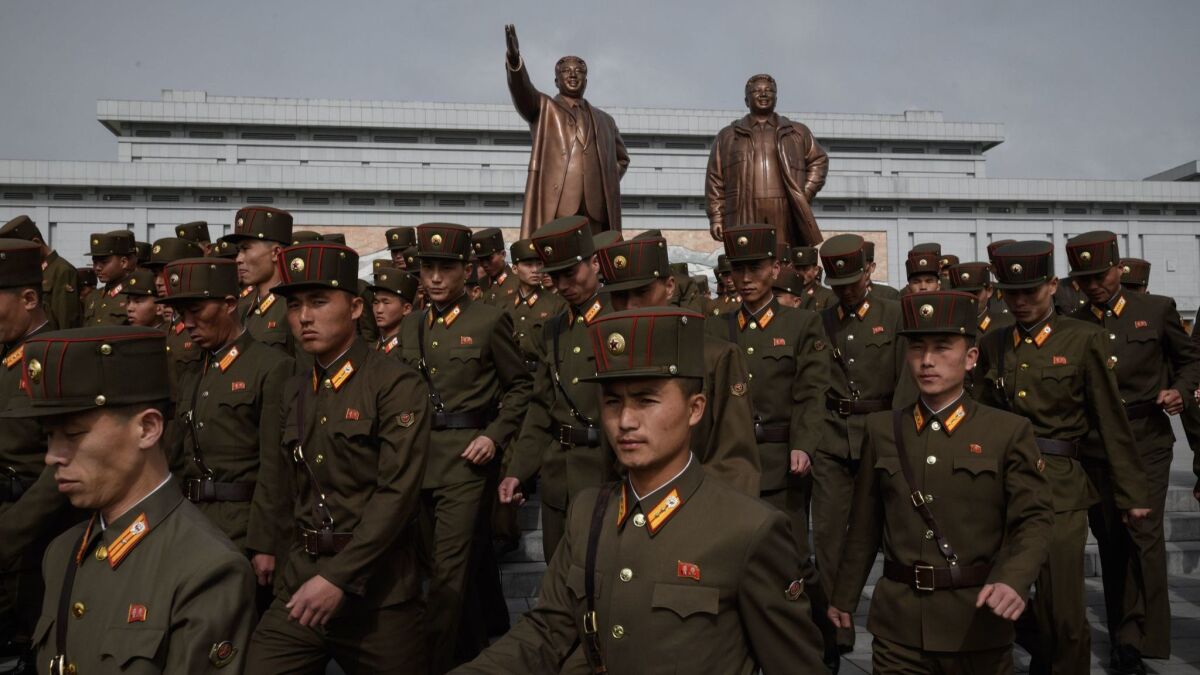 Reporting from SEOUL —
North Korea said Saturday it will suspend nuclear tests and missile tests and shut down its underground test site, boosting hopes for a diplomatic breakthrough with rival South Korea and the United States.
Although the announcement stopped well short of a complete freeze, Pyongyang said it had no need for further testing as it had completed its weapons program and would now focus instead on its economy.
"At the current stage, where our nation has risen to the status of a political and military powerhouse, focusing on building the economy based on socialism is the … strategic party line," North Korean leader Kim Jong Un said in a statement carried by the official Korean Central News Agency (KCNA).
Kim's promises are likely to be greeted with skepticism given the enormous resources and prestige he has poured into the weapons program since assuming the leadership of North Korea in 2011. Still, the announcement should add to the momentum building for President Trump's planned summit with Kim.
"North Korea has agreed to suspend all Nuclear Tests and close up a major test site. This is very good news for North Korea and the World — big progress! Look forward to our Summit," tweeted Trump, who expects to hold a one-on-one meeting with Kim this spring.
It was only months ago that Trump routinely taunted Kim as "Rocket Man." In August, he told reporters: "North Korea best not make any more threats. They will be met with fire and fury like the world has never seen."
A month later, Kim called Trump "a rogue," "a frightened dog" and a "dotard."
A summit scheduled for next week between South Korean President Moon Jae-in and Kim is expected to focus on denuclearization and better inter-Korean relations, including a potential peace settlement. The Korean War was halted after an armistice in 1953 but was never formally ended.
KCNA said the suspension of nuclear and intercontinental ballistic missile tests went into effect Saturday.
North Korea conducted nearly 20 missile tests last year — efforts that violated United Nations resolutions and led to increased economic sanctions. The last was in November.
The announcement follows a series of steps this week that have built momentum ahead of next week's summit, to be held at a peace village inside the the Demilitarized Zone separating the two Koreas.
South Korea on Friday announced, for example, that a direct hotline between the two countries' leaders had been established, from a phone on Moon's desk to another at the North Korean State Affairs Commission. It was the first time such direct contact has been possible, presidential aides in in Seoul said.
The nuclear test suspension announcement came a day after Moon told news executives that the North had agreed to discuss the summit agenda items — specifically, denuclearization — on terms that might seem favorable to the United States, the South's longtime major ally.
The North hadn't, for example, demanded the withdrawal of more than 28,000 American troops stationed throughout the South, including in central Seoul.
And this week came the news that CIA Director Mike Pompeo had secretly met with Kim in North Korea recently to pave the way for a meeting with Trump.
Some North Korea watchers said the announcement Saturday didn't address the country's short- and medium-range missiles, which could be used to strike the South or another ally, Japan.
And it also could be symbolic, said Melissa Hanham, a senior research associate at the James Martin Center for Nonproliferation Studies in California who studies North Korea's missile program.
"This may be a combination of not feeling they need the tests for the job they want nuclear weapons to do, having some advances in tech by testing later than other [countries], and the cost of new tests," she said in a Twitter thread about the issue.
Others were plainly skeptical: "North Korea is lying, but it is a lie that signals they want a deal," tweeted Tyler Cowen, an economist at George Mason University.
Robert Kelly, a political science professor at South Korea's Pusan National University, called the news surprising.
"North Korea has spent 40 years developing these weapons. It's sort of startling that they would suddenly desist," he said.
Kelly, who blogs about regional security, said the news could be related to a nuclear safety issue — there was a deadly collapse at the main test site in recent months — or to a concession made by the South that isn't yet known.
"A third possibility, I suppose, is that they just don't feel like they need these things as much as they did before," he said.
The North's announcement was viewed with mistrust in Japan, where longtime Korea watchers noted Pyongyang has made promises — and broken them — before.
"North Korea has taken similar steps in the past by saying they will go into a 'moratorium,'" said Narushige Michishita, director of the security and international studies program, at the National Graduate Institute for Policy Studies in Tokyo. "They've said as long as U.S.-North Korea talks are in progress, they will not conduct missile tests.
"But such pledges by North Korea are not something that will last," he said. "They want to give the impression they are trying to abandon their nuclear programs."
He noted that in 1999, North Korea told the United States it would halt long-range missile tests. By 2006, the tests had resumed.
Yoichi Shimada, an international politics professor at Japan's Fukui Prefectural University, agreed that the North has not lived up to promises in the past.
"In 2008, North Korea destroyed a nuclear tower, which had not been in use at all, in a ploy to convince us of their nuclear dismantling," he said. "The United States lifted trade sanctions against North Korea" and removed it from the U.S. terrorism watch list, he added, "but in reality nuclear weapons were still being developed in North Korea."
A key to the future, Shimada said, will be verifying North Korea's actions. "The nuclear facilities in question need to be inspected," he said.
Mark Gunzinger, senior fellow at the Center for Strategic and Budgetary Assessments, said North Korea's announcement was part of the groundwork being laid for talks between Trump and Kim.
While North Korea has previously said it would suspend missile testing, Gunzinger said he could not remember the reclusive country ever ceasing its insistence that U.S. troops leave South Korea.
"Whether or not they're actually serious, we'll find out," he said. "I personally am hopeful, but have a great deal of skepticism, and that's exactly how we should approach these talks. Hopeful, but be very, very careful."
Other Korea watchers reacted with cautious optimism. Although the time and place of a Kim-Trump meeting remain to be decided, longtime North Korea experts believe the historic summit will take place.
"It seems like both sides feel that they have something to gain. There could be a convergence of interest," said Scott Snyder, a North Korea analyst with the Council on Foreign Relations.
He anticipates that Trump and Kim could come up with at least a communique in which they promise to work for a reduction in hostilities in return for North Korea "taking tangible steps towards disarmament."
Leon V. Sigal, director of the Northeast Asia Cooperative Security Project at the Social Science Research Council in New York, believes the North Koreans are keen to strike a deal with the Trump administration.
Hans Kristensen, a nuclear weapons analyst at the Federation of American Scientists, said North Korea's announcement is an indication that something unknown has been put on the table, by the U.S. or South Korea or possibly even China.
"It is dramatic and it indicates they have been promised something they want," he said. "It is hard to imagine that they would do these things unilaterally and not expecting something in return."
The U.S. has long contended with actions by Kim that seemed irrational, and now his peace gestures could be viewed in the same light.
"North Korea certainly knows how to play the world, going back decades," Kristensen said. "We have seen this pendulum swing back and forth by North Korea for a long time."
One new dynamic is the activist role that South Korea has played, since it invited the North Koreans to participate at the recent Winter Olympic Games in Seoul.
Kristensen said North Korea's strategy had been to drive a wedge between South Korea and the U.S., in part by threatening the U.S. directly with long-range nuclear missiles.
The U.S.-North Korean summit, if it occurs, will be a high-stakes meeting between two volatile leaders. It has the potential for stunning success or crushing failure. In the worst case, Trump and Kim could end up going home with a bleak message blaming the breakdown on each other and laying the groundwork for a long future of continued hostility, the experts said.
The last time the U.S. detonated a nuclear weapon was 1992. Since then, the Energy Department's nuclear weapons establishment has relied on supercomputers to simulate detonations and other sophisticated instruments to study how aging materials affect nuclear reactions.
The U.S. has one other key advantage over new members of the nuclear club: It conducted more than 1,000 nuclear tests in Nevada and the South Pacific, among other places, giving it an unparalleled database of how weapons perform.
Special correspondent Stiles reported from Seoul and staff writer Demick from New York. Staff writers Ralph Vartabedian and Samantha Masunaga contributed to this report from Los Angeles. Special correspondent Yuri Nagano contributed from Tokyo.
---
UPDATES:
6:45 p.m.: This article was updated with reaction from Japan and background on U.S. nuclear testing.
6:05 p.m.: This article was updated with additional background.
5:40 p.m.: This article was updated throughout with staff reporting.
4:25 p.m.: This article was updated with analysts' perspective, background information and quotes from the Korean Workers' Party's Central Committee.
This article was originally published at 3:50 p.m.
---
Must-read stories from the L.A. Times
Get the day's top news with our Today's Headlines newsletter, sent every weekday morning.
You may occasionally receive promotional content from the Los Angeles Times.