As Korean leaders embrace, launching key talks in Pyongyang, the U.S. looks for concrete progress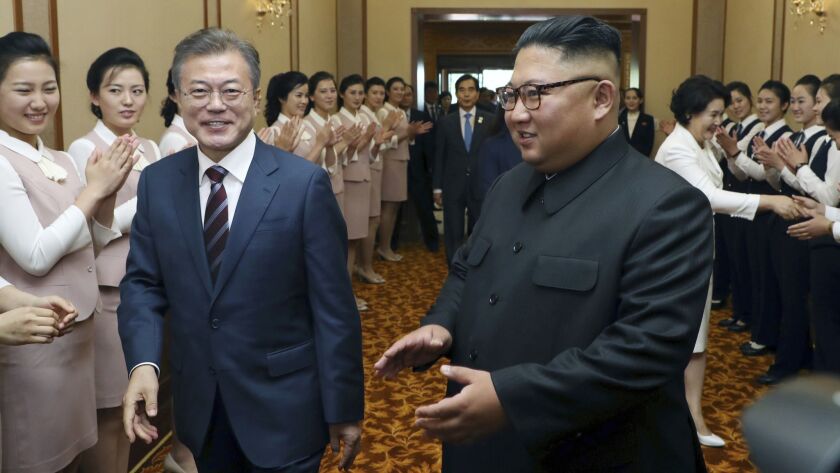 Reporting from Beijing —
South Korean President Moon Jae-in met North Korean leader Kim Jong Un during a summit Tuesday, hoping to salvage the stalled U.S.-North Korea denuclearization talks and to pave the way for a second summit meeting between Kim and President Trump.
Kim told Moon he wanted the two leaders to achieve a big outcome in their meetings Tuesday and Wednesday.
The optics around the summit were designed to impress: Moon watched an honor guard of goose-stepping soldiers; he bowed low to North Korean citizens and shook their hands, and the two leaders stood side-by-side in an open-topped black Mercedes limousine, as people lined the roads in a carefully orchestrated display, waving flags and flowers, cheering and chanting for unification.
The two leaders beamed as Kim welcomed Moon with a warm cheek-to-cheek hug at the airport before the leaders' parade through Pyongyang streets. Kim and Moon had lunch at Paekhwawon State Guesthouse before holding talks for two hours Tuesday at the headquarters of the Korean Workers' Party. Further talks are due Wednesday.
Before the talks, Moon said he was hoping for "abundant results" as a gift to the people of North Korea, according to South Korean news agency Yonhap.
"The entire world is also watching, so [I] hope we will show the fruits of peace and prosperity to all people in the world," Moon said.
Earlier, before departing the South Korean capital of Seoul, he said his objective was to secure the resumption of U.S.-North Korea talks.
The crunch issue at this week's summit is whether the North Korean leader can offer evidence of concrete steps to give up nuclear weapons to satisfy the White House. The meeting also aims to reduce military tensions between Pyongyang and Seoul and improve relations.
Before the two met at the party headquarters, Kim said Moon had played a key role in brokering the historic June summit meeting in Singapore with President Trump, the first between U.S. and North Korean leaders.
"Because of that, the regional political situation has been stabilized and more progress is expected," he said, according to local media pool reports.
"I think it was our people's wish that we come up with good results as fast as we can," Kim said in comments at the Paekhwawon guesthouse, where Moon and his wife, Kim Jung-sook were to stay.
Moon has emerged as the key mediator between North Korea and the U.S. The White House announced last week it was making preparations for a second summit between Trump and Kim after the North Korean leader wrote a "very warm, very positive" letter to the U.S. president requesting a second meeting.
Moon and Kim will meet numerous times during the three-day trip, with the South Korean leader due to fly home Thursday morning. It is Moon's third meeting with Kim this year and his first in Pyongyang. Moon's meetings with Kim in April and May paved the way for the Singapore summit.
After that summit, Trump tweeted, "There is no longer a Nuclear Threat from North Korea," and called the meeting interesting and positive.
But U.S.-North Korea talks since then have made little progress, raising doubts about how serious Kim is about giving up his country's nuclear program after a series of weapon and intercontinental ballistic missile tests last year.
Despite the historic nature of Trump's meeting with Kim, where Kim agreed to "work toward complete denuclearization of the Korean Peninsula," so little of substance has been achieved since that Trump last month canceled a trip by Secretary of State Michael R. Pompeo to North Korea, citing the lack of progress by Pyongyang.
That decision came after the International Atomic Energy Agency expressed "grave concern" that North Korea was continuing to develop its nuclear program. Pyongyang insists it has made progress by destroying a missile test site at Punggye-ri and a missile engine test facility at Dongchang-ri.
In July, Pyongyang accused the U.S. of "gangster-like demands" in its key condition that North Korea give up its nuclear program completely before it gains rewards, such as the removal of U.N. sanctions choking the economy.
But there have been more encouraging signs in recent weeks. During a recent North Korean military parade Sept. 9 marking the 70th anniversary of the nation's founding, the government did not display its ICBMs, a move taken as a positive sign by Washington.
Despite the concerns that North Korea is still pursuing its nuclear program, Trump was buoyed by news of the ICBM-free parade, tweeting, "This is a big and very positive statement from North Korea. Thank you to Chairman Kim." He said the two leaders would "both prove everyone wrong! There is nothing like good dialogue from two people that like each other!"
A day later, national security advisor John Bolton said the U.S. was waiting for North Korea to denuclearize, but could not make the country do so.
"They're the ones that have to take the steps to denuclearize, and that's what we're waiting for," he said in a speech to the conservative Federalist Society. U.S. officials want concrete details about North Korea's nuclear arms and transparency on steps to dismantle them.
The biggest hope for a breakthrough appears to be another face-to-face meeting between Trump and Kim, given the personal warmth between the two men. But without signs of significant progress from Kim at this week's summit meeting, a second Trump-Kim summit could be delayed, or may not take place at all.
The mouthpiece of the Central Committee of the Workers' Party of Korea, the newspaper Rodong Sinmun, blamed Washington for the stalled denuclearization talks in a sharp editorial Tuesday, arguing that the U.S. demand for North Korea's complete denuclearization without a formal end to the 1950-53 Korean War was the main barrier to progress.
A statement published Tuesday by the Korea Central News Agency, North Korea's state-owned news agency, said the summit between Moon and Kim offered an important opportunity to further accelerate the development of relations between Pyongyang and Seoul.
Moon traveled with a delegation of dozens of officials, businessmen and celebrities, including the head of Samsung, Jay Y. Lee, currently on a suspended prison sentence for bribery. With North Korea under U.N. sanctions, the presence of billionaire businessmen was merely symbolic, designed to send a message to Kim about the advantages of relinquishing nuclear weapons.
In April, Kim announced a strategic switch away from focusing simultaneously on developing nuclear weapons and the North Korean economy to concentrating solely on economic development.
Tuesday's summit marked the third time a South Korean leader has visited Pyongyang. Kim's father, Kim Jong Il received Kim Dae-jung in 2000 and Roh Moo-hyun in 2007.
Twitter: @RobynDixon_LAT
---
UPDATES:
9:35 a.m.: This article was updated with additional details about the summit and background information.
This article was originally published at 6:15 a.m.
---
Must-read stories from the L.A. Times
Get all the day's most vital news with our Today's Headlines newsletter, sent every weekday morning.
You may occasionally receive promotional content from the Los Angeles Times.