Trump-Kim talks or not, North Korea's nuclear arsenal apparently continues to grow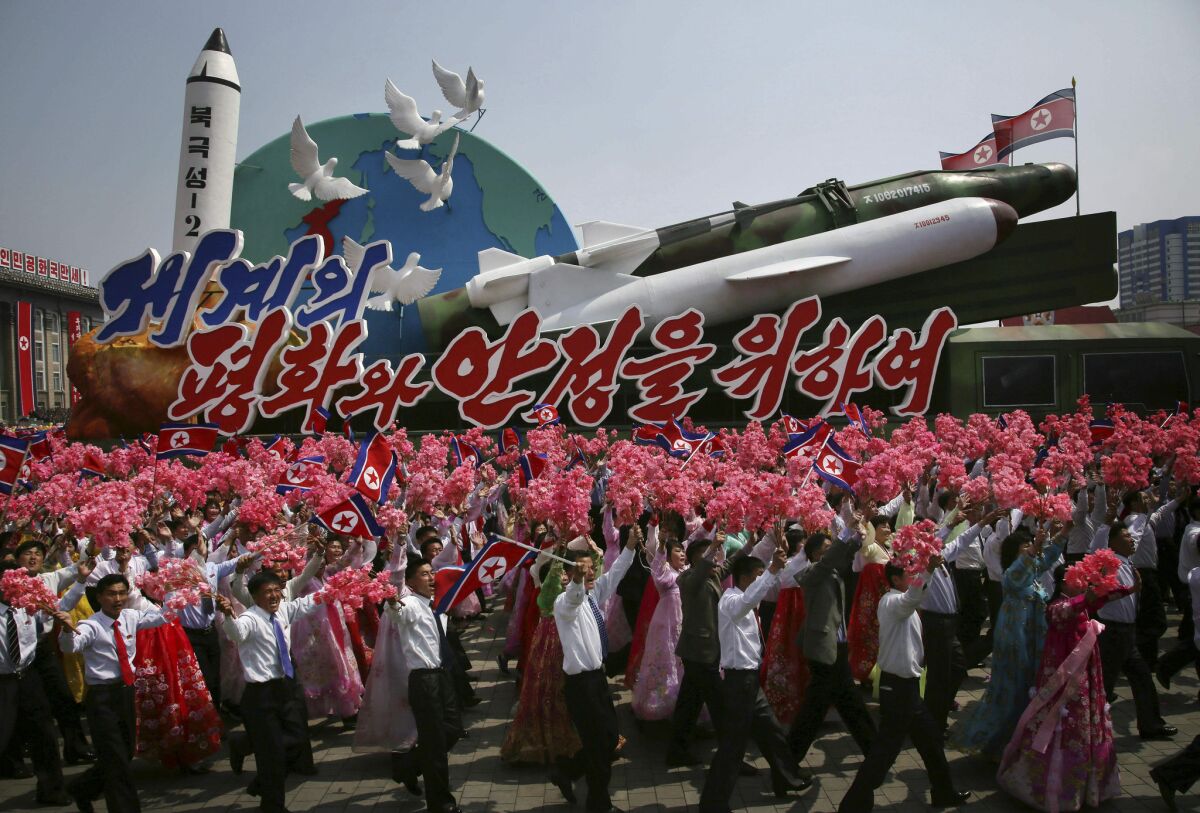 Reporting from Seoul —
President Trump traveled more than 8,000 miles to Vietnam and North Korean leader Kim Jong Un trekked more than 2,000, arguably for little more than a photo and a handshake.
In announcing the anticlimactic no-deal end to a whirlwind three weeks after Trump had told the world about his planned second summit with Kim during his State of the Union address, the president said North Korea had promised to continue its freeze on nuclear testing.
For now at least, there would be no return to the fraught first year of Trump's presidency in 2017, when North Korea test-fired a series of increasingly far-reaching missiles, raising the specter of striking the U.S. mainland, and detonated a hydrogen bomb underground, sending literal shock waves throughout northeast Asia.
"I trust him and I take him at his word," Trump told reporters this week. "But in the meantime, we'll be talking."
All the while, North Korea's nuclear arsenal apparently continues to grow.
U.S. intelligence last summer estimated North Korea may have anywhere from 20 to 60 nuclear weapons. In 2018, North Korea probably produced enough plutonium and uranium for an additional five to seven nuclear weapons, researchers at Stanford have estimated, steadily adding to its stockpile.
Many of the country's nuclear facilities are camouflaged, tucked away in mountains or hidden underground. Analysts scouring satellite imagery spotted signs of continued buildup at a network of at least 16 secret missile operating bases never acknowledged by North Korea.
Intelligence officials have said there is evidence North Korea has continued constructing new missiles, even after its leader last June signed onto an agreement with Trump to "work toward complete denuclearization of the Korean Peninsula."
The heart of the disagreement in this week's talks in Hanoi lies in justhow much of its nuclear arsenal North Korea is willing to give up at this juncture, and at what cost.
That negotiation is complicated by the fact that the full scope and extent of North Korea's nuclear capabilities is difficult to know. The nation, which long ago booted out any international inspectors, has balked at the idea of providing an inventory of its weapons and facilities, saying that would be tantamount to handing over a target list.
In Hanoi, North Korea offered to shutter the only nuclear facility it has ever acknowledged having, a 300-building, three-square-mile complex in Yongbyon at the center of its nuclear program.
Trump said that wasn't good enough to cover North Korea's asking price — relief from the vast majority of sanctions imposed on the country after a series of missile tests in 2016 and 2017 — because of other covert nuclear sites.
"As you know, there's plenty left after that, and I just felt it wasn't good," he told reporters. "That facility, while very big, it wasn't enough. … We had to have more than that."
Allowing what amounted to billions of dollars in sanctions relief for only a part of North Korea's nuclear program would "in effect put us in a position of subsidizing the ongoing development of weapons of mass destruction in North Korea," a senior State Department official told reporters after the talks fell apart, speaking on condition of anonymity. "That is effectively the choice that we were presented with."
The shutdown of Yongbyon, which includes North Korea's only plutonium reactor as well as a uranium plant, would at least have limited the growth of North Korea's arsenal, said Vipin Narang, a nuclear proliferation expert and political science professor the Massachusetts Institute of Technology.
"The nuclear program continues to grow; the talks have fallen apart," he said. "Now we've got nothing. This is the risk of trying to get it all in one bite."
North Korean Vice Foreign Minister Choe Son Hui told reporters this week that Kim had made the best offer he could at this stage and said she worried he may lose the will to continue with the talks.
"Whether the U.S. will have another opportunity like this in the future, I cannot say for sure," she said.
Trump has touted as a sign that his approach is working the fact that North Korea has not conducted a nuclear test since November 2017.
But even without outwardly apparent testing, North Korea is "no doubt" continuing to enhance and expand its ballistic missiles, said Evans Revere, a former State Department official specializing in Asia.
Revere said Trump has essentially signaled to Kim: As long as they're not testing, the U.S. is willing to live with a nuclear North Korea.
He said that in insisting on offering up only Yongbyon in the negotiations, Kim appeared determined to keep the negotiations away from the rest of the nuclear weapons program.
Noting that North Korea had agreed to give up Yongbyon twice in past nuclear talks, Revere said Trump had "dodged a bullet" by walking away from Kim's offer in Hanoi.
Melissa Hanham, a nuclear weapons expert and North Korea specialist at One Earth Future, an anti-proliferation organization in Colorado, said Kim's offer appeared to have been to permanently dismantle the entirety of the nuclear complex, unlike in past talks.
"In my mind going into the summit, I was worried they were going to shut down one reactor and when North Korea got mad they would start up the reactor again," she said.
Hanham said the U.S. may have passed on an opportunity to rein in, if not eliminate, North Korea's nuclear weapons program.
"Obviously you want a magic wand to make the entire nuclear program disappear, but limiting fissile material production and capping the number of nuclear weapons North Korea could have is a good deal," she said. "The Trump administration is making perfect the enemy of good."
Must-read stories from the L.A. Times
Get the day's top news with our Today's Headlines newsletter, sent every weekday morning.
You may occasionally receive promotional content from the Los Angeles Times.