Trump's approach to North Korea wins him an unlikely fan base: South Korean liberals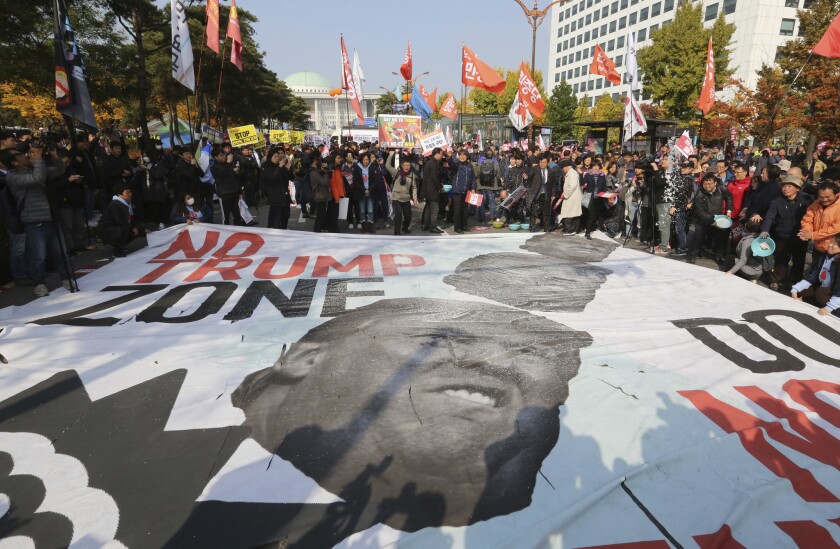 Reporting from Seoul —
When President Trump visited South Korea in November 2017 amid heightened tensions over North Korea's nuclear tests, two raucous groups of rival protesters crowded downtown Seoul, separated by a swarm of police in riot gear.
On one side, conservatives held up signs that said "Welcome Trump!" "Save our country" and "We love you & the U.S."

For the record:
3:10 p.m. Feb. 25, 2019An earlier version of this story said President Trump would attend a summit with Kim Jong Un in Hanoi next week. The summit is scheduled for this week.
On the other side, liberal and progressive groups' posters read: "No Trump, No War," "Trump out." One young leftist protester set fire to a picture of Trump.
How times have changed.
History is littered with paradoxes and ironies.
— Moon Chung-in, special advisor to South Korean President Moon Jae-in
Now, with Trump exchanging what he's called "beautiful letters" with North Korea's authoritarian leader and pushing for engagement with the isolated country, the president has become something of a hero to South Korean liberals who have long advocated rapprochement with the North. Liberals here are praising Trump for diplomatic prowess and bold decision-making, with one prominent academic calling his presidency a "blessing" for the Korean peninsula.
"History is littered with paradoxes and ironies," said Moon Chung-in, a special advisor to South Korean President Moon Jae-in and professor emeritus at Yonsei University. "What progressives in South Korea consider in our national interest happens to perfectly line up with what Trump considers to be in the U.S.' national interest."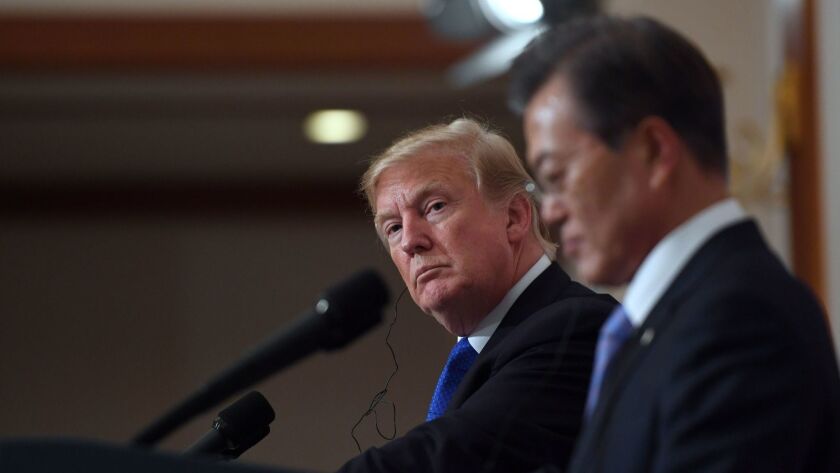 After spending his first year in office trading increasingly hostile barbs with Kim Jong Un and threatening to annihilate North Korea, Trump in June became the first American president to meet with a North Korean leader when he sat down with Kim in Singapore. This week, he's set to do it once again in Hanoi.
The unorthodox, whiplash-inducing diplomatic course charted by Trump on North Korea has created a twilight zone of political alignments on both sides of the Pacific.
Conservatives in South Korea, who were big fans of Trump's "fire and fury" approach circa 2017, are now alarmed by his love affair via Twitter with Kim. The right-leaning South Koreans are on the same page as many Democrats in the U.S., traditionally a stronger champion of engagement in foreign policy than Republicans, who also are skeptical of Trump's starry-eyed detente with North Korea that began at the first tete-a-tete.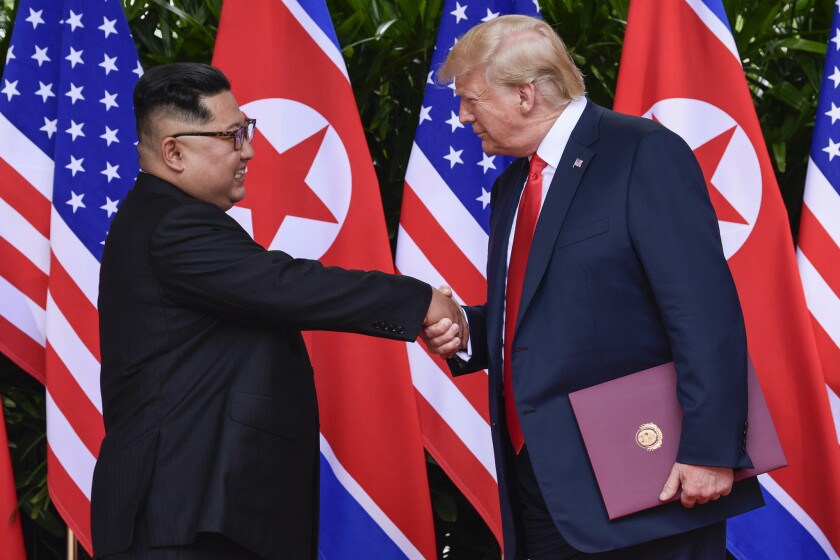 House Speaker Nancy Pelosi (D-San Francisco), in a meeting this month with a delegation of South Korean lawmakers, expressed strong doubts about the talks, saying she does not trust North Korea, according to the South Korean politicians. Since before last year's summit in Singapore, Democrats in both the House and the Senate have raised alarm that Trump may bargain away too much too soon to the North Koreans for a signature foreign policy achievement or maybe a Nobel peace prize.
In full agreement with her was the leader of South Korea's conservative Liberty Korea party, Na Kyung-won, who told South Korean reporters that she had told Pelosi she was concerned about the suspension of military exercises and the possibility of U.S. troops being removed from the Korean peninsula.
Meanwhile, Pelosi's counterpart, National Assembly Speaker Moon Hee-sang, sang Trump's praises in a New York speech.
"President Trump is renowned for his bold decision-making and negotiation skills," the South Korean speaker, who heads the liberal Minjoo party, said two days after the meeting with Pelosi at the Korea Society. "It would be no exaggeration to say it was President Trump's decisiveness and leadership … that brought about this remarkable change."
When it comes to other matters like the minimum wage, taxation or welfare, the left-right spectrum of South Korean politics looks pretty much like that of the U.S. But in South Korea, the question of how to deal with its heavily armed neighbor to the north dwarfs all other policy concerns, said James Kim, a political scientist at the Seoul-based think tank Asan Institute of Policy Studies.
"The turning point was the June summit. After the June summit the conservatives were fairly critical of the way the U.S. was approaching this issue, the progressives were very, very supportive of Donald Trump's approach to North Korea," he said.
James Kim said the South Korean liberals' trust and support of Trump may be shortsighted.
"They don't understand how quickly the president can change his mind," he said. "Whatever he wants to do in any given moment on North Korea can change very abruptly."
Kim Hyun-wook, a professor at the Korea National Diplomatic Academy, said there are plenty of complaints from South Korea's perspective on Trump's stance toward military cost-sharing, free trade and tariffs, but many politicians appeared willing to overlook them.
"It almost seems like all of that is buried because of what he's doing with North Korea," he said.
Moon Chung-in, the South Korean presidential advisor, said he was concerned Democrats in the U.S. may be predisposed to write off whatever comes out of the summit in Hanoi as a failure because of their opposition to Trump on almost all issues.
"It might be less about the second summit itself, and more, 'Anything but Trump,'" he said. "Their political offensive is intertwined with the second North Korea-U.S. summit."
For his part, Moon Chung-in, who has served in all three elected liberal administrations in South Korea's seven-decade history, was pinning his hopes on Trump long before anyone else in South Korea.
In June 2016, months before Trump became president, Moon Chung-in said in an interview with a South Korean news website that Trump's election might be an opportunity for a breakthrough on the long-stalled nuclear and peace talks with North Korea.
"It might be a bold argument," he said at the time, "but Trump might not be a disaster, but for us, actually a blessing."
---
Must-read stories from the L.A. Times
Get the day's top news with our Today's Headlines newsletter, sent every weekday morning.
You may occasionally receive promotional content from the Los Angeles Times.