For deportees at a migrant shelter on Mexican border, an agonizing choice: Turn back or try crossing again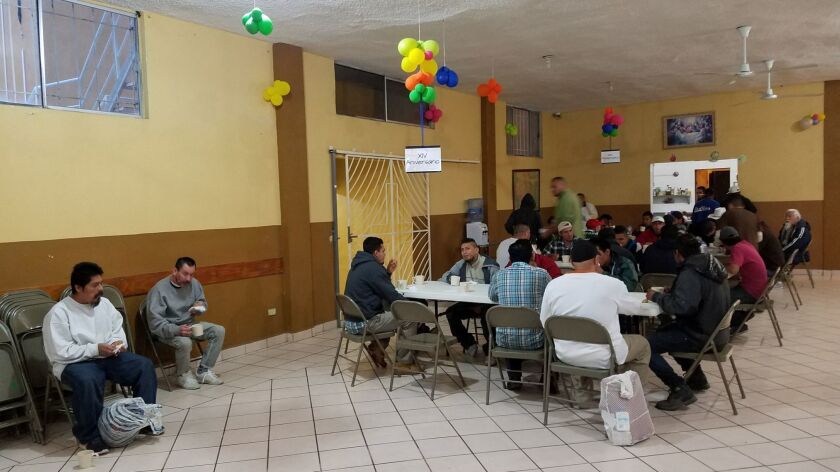 Reporting from Nuevo Laredo, Mexico —
The migrants rose before dawn to prepare a breakfast of bean burritos and champurrado, a Mexican cinnamon-chocolate drink whose scent filled the dining hall of their temporary shelter in this heavily trafficked border town across the Rio Grande from Laredo, Texas.
The number of migrants apprehended at the southern border has dipped since President Trump took office, but hundreds still arrive each week at Casa Migrante, a haven in this border city still haunted by drug cartel violence that scared off U.S. tourists and businesses during the last decade. The surrounding state of Tamaulipas, which hugs the border, is still one of the most violent in Mexico, and the State Department this year warned Americans against traveling there. Few migrants want to linger in Nuevo Laredo.
The free shelter run by Catholic priests has space for 100 at a time in a white concrete building beside the river. On this recent morning, the migrants, most of them men, ate breakfast at plastic tables next to a map of the U.S., a picture of Jesus with his disciples and Spanish banners proclaiming, "Justice for migrants" and "If the migrant is not your brother, God is not your father."
Some of the migrants were Central Americans — first-time visitors to Nuevo Laredo. Others were recently deported from the U.S. The deportees, in particular, had a difficult decision: Should they admit defeat and give up, or risk prison by trying to cross illegally again?
Sandy Veracruz Santiago, 21, had been deported the day before just hours after she and a cousin crossed the Rio Grande into Texas, bound for Houston, where they have relatives. They had paid a total of $4,500 to cross the border, hoping to find work to support their two children.
Before they were deported, Border Patrol agents warned the pair that if they were caught crossing again, they could be detained for months. In the past, U.S. Immigration and Customs Enforcement routinely placed migrants in deportation proceedings, but now officials often pursue criminal charges, which can mean prison time for repeat offenders. The agents' warning scared Veracruz, who planned to head home to Mexico City. But her cousin said he would cross the border illegally again soon.
"We will see what happens," said Pablo Botello Garcia, 20, a baby-faced house painter with unfinished braces on his teeth and a 9-month-old daughter at home.
Two other migrants sat facing each other at the end of another table. They were tired, unshaven and uncertain about their futures. Luis Duran said he was stopped by police in tiny Alton, Utah, days before and swiftly deported. He had lived in the U.S. since 2001 and left behind three sons — ages 7, 3 and 2 — and he missed them.
Duran, 36, framed houses for a living in Utah and knew he would be paid far less for such work in his hometown of Puebla, Mexico. But he wasn't sure he could cross the border again without ending up in detention long term.
"I can't make money here in Mexico," Duran said. "But I have three deportations. That's enough."
Heriberto Garcia, a 32-year-old construction worker sitting across from him, agreed they were in a bind.
Garcia, who had been deported the day before, had a 10-year-old son in Houston, where he was stopped and detained for driving without a license. He also had been deported before, in 2013.
"We can't work" in Mexico, he said. In his home state of Guanajuato, it took family connections to find work. Garcia had friend who had started robbing cars for a living.
"When they deport us, they force us into a life of crime. I might have to do it," he said.
In the shelter kitchen, deportee Carlos Villareal said he had given up on ever returning to the U.S.
Villareal, 40, a slim construction worker from rural western Mexico, first crossed to the U.S. illegally in 1995. He worked across the South, made good money rebuilding homes in New Orleans after Hurricane Katrina, married and had two sons, ages 7 and 1.
He was earning up to $150 a day when he was deported this year. In his native Nayarit state, he said, he could find only farm work that paid $20 a day. So Villareal had paid $2,500 to cross the border illegally the day before.
He was caught by Border Patrol and swiftly returned to Mexico.
My time working in the U.S. has ended
— Carlos Villareal
"My time working in the U.S. has ended. I have to think of my sons. This was my last chance to go back and make money, but I couldn't do it," Villareal said.
At a neighboring table, cleanshaven Julian Calleja finished his burrito and prepared to leave for work at a factory.
Calleja, 27, had been deported after he was charged with driving under the influence after drinking a few beers and some tequila on his way home from work one night in Wayne, Neb. There he has earned $150 a day at a Mexican restaurant. In Nuevo Laredo he earned 200 pesos a day, about $11, soldering metal chairs.
Calleja sent much of what he earned back to Acapulco to support his 12-year-old daughter. Unlike Villareal, he was willing to risk a prison sentence. He planned to pay smugglers, likely several thousand dollars, to cross the border illegally once more.
"It's tougher now, but my family has to eat. It's more difficult here in Mexico than in jail," he said.
Sitting nearby, Miguel Nogues said he also planned to return to the U.S. illegally. He had settled years before in Texas, found work in the oil fields earning $25 an hour and married a U.S. citizen. He sent money back to his father in Mexico City to pay for his cancer medication.
Now Nogues, 40, looked and felt out of place at the shelter in his Old Navy fleece, Polo cap and blue Nike sneakers. He wanted to return to his adopted small town of Alice in south Texas.
"I love living with U.S. citizens. They're my second family," he said.
After breakfast, Juan Olivares, 71, hobbled with a metal cane to an outside courtyard. He'd been deported from San Antonio in December by ICE after living as a legal resident in the U.S. for 59 years. Bearded with thick glasses, he was still wearing the slip-on shoes he had been issued at the U.S. detention center where he was held for three months.
Olivares wasn't sure why ICE came to his house and deported him. He said he had been convicted of assaulting his wife in 1996, a felony, but received 10 years of probation that ended after four years because of good behavior. His wife died in 2007. His adult children were U.S. citizens living in Texas. He couldn't afford to hire an attorney. He had no family left in his native Coahuila state, but he said he might move to a shelter there that had offered him assistance.
"We are Mexicans without a country," he said of the deportees.
Walking out the other door of the dining hall toward the shelter office was a small man in a gray Dave & Buster's sweatshirt and with an unbandaged scrape on his head.
Jovan, a Guatemalan farmer, had spent weeks migrating north on foot to find work to support his two children, ages 6 and 1. He hopped a cargo train in Mexico north known as La Bestia, the Beast, a notoriously dangerous route to the U.S. border. Ten days earlier, Mexican police had forced him and a group of about 100 migrants off the train. He bumped his head, which still hurt. Others died, he said.
Jovan, 24, had arrived in Nuevo Laredo a few days before and didn't want to share his last name for fear he might be deported. Walking down the street with fellow migrants, he said, he got chased by Mexican men in a black SUV. Some darted out, grabbed a Honduran migrant he knew and sped off. The man had not been heard from since, Jovan said.
He asked staff members in the shelter office whether he could leave with other migrants for work. They explained that Jovan did not have the necessary paperwork yet to work in Mexico. He didn't have money to pay a smuggler, but he was determined to reach the U.S. on his own if he had to.
"Today or tomorrow I will cross," he said. "These are the risks we take."
Earlier that morning, a few miles away at the border bridge, several men had boarded a red inflated rubber raft and tried to cross the river. They were desperate and also conspicuous, and half a dozen Border Patrol agents ran to apprehend them.
To read this article in Spanish click here
molly.hennessy-fiske@latimes.com
---
Must-read stories from the L.A. Times
Get the day's top news with our Today's Headlines newsletter, sent every weekday morning.
You may occasionally receive promotional content from the Los Angeles Times.