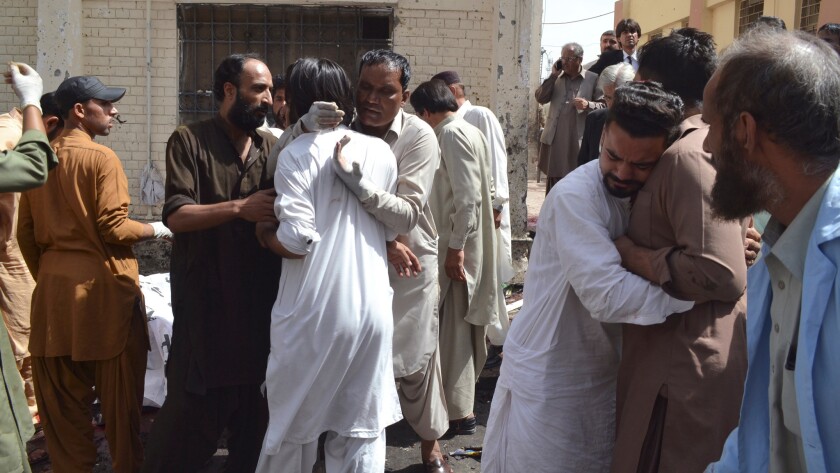 Reporting from Peshawar, Pakistan —
A suicide bombing in the emergency ward of a hospital in Quetta, Pakistan, killed at least 64 people Monday.
In a statement issued to the media, a spokesman for the Jamaat-ul-Ahrar militant group said that its fighters shot and killed Bilal Kasi, the president of Baluchistan Bar Assn., then sent a suicide bomber to target mourners who had gathered at the government-run Civil Hospital.
Previous attacks claimed by Jamaat-ul-Ahrar include the bombing at a Lahore park on Easter this year, killing 72 people.
A television journalist was also among the dead, and two cameramen were among the more than 40 people who were injured, many of them critically, officials said.
"A number of lawyers and some journalists had gathered at the hospital," where Kasi's body had been brought, said Baluchistan's home minister, Akbar Harifal.
Witnesses said dozens of lawyers were entering the hospital's emergency department, accompanying Kasi's body, when the powerful explosion occurred.
Saleem Shahid, a senior journalist, said by phone from Quetta that lawyers were seen fleeing the emergency department after the explosion.
Baluchistan, a large, resource-rich though largely undeveloped province in southwestern Pakistan, along the border with Iran, has been hit by a long, low-level insurgency by an array of ethnic Baluch nationalist organizations vying for self-determination.
The militant groups regularly attack trains, security forces and government installations, including hospitals in Baluchistan.
They accuse Pakistani security forces of illegal detentions, torture and executions of Baluch civilians, charges the government denies.
Following the blast, the Pakistani government declared a state of emergency in hospitals, while lawyers called a boycott of court proceedings in various cities nationwide.
Prime Minister Nawaz Sharif issued a statement condemning the attack.
"No one will be allowed to disturb the peace in the province that has been restored thanks to the countless sacrifices by the security forces, police and the people of Baluchistan," Sharif said.
Special correspondent Ali reported from Peshawar and staff writer Bengali from Tehran. The Associated Press contributed to this report.
ALSO
A fringe Hindu group that believes in a divine kingdom is suspected in the deaths of Indian secularists
Japan's emperor addresses nation, indicates he wants to abdicate
Spy saga comes to a close as Iran executes a nuclear scientist accused of giving info to the U.S.
---
UPDATES:
12:14 p.m.: This article has been updated with confirmation of the Jamaat-ul-Ahrar claim of responsibility.
5:05 a.m.: This article has been updated with staff reporting.
4:15 a.m.: This article has been updated with a revised death toll.
3:45 a.m.: This article has been updated with additional details and background.
1:35 a.m.: This article has been updated with a revised death toll and additional background.
This article was originally published at 12:25 a.m.
---