Palestinian Authority prime minister offers resignation, citing Trump's decision to cut off aid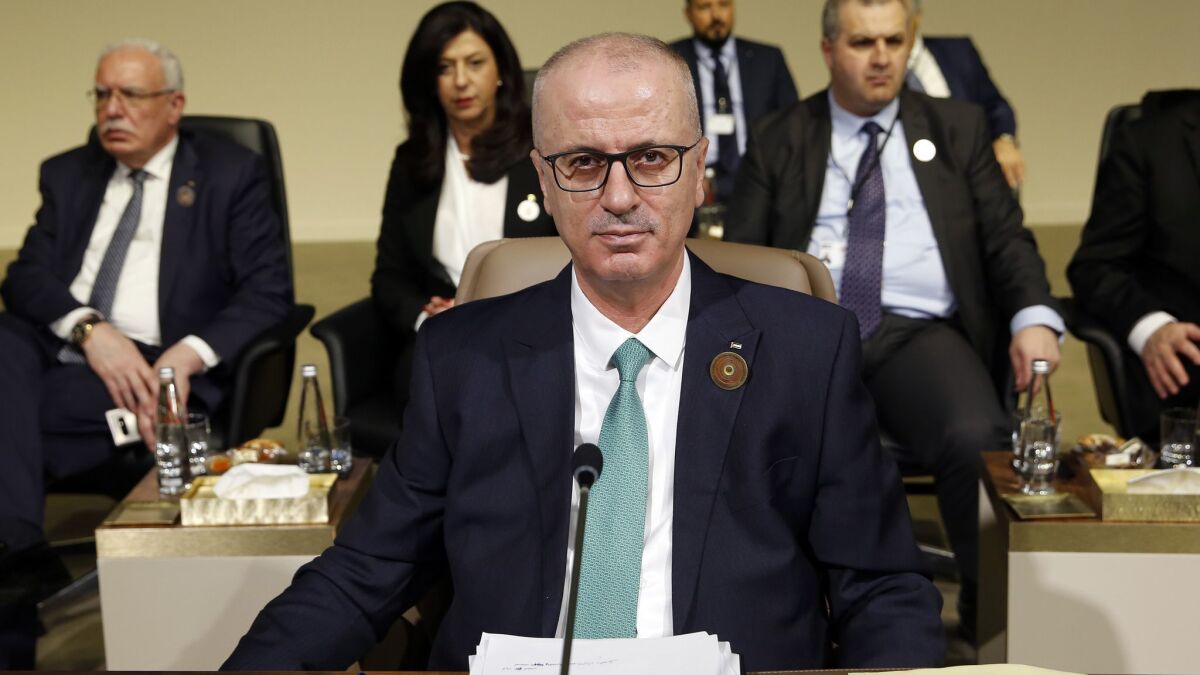 Reporting from Ramallah, West Bank —
The Palestinian Authority prime minister offered his resignation Tuesday amid escalating tensions over his government's failed efforts to establish a broad governing coalition that could rule both the West Bank and the Gaza Strip.
Palestinian Authority President Mahmoud Abbas is expected to accept Rami Hamdallah's resignation, which was offered during a weekly Cabinet meeting in Ramallah, the West Bank seat of government.
A special committee appointed by the government is already negotiating the formation of a new Cabinet with various Palestinian political parties, a process that does not include Hamas, the Islamist militia that seized power in Gaza in a bloody 2007 coup.
In his statement, Hamdallah — who was appointed prime minister in June 2013 — made several references to the Trump administration's almost complete withdrawal of aid to Palestinians.
The resulting financial crisis, he said, has strained Palestinian Authority ministries almost to the breaking point and forced his government to rearrange its priorities and redistribute its limited financial resources.
The Palestinian Authority has all but severed ties with the United States since President Trump announced that the U.S. Embassy would move from Tel Aviv to Jerusalem, which Trump recognized as Israel's capital.
The Palestinian Authority government claims east Jerusalem as the capital of its own future state.
Abbas' party announced a reunification agreement in October 2017, but its implementation was derailed by Hamas' refusal to turn over its weaponry and submit to the authority of the internationally recognized Palestinian Authority government.
Hamdallah spearheaded an initiative to integrate Hamas into a single unified government, and his departure is seen as an acknowledgement that the unification effort has failed.
Hamas denounced Abbas' intentions to form a new government as a move that will only intensify divisions among Palestinians.
Fawzi Barhoum, a spokesman for Hamas, said the "call for the formation of a new government consisting of [Palestinian Liberation Organization] factions will solidify the split between the West Bank and Gaza Strip. Our people are in need of a national unity government that would represent all Palestinians."
Hazem Qassem, another Hamas spokesman, described the push for a new government as an attempt by Abbas to detach the West Bank from the Gaza Strip," and accused the president of "tampering with the Palestinian political scenery."
Several senior Palestinian political figures are being floated as possible replacements for Hamdallah, a technocrat who had little partisan support.
Veteran Palestinian diplomat Saeb Erekat, the chief negotiator for any potential peace process, is the best known on the international stage. Mohammad Shtayyeh, the minister of public works, is also in the running, as is civil affairs minister Hussain Sheikh, who was quoted last week exclaiming, "A unity government with Hamas? Over our dead bodies!"
---
Must-read stories from the L.A. Times
Get the day's top news with our Today's Headlines newsletter, sent every weekday morning.
You may occasionally receive promotional content from the Los Angeles Times.