Saying he doesn't want to 'block the path of harmony,' Peru's president resigns amid scandal
Reporting from LIMA, Peru —
Peruvian President Pedro Pablo Kuczynski resigned Wednesday after political opponents released video and audio recordings that they say implicate the 79-year-old leader in a vote-buying scheme to avoid impeachment.
In a video message to the nation, Kuczynski said he was resigning immediately because "permanent political confrontation" had made the country ungovernable.
"Confronted by this difficult situation in which they have unjustly made me appear culpable of things in which I didn't participate, I think it's best that I resign the presidency," Kuczynski said.
He added, "I don't want to block the path of harmony that the nation so badly needs and which was denied to me. I don't want the country or my family to continue suffering the uncertainty of recent times."
Kuczynski's departure ends a long-running political battle with Keiko Fujimori, the daughter of disgraced former President Alberto Fujimori and the leader of the Popular Force majority faction in Congress. Kuczynski defeated her in the 2016 presidential race.
A former World Bank economist and Wall Street banker who had never run for public office, Kuczynski ran a campaign based on promises to clean up a government beset by corruption.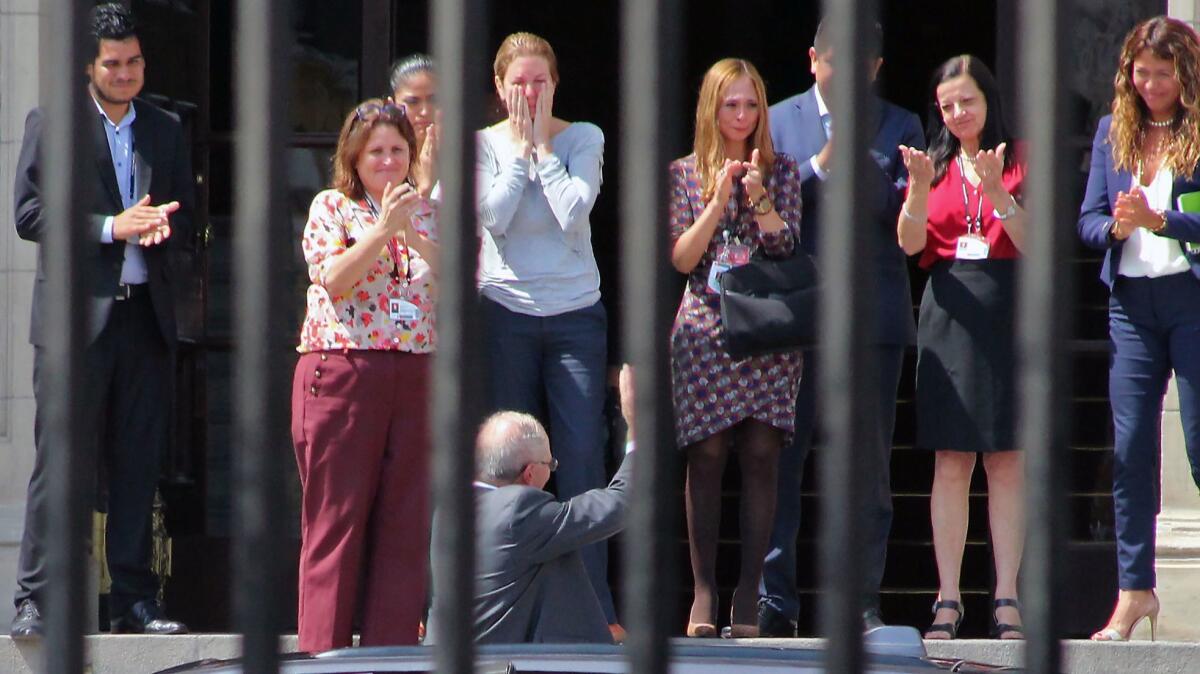 On Tuesday, Keiko Fujimori released seven excerpts from video and audio recordings in which lawmakers allied with Kuczynski allegedly promised public works projects in districts of members of the opposition party in exchange for their support in last year's impeachment proceedings. Kuczynski narrowly escaped impeachment on "moral incapacity" charges in December.
Kuczynski went on trial after it became known that a consulting firm he co-owned, called Westfield, received an estimated $700,000 in contracts from disgraced Brazilian construction firm Odebrecht while Kuczynski held high offices in the Peruvian government.
The president claimed he knew nothing of the contracts, having distanced himself from the consulting business when he took up various Cabinet posts, including economy minister, between 2001 to 2006 under then-President Alejandro Toledo.
But last month, the president's political situation became more tenuous after Jorge Barata, Odebrecht's former Peru manager, told investigators looking into the so-called Car Wash corruption scandal in Brazil that in 2015 he also paid $300,000 to a "functionary" of Kuczynski's as a contribution to his presidential campaign.
Kuczynski gave testimony last week to a closed session of a special congressional committee investigating Odebrecht. In interviews with local press, he has denied receiving the contributions.
In his resignation address, Kuczynski denied having received illegal campaign contributions and blamed opposition "calumny" for the reports, saying his political enemies were determined to oust him from office.
Odebrecht executives have admitted to paying bribes and making illegal campaign contributions to politicians in several Latin American countries in exchange for preferential treatment in the awarding of public works contracts.
Former Peruvian Presidents Toledo, Humala Ollanta and Alan Garcia have all been tainted by the Odebrecht scandal, as has Keiko Fujimori, who has been accused of taking campaign contributions from the firm in 2011.
Ollanta and his wife are in custody awaiting trial on corruption charges while the Peruvian government has issued an extradition request for Toledo, who is believed to be living in the U.S.
Kuczynski's situation became more tenuous after the impeachment vote when on Dec. 24 he pardoned Alberto Fujimori, who was serving a 25-year prison sentence for mass murder and crimes against humanity — crimes committed while he was in office from 1990 to 2000.
Kuczynski's critics allege that he promised Kenji Fujimori, a congressman and son of Alberto Fujimori, to pardon the former leader if the younger Fujimori helped fend off impeachment. Various international and national human rights groups have criticized the pardon.
With Kuczynski out of the presidency, the Peruvian Constitution specifies that Vice President Martin Vizcarra, who is also serving as ambassador to Canada, will take over as chief executive.
Former prosecutor and now political analyst Avelino Guillen said in a statement that Kuczynski could be detained upon leaving office because of the "many investigations that weigh against the president, from Car Wash to the purchase of votes."
Special correspondents Leon and Kraul reported from Lima and San Francisco, respectively.
---
UPDATES:
2:50 p.m.: This article was updated with comments from Pedro Pablo Kuczynski.
This article was originally published at 1:15 p.m.
Sign up for Essential California for news, features and recommendations from the L.A. Times and beyond in your inbox six days a week.
You may occasionally receive promotional content from the Los Angeles Times.