Once wildly popular, Philippine President Rodrigo Duterte has been losing the public's trust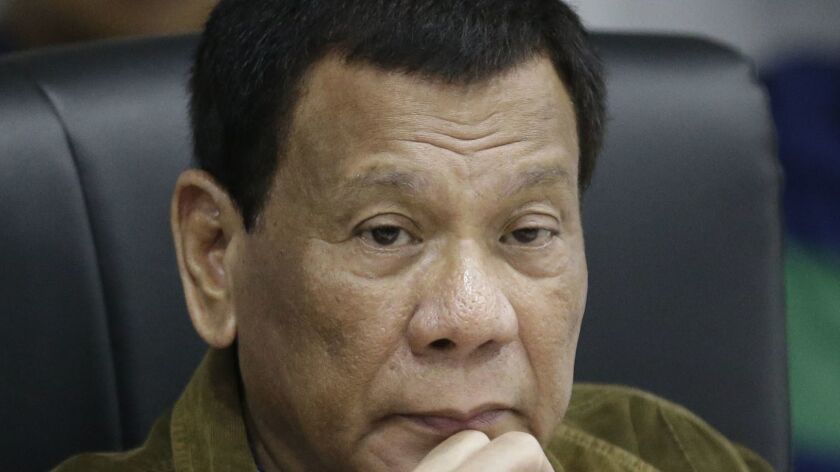 Reporting from Manila —
Jerichson Gomez of the Philippines has spent 40% more on rice in September than in any other month in the last three years.
"Every week, rice is high, high, high," said Gomez, 35, a Metro Manila security guard who earns $9.50 a day. "I think the government should make our salaries higher."
Such frustration, compounded by the impact of cropland damage caused by summer storms and the recent typhoon, are starting to erode onetime sky-high approval ratings for Philippine President Rodrigo Duterte.
The tough-talking Duterte took office in June 2016 with profane pledges to wipe out all crimes tied to illegal drugs within half a year and to build relations with the widely distrusted government of China. Mass extrajudicial killings in the anti-drug campaign and Duterte's fiery retorts against critics including former President Obama have earned him a controversial international reputation.
Yet Duterte, 73, received public trust ratings near 90% in 2016 and ended last year with a 75% "net trust" rating as measured by the widely respected Metro Manila-based research institution Social Weather Stations.
His ratings have since continued to shrink — falling to 65% in the first quarter of 2018 and to 57% in the second quarter.
Snags in the deadly anti-drug war and questions about ties with China, along with inflation, appear to be chipping away at the president's image.
"His ratings are not very low, but it's at the lowest since he assumed office and he's facing a lot of problems domestically," said Maria Ela Atienza, political science professor at University of the Philippines Diliman.
Such problems have increased as costs have compounded for some of his initially popular proposals.
In 2016, Duterte proposed spending $169 billion for new infrastructure as a means of luring foreign factory investment in a country where about one-fifth of the 102 million people live in poverty. Among the bigger projects, the president is pursuing three new railway lines in the archipelago that is now connected almost entirely by air, sea and roads.
But to pay the bills, the government has been raising taxes, which have resulted in price increases in popular processed drinks and other consumables.
At a Metro Manila sandwich shop-convenience store in mid-September, orange drinks sold for 60 pesos a can, about twice the usual price over the last decade. Locally produced beer cost three times more than in 2017.
Inflation reached 6.4% in August because of excise taxes, a weaker currency and rising fuel prices that affect commuters, said Jonathan Ravelas, chief market strategist with Banco de Oro UniBank in Manila. August inflation set a nine-year record and topped the rest of Southeast Asia.
"People are expecting him to do something," said Antonio Contreras, a political scientist at De La Salle University in the Philippines. "If I were going to bet, I'd be willing to say there are going to be some effects that would not be good for the president unless he does something drastic, something dramatic to turn around the increasing prices of commodities."
The once-popular anti-crime campaign is also wearing thin.
Support swelled in 2016 even after reports that police were killing suspected drug dealers in the streets. The anti-drug campaign has left 12,000 people dead, largely at the hands of police or unidentified gunmen, New York-based advocacy group Human Rights Watch says.
Some expected the drug war to let up after Duterte's first year in office because of his pledge of a quick resolution. Instead, they began seeing photos of teenagers believed shot by police, an issue that sparked protests in Manila last year. Also during Duterte's term to date, 17 local officials including mayors have been shot to death. They were either protecting drug dealers or trying to stop the trade, analysts in Manila say.
Duterte "promised to solve crime and drugs in six months or at least his first year, so you have growing impatience," Atienza said. "The drug lords, very few are actually in prison, so the human rights groups are becoming more assertive as they show pictures of children, teenagers who've been caught in this drug war."
Duterte's relations with China have also raised questions.
Common Filipinos as well as senior people in the military distrust Beijing because it claims a swath of the South China Sea that Manila calls its own. But after Chinese officials met Duterte in 2016, they pledged $24 billion in aid, including loans and investments for the infrastructure program. The pledge raised hope for stronger Sino-Philippine relations, but anti-Beijing sentiment resurfaced when members of the Philippine Congress and an acting chief justice found China was militarizing parts of the disputed Spratly Islands.
Philippine presidents often lose public approval in the middle of their six-year terms as people expect more results, Atienza said.
Duterte has stuck to his guns this year but suggested tactical changes. He threatened in May to kill "rogue" police officers involved in drugs, the local news website Inquirer.net said. Duterte asked China in August to temper its maritime activities and warned that two-way tension could spark an accidental conflict.
The administration is "working to ease the burden of the public" over rising prices of "essential commodities," Duterte said Sept. 11 via the presidential website.
But the head of state has also threatened to quit several times over lack of progress on top-drawer issues such as stopping the drug trade, and in September he ordered the arrest of senator and vocal critic Antonio Trillanes.
Criticism against Duterte has riled supporters too. Some blame losers of previous elections for hyping up issues and urge patience with problems such as the illegal drug trade.
"He is a popular president who has made some unpopular moves," said Dexter Feliciano, a voter who runs a legal services start-up in Metro Manila.
Opponents can be expected to play up Duterte's setbacks to help their own causes before midterm local elections in May, said Carl Baker, Philippines-specialized director of programs with the think tank Pacific Forum CSIS in Honolulu.
"It's difficult to say the extent to which people are prepared to put the blame on the Duterte administration," Baker said. "If he doesn't do something to sustain … a robust growth rate, I suspect this could create a lot of opportunities for political opponents to use inflation against him in the run-up to the 2019 elections."
Jennings is a special correspondent.
---
Must-read stories from the L.A. Times
Get the day's top news with our Today's Headlines newsletter, sent every weekday morning.
You may occasionally receive promotional content from the Los Angeles Times.