Police use tear gas as thousands of protesters persist in Hong Kong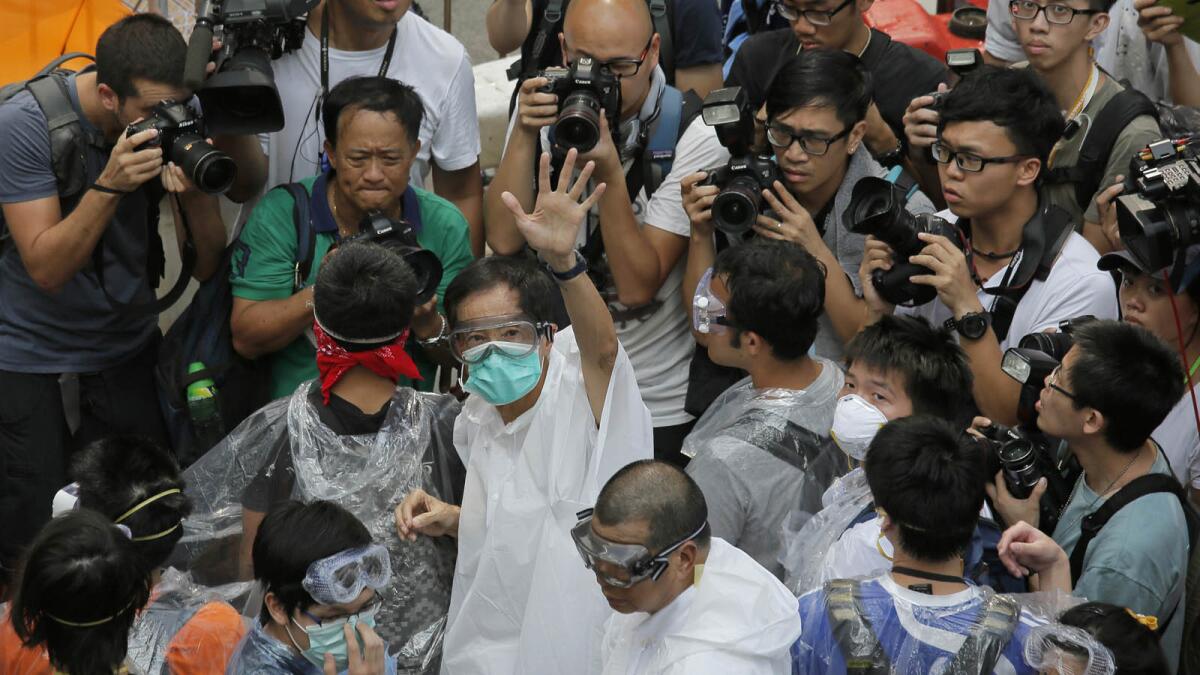 Reporting from Hong Kong —
Police discharged tear gas and fired rubber bullets in the air Sunday in a failed attempt to scatter pro-democracy demonstrators in Hong Kong who appear to pose the greatest test yet for China's "one country, two systems" approach to governing the former British protectorate.
Although their ranks had dissipated, thousands of demonstrators pushed back against the police and were still clogging parts of central Hong Kong on Monday, stubbornly refusing to leave.
------------
FOR THE RECORD:
A report Sept. 28 about Hong Kong's democracy protests said police fired rubber bullets in the air to scatter democracy protesters. Although initial reports from the scene indicated that was the case, those could not be verified after the situation calmed, and police later denied using rubber bullets. The story also referred to the territory as a former British protectorate. It was a British colony.
------------
"The people of Hong Kong want freedom and want democracy!" a protest leader yelled into a megaphone as demonstrators — many of them university students — donned goggles, covered themselves in plastic wrap and held up umbrellas to shield themselves in case they were hit with tear gas or pepper spray. "Redeem the promise of a free election!" chanted the crowd.
"We're going to win this fight not with our fists but with our conscience and moral sentiments," said Chan Kin-man, a sociology professor who co-organized Occupy Central With Peace and Love, one of the main protest groups.
Shortly before 9 a.m., the Hong Kong government said it would send in three negotiators, but it was unclear whom they could negotiate with. This is a movement without leaders, protesters said.
"Everyone here follows his own conscience," said Fernando Cheung, a member of the Hong Kong Legislative Council. Cheung had urged protesters to leave about midnight when officials said it was getting dangerous and asked him to do so. Protesters jeered.
The demonstrations, which burst forth in response to new rules limiting choices in Hong Kong elections, presented Beijing with a prickly challenge: how to keep a lid on dissent in the unruly, but financially vital, territory without appearing to abrogate its promises there.
It is a challenge that has been brewing for the better part of two decades.
In 1997, Britain let go of Hong Kong, one of its last outposts of empire. But instead of releasing the territory into independence, as it had done with so many other colonies, as far-flung as India, Jamaica and Ghana, London handed Hong Kong to another sovereign power, China.
The awkwardness was widely acknowledged: Under British rule, Hong Kong had developed a robust civil society, freedom of speech and press, a respected judiciary, and a thriving capitalist economy — if not full democracy. Communist-run China's system could hardly have been more different. But under the "one country, two systems" formula, Beijing essentially promised to leave Hong Kong alone, except for matters of national security, for 50 years.
The territory's 7 million citizens do enjoy significantly greater civil liberties — including freedom of speech — than their counterparts in mainland China. But the voting guidelines issued by mainland authorities in August sparked fierce condemnation among certain segments of Hong Kong's populace.
Over the weekend, tens of thousands of democracy protesters paralyzed major thoroughfares in the city, demanding that China rescind the election rules, which would give Beijing the power to determine the candidates for chief executive of the territory. Phalanxes of police in riot gear responded with force, creating a tableau of chaos and confrontation that was highly unusual for this well-mannered global financial hub.
As the protests continued early Monday, sit-ins spread to areas far removed from the government headquarters that had been the target of dissent. Some demonstrators erected makeshift barricades in the streets.
The demonstrators were orderly and nonviolent, but determined. After police charged with tear gas, the protesters pushed back. The police retreated and by sunrise Monday were largely isolated to one entrance of the government compound.
Protest leaders issued a set of demands, including repeal of the new election framework; resignation of the city's unpopular top official, Chief Executive Leung Chun-ying; and the reopening of a public plaza within the main government compound to allow for protests. University students who boycotted classes last week said they would continue their walkouts this week, and urged workers to go on strike as well.
Willy Lam, an expert on Chinese politics at the Chinese University of Hong Kong, described the weekend's events as a "massive show of force by the Chinese and Hong Kong government against an agitated Hong Kong public that is increasingly mad."
Hong Kong has a long history of large and orderly protests, with demonstrators typically massing in parks and following preapproved march routes. This weekend's demonstrations were much more spontaneous and uncontrolled, with 78 people arrested and more than 100 — including six police officers — wounded.
Lam said it was the first time that Hong Kong police had fired tear gas since 2005, when they used it during a protest against the World Trade Organization. In a statement, police said they decided to use it after protesters had "violently charged the police cordon line" outside government headquarters.
Authorities in Beijing keep a tight lid on any protests in the mainland and were eyeing developments in Hong Kong warily, condemning the protests as illegal.
Lam said there were "credible reports" that the People's Liberation Army garrison in Hong Kong, which has about 6,000 troops, had been put on alert. "If the Hong Kong police cannot disperse the crowd, there is the possibility of the PLA getting into the action," Lam said.
Such a step, if taken, would mark an unprecedented move by central Chinese government authorities to intervene in Hong Kong affairs.
Leung held a news conference Sunday and said he had faith in the professional judgment of the police force to handle the protesters.
"The public are encouraged to express their aspirations peacefully, rationally and lawfully, and to respect and accommodate different views in the society," he said.
Leung rejected calls to refuse the 2017 election framework laid out by Beijing, saying, "It isn't up to us to set aside the decision."
A Chinese government spokesman in Beijing issued a statement saying it was confident that Leung and Hong Kong authorities could handle protesters "according to law."
Special correspondent Law reported from Hong Kong and staff writer Makinen from Beijing.
Follow @JulieMakLAT for news from China
Sign up for Essential California for the L.A. Times biggest news, features and recommendations in your inbox six days a week.
You may occasionally receive promotional content from the Los Angeles Times.