Pope accepts resignation of Cardinal Donald Wuerl of D.C. amid sexual abuse scandal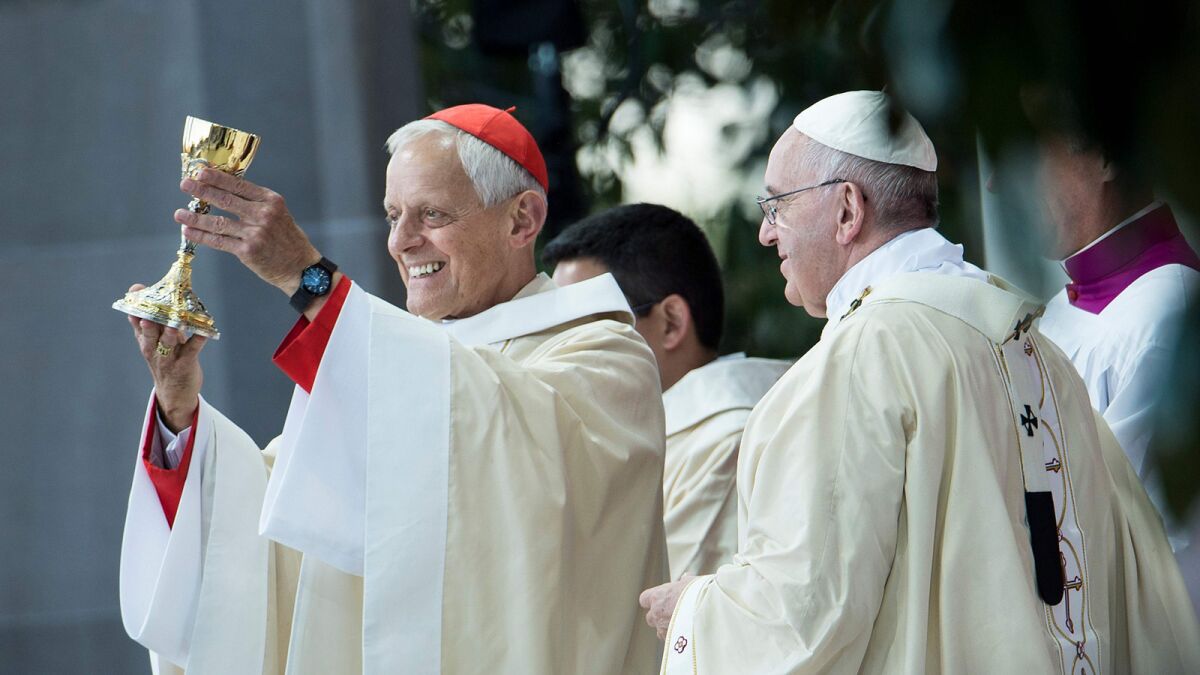 Reporting from Rome —
Pope Francis has accepted the resignation of Cardinal Donald Wuerl, the archbishop of Washington, D.C., following a series of accusations that the American prelate covered up sexual abuse abuse within the Roman Catholic Church.
Wuerl, 77, one of the most prominent leaders to be swept up in the church scandal, has been under pressure to quit since August, when a damning grand jury investigation of abuse in Pennsylvania was released. It accused Wuerl, the former bishop of Pittsburgh, of covering up abuse and ignoring the harassment of seminarians by his predecessor as archbishop of Washington, Theodore McCarrick.
But on Friday, Pope Francis, while accepting his resignation, appeared to absolve Wuerl of guilt, suggesting he had merely made "mistakes" and asked him to stay on the job until a successor could be found.
"You have sufficient elements to 'justify' your actions and distinguish between what it means to cover up crimes, or not to deal with the problems and commit some mistakes," Francis wrote in a letter to Wuerl, which was published by his archdiocese.
By resigning, Wuerl was putting "God's Project first," Francis wrote, adding, "I am proud and thank you."
He then said, "I ask you to remain as Apostolic Administrator of the Archdiocese until the appointment of your successor."
Wuerl has been a key supporter of Francis in the U.S. as conservative opposition mounts to the pope's mercy-over-dogma style. The cardinal has himself been criticized by conservative Catholics for declining to refuse Communion to pro-choice politicians.
During his career Wuerl forged a reputation as a reformer determined to halt sex abuse in the church and fought against a reluctant Vatican to defrock a predator priest, Anthony Cipolla, in the 1980s when he was bishop of Pittsburgh.
But the grand jury report this year documenting abuse by more than 300 priests over decades in Pennsylvania named Wuerl 200 times, suggesting he was guilty of covering up for offenders during his tenure in Pittsburgh from 1998 to 2006, and for moving accused priests to new posts where they could commit abuse again.
In August, Archbishop Carlo Maria Vigano, a former nuncio to the U.S., accused Wuerl of knowing that McCarrick was inviting young seminarians into his bed and doing nothing about it.
Vigano said he found it "laughable" when Wuerl claimed to be unaware of McCarrick's behavior.
McCarrick resigned from the College of Cardinals in July, the first cardinal to do so in a century.
Wuerl first offered his resignation to Francis when he turned 75, the normal retirement age for bishops, but was kept on. He resubmitted his resignation on Sept. 21 as his parishioners called for him to step down.
The Vatican's brief announcement Friday that Francis had accepted Wuerl's resignation came in the midst of a Vatican synod that has drawn bishops from around the world, and two days before the canonization at the Vatican of assassinated Salvadoran priest Oscar Romero and Pope Paul VI.
Wuerl said in a statement Friday that Francis' decision to accept his resignation "can allow all of the faithful, clergy, religious and lay, to focus on healing and the future."
He added, "Once again for any past errors in judgment I apologize and ask for pardon."
Kington is a special correspondent.
---
UPDATES:
10:15 a.m.: This article was updated with staff reporting.
This article was originally published at 3:25 a.m.
Must-read stories from the L.A. Times
Get the day's top news with our Today's Headlines newsletter, sent every weekday morning.
You may occasionally receive promotional content from the Los Angeles Times.