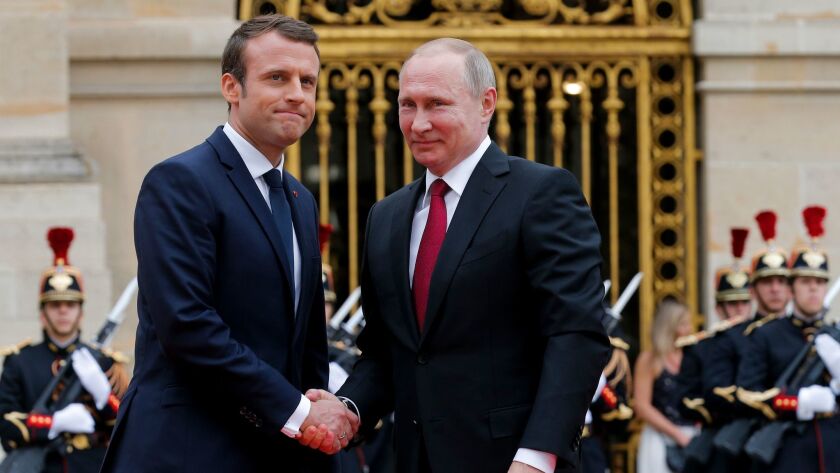 Reporting from PARIS —
In talks Monday at the royal palace of Versailles outside Paris, French President Emmanuel Macron and Russian President Vladimir Putin discussed a variety of contentious issues, including the conflicts in Syria and Ukraine and accusations of Russian interference in the recent French elections.
The pair had an "extremely frank and direct exchange," Macron said at a televised news conference afterward.
Macron is the first Western leader to talk with Putin since the Group of 7 summit last week in Italy, where the relationship between Europe and Russia was a focus and Macron promised a "demanding dialogue" with the Russian leader.
Relations between France and Russia became increasingly strained under Macron's predecessor Francois Hollande, who refused to deliver two warships Moscow had ordered from France in a $1.3-billion deal. Putin canceled a planned visit to Paris in October after Hollande hinted he might refuse to meet him and suggested Russia could face war crimes charges over its participation in the bombardment of the Syrian city of Aleppo.
In March, at the height of the French presidential campaign, Putin met with Marine Le Pen, Macron's far-right opponent, at the Kremlin.
Russia supports Syrian President Bashar Assad despite his use of chemical weapons and agreement between the U.S. and its European allies, including France, that he should be removed from power.
Macron warned that the use of chemical weapons again by "anyone" would spark "retaliation and an immediate response from France."
He called the use of such weapons one of two "red lines" that France would not allow to be crossed in Syria. The second was any attempt to block humanitarian organizations from having free and unhindered access to "innocent civilian populations" under siege.
"Innocent civilians must not be the victims of our collective incapacity to act," Macron told reporters gathered in the palace's Gallery of Battles, inaugurated in 1837 to celebrate French military victories. "Cooperation has to be reinforced to find a long-term political solution that is inclusive, that eradicates terrorism and brings peace to Syria."
Macron said that eradicating Islamic State and other terrorist groups was the "guiding principle of our action in Syria."
It was a goal that Russia supports. Putin announced that the two countries would create a "working group … to cooperate against terrorism" but said that Russia's position on "the Syrian problem" was clear: "We believe that you cannot combat the terrorist threat by destroying the state."
In terms of Ukraine, Macron said that he wanted a "de-escalation" of the conflict between Russian-backed separatists and Ukrainian forces in the eastern part of the country and that he hoped to revive talks involving Ukraine, Russia, France and Germany in the "near future" under what is known as the Normandy Contact Group, which was set up in June 2014.
Macron made no mention of the current European Union sanctions against Russia for supporting the separatists or the threat by G-7 nations last week to impose additional ones if the conflict escalates.
But Putin said sanctions were the wrong tactic and should be lifted.
"Sanctions against Russia cannot help solve this crisis," he said. "We must fight for the suppression of all restrictions to the world economy."
Macron said the two leaders also spoke about the persecution of members of the LGBT community in Chechnya and Russia and other issues concerning "civil society."
"We have disagreements, but we shared them at least," the French leader said.
One of the tensest moments at the news conference came when a reporter from the pro-Putin news organization Russia Today asked Macron why he had banned certain Russian journalists from his election campaign headquarters.
"When organs of press respond with defamatory falsehoods, they are no longer journalists," Macron said. "They are organs of influence."
Singling out Russia Today as well as another state-funded news agency, Sputnik, Macron said: "They published untruths about me and my campaign … it was lying propaganda. Nothing more, nothing less."
Macron's aides have also accused Russia of sponsoring a massive hacking attack on his campaign staff hours before the presidential election in May.
Putin dismissed the hacking accusations.
"They say Russia interfered in the French elections," he said. "How can I comment on that? Who says? There are no established facts, in fact. These are propositions for which there is no proof. Actions cannot be based on hunches, hunches that are not confirmed by anyone."
Willsher is a special correspondent.
ALSO
Dozens arrested at unauthorized protests in Russia urging Vladimir Putin not to seek fourth term
Trump returns to an increasingly troubled White House and criticism from allies
Putin calls flap over Trump's meeting with Russian diplomats 'political schizophrenia'
---
UPDATES:
5:25 p.m.: This article was updated with background on the France-Russia relations and the conflicts in Syria and Ukraine.
7:57 a.m.: This article was updated with more background and context about the French presidential election, as well as more quotes.
6:22 a.m.: This article was updated with Putin's arrival in France.
This story was originally posted at 4:55 a.m.
---