Two Russian men charged in nerve agent poisoning of former spy in Britain say they were just tourists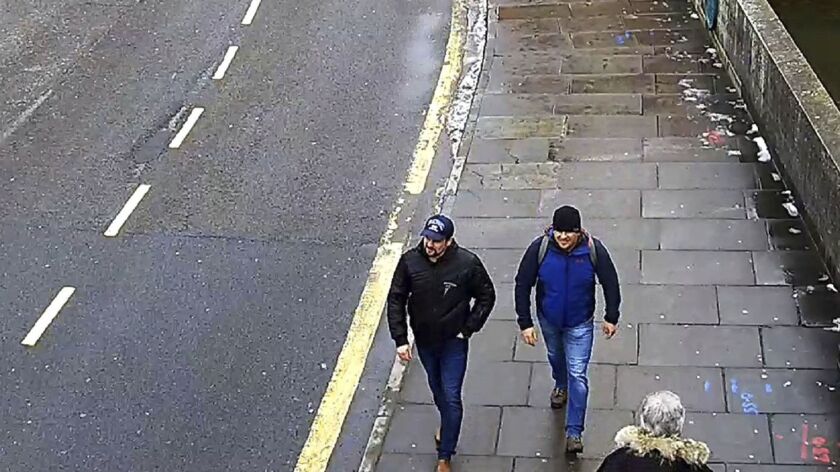 Reporting from YEKATERINBURG, RUSSIA —
The two men accused by Britain of poisoning a former Russian spy and his daughter with a nerve agent claim they had traveled to England as tourists and were not Russian military intelligence agents.
Ruslan Boshirov and Alexander Petrov made their comments to the Kremlin-owned RT television channel in their first interview since being charged in absentia for the March poisoning of Sergei and Yulia Skripal in Salisbury, England.
The men's names surfaced earlier this week after Britain published photos of them captured on security cameras leaving a London airport and walking in Salisbury on the day before and the day of the poisoning.
Both the Skripals survived the March 4 poisoning from Novichok, a nerve agent designed in the Soviet Union. British investigators believe Boshirov and Petrov are part of Russia's military intelligence agency known as the GRU and brought the substance into the U.K. in a fake, sample-size Nina Ricci perfume vial.
In their TV comments Thursday, the men said their lives were "turned upside down" by the allegations that they were military agents.
But British Prime Minister Theresa May's spokesman rejected the denials.
"The lies and blatant fabrications in this interview given to a Russian state-sponsored TV station are an insult to the public's intelligence," the British spokesman said. "More importantly they are deeply offensive to the victims and loved ones of this horrific attack."
"The police set out very clearly the evidence against these two men. They are wanted men, and we have taken all steps to ensure they are apprehended and brought to justice in the U.K. if they ever again set foot outside of Russia."
The Kremlin has adamantly denied any involvement in the Skripal poisoning and blames Britain for not allowing Russia to participate in an international investigation into the case. On Wednesday, President Vladimir Putin said that Russia had identified the men, who are "civilians, of course."
"There is nothing special or criminal about it, I assure you," Putin said at an international economic forum in the far eastern Russian city of Vladivostok. "[I hope] they will contact the media. I hope they will appear and tell everything about themselves."
RT, formerly known as Russia Today, is a Kremlin-funded television station broadcasting in several languages, including Russian and English. After the station's programming became part of an investigation into a disinformation campaign during the 2016 U.S. presidential election, the U.S. insisted that RT register as a foreign agent. The Foreign Agents Registration Act dates back to 1938 and requires lobbyists and organizations acting on behalf of a foreign government to register as foreign agents.
During their interview, Boshirov and Petrov told RT's chief editor, Margarita Simonyan, that it was indeed them in the images provided by the British investigators. But they insisted that they had nothing to do with the Skripal poisoning and now were scared to leave their houses.. The men said they had called Simonyan to tell their story and hoped by doing so, the interview could somehow "protect" them.
"When your life has been turned upside down, you don't know what to do and where to go," Boshirov said.
The two men said a friend had encouraged them to visit Salisbury, a city about 80 miles south of London, to see a 14th century spire and clock on the Cathedral Church of the Blessed Virgin Mary there. The clock is believed to be the oldest of its kind in the world.
Boshirov and Petrov said they took the train from London on March 3, a day before the Skripals were found slumped over and unconscious on a park bench in Salisbury.
But muddy streets and bad weather spoiled their visit to Salisbury that day, they said, so they cut their trip short and went back to London by train. The following day, the men said, they took the train back to Salisbury to "finish this thing." When pressed by Simonyan on what "this thing" was, Petrov said "to see the cathedral."
The men said they had nothing to do with the perfume sample believed to have been used in the case.
"Isn't it silly for straight men to have women's perfume?" Boshirov said. "The customs are checking everything, they would have questions as to why men have women's perfume in their luggage. We didn't have it."
Shortly after the interviewed aired, the Russian internet responded with mocking memes and posts about the men's story.
Among them was a tweeted photo of Jay Z visiting the church, also known as Salisbury Cathedral, with the caption "Jay Z was also in Salisbury. Coincidence? I don't think so!"
Aviasales, one of Russia's most popular air travel booking sites, posted a photo of the Salisbury Cathedral on its Facebook page with a message suggesting that autumn was the best time to visit the city in southern England, which is just an hour and a half by train from London. The travel website posted a similar message about Panama travel after the release of the Panama Papers investigation into offshore accounts used by Russian oligarchs.
Ayres is a special correspondent. Special correspondent Christina Boyle in London contributed to this report.
---
UPDATES:
10:45 a.m.: This article was updated throughout with staff reporting.
This article was originally published at 7:35 a.m.
---
The Latinx experience chronicled
Get the Latinx Files newsletter for stories that capture the multitudes within our communities.
You may occasionally receive promotional content from the Los Angeles Times.