Ousted South Korean President Park Geun-hye is sentenced to 24 years in prison
Reporting from Seoul —
The decision Friday in ousted South Korean President Park Geun-hye's yearlong trial was delivered slowly, charge by charge, for more than an hour as the nation watched on live television and commented on social media.
In the process, Chief Judge Kim Se-yoon's calm voice itself became the trending topic on Twitter, with transfixed observers describing his tone as "sweet" and "gentle."
The court's final judgment, however, was not.
The judges found the disgraced former leader guilty of 16 criminal charges, including bribery, coercion and abuse of power, which involved some of the nation's largest companies. Park received a 24-year prison term that, at age 66, could be a life sentence. She also faces a hefty $16-million fine.
"The defendant denied these crimes and did not show any repentance, instead making incomprehensible excuses," Kim said in his recitation of the three-judge panel's decision.
In the end, the court largely sided with prosecutors, who presented their case for months, with the former president — the daughter of a transformative figure in modern South Korean politics — refusing to participate as she remained in a jail cell in southern Seoul.
The judges found Park guilty of participating, sometimes indirectly, in a scheme to coerce and solicit bribes from major South Korean companies, including Samsung and Hyundai. They also found that she abused her power by blacklisting her critics.
"It is a sad occasion for the country as a whole and for an individual's life," said Kim Eui-kyeom, a spokesman for Park's successor as president, Moon Jae-in. "Today will not be forgotten."
An appeal of the ruling with these stakes would seem likely, but legal observers questioned that possibility given the former president's refusal to participate in her defense.
Still, Kang Cheol-gu, her defense lawyer, expressed hope that the former president's legal case hadn't ended. "We believe that on appeal and at the Supreme Court, the correct judgment will be issued," he said.
Either way, Friday's decision represents a major milestone in a political and legal saga that has transfixed South Korea since late 2015.
"This verdict is significant in that it demands not only political responsibility, but also legal responsibility from Park," said Lee Sang-don, a lawmaker from a center-right faction, the Bareun Future Party, that split with a main conservative party in large part over the president's case.
It was just over a year ago that authorities received court permission to arrest the former president, the daughter of the late South Korean dictator Park Chung-hee, who ruled in the 1960s and 1970s as a strongman but also sparked its rise from the ashes of the Korean War into the world's 11th-largest economy.
Her presidency — a first for a woman in East Asia — began to unravel in the fall of 2015 amid media revelations that a longtime confidant, Choi Soon-sil, who had no government position, had access to secret government documents under Park's control.
The investigation snowballed, drawing in more than two dozen Park associates, aides and business figures — including, for a time, the de facto leader of the Samsung empire — on various corruption-related charges.
Choi was convicted of using her connection to Park to extort from businesses to benefit firms she controlled — a broad, multimillion-dollar scheme that implicated the embattled leader by association. A court sentenced Choi this year to a 20-year prison term.
Park's downfall came swiftly but only after media coverage, which was quickly confirmed by prosecutorial disclosures, increased scrutiny on her administration in late 2015.
Ryan Song, a law professor at Kyung Hee University in Seoul, said the Park case rose quickly to a cacophony because of South Korea's diffuse, immediate and aggressive news culture. What started as a small political scandal — a "kitchen cabinet run amok," he said — snowballed into a national obsession, almost overnight.
"I'm wondering whether historians will look back and say that the legal and judicial institutions were swayed by the public sentiment that, again, was swayed by the media and the overall public dissatisfaction with the political affairs that were happening in Korea," he said.
"To this day, I don't think it's been proven that President Park has personally financially gained, in terms of bribery," he said, reflecting the court's ruling, which also found that she indirectly gained by helping herself politically and by funding a friend's businesses, which included national sports promotion.
The decision represents another remarkable turn for Park, who has been a tragic figure associated with some of the nation's most historic events since the war, which remains unresolved since the 1953 armistice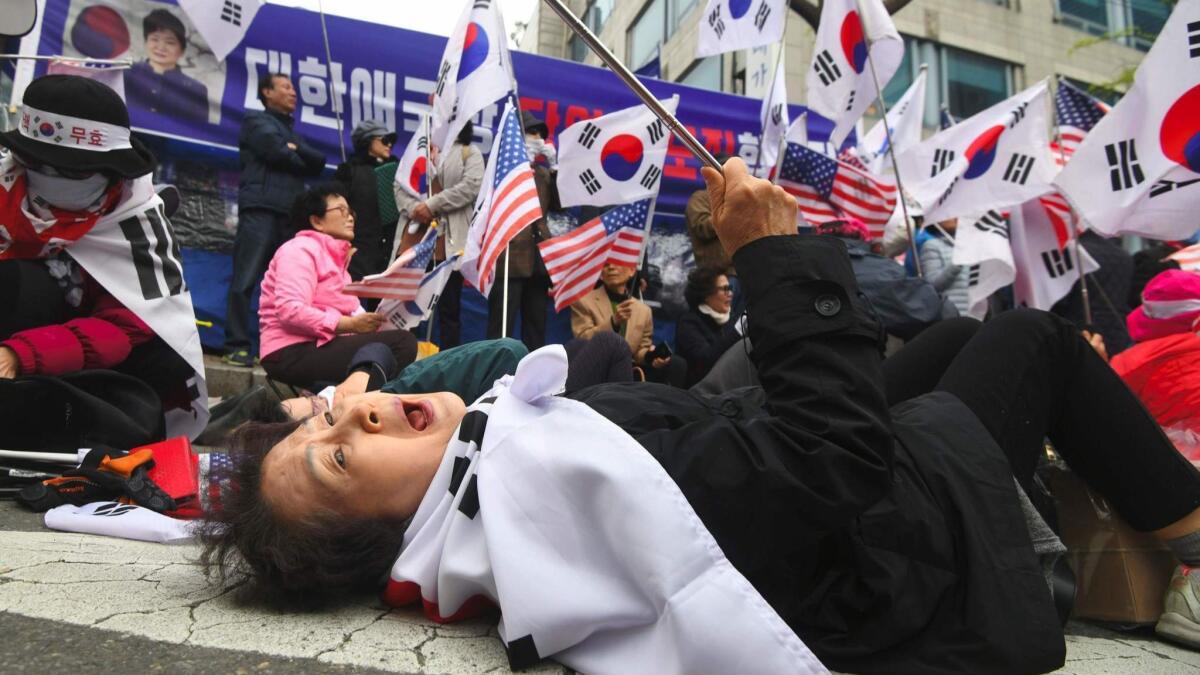 An assassin killed her mother, Yuk Young-soo, in 1974, leading to Park's return from a university in Europe to serve as de facto first lady under her father's leadership, which ended with his own slaying in 1979 at the hands of the nation's intelligence chief.
Park returned to power two decades later as a national lawmaker and conservative party leader. She sought the presidency in 2007, losing to Lee Myung-bak, who was recently jailed on corruption charges. He was accused of accepting bribes and embezzlement and tax evasion during his tenure in office.
Park won on her second try for president in 2013, boosted by her political pedigree, which attracted supporters nostalgic for a past era. She won narrowly over the current liberal president, Moon Jae-in, and struggled often as a national leader, alienating the public with a leadership style viewed by many as autocratic and aloof.
The sinking of the Sewol ferry in 2014, a tragedy that killed more than 300, mostly high school students, was in many ways the beginning of the end of her authority as president.
The allegations and lingering anger about the ferry sinking played a role in the paralyzing political scandal in late 2016, as millions of South Koreans took to the streets, Saturday after Saturday, to demand her ouster. The protesters created a political climate in which South Korean lawmakers felt compelled to act.
The National Assembly impeached her in December 2016. A constitutional court approved the decision the following March, ending her presidency and any immunity from criminal charges. Prosecutors questioned Park and then received authority to arrest her, leading the onetime leader away, grim-faced, to a detention center.
The case has led to a lengthy, drama-filled trial that, under the South Korean system, has proceeded sporadically in individual hearings.
Park's lawyers resigned in October, protesting her continued incarceration, prompting more delays. She has in recent months refused to participate, including the decisive hearing Friday.
A small faction of supporters has remained. Hundreds gathered near the court to support the former president on Friday.
Political reaction in South Korea largely split along party lines, though the nation could be moving toward constitutional reforms that might change the democratic nation's ultra-strong presidency, offering hope that a long history of executive-related scandals could end.
At least three other former presidents, including Lee, have been jailed since the nation transitioned to direct democratic elections in the late 1980s. Another committed suicide while his family was being investigated for corruption.
"Today's verdict proves that the kind of imperial presidency that we have today must not continue," said Shin Yong-hyeon, a spokesman for Bareun Future.
Stiles is a special correspondent.
---
UPDATES:
11:15 a.m.: This article was updated with additional details about the case and comments, including a statement from Park Geun-hye's defense lawyer, Kang Cheol-gu, that there's still hope the conviction could be overturned on appeal.
This article was originally published at 6:40 a.m.
Sign up for Essential California for news, features and recommendations from the L.A. Times and beyond in your inbox six days a week.
You may occasionally receive promotional content from the Los Angeles Times.