U.S. shoots down drone in tense battle for no man's land in Syria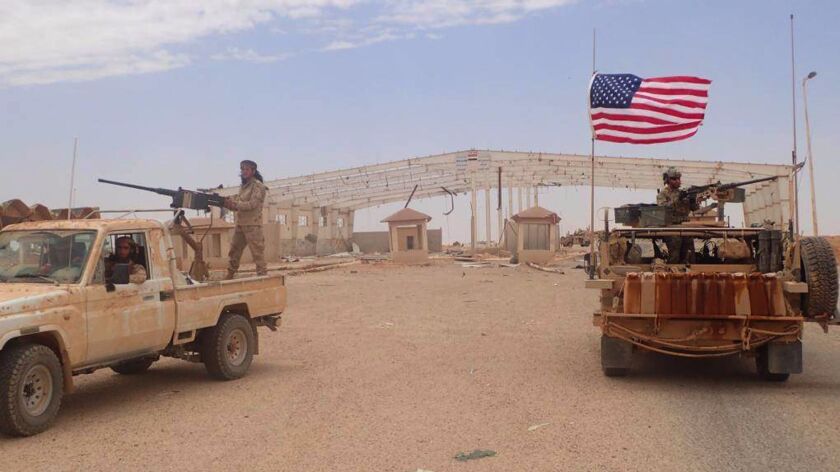 Reporting from Amman, Jordan —
An armed drone fired on U.S.-backed coalition forces on patrol Thursday outside a small military garrison in southern Syria where American special operations forces train Syrian rebels.
The drone, believed to be an Iranian-made Shahed-129, missed the ground forces, and the bomb itself failed to explode, according to U.S. officials.
A U.S. F-15 fighter jet, scrambled from a nearby airfield, shot down the drone — the first time an American fighter destroyed an enemy aircraft in air-to-air combat since February 2009.
Earlier in the day, coalition warplanes destroyed two trucks mounted with machine guns that were advancing toward the Tanf garrison.
The incidents are part of a steady escalation of the U.S. military's role in Syria — one that runs the risk of putting American forces on a collision course with Iran, a close Syrian ally.
The Pentagon is not sure Iranian military piloted the aircraft.
"It was clearly meant as an attack," U.S. Army Col. Ryan Dillon, the Baghdad-based spokesman for the campaign against Islamic State, told reporters at the Pentagon via teleconference. "We do not see it as a warning shot."
The U.S. military has now conducted three airstrikes in less than a month against what it says are Syrian forces directed by the Iranian government and loyal to Syrian President Bashar Assad. The forces have amassed for the last several weeks just outside — and have repeatedly encroached inside — a 35-mile "de-confliction zone" that rings the base and was negotiated with Syrian ally Russia.
We won't allow the Americans to control the borders, and we've informed them of this.
Hadi Ameri, head of Iraq's Badr Organization
In recent months, the U.S. has ramped up the number of special operations advisors, weapons and other support for Syrian rebels battling to deny Islamic State militants access to the Badia, a desolate swath of territory in Syria's southeast that has long been a conduit for the jihadis moving east into Iraq and on to Iran and back. The rebels also want to overthrow Syria's government, even though the two sides share a common enemy in Islamic State.
With support from a U.S.-led coalition, the rebels have snatched hundreds of square miles there from Islamic State. The desert fighting is a prelude to campaigns for oil-rich Dair Alzour province, which is largely in the hands of the extremists, as well as the city of Raqqah, the group's de facto Syrian capital.
Dozens of shiny new U.S.-supplied Toyota Land Cruisers, equipped with platforms that can take a heavy gun, lay on flatbed trucks rumbling into Tanf, a small base that U.S., British and Norwegian special forces use as a staging ground to train, equip and fight alongside their rebel partners. Advanced U.S. weapons, including drones and projectiles designed for clearing minefields, have been used in recent confrontations between rebels in Syria's south and forces loyal to Assad.
But the campaign has spurred Assad and his allies — who include Iranian military advisors as well as irregular military forces from Lebanon, Iraq and Afghanistan — to launch their own offensive in Badia against Islamic State and the rebels. In addition, Russia has deployed warplanes and special forces to bolster Assad's battered ground troops.
"All sides, the Americans, the Iraqis, the Syrians, the Iranians, are in a race against time to consolidate their strategic positions between Iraq and Syria," Fawaz Gerges, a professor of Middle East studies at the London School of Economics, said in a phone interview on Tuesday. It was a matter of who will reach the Iraqi-Syrian border first, he added.
Further complicating the situation, Central Combat Media, a news channel affiliated with the Lebanese faction Hezbollah, last week issued a statement from "the Syrian army and its allies" saying it had launched the "Great Dawn" operations aimed at "controlling the eastern desert of Syria and liberating it from the presence of" Islamic State militants. Hezbollah is supported by Iran and is allied with Assad.
The U.S., which has favored Assad stepping down, has given varying degrees of support to the rebels over the six-year civil war.
The pro-government troops approached Tanf on Tuesday with a tank, artillery, antiaircraft weapons, trucks mounted with machine guns, and more than 60 soldiers, according to a statement by the coalition.
The U.S. military said it issued "several warnings" before destroying two artillery pieces and an antiaircraft weapon and damaging a tank.
The U.S. military does not speak with the Syrian government. So U.S. military officers at an air command center in Qatar called their Russian counterparts on a special hotline set up to ensure the two countries' pilots do not mistakenly run into — or fire upon — one another in the skies above Syria.
After warning the Russians of the impending strikes, the ground forces continued their activity, the U.S. military said. The coalition then carried out the airstrike.
The U.S. military launched the first airstrike May 18 against the ground forces. Defense Secretary James N. Mattis said afterward that the fighters were believed to be "Iranian-directed forces."
After that strike, the coalition dropped leaflets warning pro-government forces they were within the de-confliction zone and commanding Syrian forces to "leave this area now."
But the threat to Tanf may also come from across the border in Iraq, where paramilitary factions backed by Iran, known as the Popular Mobilization Units, or Hashd al Shaabi, have begun to push Islamic State into Syria.
Although those militias are in a reluctant alliance with the coalition against Islamic State, the U.S. views these factions as little more than Iranian proxies.
Hadi Ameri, head of Iraq's Badr Organization and a leader in the militias, said in an interview on Lebanese news broadcaster Al Mayadeen that his forces would clear the Iraqi side of the border with Syria.
"We won't allow the Americans to control the borders, and we've informed them of this," he said, adding that although his forces "would chase Daesh wherever it is," they would not enter Syrian territory without coordination with Damascus. "Daesh" is a pejorative Arabic acronym for Islamic State.
If the militias did cross into Syria, it would strengthen Damascus's bid for the east and, Washington and its allies say, give Iran unprecedented influence in the area by creating a land route linking Tehran to Beirut.
Such a link would allow easier transfer of weapons and support to Iranian proxies in Iraq, Syria and Lebanon, Hilal Khashan, a professor of political science at the American University of Beirut, said in a phone interview.
Iranian officials dismissed those claims, saying there was no need for such a geographic link.
"Why make this land corridor in these risky areas? Are we mad? Americans do not understand the reality on the ground," said Hussein Sheikholeslam, a senior advisor to Iranian Foreign Minister Mohammad Javad Zarif.
Bulos, a special correspondent, reported from Amman and Hennigan, a staff writer, from Washington. Special correspondent Ramin Mostaghim in Tehran contributed to this report.
twitter:@nabihbulos
ALSO
Battle begins for Islamic State's last stronghold in Raqqah
12 dead in brazen Islamic State attacks on Iran's parliament building and Khomeini shrine
London attacker was 'a good boy' who was 'happy to say buongiorno,' neighbors say
---
Must-read stories from the L.A. Times
Get all the day's most vital news with our Today's Headlines newsletter, sent every weekday morning.
You may occasionally receive promotional content from the Los Angeles Times.